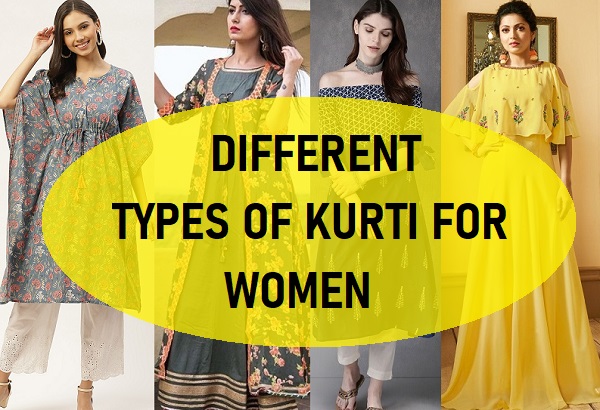 Kurti is not only comfortable clothing for women, but it is also quite beautiful and suits all the body types. One can have a simple kurti for the summer season or you can have a heavily embellished kurti made for the big fat Indian wedding. This is why, we have compiled this catalogue where you will get to know about the different types of kurti designs. When we say kurti design then you must know that there are different types of kurtis where in there is side slit kurti, front slit kurti, kurti high low pattern, and sleeveless style, also there are so many different types and varieties of kurti. So, you to get through to this article till the end and check what are those different types of latest trendy kurti designs. Kurti is Indian traditional wear clothing that will never go out of fashion because it is extremely beautiful and has become a staple part in Indian women's clothing. You can grace any occasion in a kurti. Yes there is a kurta and kurti made for each and every occasion.
How To Choose Kurti Designs
While choosing a perfect kurti for yourself, you must take a look at the kurti type and the style. Never go blindly with the fashion trends and the patterns that are currently in trend but don't work for your body type. Always stick to your personality and trust us when you wear clothing that suits your body type and matches your personality then you look your best. Makeup is also important and so does the jewelery for your clothing but kurti for office and college must be elegant and subtle without going for the over-the-top accessories.
Different Types of Kurtis and Kurtas For Women
The latest designer kurtis are not only timeless but they will up your fashion game within no time. Let's take a look at the different types of kurtis.
1. A Line Kurti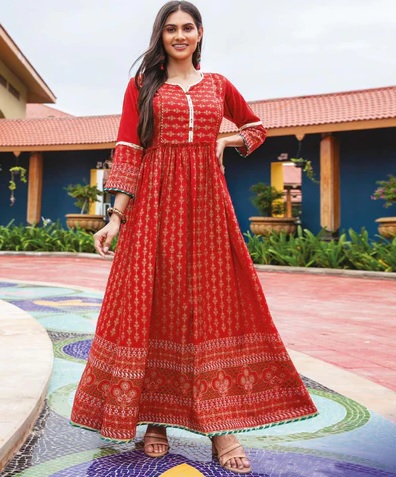 An A-line kurti is one of the most popular types and pattern of kurtis that is very popular amongst the women. This kurti has flair that goes all the way from your waist and reaches the hemline that can depend on the type of kurti. The A-line kurta ka beautiful and they are available in different length. You can have an A-line kurti with short length or with the full maxi kurti kind of length. The A-line kurtis are like those fit and flare dresses that women also wear without bottoms. The best sandals to go with such kurtis are definitely pumps, wedges and even the sandals.
2. Anarkali Kurti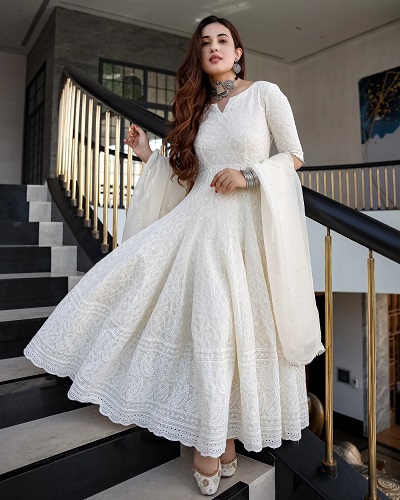 Anarkali style kurtis are here since ages and they have known to create their mark and impression. These kurtis are a perfect combination of style and elegance blend together. Style yourself in an anarkali kurti for a formal function or a wedding you can be sure that you would look absolutely amazing. The best thing about this kurti pattern is that they make you look taller and slimmer at the waistline.  Anarkali kurtis are the best when it comes to the suitability. Of course, they go really well with different body types and suites different occasions. You can have simple cotton anarkali kurta or can have very heavily embellished and studded anarkali for your wedding. This kurtis are worn generally with churidar salwar or they can also be worn on their own, if the length of the kurti is really long and floor touching.  Going with the ideal footwear and clutch or the handbag is really necessary, when you are wearing heavy anarkali kurtis. To create a perfect look, you can have wedge sandals to make you look taller when you will be wearing anarkali kurti with churidar pant. Using the right foot wear is essential when you have a very heavy kurti and here it doesn't matter what the type of kurti it is.
3. Angrakha kurti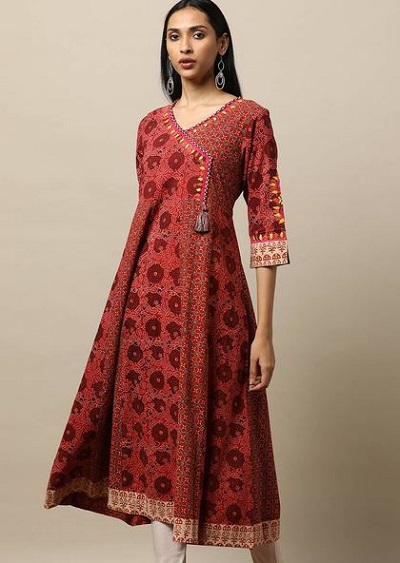 Angrakha kurti is also very popular and their kind of remind you of those gorgeous dresses that you must have seen in the periodic movies. This kurti has this flared pattern, where a flap comes on top of the other. Generally, they are tied together with the help of strings and these strings or dori would have tassels. They are generally very heavily studded or embroidered and they can also have sequin work on them, therefore they are for the festivals and weddings. However, currently you must be noticing that simpler forms of anarkali angrakha kurta are also popular. Which is why, you can wear them for office,  college and even for the daily use. The heavy angrakha kurti is usually kept for the parties and weddings.  Angrakha kurti it is always better to go with the churidar salwar palazzo pants and also the cropped trouser pants. Using chandelier earrings and other forms of oxidized jewelery will create a nice look for the festival and parties.
4. Floor Length Kurti Design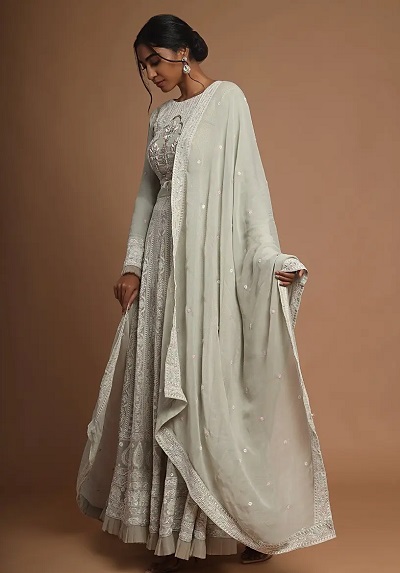 When we say floor length kurti designs, then they look almost similar with the maxi dresses which are popular in the western clothing for women. Floor length kurtis are generally floor touching or at least ankle touching. They can be very heavily studded like the Indian ethnic gown that you wear for the wedding season or they can be very simple made in the cotton fabric that you can wear for your office and college. The beauty of such floor length kurtis is that they do not require any bottoms, unless the kurti fabric is quite sheer. There can be different bottoms which can be used under these floor length kurtis.  With a floor length kurtis it is ideal that you must to wear wedges or high heels. This will also give you an illusion of height and generally such floor length kurtis are ideal for the parties.
5. Layered Kurti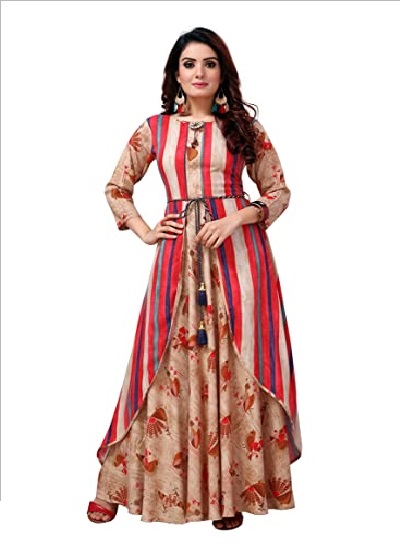 A layered kurti is a type of kurti where in there is an inner layer over which another layer is added to create a pattern. There can be multiple layers going over one another to create a very enchanting look. Generally for the layered types of kurtis, the fabric is used for the upper layers would be georgette or chiffon. Layered kurtis are beautiful looking and for sure they are very popular amongst the young women. Young girls really like layered kurti designs. These designs are also best for office wear and formal wear. Cutting pattern of such layered kurti is also quite unique, which is why these layers are secured together to create a nice multidimensional pattern.
6. Side Slit Kurti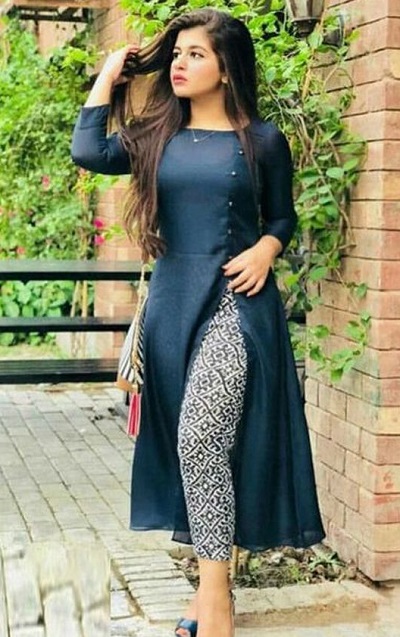 A side slit kurti is generally and an A-line or layered kurti wherein there would be a slit that goes all the way to the bottom or even the waistline. The side slit kurtis are also among the popular patterns which women generally love. For all the women, who love to wear something which is out of the box and not regular. Therefore, the side slit kurtis are ideal to be worn with trousers, pants, skirts and palazzo pants to create the optimum look.
7. Centre Slit Kurti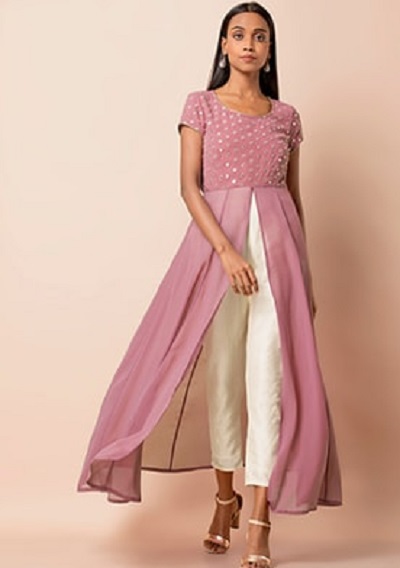 We simply love centre slit kurti on the middle slit kurti because of the fact that the slit in the middle actually exposes the legs when you walk. Therefore, you can have a tightly fitted legging trouser pants jeans or even skirt and palazzo. These designer kurtis comes with a twist because there is a cut or slit in the centre. This subtle and elegant clothing for women is always in trend and different variations have been evolved, when it comes to middle or centre slit kurti designs.
8. Straight Kurti Design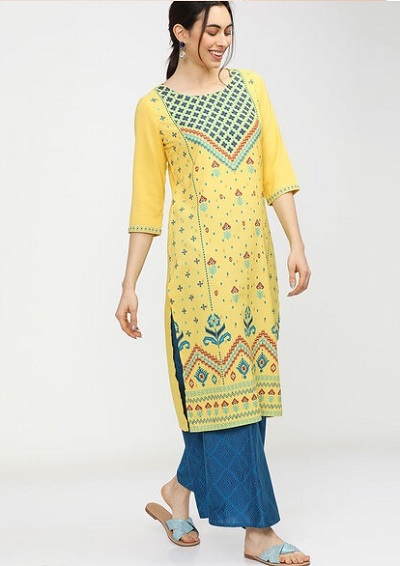 A straight kurti is a regular straight kurti that is made with the two side slits and the fabric comes all the way down to the hemline. Straight wear kurtis are very common amongst women. They can be worn for office, college, work, festivals and so on. The occasion depends on the work done on the kurti. For the festive kurtis generally heavier work involving embroidery, sequin, beads, zari, zardosi work, stone work, aari work is used. On the other hand fabrics like cotton and rayon are used for the casual wear straight cut kurtis. 
9. Frock Kurti Style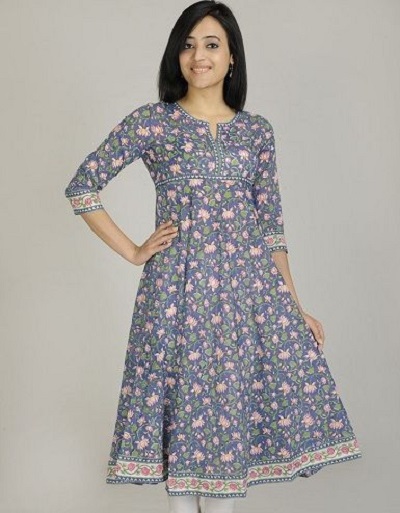 Frock kurti as the name suggests generally resemble a frock that the small girls wear. You can pair a beautiful trouser pant with frock kurti and can also style a palazzo with short frock kurti to create a style statement. The latest frock kurtis for women are designer and very popular, if you would like to experiment new things, when it comes to kurtis and kurtas for women.
10. Princess Cut Kurti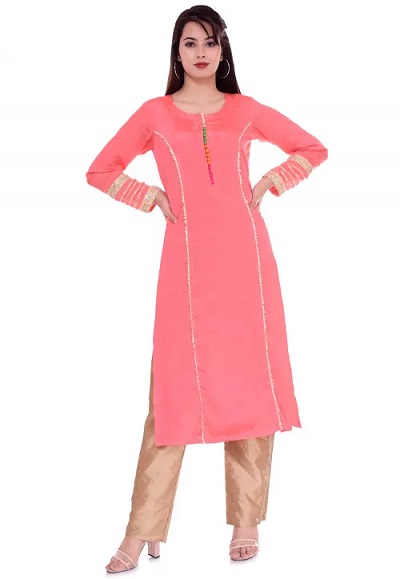 If you have seen the princess cut gowns and dresses, then you must have seen the princess cut. It is actually two panels that runs on the side from the bust part and goes all the way to the down. Mostly, they can also stop in between and end at the waistline. Therefore, princess cut kurtis are also quite popular.
11. Trail Kurti Style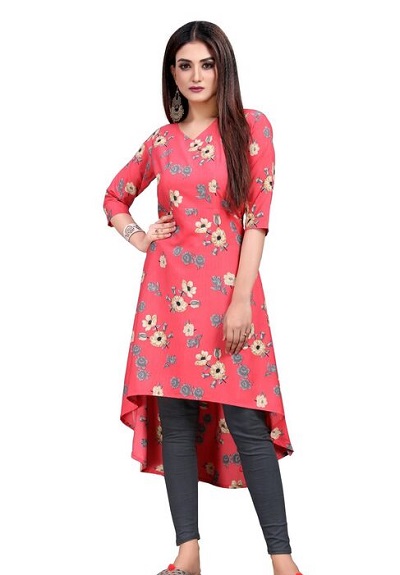 Trail kurti has a high and low pattern where in a longer trail is kept at the back with the shorter front part. These kurtis are liked a lot by the girls and younger women. This trail cut kurti has an illusion and pattern of ac cut on the front and the back part. This is really a cool looking designer kurtis style that is for the casual and festive wear heavy kurtis. Therefore, the next time you wish to find a designer kurti then picking up a trail length kurti is ideal.
12. Cold Shoulder Kurti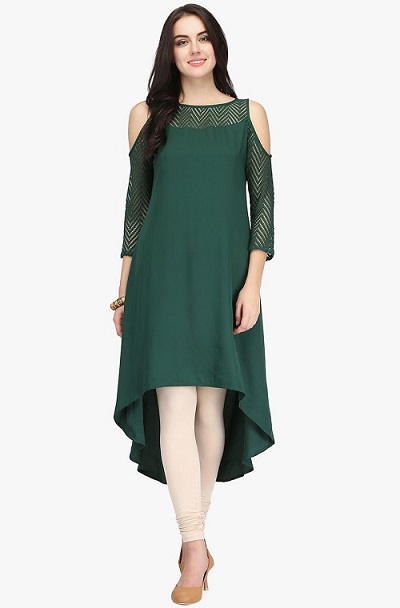 Just like the cold shoulder sleeves that you must have seen in the gowns dresses and saree blouses cold shoulder kurtis are equally in trend. The very trendy cold shoulder kurtis would have these round cuts on the shoulders that add dimension and style to the otherwise plain looking Indian traditional kurti. Actually the cold shoulder sleeves add a western look to the traditional Indian kurti style. This evergreen fashion trend will never go out because it is here to stay and is seen a lot in different clothing for women. You can have a cold shoulder kurti in different cuts and patterns and variations.
13. Off Shoulder Kurti Type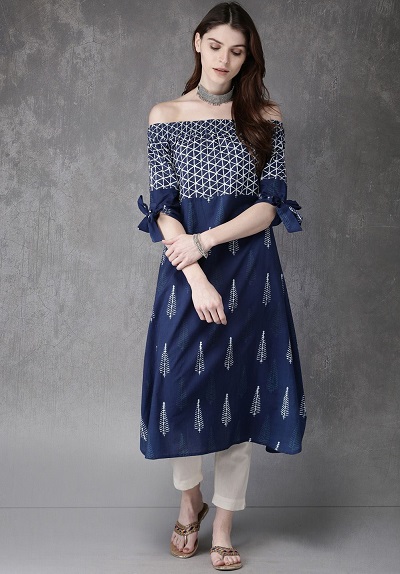 The off shoulder kurti has the neckline in the off shoulder pattern as seen in the gowns, dresses and even in the blouses. The best part about an off shoulder kurti is that it adds that glamour and western look to your traditional kurti. This style is really trendy and undoubtedly off shoulder kurti will make you look super stylish and adorable. For that, you have to make sure that you can carry the off shoulder style quite comfortably. The off shoulder kurtis can also be used with different types of jewelery specially the necklaces and the pendants.
14. Jacket Kurti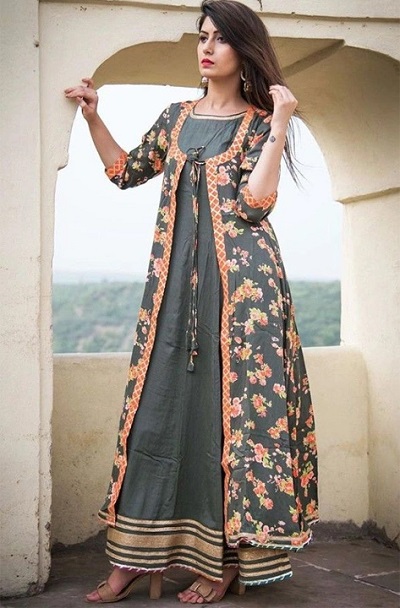 Jacket kurti is made where in an inner kurti is layered with a jacket. Generally, if the jacket is sleeveless, then the kurti would have the sleeves or if the inner part is sleeveless than the jacket will have the sleeves. Most of the time the inner part of the layer would be kept plain or solid while the jacket would be made in different variations of prints and patterns. For the summer and casual wear jacket kurtis, the prints and styles would be kept elegant and sober, while on the other hand, the festive wear or party wear jacket style kurtis would have beautiful and gorgeous embroidery work layered with beads and sequins. Additionally, brocade and chanderi fabrics are also used to create such a gorgeous jacket style kurti designs.
15. Kaftan Kurti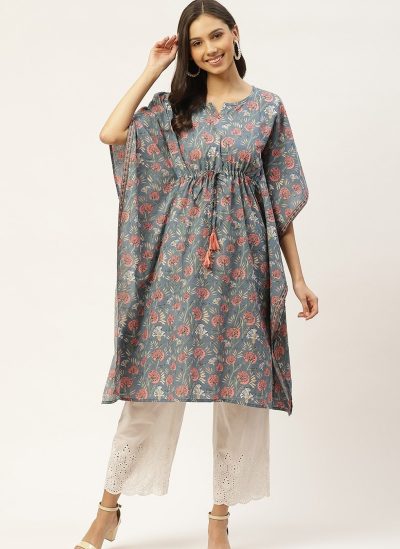 The modern day kurtis are different and designers are inventing different variations, when it comes to the traditional kurtis. The custom style kurti is trendy and looks quite sophisticated. They can be worn for different occasions to have the glamorous and stylish look. If the kaftan kurti is longer than they can also be worn as a dress and can also be paired with jeggings, trousers, jeans and even tights. Statement earrings, chand bali, pendants and even the big chunky bracelet would go with the cotton kurtis.
16. Cape Kurti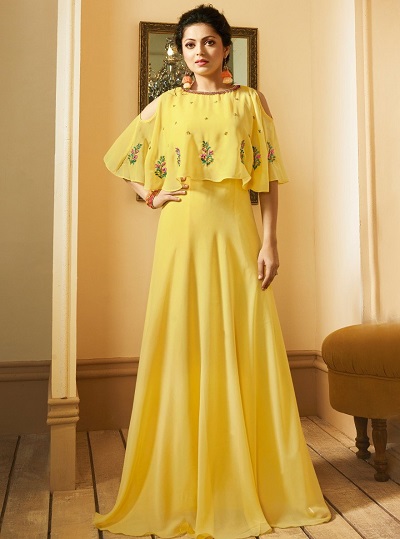 The cape kurtis are also required in trend and considering the fact that cape is white attractive and glamorous to look at. This cape kurtis would have this circular or rounded piece of layer that is added on top of the regular kurti to add a cape for the designer look to your kurti. The ultra chic designs of such kurtis would impart indo-western look. Therefore, if you do not want to go with the traditional looking plain and simple kurtis, then you can jazz up your style with the cape type of kurti patterns. You can complete your kurti look by wearing these types of kurtis with churidar dress or palazzo pants. Cape kurtis which are shorter in length can also be paired with the dhoti pants. Style a nice clutch and statement earrings to complete your look with a perfect tightly fitted with heels.
17. High Low Kurti Type
In the high and low kurti generally the hemline would be higher and lower. The front part would have a higher hemline then the back part. They differ from the trail cut kurti in a way that the trail cut kurtis would have a deeper C or more difference between the cut in the front and at the back part. The high long kurtis look beautiful and as that illusion of length. They can look amazing when you pair them with appropriate jewelery shoes as well as the accessories like your handbag.
18. Flared kurtis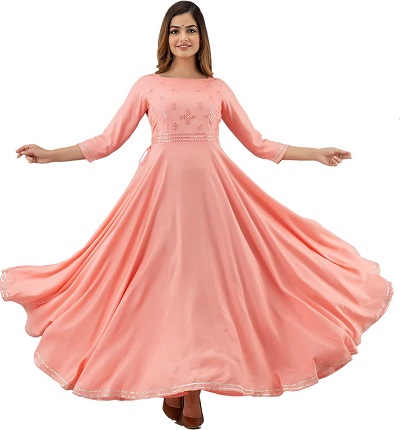 The flared type of kurtis is yet another popular and very common kurti pattern that Indian women would simply love to wear. Flare kurtis are available in different variations which suits different occasions. For example a heavily embellished flared kurti can be appropriate for parties, while a simple cotton printed flared kurti can be your best mate for your casual wear. Layered kurtis are also used to create that indo western kind of look when you pair them with jeans.
19. Dhoti Style Kurti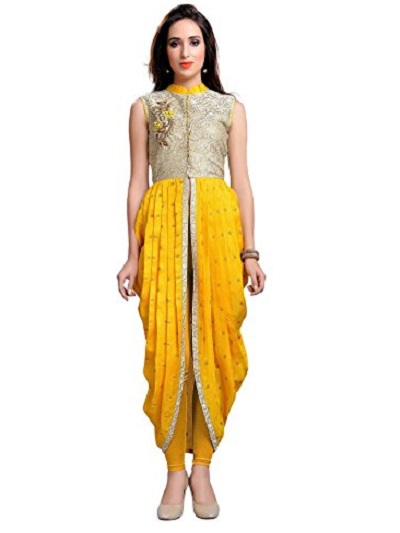 You must have heard about the dhoti style pants but there are dhoti style kurtis as well. The major difference is that these kurtis would have the cowl pattern or dhoti style pattern that would make them a bit different from the regular traditional kurtis. For the women, who love to try different variations and patterns, a dhoti style kurti would be the best thing that they can try.  Dhoti style kurtis can be tried with a nice box clutch and statement necklace for any party. You can certainly become the centre of attention, when you attend a party in your uber chic style wearing a nicely fitted dhoti kurti with the ideal footwear. With kurtis, wedge heels or high heels like pumps would look nice because these kurtis have this flare that can cut your height which is why, you can try balancing it up by wearing heels.
20. Indo Western Kurtis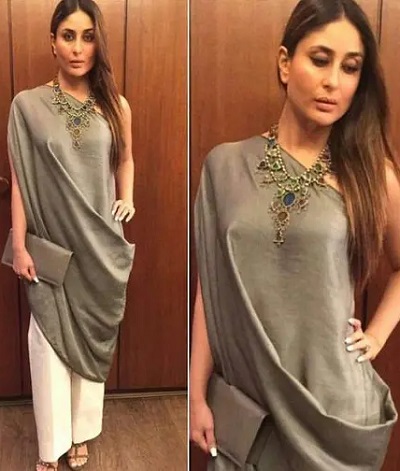 The indo western kurtis, generally have this drape kind of pattern and you will say the look quite inspired from the western dresses and other patterns involved. These are highly designer kind of kurtis which would make you look uber-cool and chic.  You can simply try the indo western type of kurti design for the parties and for the formal events but for these kurtis you have to make sure that your shoes and accessories, should be appropriate and you are able to carry it well.
21. Color Blocked Kurtis
Color blocking is a fabric print of pattern unlike the type of kurti or the design itself. But we are including it here because the color blocked kurtis and other type of outfits are so much in trend currently that you have to have a color-blocked pattern in your wardrobe for sure. Color block kurtis are generally very much seen during the summer season. Color blocking is a technique which is used to create the fabric itself or the pattern by involving two or three colors. Generally, contrasting colors are used to create a more contradictory look when it comes to the colors involved.
22. Peter Pan Collar Kurti Design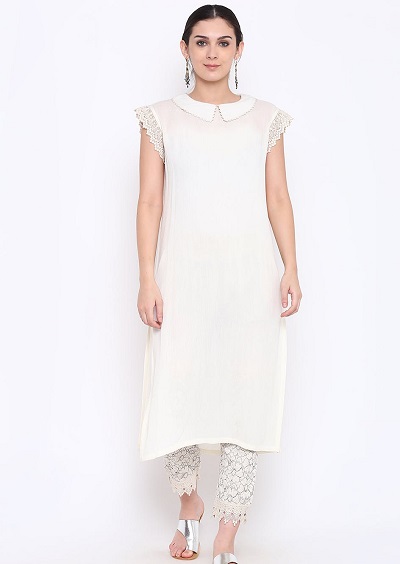 Now you must have seen the beautiful Peter Pan collar in the kids clothing or the girls frocks, however this can also be seen in the kurtis. The traditional kurtis have gained a lot of style and personality. Which is why, Peter Pan collar is also seen in the kurtis. It would look simply amazing and generally the peter Peter Pan collar kurtis have high round neck.
23. C Cut Kurti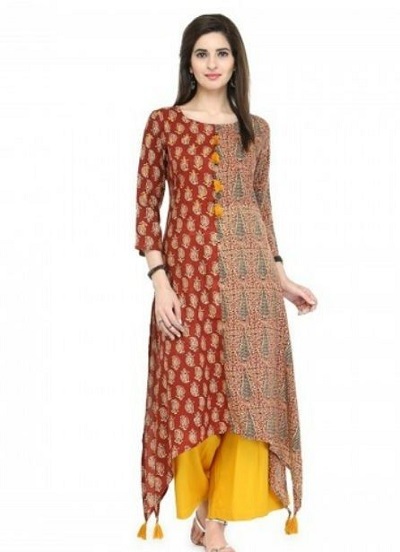 You must have heard about the handkerchief style kurtis, trail cut kurtis and now there are C cut style kurtis. In the secret style kurti you have this rounded C style cut at the hemline. So you get the longer part of the hem-line on both the sides.  This could these generally have long length and they are simply amazing, when you wear them with palazzos and leggings. We feel that the stylish bracelet and that he would look really beautiful with longer kurtis.
24. Pleated Kurti Style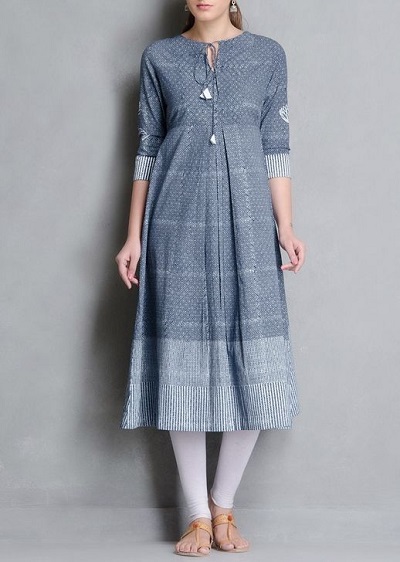 The pleated kurti is generally can be any type of kurti that has got pleats in the front part. Pleats can also be added at the back but we have seen that mostly the pleats are added on the front part to make it look beautiful and to give an appearance of smaller waist. These printed kurtis are trending and different variations are also evolving. The best thing you can do with such kurtis is to go for a yoke pattern pleated kurtis. Style it with the appropriate jewelery and necklace to create a style statement. You can never look amazing when you style your clothes with the proper accessories.  When it comes to pleats, box pleated kurtis  are quite in trend, therefore you must secure a place in your wardrobe to add such a kurti pattern.
25. Overlay Kurti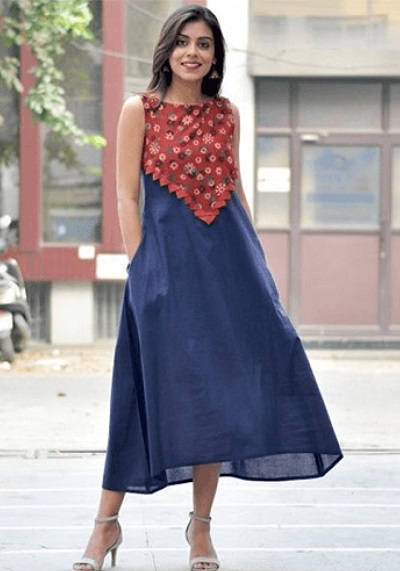 This type of kurti design is for the parties, weddings, dinners, functions and for the romantic dates. For these generally the fabric used is very sheer like chiffon or georgette. These kurtis would have a lining fabric over the bust and the bottom part would be just made in the sheer fabric. This type of kurti design would look absolutely amazing when worn with flared palazzo pants or with the well fitted trousers.
26. Asymmetric Kurti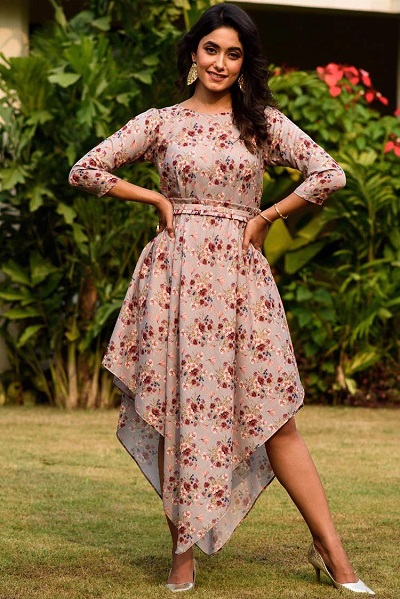 When we say asymmetric type of kurti, we are referring to the hemline. The hem line is asymmetric which means the high low pattern but more like in an asymmetrical way. This kurti type would be required to western looking and are great to create an indo western look. Palazzo pants and skinny jeans would look best with such different type of kurti. With the designer sunglasses box clutch and heel sandals would complete your look to give you uber cool style statement.
27. Tulip Kurti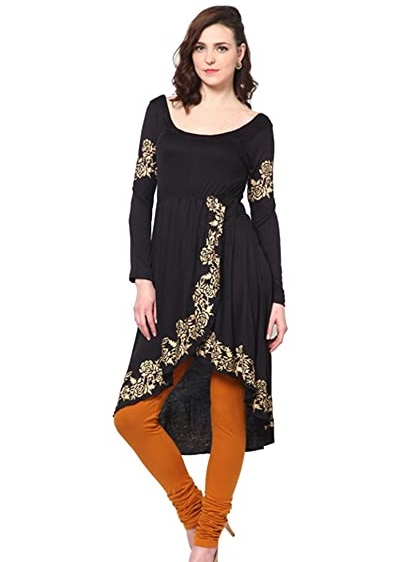 The tulip kurti is made in a pattern where in the bottom skirt part overlap to one another like a tulip. You must have seen the tulip sleeves in various dresses and gowns and even saree blouse is there for tulip kurti has been made on the similar design. These good these are ideal for parties and festivals and simpler tulip patterned kurtis are ideal for your college and formal functions. One can wear dragons and jeans to create indo western look and to add an uber touch to your style. They are also very comfortable. Chiffon and georgette are very common fabrics used to create a tulip pattern type of kurti design
28. Denim Kurti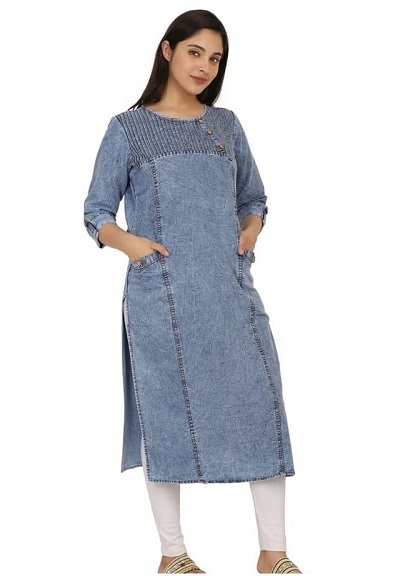 The denim kurti has the name suggests is a type of kurti design which is made in any pattern but with the denim fabric. This kurtis are in trend amongst the college going girls and during the winter season and autumn season denim kurtis are very much seen.
29. Double Side Cut Kurti Design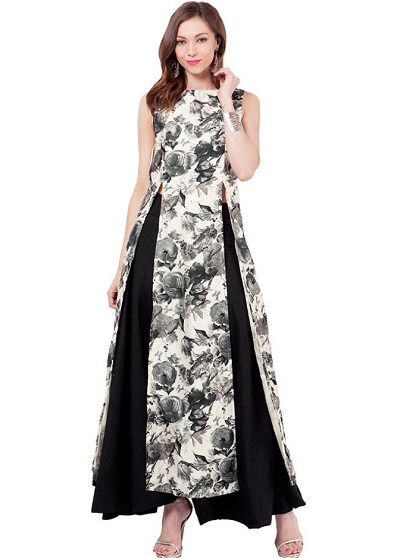 The two side slits are given in the straight cut kurtis, however when the side cuts are not on the sides but more on the front then it becomes a two side cut kurti pattern. These types of kurtis are very popular and they are also seen with lot paired with palazzo pants.
30. Yoke Pattern Kurti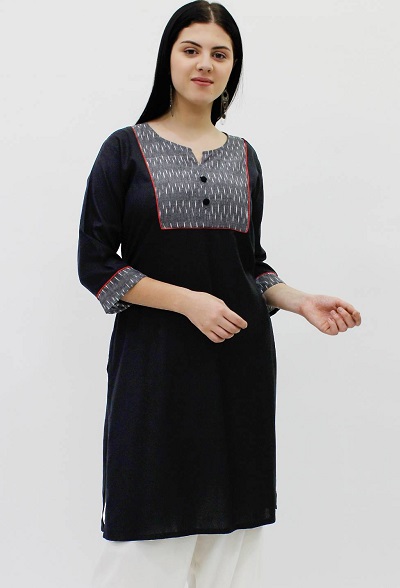 Yoke pattern kurtis can be long or short. The patterns are very beautiful to look at and generally they are embellished and embroidery is also done. Yoke is like a layer that is stitched on top of the regular kurti that gives it a beautiful look. Therefore, yolk pattern kurti can be of different varieties like you can have any kurti made into a pattern with the beautiful patch.
31. Sleeveless Kurtis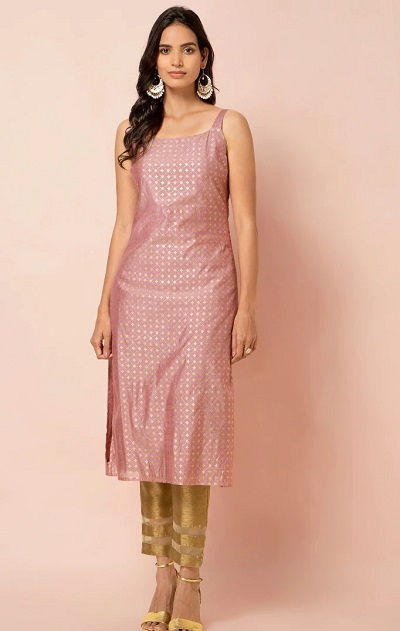 This one is not very hard to guess and is pretty simple sleeveless kurtis are in trend and they give you that at most comfort that you need during the summers.
32. Halter Style Kurti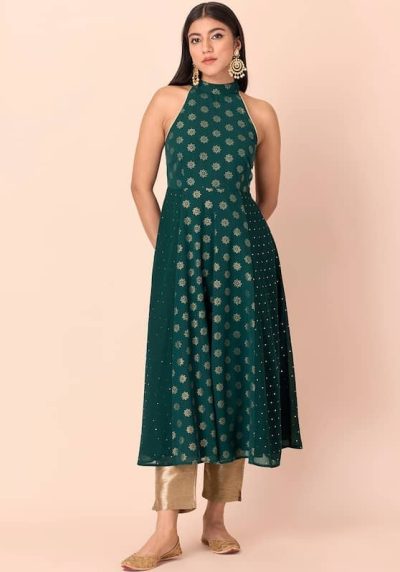 The halter kurti patterns are in trend and they are seen in majority of the summer wear kurtis. The halter neckline is actually quite pleasant and very super stylish.
33. Cowl pattern kurti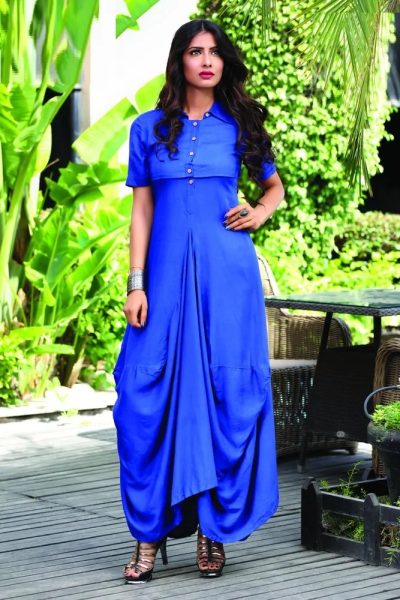 The cowl kurtis are made using the draping techniques which is seen in the dresses and sarees. A drape style cowl is created for that beautiful design. Cowl pattern type of kurtis are very western looking and has that loads of indo western charm to them.
34. Tunic Kurti Pattern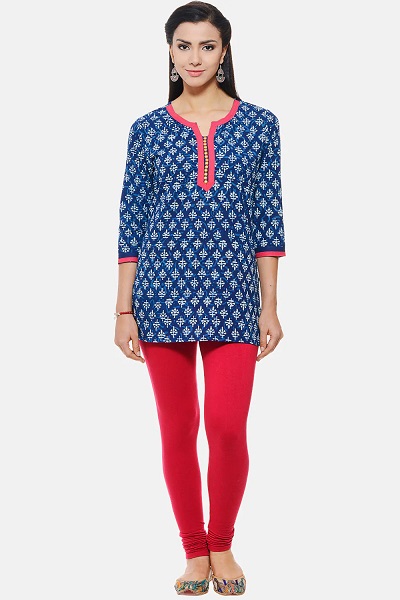 As the name suggests, a tunic kurti is a short kurti with mostly with the flared pattern. Tunic kurti can have any pattern for that matter but the length would be really short that would fall just around the hips or below.
35. Double Layered Kurti Design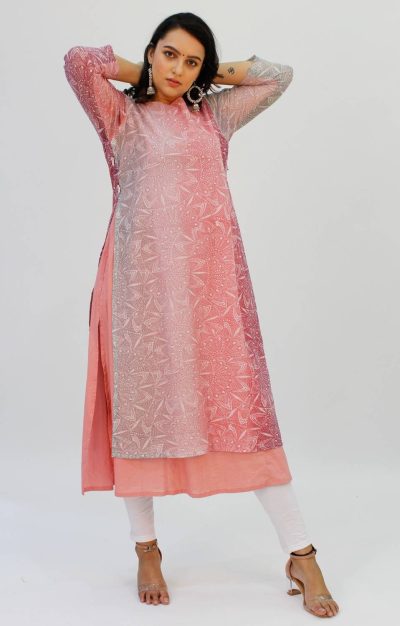 The double layered kurtis would have an extra layer that create a design and pattern, which is quite attractive. Generally, the topmost part of layer is used in a sheer fabric like georgette and chiffon. This kurti pattern is seen a lot in the party wear kind of kurtis.
36. Tiered kurti pattern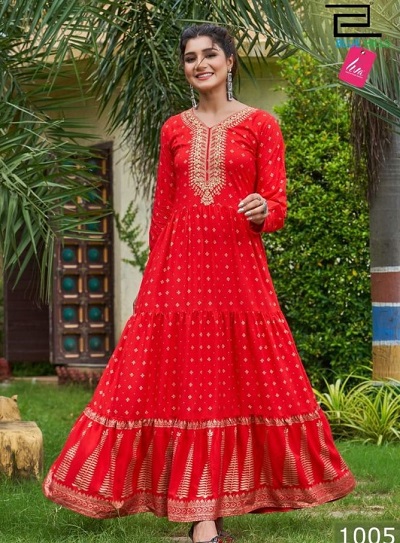 Tiered type of kurti would have multiple layers that create that overall design. They can be two or more tiers.
37. Noodle Strap Kurti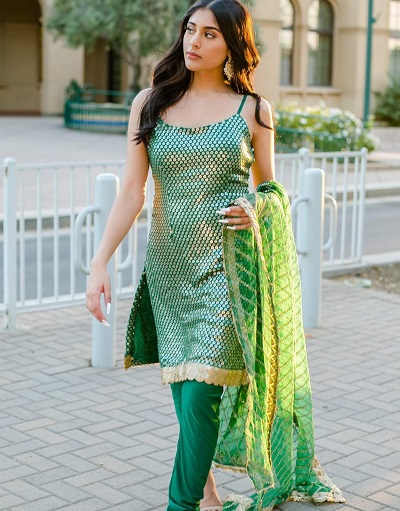 The strap of such kurtis is really thin like the noodle, where the name comes from, that makes it quite fashionable.
38. Indian Traditional Gown Kurti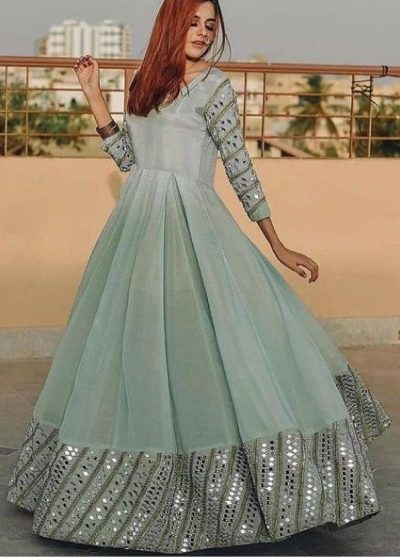 Such kurtis are much embellished and are very heavy which is why they are party and wedding appropriate. They are mostly for the grand functions.
39. Sharara Kurti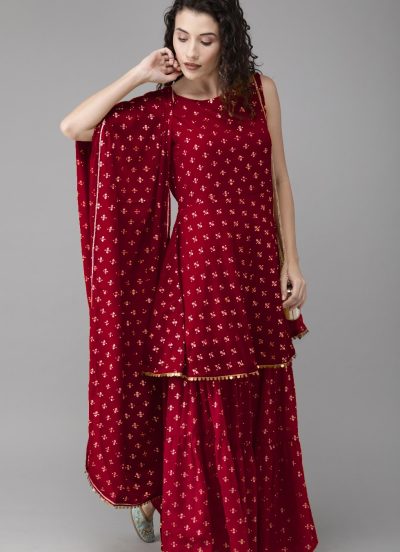 The frock type of kurti have Sharara which looks quite fashionable.
40. Paneled Kurti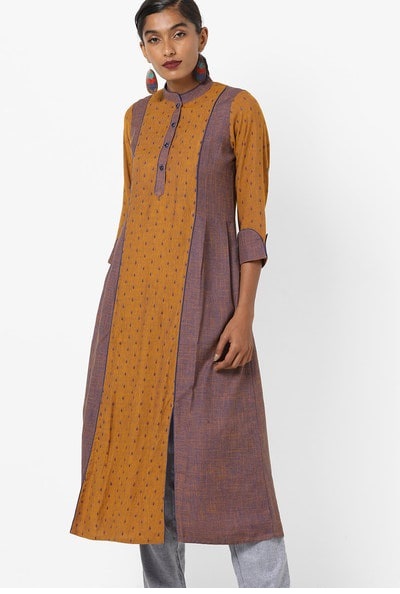 This kurti has the panels which are different and alternating.
Other than that there are kurtis as per the fabric types like:
41. Brocade Kurti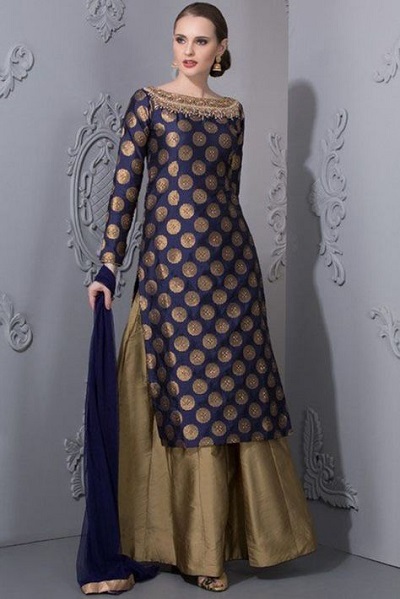 42. Cotton Kurti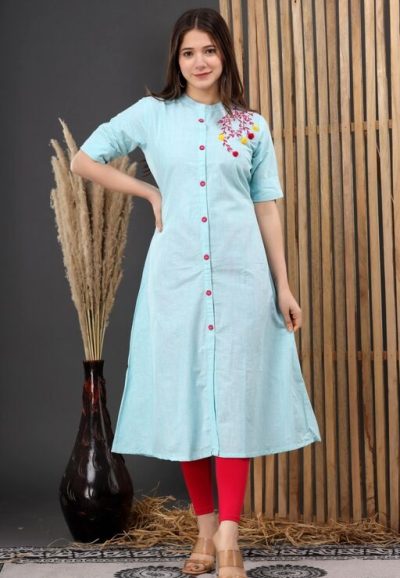 43. Silk Kurti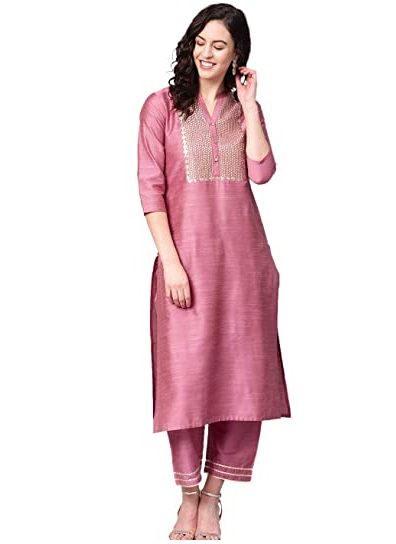 44. Banarasi Kurti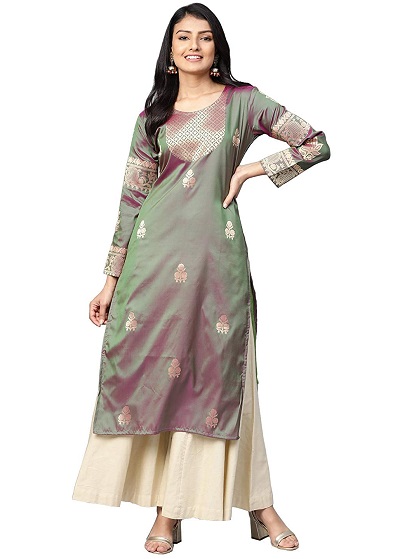 45. Net Kurti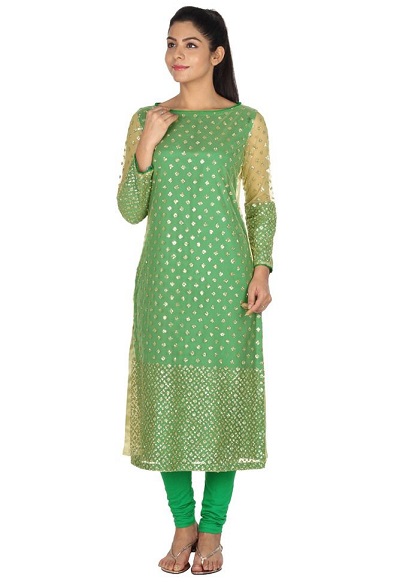 46. Lace Kurti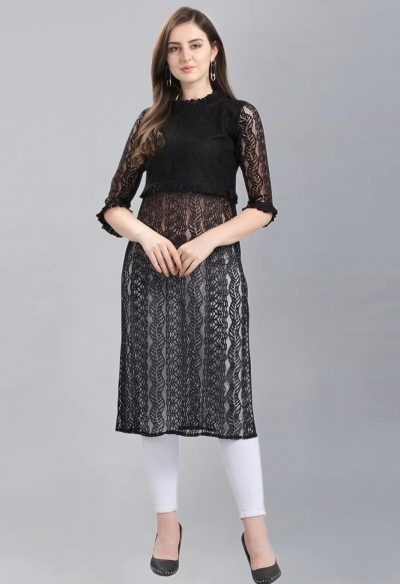 47. Satin Kurti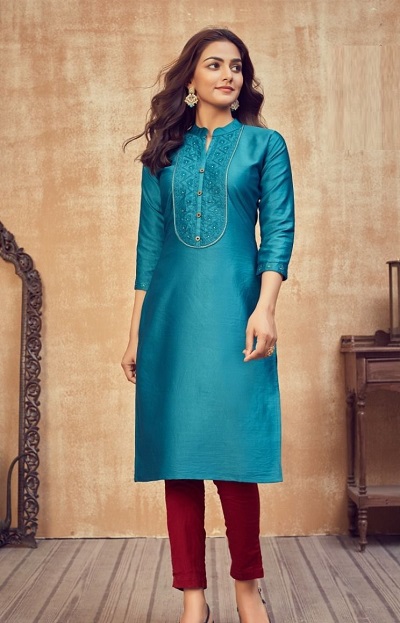 48. Chiffon Kurti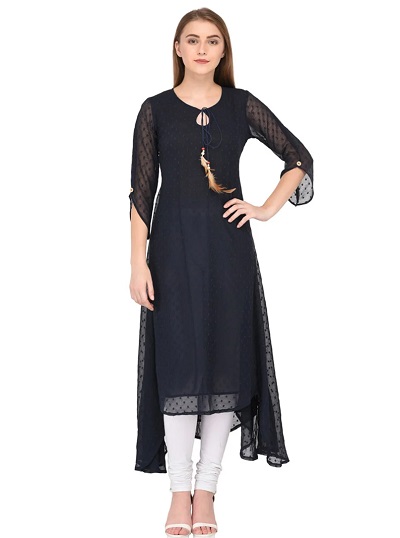 49. Georgette Kurti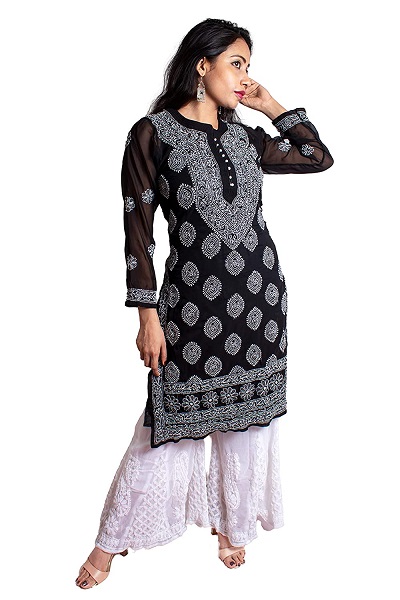 50. Woolen Kurti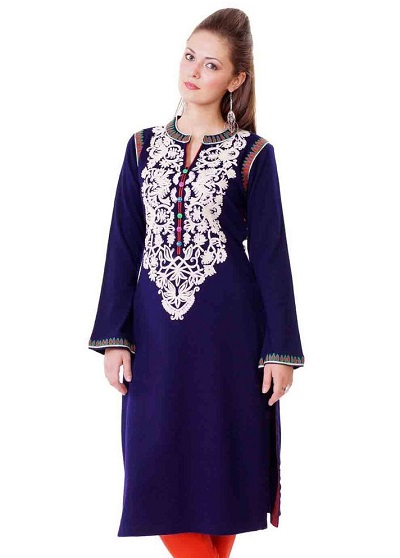 Kurtis are of course one of the most comfortable Indian wear for women. You would see a lot of foreigners wearing kurtis as well. Not only that kurti has the ability to be quite formal and can be party wear and it all depends on the pattern and the kind of work it has. There are different variations of kurtis that women can pick and try that depends on their personality body type and occasion.