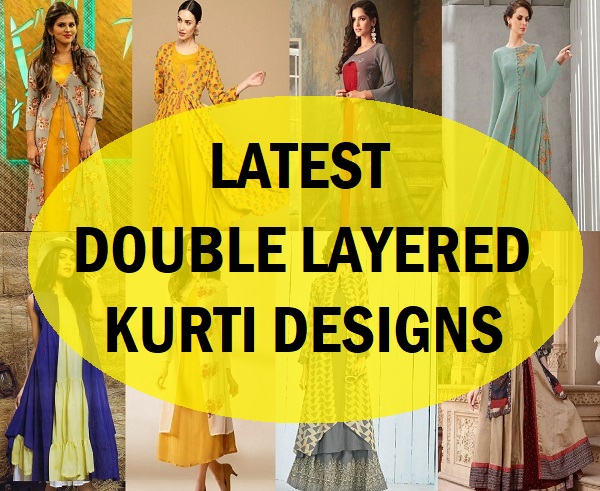 Double layer kurti designs look fabulous and undeniably, the layered pattern is actually quite trendy. The double layered kurti patterns are seen in so many kurtis and this shows that such new model kurti designs have currently become one of the most popular kurti styles. You can have a double layered kurta fabrics and patterns. The best thing about a layered kurti and kurta or even suit is the fact that they look really amazing and pretty as a picture. If you are searching for the kurta and kurtis with the double layered pattern for different events and occasions then this catalogue will definitely help you. These are popular and trendy and different designers and celebrities have been seen wearing them. The layer can add that special pattern to your kurtis that it becomes a bit more charming and enticing. You can choose from widest variety of fabrics and different patterns. Not only for the simpler fabrics but also for the embroidered net, georgette, chiffon, silk and embellished fabrics as well, the layered kurti design is seen a lot lately.
Let's take a look at the latest double layered kurta design for women
1. Yellow Cotton Full Length Double Layered Kurta Design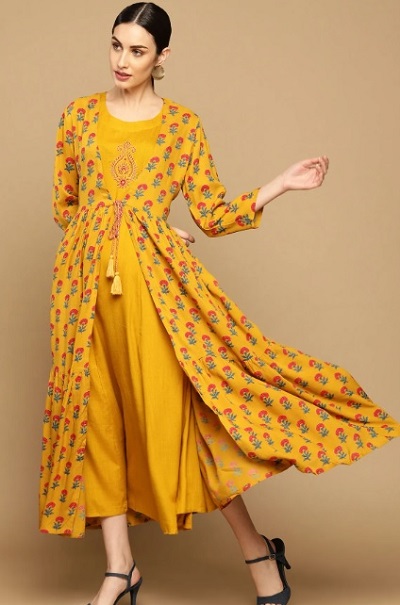 The printed double layered kurta has a solid yellow colored layer underneath a printed layer is used. You can actually tie that shrug jacket style layer over that A line full flared kurta with a tassel and string. The round neckline is ideal and suitable for different body type. This gorgeous ethnic wear for women can be worn for traditional functions and festivals. It is very easy to carry.
2. Double Layered Kurta with Jacket Style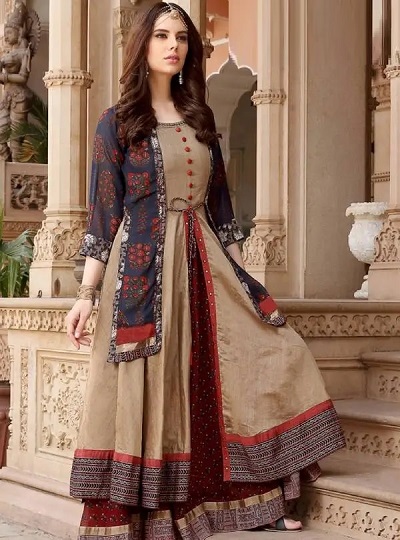 This delightful dress is actually so enticing. You can layer different types of jewellery and footwear. It is a party wear and a festive wear kind of kurti and there are multiple layers and not just double. There is a shorter jacket that also comes over the kurta that has a centre slit.
3. Layered Full Length Kurta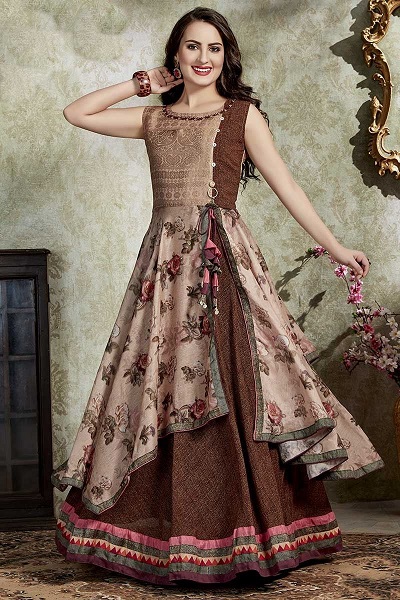 The full length A line kurta for women is made with printed cotton fabric and some embellishment is also given. It has a higher peplum shape used over the skirt area which as a layer to this dress.
4. Cotton Full Length Layered Dress For Women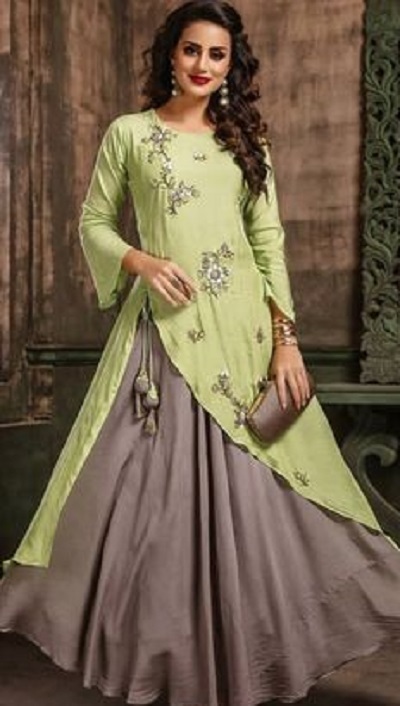 This is actually a layered kurta which can also double up as a dress. The cotton dress is ideal for work and college because it is really comfortable and seeking cosiness in the dress is utmost important. While this otherwise simple dress is easy to carry during summer season it can be dressed up by using the right accessories and footwear.
5. Double Layered Jacket Style Kurti Palazzo Set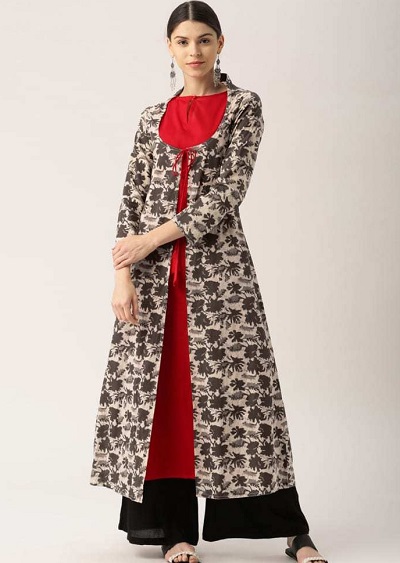 This boat neckline sleeveless solid colored red kurta is paired with a white and black jacket style shrug. This layering effect is actually one of the best kinds of layered design that the younger women like a lot. Here in this double layered kurta design image, it is being paired with a palazzo pant and it is cosy dress for the summer season.
6. Full A line kurta with brocade jacket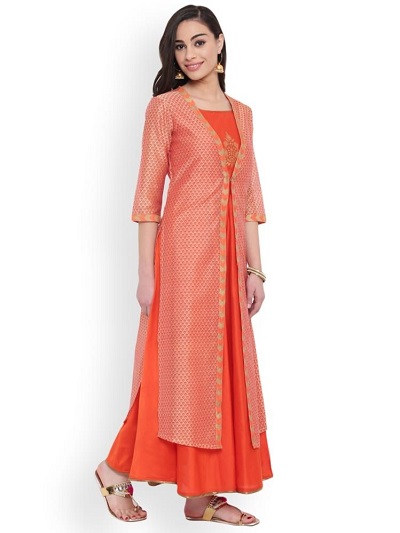 The double layered kurta has actually a full length kurta with a rounded neckline. It can be used with or without the layering. For the layering a long shrug or jacket like it is given. The inside kurta is sleeveless however the top portion is more like a jacket that is detachable.
7. Festive Round Neckline Double Layered Kurta
For the festive season, you will definitely want something which is eye-catching, unique and enticing. This dress is absolutely stunning because of the fact that it is made with the cotton fabric, which is suitable for summer season and for all the festivals that comes during the summer season. The best part about this kurta is that it gives you the best of both worlds. It is an A-line kurta with the cotton fabric over which a straight side slit kurta living has been added. Strings are there to tighten the waistline on both the size are also given.
8. Anarkali Double Layered Kurta for Wedding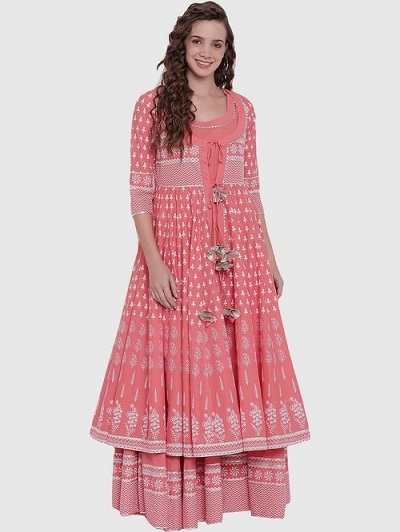 This kurta is quite overwhelming, beautiful and unique at the same time. A full flared or we can say heavily flared kurta which is slow touching is paired with an equally full flared jacket. It has been seen a lot of time in the recent movies which are based on the way stories a lot. This has the kurta which has Gota work and embellishment with tassel ties. This is surely, one of the best and quite unique looking double layered kurta when it comes to festivals and weddings.
9. Diagonal Hemline Double Layered Cotton Kurta
The dress here is simply unique because of the cat and the pattern. The solid blue colour with a contrasting red colour is quite pleasant for the eyes. It is a full length A line kurta over which a diagonal hemline another layer is added to give that their defect.
10. Short Layered Kurta Dress Design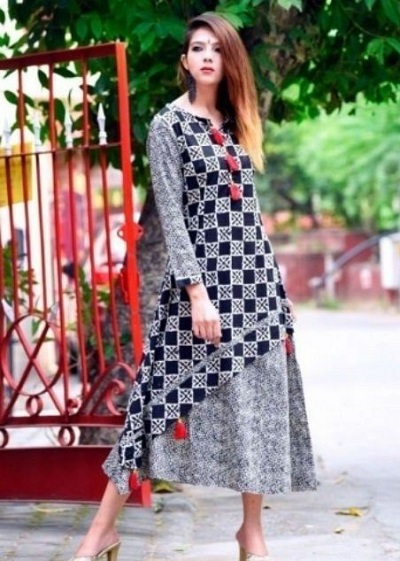 The kurta dress is very popular because they can be doubled up as a kurta as well as a dress. For the younger women and also for the work and the college going girls, the kurta dress is quite handy that they are not only comfortable but also keeps you cool and that is all day long makes them really chosen amongst the younger women above any other piece of clothing. It is a full sleeves diagonal layer is attached to create a nice layer. It is obviously not a detachable layer but it kind of looks really good.
11. Cotton Green Layered Cold Shoulder Kurta Dress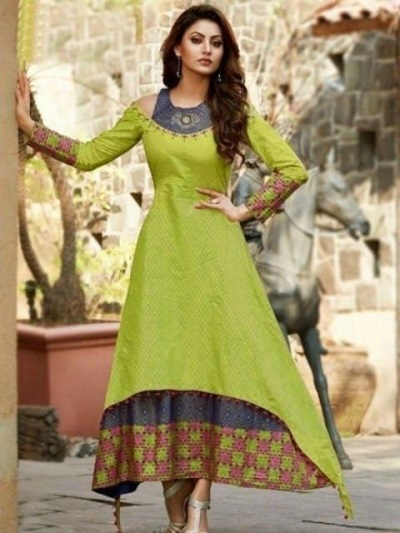 12. Beige Printed Double Layered kurta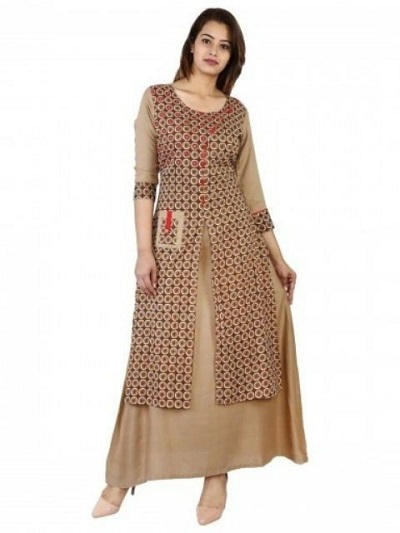 13. Straight layer Heavy Embellished Short Anarkali Kurta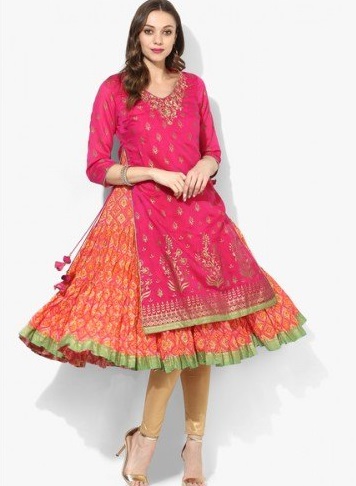 14. Grey And Black Layered Party Wear Kurta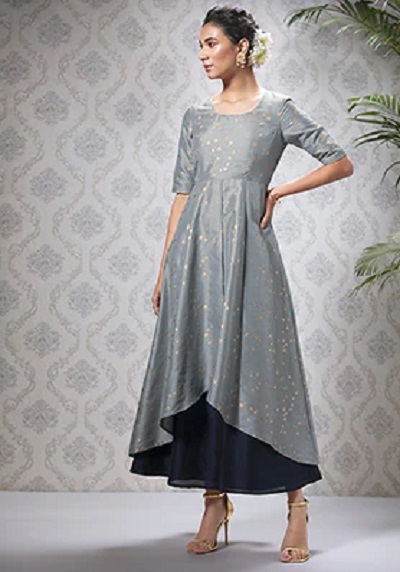 15. Layered Kurta Gown With Angrakha Pattern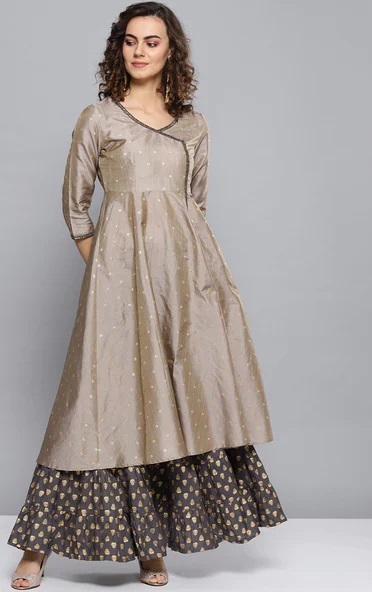 16. Centre Slit Layered Kurta With Contrasting Colour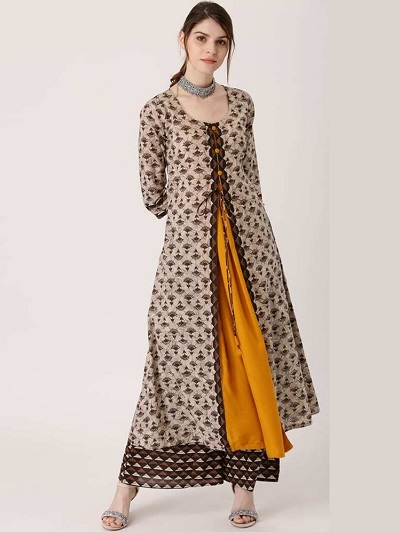 17. Jacket Style Layered Solid Kurta Pattern
18. A line Kurta With Straight Cut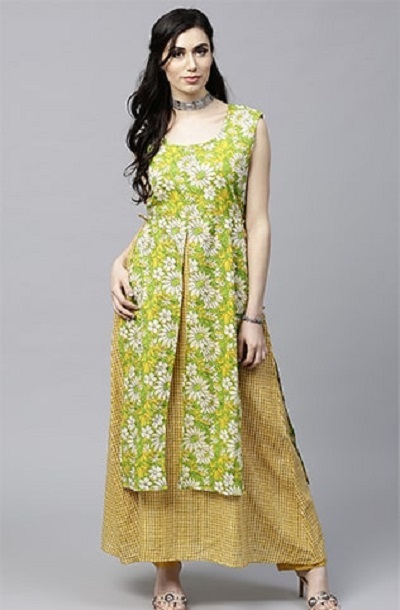 19. Layered Pattern Coloured Layered Kurta Design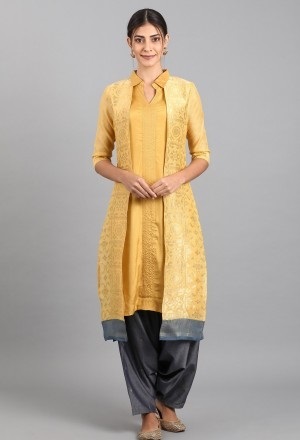 20. Multiple Layered Kurta For Women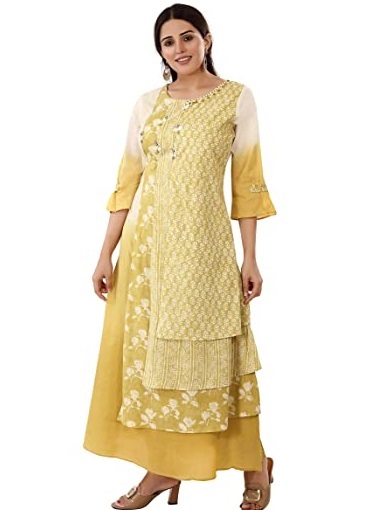 21. A line Simple Cotton Kurta With Jacket Layer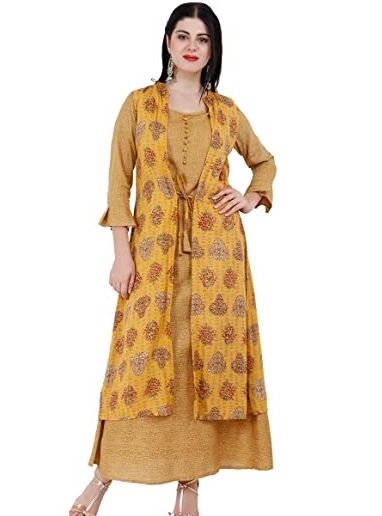 22. Blue Solid Layer With Printed Jacket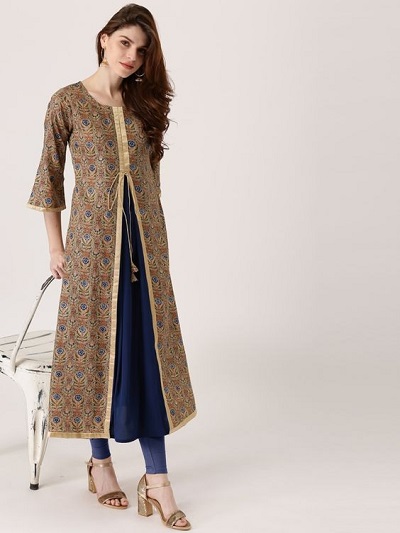 23. Red And Black Double Layered Kurta For Women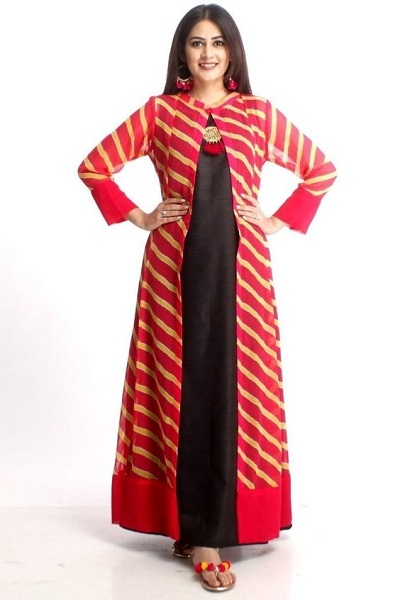 24. Heavy Cotton Kurta With Long Outer Layer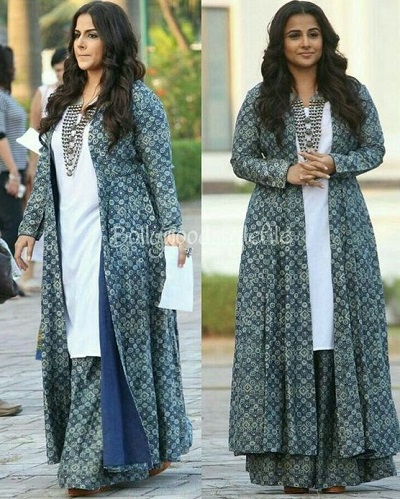 25. Side Pleated Layered Kurta Design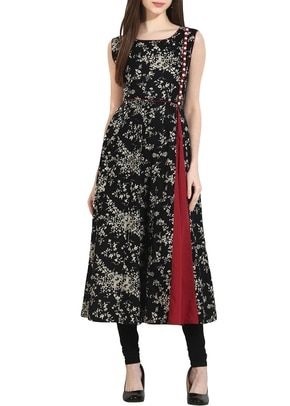 26. Georgette Double Layered Kurta For Women
27. Blue And White Floral Layered Kurta Pattern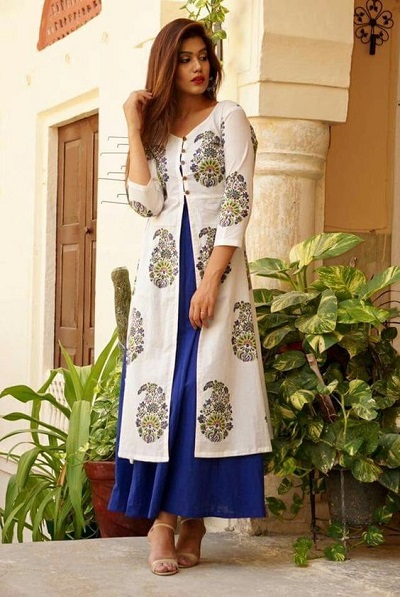 28. Stylish A line Green Kurta With Jacket Layer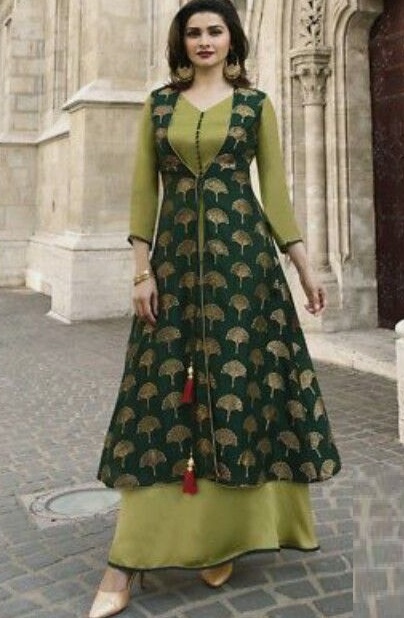 29. Double Layered Party Wear Kurta Design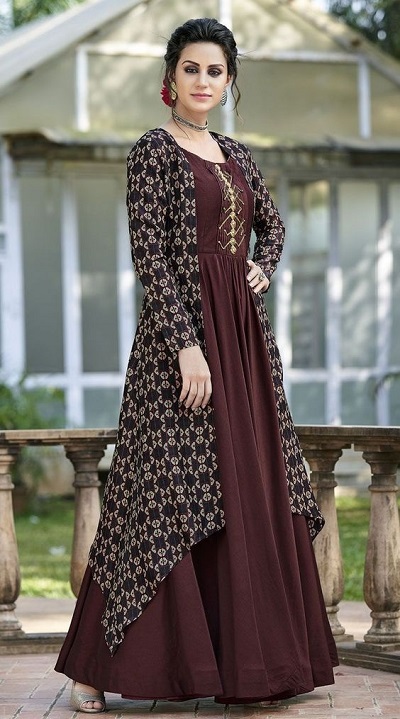 30. Grey Stylish Layer Kurta Design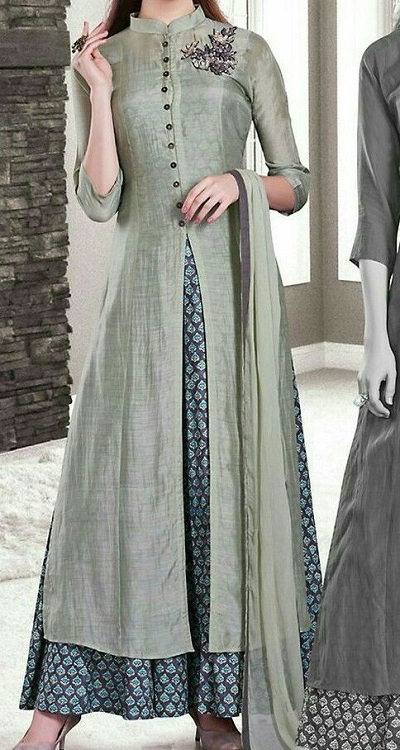 31. Sleeveless Double Layered Full Length Kurta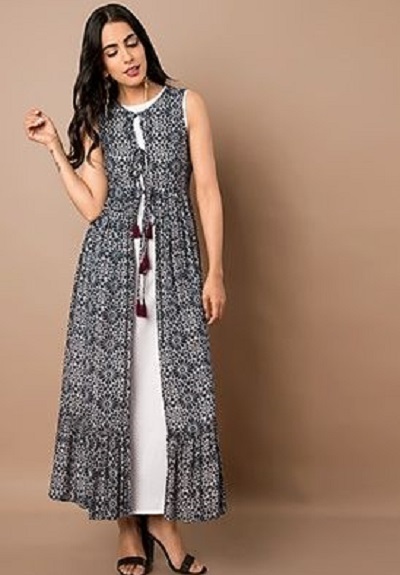 32. Cotton Lace Fabric Double Layered Sleeveless Kurti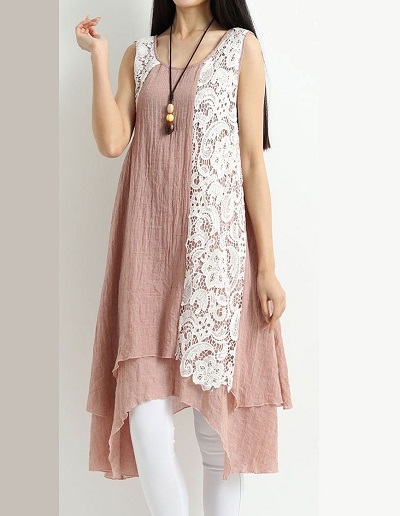 33. Stylish Khadi Style Double Layered Kurta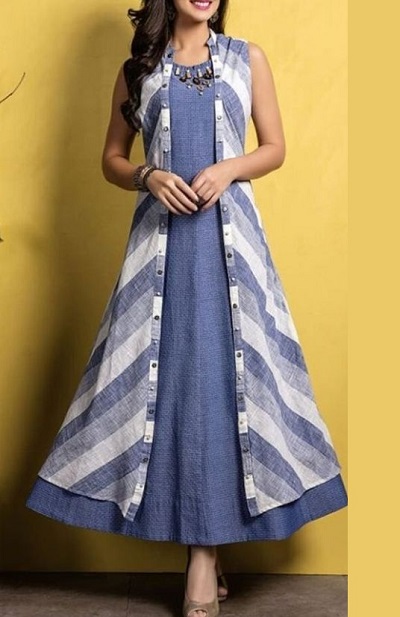 34. Shrug Style Double Layered Kurta For Women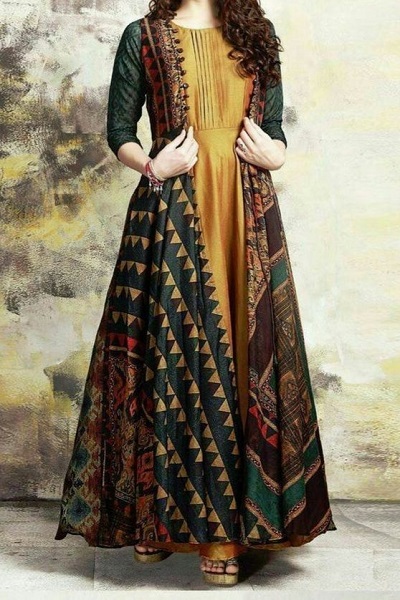 35. Short Suit With Long Jacket Layered Kurta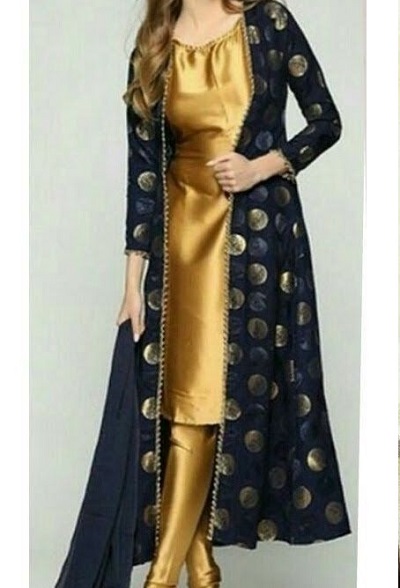 36. Long Jacket Layered Suit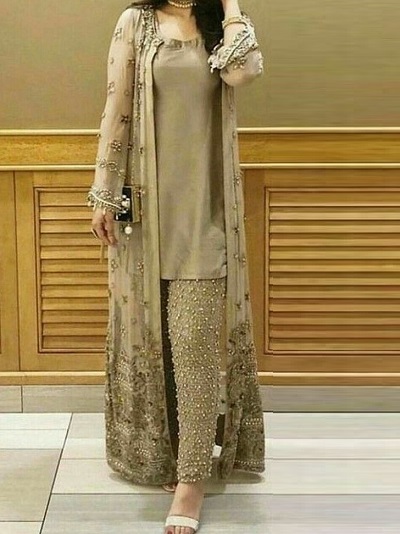 37. Long Outer Layered Double Layered Party Wear Kurta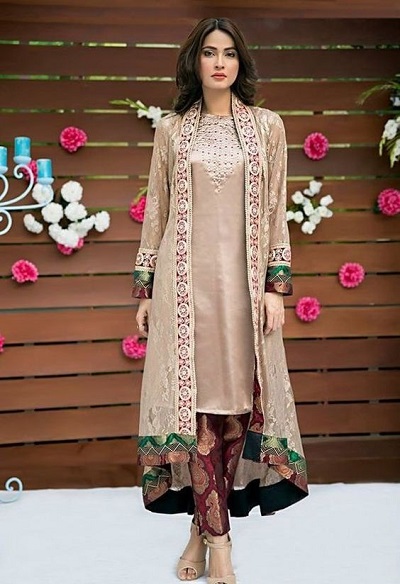 38. Sleeveless Summer Cotton Khadi Layered Kurta Palazzo Set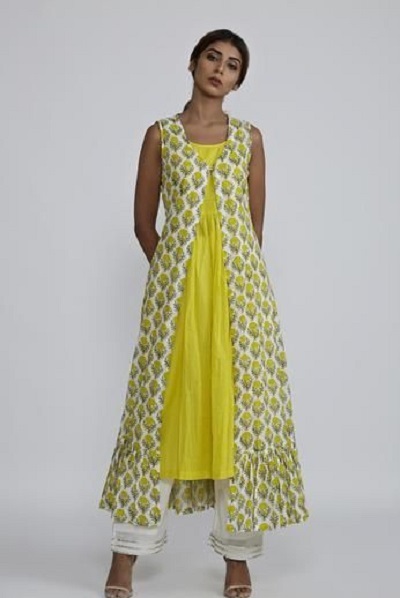 39. Full Sleeves Floral Printed Party Wear Kurta Set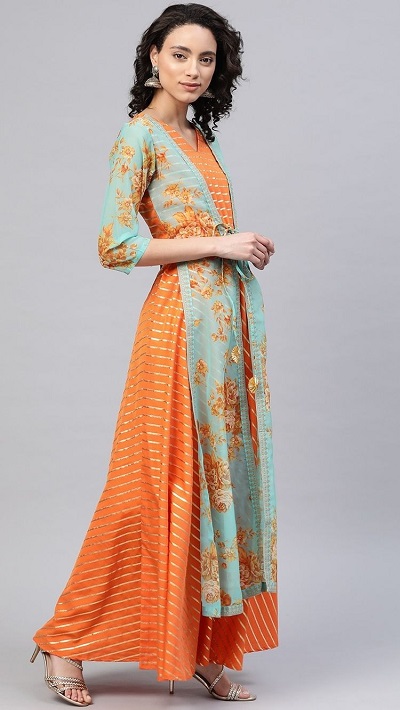 40. Stylish Multiple Layered Kurta For Women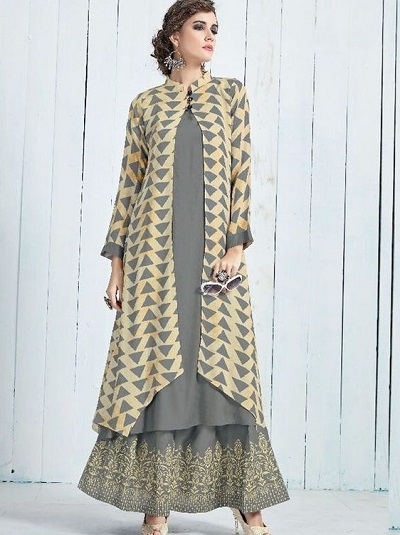 41. Georgette and Chiffon Floral Printed Layered Kurta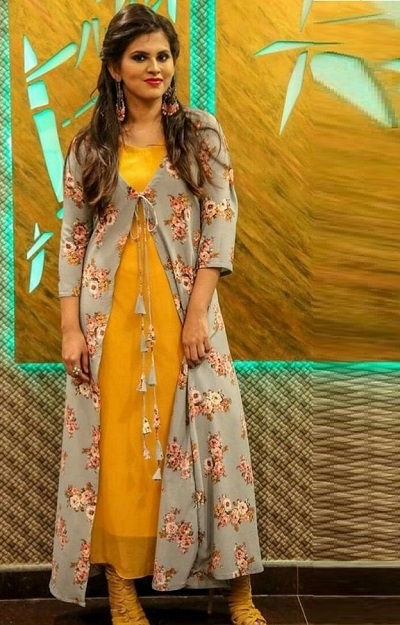 42. Shrug Style Wearing Kurta For Ladies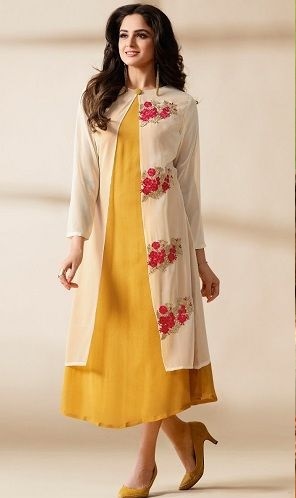 43. Simple Layered Suit Design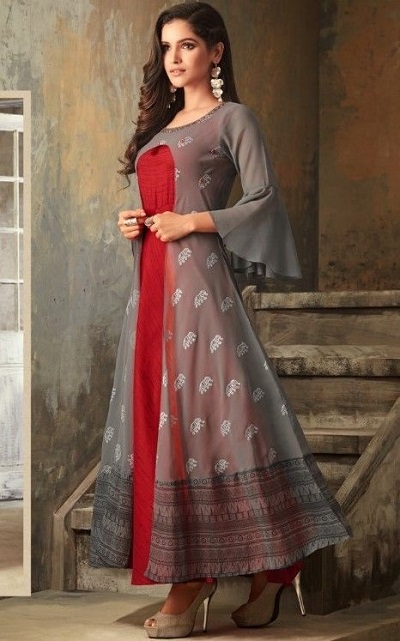 44. Button Placket Work Kurta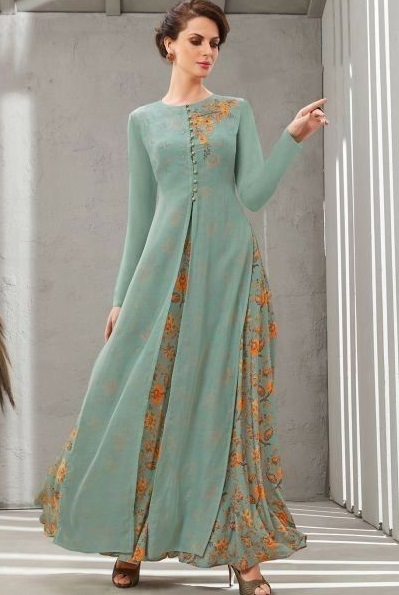 45. Sleeveless Straight Layered Kurta Set
46. Simple Double Layered Kurta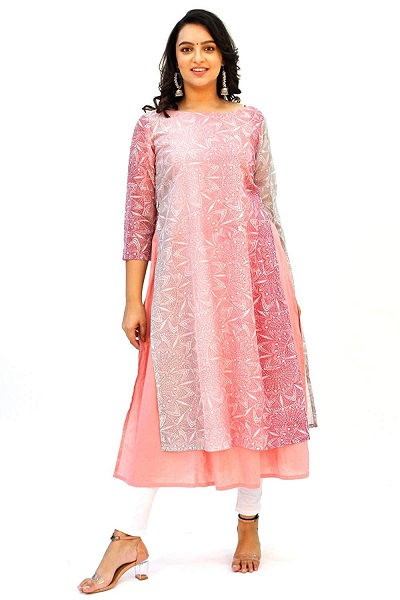 47. Mint Green Double Layered Crepe Kurta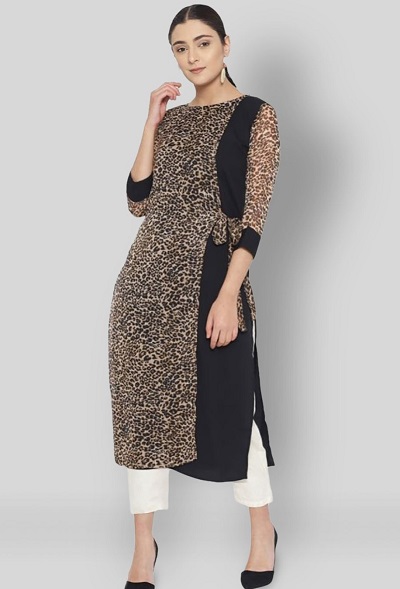 48. Crepe and Georgette Animal Printed Double Layered Kurta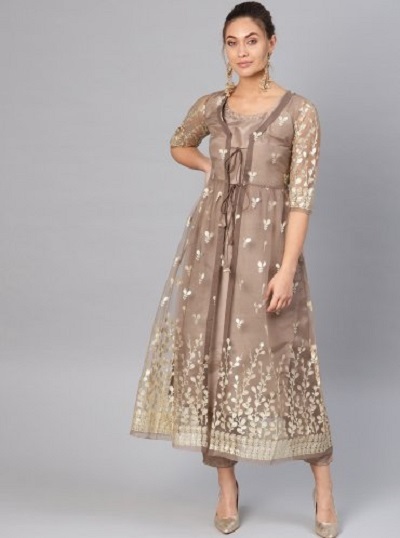 49. Gold Foil Print Double Layered Party Wear Kurta Set
50. Summer Yellow and Blue Layered Kurta Cotton Set