Easy Golden Copper Eye Makeup for Indian Wear and Festivals

Hi beauties. How are you doing? I will share this eye makeup that we can do for Indian festivals with our Indian traditional wear like saris, salwar kameez, lehenga etc. At times, we get confused about which eye makeup or makeup to do with the Indian wear. In this post, I will share a step by step eye makeup look for you. Have you seen that in our Indian clothes, there are embroidery, zari work etc of detailing of copper, gold, bronze or silver color etc, These detailing makes the clothes look heavy and suitable for the Indian festivals, weddings and parties. This is why the colors I have chosen for this look are very earthy like golden, copper etc.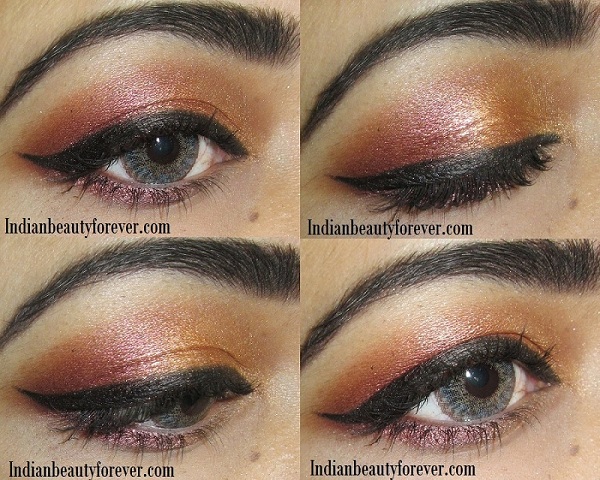 I have already posted this eye makeup look on my other blog so, let get started how to do this eye makeup look for Indian wear.
Step By Step Eye Makeup for Indian Wear
Okay, so first start with the eye primer. Eye shadow primer can make your eye shadow last longer. If you do not have eye primer than use BB cream or even a concealer to make the eyelids even toned.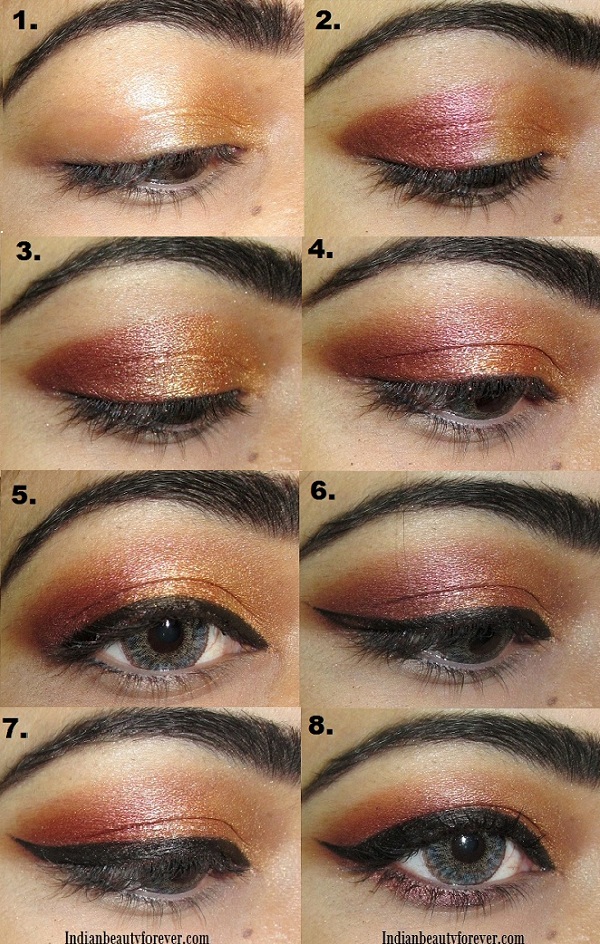 1. So, in the first step I took a gold eye shadow color on the eye shadow brush and applied that on the inner corner or my eyes.
2. In this step, I took another color which is a berry like reddish color. I applied this color on the outer corner of the eyes.
3. Then I took a copper color and applied it over the middle of the eyelids. This makes a gradient as the inner part has gold, then copper and then that reddish color.
4. After this I used a medium matte brown eye shadow color on the crease and blended all the three color gently so that they look even and not patchy.
5. After that I used my gel liner to draw a line over the lash line.  I also used some copper colored eye shadow under the waterline as well.

6. In this step as you can see I created a slightly thick wing which makes the eyes look longer and more attractive.
7. Then I also thickened my eyeliner a little bit because thick eyeliner looks good on me. Just look at picture no 5 and 8. Did you see the difference a thick eyeliner with wing can make?
8. Lastly, I applied my mascara and I was ready with my eye makeup. Yaay! :)

So, beauties do you feel this is easy. I am sure with just a little practice you will be able to do that. If you cannot do that then you can simply apply a gold color eye shadow on the eyelids and a winged shape eyeliner. That is also a lovely eye makeup for Indian  wear. Next month, Rakshbandhan will be there so, you will be wearing suits and sarees then you can try an eye makeup look like this.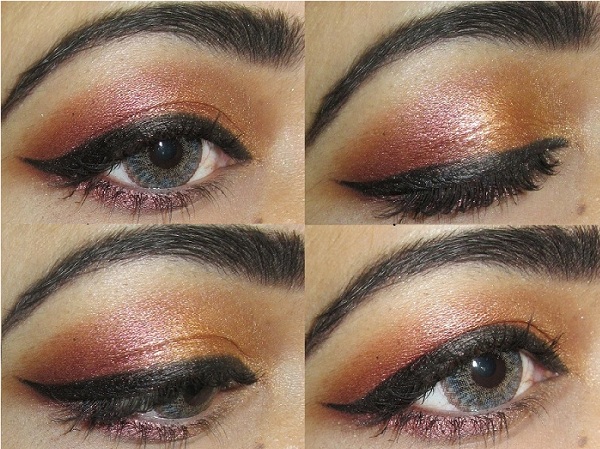 Lips color suggestion for this Copper Gold Eyemake up
So, now with such eye makeup for Indian wear, you can use a red lipstick, pink, orange or even a coral lip color. If your skin complexion is darker then warm pink will look lovely on your or even a beautiful corally color. If you don't know what is a corally color. Then  a corally color is a reddish orange color which is also is the color of sunset. When the sun is setting have you noticed that it look slightly red and little bit orangey. That's the Coral color.
Let me know if you want to ask anything dearies. :) You can also do a light and simple makeup if you wish, like I did earlier.