Long and thick eyelashes: Get them with naturally

Eye lashes can make the eye look even more attractive and pretty. Bigger eyes look beautiful and to make them even bigger, eyelashes play an important role. Thick eyelashes look gorgeous but if you are not born with that naturally there are some natural beauty tips and home remedies which make the eyelashes thicker and longer. Here we will share natural ways to get long and thick eyelashes.
1. Castor oil for eyelashes
Castor oil is known to make the hair strands thicker whether it is the of eyebrows or eyelashes. Apply castor oil over the eyelashes regularly at night and wash in the morning. Use a Q tip to apply castor oil for thick and long eye lashes. Do not apply too much as it may lead to temporarily cloudy vision.
2. Almond oil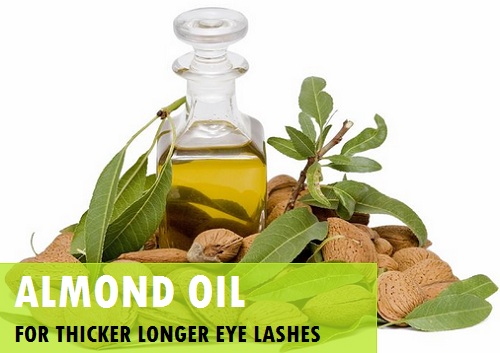 Image credit: Pinterest
Almond oil which is highly rich in the vitamin E. Vitamin E is extremely beneficial when one wants to grow long and thick eyelashes. Thicker lashes are attained with the regular application of the almond oil on the eyelashes at night. It is also said that almond oil with the vital vitamins and other nutrient helps to thicken the eyelashes naturally and safely. Almond oil also help to grow the lashes longer.

3. Vaseline for thick eyelashes
This is one of the tricks that is highly suggested but still the facts are not known but those who had tried this, swear by the vaseline trick for thick eyelashes. Apply pure Vaseline on the eyelashes every night and gradually it will helps to thicken the eyelashes. Do make sure that the Vaseline should not go into the eyes.
Makeup Tricks for thicker and longer eye lashes
Tips 1: You can also get longer and thicker eyelashes by using some makeup tricks like using a volumizing and thickening mascara. Put at least 2-3 coats of mascara to get the desire results.

Tip 2: Putting some black matte eye shadow on the roots of the eyelashes make them look thicker and lengthier.

Tip 3: You can also apply a coat of mascara and then put some translucent powder on the eyelashes. Then again apply mascara. This way the eye lashes will look super thick and lush.
So, these were some home remedies and makeup tricks for longer and thick eye lashes. If you have any other tip to share do share that with us in the comments.