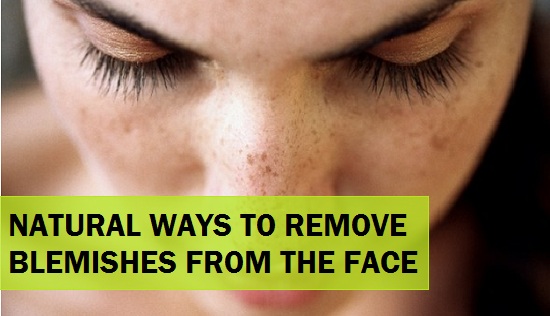 Blemishes on the face look unwanted as they can ruin the entire face look. Blemishes can be acne marks, spots, pimple marks, scars etc. They all can make your face far from flawless. There are so many skin care creams and lotions available in the market that can help you get rid of the blemishes but most of them don't work very well. So, here will share some homemade treatments which are all natural and herbals that help to remove the blemishes from the face. So, let's dive into the natural secrets for a blemish free flawless skin at home using natural products.
Home Remedies to Remove Blemishes from face
1. Honey and lemon juice
Mix one teaspoonful of honey with 1 teaspoonful of lemon juice. Mix them well and apply this lotion on the face. Keep this for 2 hours and then wash the face with clean water. You need to repeat this treatment every day to fade the blemishes like scars, marks and spots faster from the facial skin.
2. Orange peel powder
Take 1 teaspoonful of orange peel powder and make a paste of this with some honey. Apply this paste like face pack on the skin and keep for 30 minutes wash it off with clean water and pat dry the face. Try this face pack 3 times in a week to remove the blemishes from the face.
3. Curd and turmeric powder
This remedy is great for oily, dry and all skin types. People with sensitive skin can also try this as it is gentle and mild treatment to lighten the blemishes from the face for a spot free skin. Mix 2 pinches of turmeric powder with 1 teaspoonful of curd. Mix both of them well and then apply all over the face. Try this every day and it will soon whiten the skin and reduce the darkness of blemishes.
4. Aloe vera gel and lemon juice
Mix 1 teaspoonful of aloe vera gel with 1 teaspoonful of lemon juice. Apply this and wash after 1 hour. repeat everyday. This will reduce the darkness of the blemishes and also decreases the swelling of pimples.
5. Sandalwood
Sandalwood is a very good and easy to use product to get relief in the blemishes. Make a paste of sandalwood with some water or milk. Apply on the face evenly and let it get dry. Wash the face with water. Do this every day to quickly get blemish free lighter skin complexion. Sandalwood will also improve your skin color, sun tanning and any rashes due to heat in summers. This is a great summer face pack.
6. Tea tree oil
Add half teaspoonful of tea tree oil with 10 teaspoonfuls of distilled water (filtered water). Mix them and use this on the face with the help of a cotton pad and let it there for 2 hours. Then wash. This will help combat the blemishes. Tea tree oil has anti bacterial and anti fungal properties hence this will cure pimples, acne redness and any other skin problem that you have.
How to Prevent the Blemishes on the face
It is said that the prevention is always better than the cure hence you should try to prevent the skin in the first place from getting blemishes. For that keep these things in mind.
Always use sunscreen before going out in sun. This will prevent the skin from getting sun spots and age spots.
Never prick the pimples or zits as it will leave marks and this will lead to blemishes later on.
Whenever a pimple erupts apply some pimple cream so that it can heal faster and won't leave any marks.
Always exfoliate 2-3 times in a week this will keep the pores clean and blemishes can be prevented.
How to reduce the swelling of blemishes like acne
To reduce the swelling of acne, you can apply some ice cubes so that the inflammation is reduced.
You can also apply some toothpaste this will reduce the redness and swelling off the pimple.
Applying aloe vera gel also helps to ease the inflammation.