Eid is a festival where women get dressed up and apply henna to decorate hands. It's a festival of happiness and for joy. Ramadan festival brings exchange of gifts and seeking blessings. Here we've compiled the list of the best Eid mehndi design for women or full hands, back hands and even feet.
Latest Eid Mehndi Designs for 2022
Let's take a look at some of the best Eid mehndi designs to get some inspiration.
1. Floral Mehndi Designs for Eid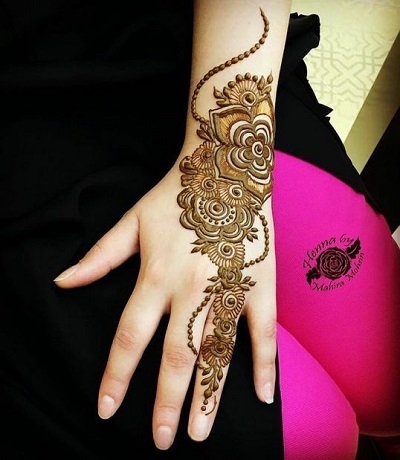 The floral mehndi starts from the ring finger. It includes the various flowers in different shapes and dotted ball chain like structures. It is truly enticing and is perfect for ladies who do not want fully filled designs, but a design that is rich yet is on half of the hand. This can also be replicated on the front palms as well for Eid special mehndi.
2. Simple Eid Mehndi Design Full Hand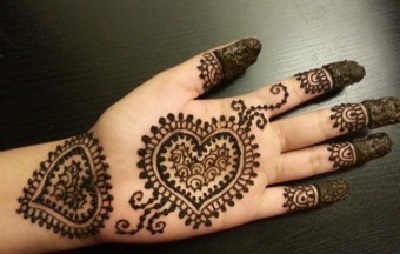 The henna design for Eid has heart shape made with the dots. The filled in part on the tip of the fingers is the real beauty of this design. It's a design which is suitable for small babies as well.
3. Floral Eid Special Mehndi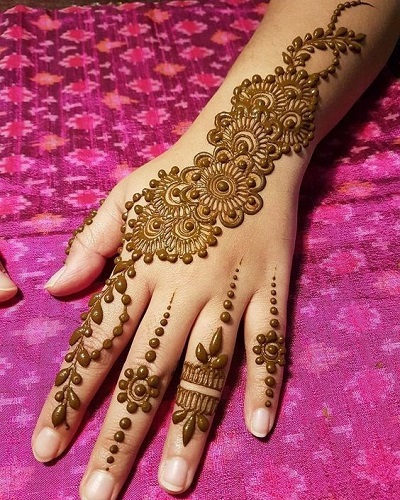 It's a simple and beginner friendly and latest mehndi design for Eid that appears different shapes like circles, tear drop shapes. And the beauty of the pattern is that it's simplistic and is extremely beautiful. It can be used on kids hand as well and even women can try such a beautiful design on the hands and legs. It's the best henna design for Eid and fairly easy to draw and learning to apply henna would like this Eid mehndi design. Anyone who knows how to use the cone would find it very simple to apply this new mehndi design for Eid.
4. Arabic Mughlai Eid Mehndi design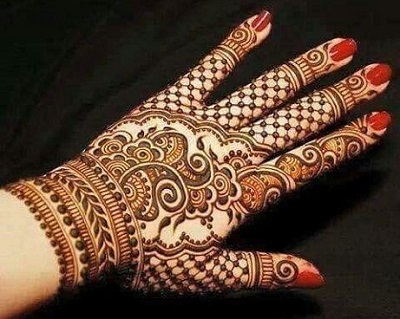 A nicely and neatly made design is the beauty of this pattern. It's a sophisticated yet simple mehndi design that may appear difficult but it is very easy. It includes motifs which are simple to draw and it's learner friendly. You can wear it with ethnic wear and jewellery. It is best suitable for festivals, family functions and the best Eid Mubarak mehndi design.
5. Rose Flower Eid Mehndi for Beginners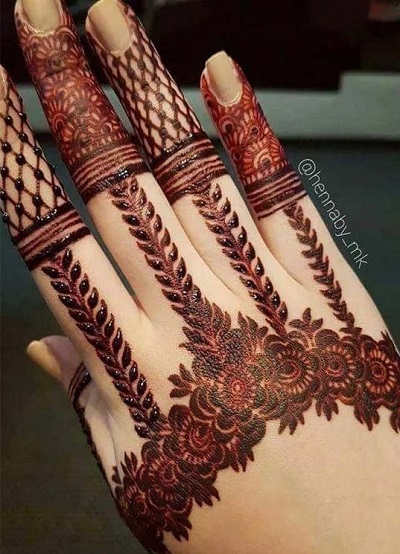 Woman who would love to have a rich and dark looking mehndi pattern shall go for this Eid mehndi design. The pattern has flowers, leaf and tendrils in it but the lines are very thick or heavy, which makes the design go dark in color. The filled gaps that bears the resemblance of rose flower petals is beautiful. It is very modern looking and also gives the look of hand jewellery as well.
6. Stylish Eid Mehndi Pattern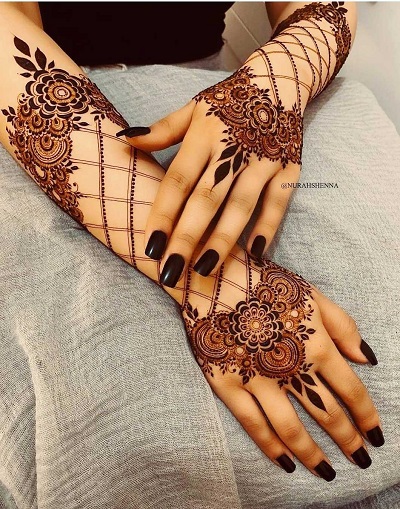 This beautiful crisscross pattern of mehndi design extend from the middle finger and goes beyond half of the arm. It is extremely beautiful and has filled gaps and shapes. The leaves shapes are filled in so that they get dark in color. The criss cross pattern gives it beautiful look. It's suitable for any occasion this is the mehndi design for Eid.
7. Geometric Eid Mehndi Pattern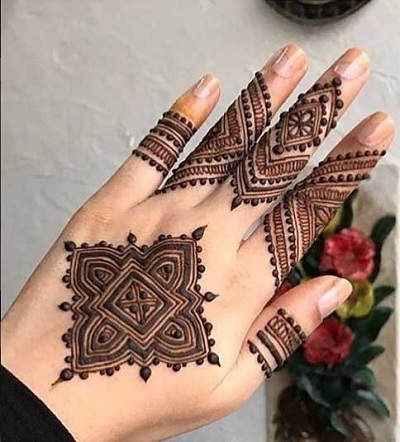 The geometric pattern inspired mehndi art is truly mesmerizing. The centre pattern at the back of the hand has square shape with fine lines drawn in between. In fact, it also looks like being inspired from the Mughal architecture. On the hands, the design is exclusive and is sophisticated. The Arabic and Mughal inspired mehndi design is artistic and you would need some practice to easily draw it.
8. Intricate Flower Eid Mehndi Style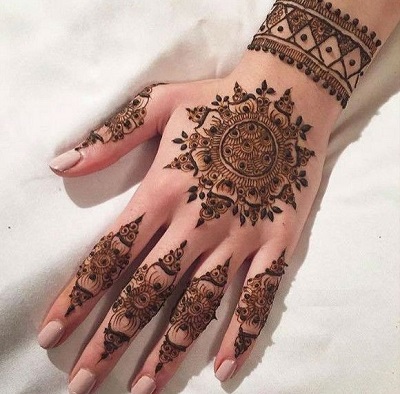 The new mehndi design is Eid special and is a floral mehndi with circular shape has been drawn keeping in mind the traditional delicate jewellery. The design bears similarities to that of a cuff bracelet. Mehndi design has lines with some thickened borders. The blend of thick and lines creates a dimension and imparts more beauty to this brilliant looking Eid mehndi design is a back hand mehndi design that can also be replicated on the front hand.
9. Dots and checks Mehndi design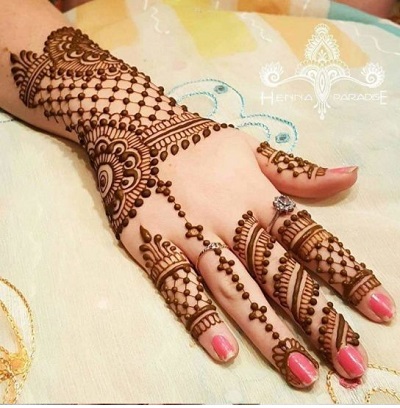 With dots and parallel lines this Floral and lace kind of Pakistani mehndi design for Eid is a beauty to watch. The ideal perfectionist choice of Eid mehndi design requires minimal practice. This pattern is spread over the fingers and near the wrist area. The dots are the key highlight that makes this design even beautiful. It's best suitable for family functions, festivals and other times when you need to apply henna on your hand. This Eid Mehndi design can be used on the palms and back of the hand.
10. Bharwa Eid Mehndi for Beginners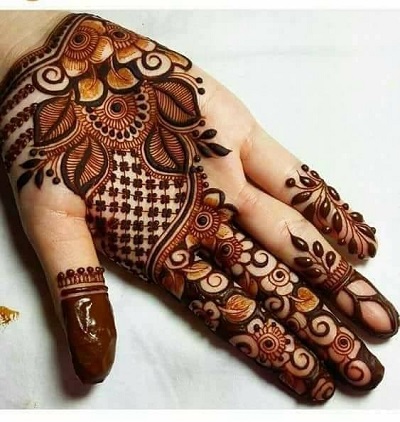 It's a simply amazing colorful Ramzan special mehndi design where there are multiple shades of deep reddish brown color. It has a light dark and orange color that have been given the shades and gradient. The beautiful mehndi pattern has thick borders of the leaves and thin parallel lines to extra dimensions. Pattern on the index and middle finger look like an embossed design. This mehndi is perfect for the festivals, family functions and gatherings.
11. Simple Circular Eid Mehndi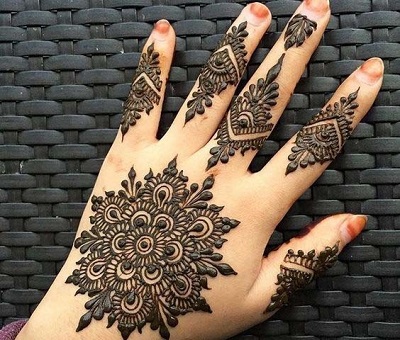 One can't ignore your hands, when you have such a beautiful henna design. The design is appropriate for kids and babies as well. However you can shorten it a bit. It is a dark colored Mehndi that would give you rich color once it gets dry. Blend of floral shapes in this design is intricately done and needs practice. However, this is one of the most easiest intricate looking mehndi design for festivals. It can be used for family functions, festivals, Puja ceremony at your home.
12. Delicate Henna Pattern for Festivals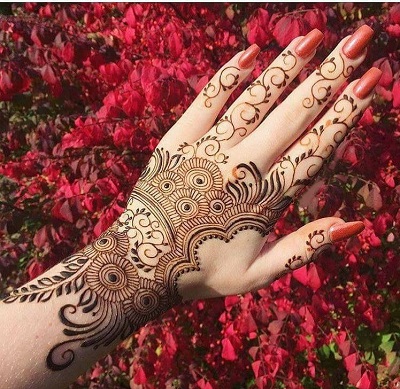 Just like we draw mehndi patterns, this is a very thin mehndi pattern where delicate lines and curves have been used. The Arabic mehndi design for Eid is the latest simple mehndi design that does not require more effort, however the intricacy is the highlight. The design is beautiful and comprises of curvy lines and structures. You can use it for family functions and festivals and some Puja ceremony where you would like to apply henna on your hands.
13. Tattoo Like Ramzan Modern Mehndi Design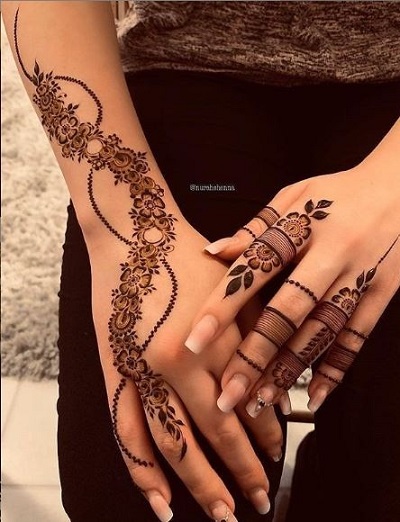 Who says Mehndi can only be elaborate and lavishly done. You can also have Mehndi just like a tattoo on your back hands. This beautiful mehndi design for Eid is a gorgeous mehndi pattern that has ring like shapes. It would remind you of the rings on the fingers. However, on the other hand the curvy floral pattern appears to be a nicely done henna tattoo.
14. Matching Eid Festival Mehndi For Brides Front Hands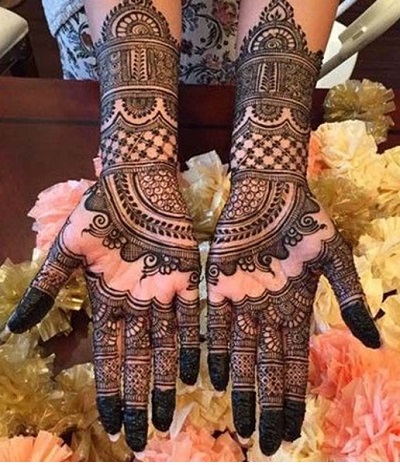 Suitable for brides and festivals like Eid, Diwali and Karva Chauth, this mehndi design is extremely attractive. It's simplest Eid mehndi yet is intricate in the shapes chosen. The mehndi pattern has everything that you would love. It is a blend of Marwadi style of Mehndi. Some of the shapes are very Indian while some reminds us of Arabic Mughal henna design for hands.
15. Full Front Hands Arabic Mehndi Design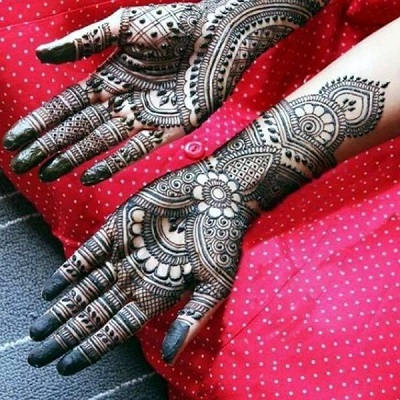 This next mehndi design is for brides and for lavish and grand festivals like Eid, Diwali and Karva Chauth. You can apply this design for any such event. With flowers, tendrils and geometric shapes the design is a beauty on. The same design can be replicated on the back of the hand and even on your feet it looks very ethnic yet has a modern touch to this Eid ul fitr mehndi design.
16. Arabic and Turkish Eid Mehndi Design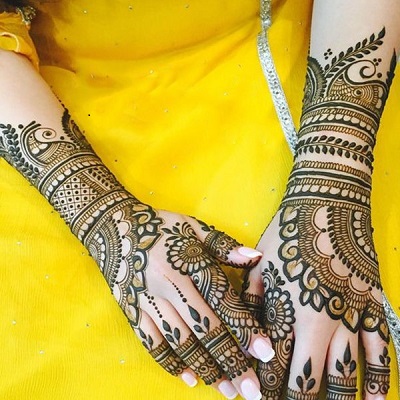 The Eid henna mehndi design reminds us of Mughlai and Turkish inspired mehndi pattern. The filled in borders with flowers and leaves color. The floral pattern is spread all over design. The leaf tendrils and curvy lines make it very delicate to look. Over the wrist bracelet like parallel lines are drawn which adds more beauty to this stunning design. It's good for family functions and gathering however, it is one of the best Eid special henna design. It can be applied on the back of the hand as well in a similar manner.
17. Curvy Floral Eid Mehndi Pattern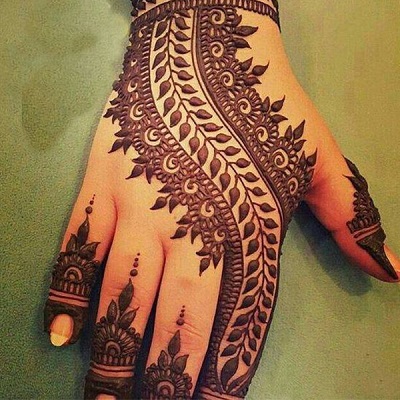 Made in a curvy style on the back of the hand, the design is majestic yet Eid simple mehndi design. It's a simple mehndi design for beginners who like mehndi patterns that looks elaborate and intricate but should be easy in application. You can apply the same pattern on the front hand and on your feet as well.
18. Thick filled Floral Pattern Mehndi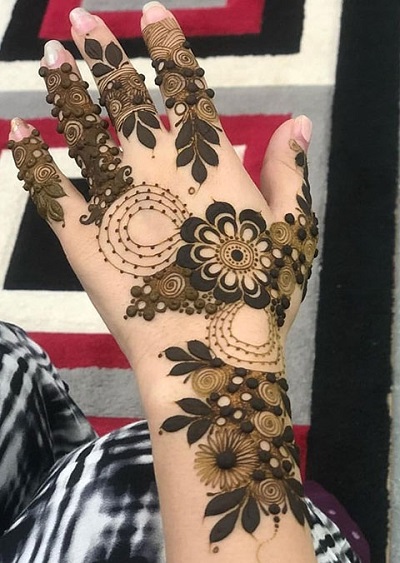 The bharwa mehndi design is very Turkish in appearance and apt for Eid festival. Such mehndi with bold filled in structures and shapes tend to get darker within few hours and stays on palms for days. The mehndi is majestic and outstanding looking. The design has bharva shapes that make it simple and very royal looking.
19. Brooch Bracelet Style Mehndi For Eid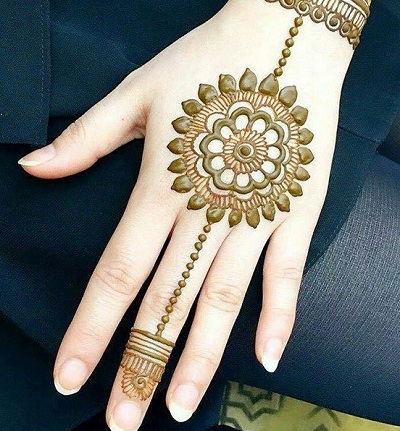 For women who like jewellery like patterns, but the designs should be simple then they can go for this pattern. It is very festive suitable design for girls. Finger ring and bracelet style pattern has a Centre floral shape. Such designs with thick shapes become dark easily. It's also an Eid mehndi design for kids.
20. Fine Professional Mehndi Design for Ramadan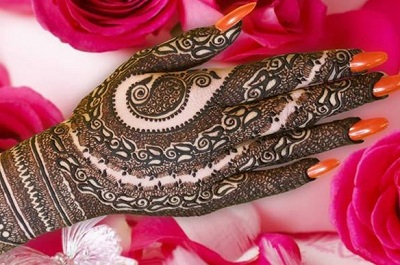 When it comes to bridal mehndi or mehndi for festivals like Eid ,this art would surely get compliments. The beauty of this Eid special mehndi design is the intricacy and it's a pattern that needs a lot of practice. It is a professional mehndi design that needs the practice to go for and draw the curved lines and intricate closely drawn pattern.
21. Dotted Eid Mehndi Design for Learners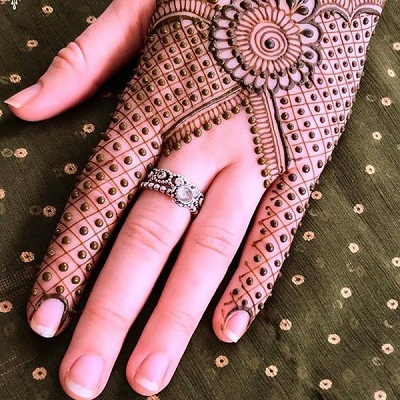 You will be amazed to see how beautiful dots have been incorporated in this simple yet gorgeous Eid mehndi design for hands. It has floral motif and on both the sides there is a chequered pattern. It is simply amazing and perfect for festivals. You can try this Eid mehndi design on the front hands and on the feet.
22. Full Back Hands Mehndi Design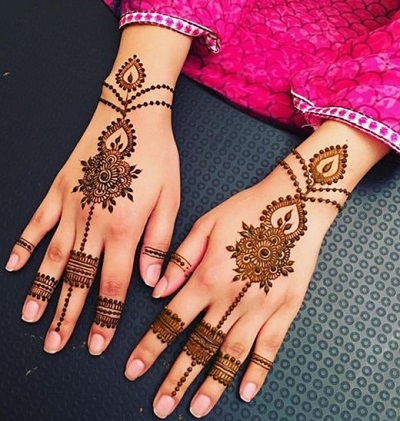 You can display your love for the jewellery by going for such henna jewellery pattern. It has finger rings like parallel lines that meet a centre jewellery like piece that gets attached to the wrist area. It is truly mesmerizing and simple. If you are someone whose has just started applying mehndi such designs are trendy, popular and easy to make.
23. Gol Tikka Simple Mehndi Design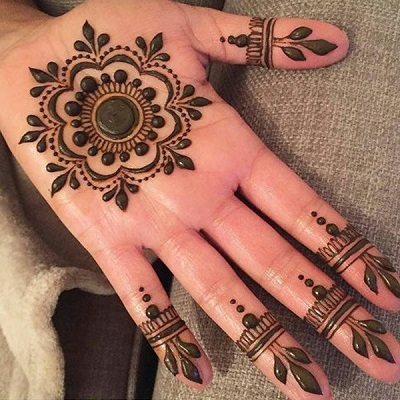 This is yet another Eid henna design that many women can do on their own without going to a professional mehndi artist. If in case you would like to apply mehndi at your home yourself, choose designs like this. It is the contemporary or modern twist to the basic round Gol Tikka Mehndi. It has some leaves like shapes and is easy to draw. You just need the basic knowledge to use a cone and you are good to go.
24. Curves and Leaves Inspired Mehndi Design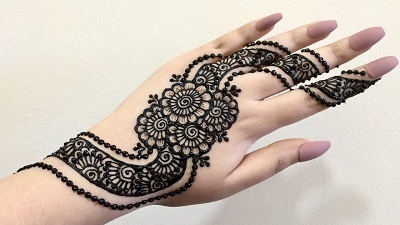 The curvy structure at the back of the hand gives a very beautiful pattern with snake like appearance. The four flowers in the front hand are overlapping. They are extended by curved lines in this simple Eid mehndi design for hands.
25. Back Hand Side Mehndi Jewelery Style for Ramazan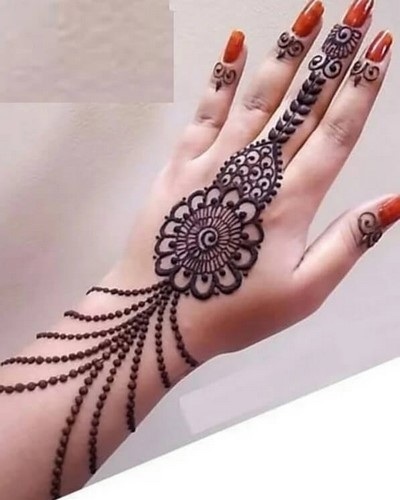 This bracelet and ring style design has flowers and chains. It is suitable for family functions and festivals. You can apply this on your arms as well like an arm tattoo and on the feet that joins your ankle and the middle toe.
26. Latest Mehndi Design for Legs Simple and Easy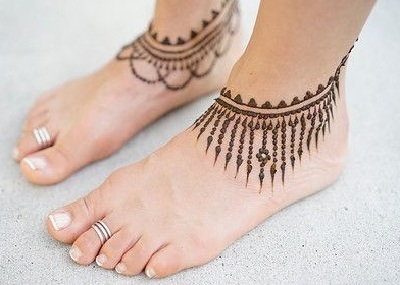 It is a very simple design for feet which gives an appearance of jewellery around your ankle. This is a design that beginners would find very easy to draw.
27. Quick Mehndi Bail Design for Front Hands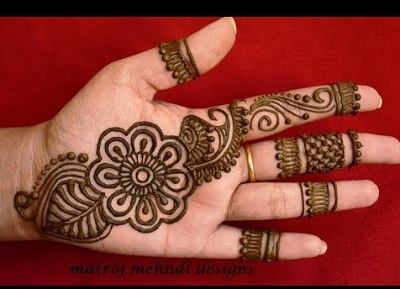 The simple floral mehndi design has curvy leaves and pattern that adds to its beauty. This Ramzan special mehndi design for front hands is catching and is suitable for front and back hands.
28. Unique Full Hand Mehndi Design For Eid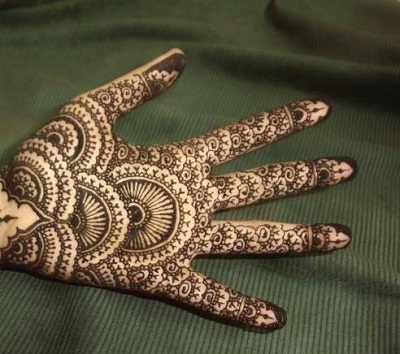 It is a very stunning design with intricacy. It bears the Mughalai pattern and multiple semicircles adorned with tiniest shapes. It's best for small kids and even ladies.
29. Eid Mehndi For Kids Simple and stylish
The simple design is easy to make and is perfect for small get together and Eid festival. You would surely loved going for such a pretty mehndi patterns for Eid day.
30. Circular Pattern Feet Mehndi Design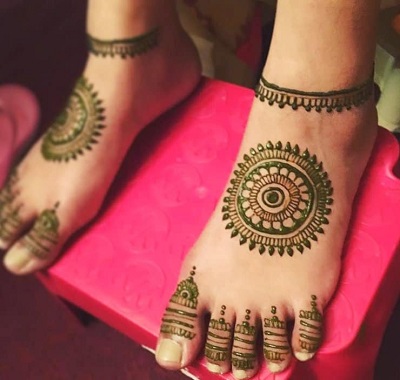 The majestic looking design has circle pattern in the centre and a simple chain like design around the ankles. The toes have parallel lines with dots. It also gives the appearance of the toe rings that you wear.
31. Simple and Easy Festival Mehndi Design For Kids
Perfect mehndi for babies, it has two flowers with leaves and branches. The simple design is suitable for kids for festivals and any other occasion. It is easy to draw even when you don't know how to use the mehndi cone like a thorough professional.
32. Bollywood Style Eid Mehndi Design for Back Hands
The pretty mehndi design for Eid is grand and is done with neatness. It is a very ethnic, traditional and has modern beautiful pattern. It is a very pretty design that women would love to display on feet.
33. Side Swept Bail Mehndi Design for Girls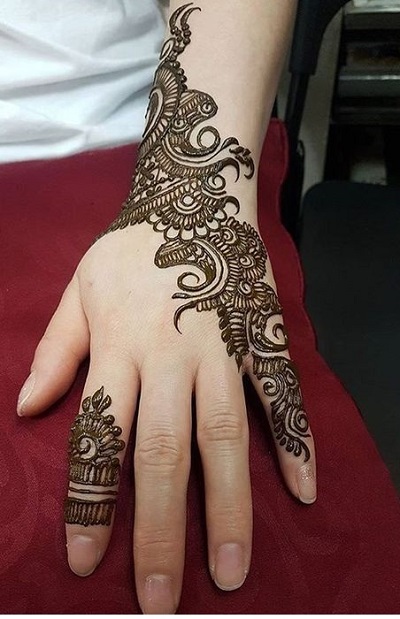 The side swept mehndi design starts from the little finger and go to the wrist and beyond it. It has a pattern with parallel lines and semicircle curved lines on the index finger. A very modern looking Arabic mehndi design which is sure to entice you.
34. Latest Bharwa Mehndi For Eid
The rose filled Eid mehndi design has a structural beauty to it. It has roses with filled shapes and drop shape leaflets. The curvy patterns are spread all over this design that starts from the index finger and goes till the arm. One can elaborate it by adding more shapes and patterns. The Eid Mehndi design is beautiful for both front and back hand.
35. Stylish Back Finger Mehndi Design for Eid and Ramzan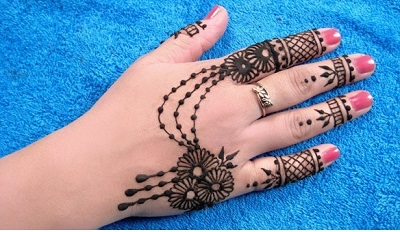 The design has a ring and brooch shape joined by the chains. It has criss cross pattern on the index and ring finger with three floral circles under the ring finger with dainty chains attached. It is a delicate yet stunning design which would be loved by women who like simple designs with very modern feel.
36. Beautiful Semi Circular Punjabi Mehndi Design
You can never go wrong with the design like this. It involves the appearance of Arabic structures. With curvy lines on half of the back hand it has floral shapes. It looks lavish, grand and opulent yet it is simple to draw. With minimalist technology to use a cone, you should be able to apply this pattern. Use the same pattern on the front hand and the feet.
37. Arabic Mehndi Front Hands for Eid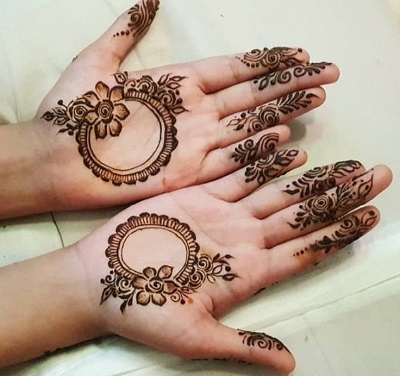 This gorgeous design will remind you of the vintage mirrors. The circle mirror like structure has scalloping and floral shapes on. On the fingers, carved out deeply filled shapes are there. This is a stunning mehndi design which is simple yet has modern feel.
38. Eid Mehndi Design For Back Hand Fingers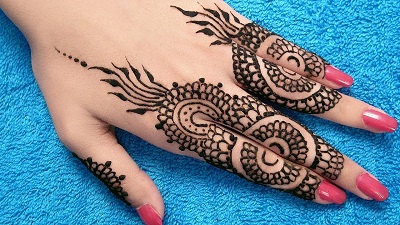 Looking for a finger mehndi design for Eid? This is simple to draw and you can certainly go for this. It is not very difficult to make, instead is a beginner friendly design that does not need extreme neatness. You can apply it on the back of the hand and on front and even arms.
39. Ramazan Special Mehndi Design For Back Half Hand
The Floral beaded and dotted design is for girls who like simple mehndi patterns. The neat design is appropriate for festivals like Eid for young girls. It's not elaborate or intricate but is simple and very modern looking.
40. Stylish Mehndi Designs for Feet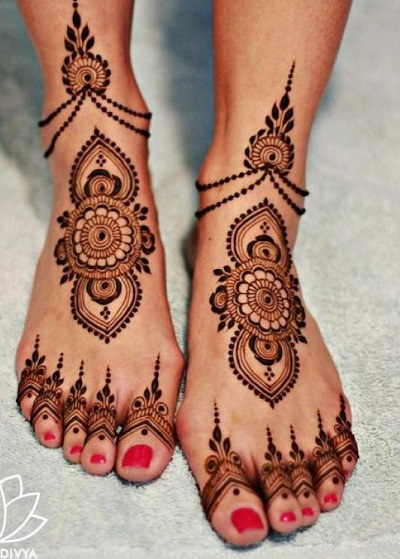 The intricate design of the simple mehndi on the feet looks stunning and is not very difficult to make if you have some practice. The beauty of this mehndi pattern is the design on the toes. Its a perfect look for a bride. The Eid appropriate mehndi design has floral shape on the centre feet while anklet like structure goes into beaded chains.
41. Single Line Eid Mehndi Pattern
Women who love to go for traditional designs for Eid mehndi, shall try this. A very painting look like Mehandi pattern can be applied on the front of hands as well. It is suitable for regular wear and carries the grace that you need even when you wear western attire.
42. Unique and Modern Eid Feet Mehndi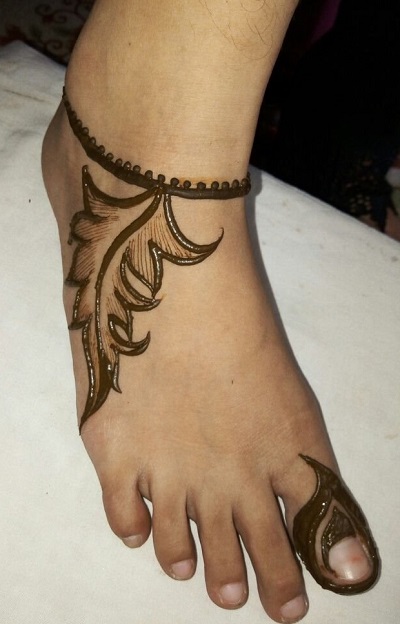 The leaf inspired simple mehndi is sure to entice you, if you like modern Mehandi patterns. The angular shape has a big leaf which is filled in with some strokes. There is a shape on the big toe as well. It is very simple and you would love making it.
43. Arabic Mehndi For Full Front Hands For Eid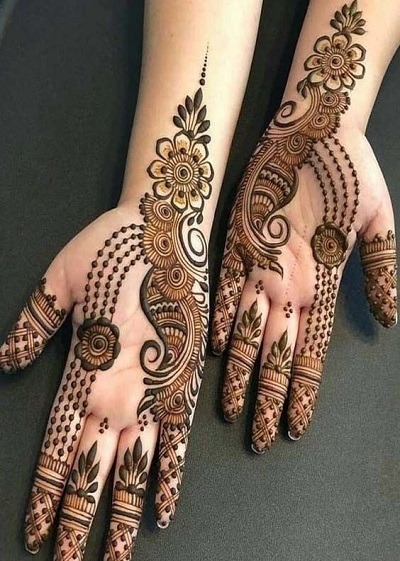 With chains and curved shapes, the floral pattern is a stunning design. It needs the minimalistic practice and knowledge about the mehndi design and can be replicated on front and back hand. The dotted chains is the beauty that adds jewellery like look to the design. The marvelous looking latest Arabic Mehndi Design for Eid is fashionable and is suitable for trendy traditional outfits.
44. Ring Style Finger Back Mehndi Pattern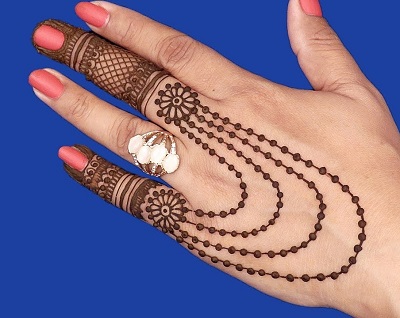 For people liking ball chain inspired jewellery like mehndi designs, shall try it. It's simple yet modern and has this jewellery and tattoo like feel. The simple mehndi is suitable for even the Grand festival like Eid.
45. Modern Netted Stylish Mehndi Pattern for Eid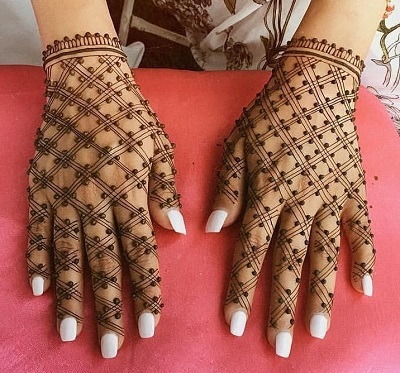 The dotted and netted design of this Mehndi gives you a western hand glove like look. With such a pattern you are sure to make heads turn. The design is simple but you would need some practice to go with the sturdy hand to draw perfect parallel lines that do not merge in between. It is for modern women who would love to have Henna painted hands but would not go for the traditional and ethnic patterns of Mehndi.
46. Shading Mehndi Design for Eid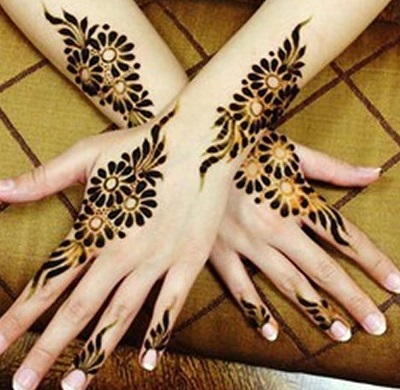 If you would like to have your mehndi that stay for days on your hands then go for Mehndi designs or filled in Mehndi patterns. The design does not have any double lines but you will only see the filled in shapes like the flowers and other. Designs like these are easy to make and are beginner friendly. Even for kids such designs are popular.
47. Net and Rose Modern Eid Mehndi Design
Women liking roses on the hands would love this stunning design. The thick mehndi gives fabulous color and look. The branches and wines made out pattern have thick rose flower shapes. The floral design goes from the index finger till the wrist. The designs like this gives the younger generation girls to try regular mehndi with a twist. The easy mehndi design is getting popular by every passing day. It's the best Eid mehndi design.
48. Eid Back Hands Bridal Arabic Mehndi Design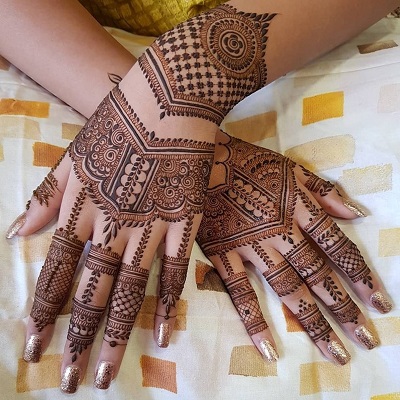 When you are someone who likes extremely intricate design then surely this is it. It would require a professional artistic hand. But you can also do it on your own if you have the practice. It needs very thin and precisely made delicate and dainty lines. The closely knit design resembles Mughal architecture and patterns. In fact, it's Mughlai and Arabic mehndi design inspired by the same cultures. The pattern on the fingers is simply majestic. The cuff bracelet jewellery is another key highlight of this extremely beautiful mehndi pattern.
49. Jhumka Pattern Mehndi Eid Design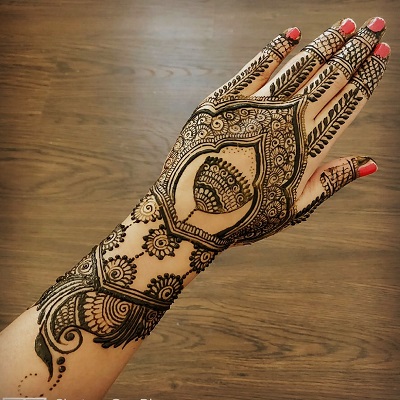 This next design again has the similarities and Mughal architecture inspired look. The simple and beautiful mehndi pattern is appropriate for Eid festival. It's a jewellery mehndi pattern that also has flowers and mango paisley shapes. With paisleys scattered here and there, it's not very difficult to draw. It is suitable for festivals and you can try this pattern on the back of the hands easily.
50. Simple Pakistani Mehndi Designs For Eid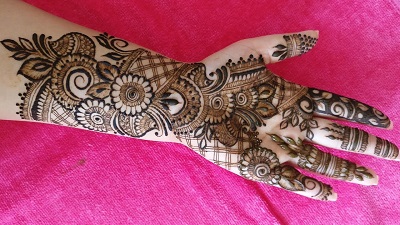 When you say a completely filled mehndi design for Eid festival, then a pattern like this would be surely in your list. It has everything that you can think of for easy and simple mehndi design for Eid. From parallel lines to filled in flower shapes and leaves. From mangoes to leaves and lines. The design has chequered shapes along with the curvy semicircles. It is basically an Eid mehndi design that has mix of everything.
Hope you like these Eid mehndi designs and will adorn your hands with these.