I will review Elle 18 Color Pop Eyeliner in the shade green. An year ago, Elle 18 launched these 4 shades of colored eyeliners other than the regular Elle 18 black out eyeliner. Eyeliners are basic makeup products for every girls and women that can enhance and beautify the eyes. Eyeliners make the eyes look bigger and sultry. I like wearing eyeliner be it the regular black and browns or the colored eyeliners.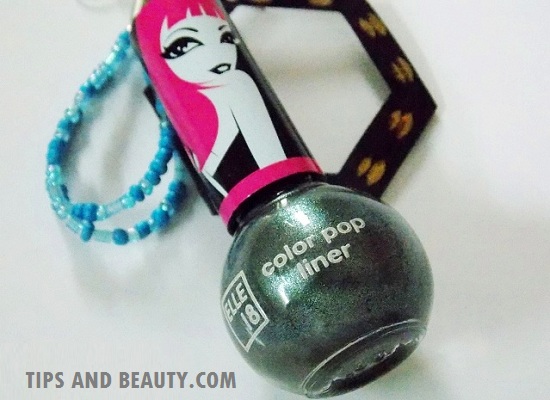 So, is this Elle 18 Color Pop Eyeliner green is good liquid eyeliner or just the waste of money. Read on to know more in this review.
Price of Elle 18 Color Pop Eyeliner Green: This liquid eyeliner is for 75 Rupees only and this can be bought from the shops or from online.
Experience with Elle 18 Color Pop Eyeliner Green

This Elle 18 Color Pop green Eyeliner comes in a cute looking small round bottle . This is the similar kind of bottle that we have seen with the color pop nail pants. The eyeliner handle has a cutesy girl printed on it which gives this product a chic girlish feel. I like the packaging of Elle 18 products.
The green eyeliner is a metallic green but with some greyishness. If you will see the pictures where I have used this on my eyes. You can see that it is not green rather a grayish green color. The brush of the eyeliner is very fine which help to make the eyeliner application easy. Thin brushes are good as you can apply thin precise lines very easily and if you want to draw thick like then too you can layer over that.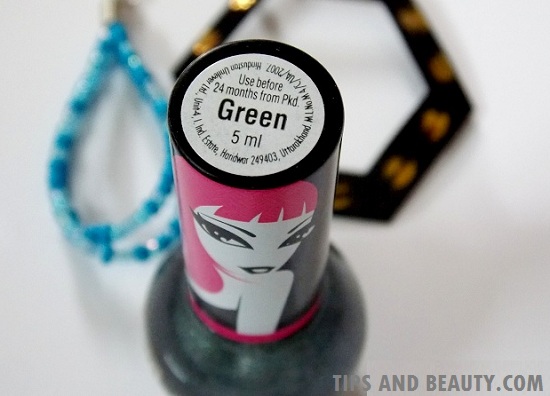 Pigmentation is okay. But I will suggest that you apply one coat on one eyes then apply on the other yes. Then again apply one more coat on both the eyes this way, it will give good opaque pigmentation and the liner will also last all day long without fading. While you will be applying the eyeliner to your other eye the liner on the first eye will dry up so that you can easily apply the second coat.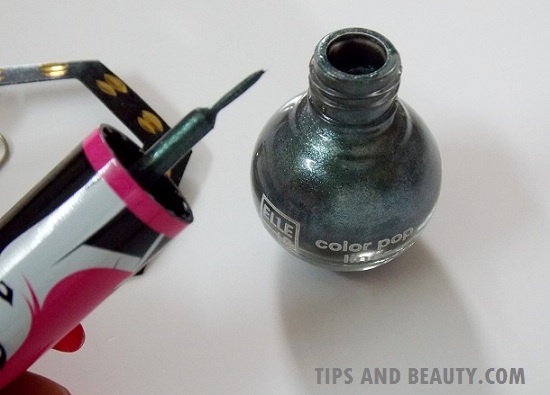 Once this eyeliner gets completely dry, it gets waterproof to good extent like you may have seen certain eyeliners that can get ruined or smudge even with a drop of water. But with this you can at least be sure that if you are splashing your face with water gently then the eyeliner will not run down your eyes. Hence this can be used in summers without worrying about your eyeliner getting rubbed or eyes getting dark.
Pros of Elle 18 Color Pop Eyeliner
Good packaging

Thin fine brush

Price is very good

Availability

It is available in other shades also

It stays all day long

It is smudge proof and water resistant

Nice metallic greenish color will look great on all the skin complexions.
Cons of Elle 18 Color Pop Eyeliner
This is not extremely pigmented so you will have to shake it well then apply twice.
Rating: 4 out of 5
This Elle 18 Color Pop Eyeliner is a total value for money. It has a decent pigmentation and good water resistant formula. Its metallic green color will look good for all the skin tones. This can be worn for both day and night and have not done any allergies to the eyes.