Elle 18 Glow Foundation Review of Shade Shell, Price and Swatches
Hi everyone! How are you all? Today, I am reviewing this very affordable Elle 18 glow foundation. I know some of us like affordable products. Not some of us but a lot of us. :) As teenagers, college girls or ladies who have a budge to follow needs makeup products that should not be very expensive but should give good results. Right girls!! By the way. Do you remember I earlier did a post on 6 Elle 18 products where I have shared short reviews on the newly launched Elle 18 eyeliner, compact, lipsticks etc. If you haven't seen that you can see that by going to the link. Okay so let's move on with the Elle 18 glow foundation review.
Price of Elle 18 glow foundation: These foundations are priced at 150 rupees for 30 ml of the product in a tube pack. You can buy it online as well.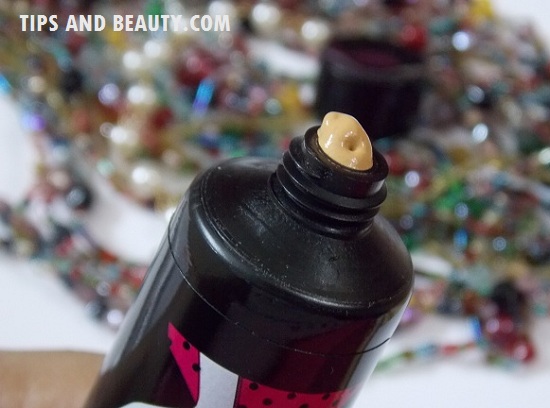 Shades available for Elle 18 glow foundation: This foundation range has 4 shades like:
Marble
Shell
Pearl
Coral
I have got shell with me which I will review and swatch for you.
Experience with Elle 18 Glow Foundation Shell
This Elle 18 glow foundation comes in a black colored tube with cute cartoonish picture on it. It looks good for the teenagers, college girls. My sister loves this packaging, I mean my cousin.  I love all my cousins are like my real sisters and brothers. So, most of my makeup products will go to them. :) Anyway, So, this foundation has tube pack so is very easy to carry.
Shade description: Elle 18 glow foundation Shell is a color which will suit the wheatish skin or slightly fair skin. Like if you see my skin color. even though people say I am very fair. I am not that fair, it's just that I have wheatish complexion that looks fair outside. So, if you have such wheatish complexion then this shade of Elle 18 glow foundation will suit you else you have to take the coral one.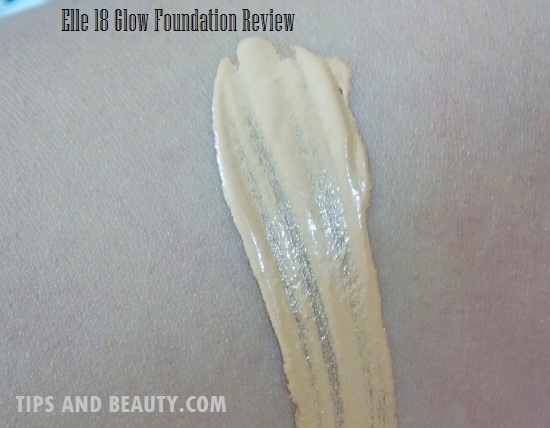 This foundation feels like a BB cream to me but is not very thick. This is like a skin cream. So, very easy to blend. I usually use flat top foundation brush but with this I can apply like I use any skin cream with my fingers.

This Elle 18 glow foundation is very light. It does not feel as if some foundation has been used. When I use this it looks that this foundation gives sheer coverage. That means this will hide some marks or spots on the face but not completely so for that I will suggest you to try concealers.
Once I apply this, this does not feel that my skin feel greasy as I have very oily skin is summers so this is good that this does not give too much oiliness. If your skin is dry, then use your regular skin moisturiser then use this foundation.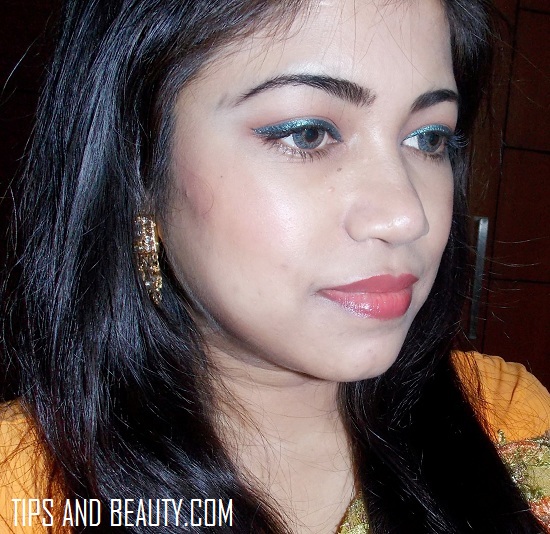 One thing that I don't like about this Elle 18 glow foundation is that when we sweat it will come along with the sweat. Like when I am not at home or have gone to a place where AC or fans are not there. For eg like when we go shopping at market then this can comes off with sweat. If you are thinking of using this to a wedding or party then I will say take a compact so that when the foundation comes off with sweat, then you can wipe the sweat and use the compact to make the skin look good again. You know this is why I like wedding in winters when at least the makeup stays in good state. :) I would marry in winters. What about you dearies?  :) By the way you can check the new 7 Color Boost lipsticks review here that Anushka Sharma Endorses.

Good about of Elle 18 Glow foundation
This is very affordable

This is easily available

This Elle 18 glow foundation has 4 shades to choose from

This blends very easily

Gives sheer coverage and hides some spots and marks but not fully

Suitable for oily to normal skin. Dry skin too can use this by using skin moisturizer before this

Smell is good.
Not so Good about Elle 18 Glow Foundation
No ingredients list is mentioned on the pack

This does not have SPF so, if you are using this in the day time, do apply the sunscreen girls.

This makes skin looks better than before but will not hide the marks, spots fully.
Rating for Elle 18 Glow Foundation : 3.5 out of 5
Take: Elle 18 Glow foundation is an affordable this won't hide all the spots fully but makes kin better than before. So, if your skin do not have too many marks then this is good for you. This does not have SPF so wear sunscreen in the day before applying this.
I have done a very simple makeup look for Indian wear. You see that too. :)