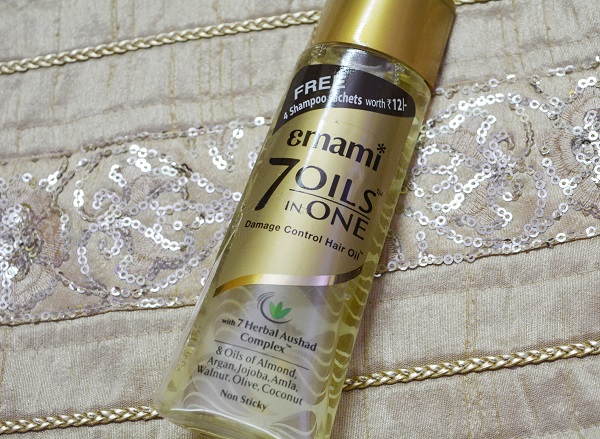 Emami 7 Oils in One Damage Control Hair Oil Review
Hi everyone!! I will share this Emami 7 Oils in One Damage Control Hair Oil review. After watching the ad o this oil, I got excited to try it but even after trying in multiple shops I could not get it. May be it wasn't available at that time so, I ordered this online. Yes, online this was easily available. The oil is rich in the 7 oils as it claims. Emami 7 Oils in One Damage Control Hair Oil contains oils like Almond oil, Argan oil, Jojoba oil, coconut oil, Olive oil, Amla oil and walnut oil. All these natural oils got me enticed as I like herbal things and this seems really good. So, let know if this Emami 7 Oils in One Damage Control Hair Oil is actually a good hair oil or not.
Price of Emami 7 Oils in One Damage Control Hair Oil
The oil is very affordable and is for 60 rupees for a small pack of 60 rupees. It is available in bigger pack of 200 ml as well. I was just wondering if they can also launch it in a small pack of 50 ml so, that there are people who would like to keep small oil bottles in their bags while they travel.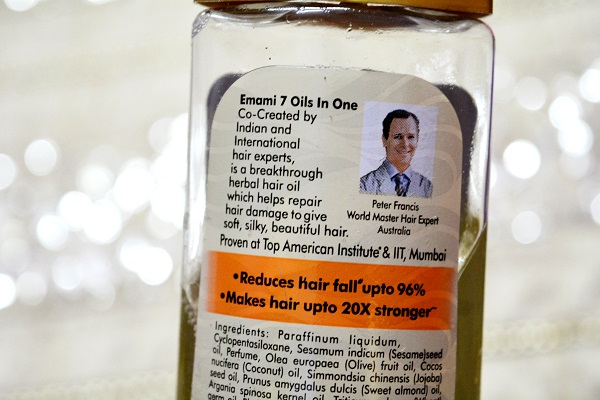 Ingredients: Check the picture below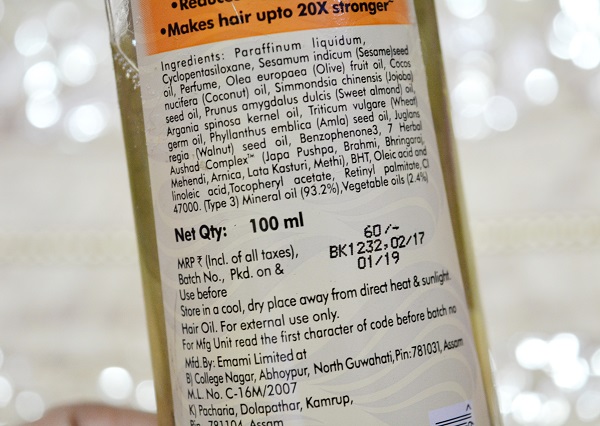 Experience with Emami 7 Oils in One Damage Control Hair Oil
The oil is packaged nicely in a transparent bottle with a gold colored labeling. I like that packaging and bottle is also cute looking. The flip top cap is also of gold colored.
The oil is light weight oil which has a very nice smell. My husband used it the other day and there was this nice smell that reminded me of a very delicate perfume. I really like this oil for its sweet smell. If not for the actual product, I can repurchase this Emami 7 Oils in One Damage Control Hair Oil just for the fragrance. But to be honest, I liked the smell but it is also a bit strong, like if you have quite sensitive nose the you may not like that at all.
This oil is a damage control hair oil that has the goodness of those 7 oils that I mentioned earlier. Oils like argan oil, olive oil, coconut oil etc can be extremely nutrient rich and nourishing for the scalp and hair. When sun exposure is strong, then the hair can get dry and damage. The damage is seen as in the form of split ends, rough hair ends and the breakage. Apart from the wonderful oils this also ahs the natural Ayurvedic ingredients the we see in hair oils and shampoos like the bhringraj, bhrahmi etc.
So, while the ingredients are quite enticing, there is one more thing that the oil has mineral oils. I like Patnajli hair oils since they do not have mineral oils while the other oils like keo karpin, hair & care, Emami etc have got mineral oils in them and this is why they feel light weight. Even the Dabur amla has less amla and more mineral oils in it. So, I will only advise you to try this if you do not have any problems with mineral oil else leave this.
As I mentioned the oil is quite non-sticky s it claims and it is also light on the hair unlike the coconut and mustard hair oils which are highly greasy. So, for everyday use I find it quite good. I can use this lightly to tame my unmanageable dry hair ends. Now that, I have got a hair cut, I do not have those dry ends but still the frizz is there especially when the weather changes.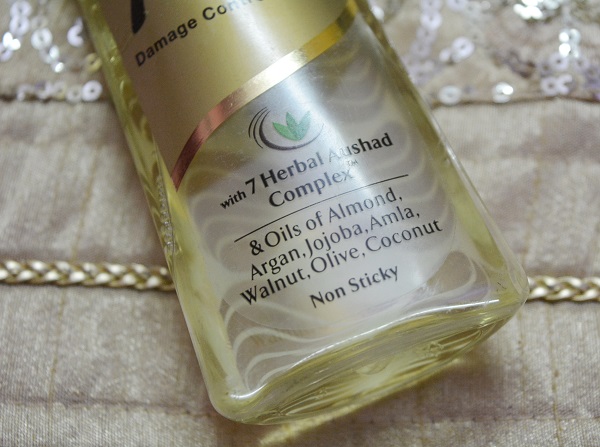 My husband too uses this hair oil due to its non sticky texture and feel. After using this Emami hair oil, washing the hair is also not a problem. I do not like hair oils which are extremely difficult to get rid of which means to remove them I have to apply more shampoo which can eventually leave the hair dry. So, it is better that I use light weight hair oils. By the way you can read about our top hair growth hair oils available in India.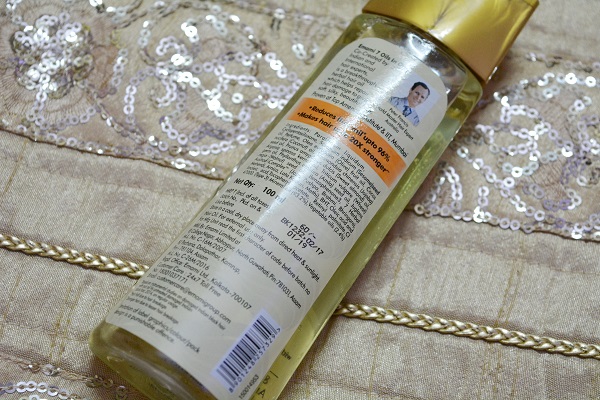 I have been using this for the past one month and honestly friends, I have not seen many changes in my hair like when I use this it does minimize the frizz and dryness but that is only till the hair is there. This result is similar to that of any hair serum out there. So, I will say that this is a decent product which is cheap and inexpensive but there is nothing so good about it that I should say that you have to try it. You can try it as it is only for60 rupees but not extra ordinary.
Pros of Emami 7 Oils in One Damage Control Hair Oil
Packaging is really nice and cute

I like the shape of the bottle too

Price is very affordable so that more and more people can try this oil

This is also very easily available

It has 7 different oils like avocado, jojoba, amla etc which nourishes the scalp and the hair

Manages the dry hair

Easy to wash the hair after using this

Smell is nice but strong
Cons of Emami 7 Oils in One Damage Control Hair Oil:
Results are not long lasting

It has mineral oils in huge amount hence, a lot of you who do not like mineral oils will detest it.

Not much changes in damage control, as per the claims
Rating: 3 out of 5
Emami 7 Oils in One Damage Control Hair oil is a decent oil and nothing extremely good or miraculous about it. It's just an oil that can be used everyone to minimize the frizz during extreme summers and winters season. Also this hair oil can be used by boys too as this is very light weight. Smell is really good but only when it reduces after few hours or when you apply only little bit else that can be tad strong.