Everyuth Fairness Peel off Mask Review price and how to use this peel off mask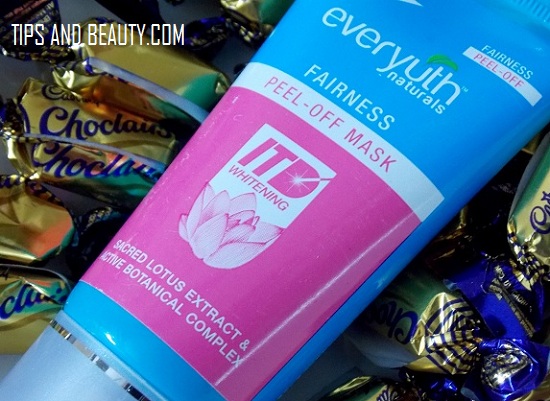 Hi all!! This post is for the new peel off mask from Everyuth. This Everyuth Naturals Fairness Peel Off mask has lotus extracts. Lotus is known to lighten and whiten the skin complexion. I have used their golden glow peel off mask and liked that. So, when this was sent to me I was very excited to try it. You know why, because I like the peeling effect haha. 🙂  I have also used their Everyuth Golden glow peel off mask which was infused with tiny gold particles.
Price of Everyuth fairness peel off mask: This mask is for 75 rupees for a 50 g tube pack.
Everyuth claims for this Everyuth fairness peel off mask : This new peel off mask has the skin whitening sacred lotus extracts and the active botanical complex. This will stimulate and enhance the circulation of blood and also targets the melanocytes. Melanocytes are responsible for skin darkening. This works for skin renewal, rejuvenation and pearl like glow.
Experience with Everyuth fairness peel off mask
As you can see that this Everyuth fairness peel off mask comes in a blue tube. I like the yellow tube of the golden glow one But anyways. This smells very good. The gel like peel off mask has tiny specks of light reflecting particles. They are not golden but bluish and pinkish. These particles are duochrome like they will at times emits pink hues then blue.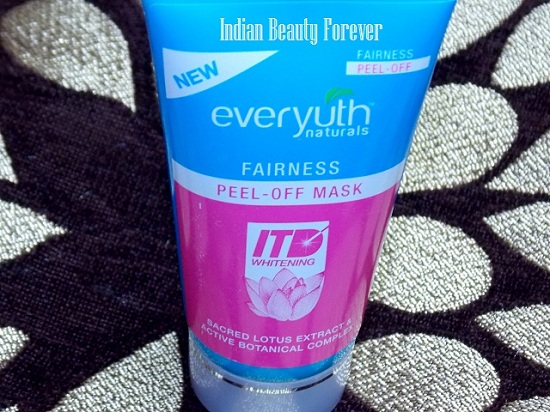 How to use this Everyuth fairness peel off mask:
I will wash my face with clear water first of all. It is because I have combination skin. So, my T-zone gets oily. Hence I will first remove the oils by washing with some water. If you have very oily skin then use a gentle cleanser first.
Then I will take some of this peel off mask on the fingers and apply like I use face pack. Make sure that you girls keep the layer thick as it will be difficult to remove when this gets dry. And also make a bun or clip the hair to avoid the hair sticking on this mask. I will then relax and do my work like writing articles for you or listening to songs etc. 🙂 When I realized that this has completely dried. I will then try to remove it from forehead then the way down towards my skin. This is because if I will start from the chin to the way up then the facial hair will hurt. I will then splash some water on the face so that if there is some mask is there that can be cleaned from the skin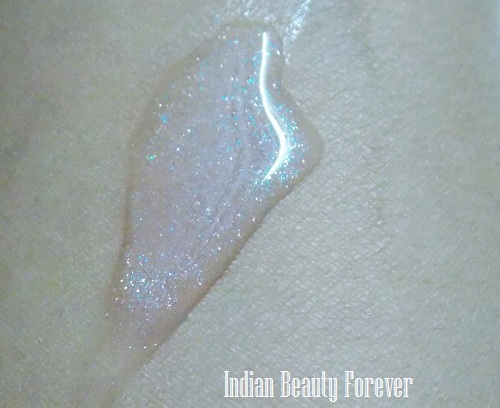 Results for Everyuth fairness peel off mask:
After using this mask the first time. I felt that my skin felt a lot smoother and brighter. It also looked toned as the oils were removed and the skin pores are also shrunk through that is temporary. I loved the softness this had given to my skin. So after using this 2-3 times more. Well I used to apply this once in a week. So, then too I had the same results but that skin whitening thing was not there. May feel slightly fairer but that is because the skin look cleansed and that can be with any face pack. Right?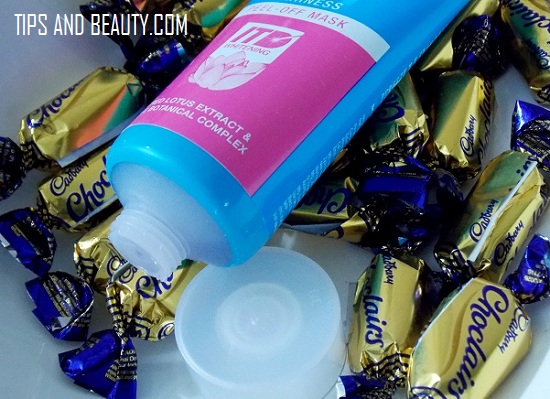 So, I mean to say that this simply works just like the Golden glow peel off mask. That is just to give glow, softness and brightness.

Good about Everyuth Fairness Peel Off mask
Price is affordable for this peel off mask
Tube is easy to use and hygienic to use as well
This pack will last 7 times at least
I liked that they have shared the full list of ingredients.
Consistency is medium so that this can be easily smeared on the face else would have been difficult to use.
Enriched with sacred Lotus extracts that reduces melanin and improves blood circulation
It has pleasant smell
Not so good about Everyuth Fairness peel off mask
It does brighten the face by improving the blood circulation but whitening as not there
The results are temporary and lasts only for a day at the most.
Rating Everyuth Fairness peel off mask- 3.75 out of 5
Take- Everyuth Naturals Fairness Peel Off mask is good to brighten and soften the face. Thus this peel off mask can be used when we are going to a party or wedding. The results last for a day or 10-12 hours to be precise. Skin looks clean and clear so, I will recommend this or you can also try the golden glow one. It is because I find them the same in results.