Everyuth Hydro Active Walnut Apricot Scrub Review
Hi everyone! Today my review is about the latest Everyuth hydro active walnut apricot scrub. You must have seen the advertisement on the T.V these days. :) I just love facial scrubs as they make my skin smooth. yaay!! You know for the smoother skin face scrubbing is really good and should be an important. I recently did a review on the Himalaya Clear complexion whitening facial scrub also. This new Everyuth scrub is slightly different as this claim to have the advanced hydro gel technology which means that this will give extra hydration to the skin. It sounds good. I have always liked Everyuth face scrubs. This is because they have face scrubs for every skin types. So, I always trust them when it comes to getting ready made face scrub. Else I liked homemade face scrubs and stuffs anyways.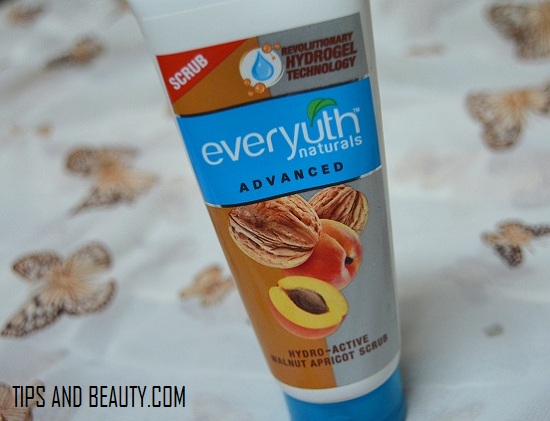 Generally face scrubs will leave skin a little dry. But I don't have any problems since my face is already very oily. So, I am thinking such hydro gel technology will suit the dry skin. Let's see if this Everyuth hydro active walnut apricot scrub is worth buying or not.
Price of this Everyuth hydro active walnut apricot scrub: This face Scrub is for 70 Rupees for a 50 gram tube.
Ingredients: They are mentioned below in the picture.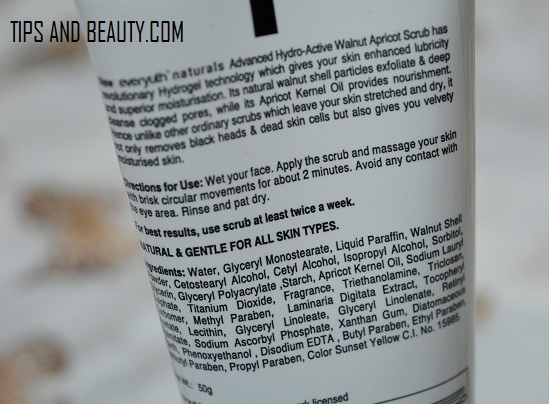 Experience with Everyuth Hydro Active Walnut Apricot Scrub
The face scrub is packed in a same packaging as most of the skin care products like face wash, scrubs etc come. I like such packaging as you just have to open the flip top cap, squeeze the tube and use the product. They are very easy to take in the bag as well.
This smells very mild and good. I really dislike products that will give out too much fragrance. This face scrub has a beige creamy scrub with orangish brownish colored apricot and walnut particles. This Everyuth hydro active walnut apricot scrub is densely packed with the granules of apricot and walnut. I think this is good as this gives proper exfoliation to the skin. I have used some face scrubs where there were very few granules of walnut and due to that the scrubbing will not be proper. Thus, I like this scrub as this exfoliates the face properly. Now let me tell you how I use this face scrub. :)

How to use Everyuth hydro active walnut apricot scrub:
First of all, I will wet my face with water and take out a coin sized scrub in my face. I will apply little bit on the forehead, chin, nose and both the cheeks. After that using my fingers, I will gently move my fingers in circular motions. I will continue doing this for about 1-2 minutes. Then splash clear water on the face and pat dry my face with a towel.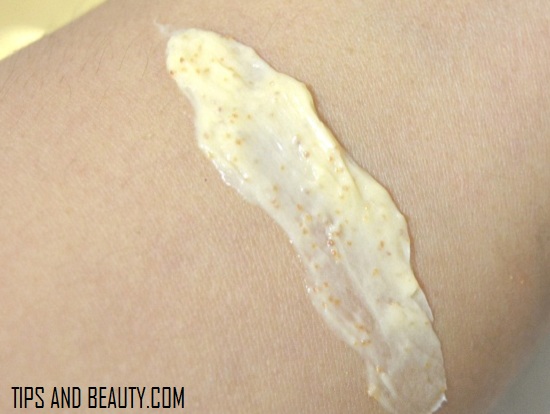 Results: After using this, my face looks fresh and a lot smoother. The oils, hardened sebum that I have on my nose etc will also be removed. The dirt and dead skin cells are exfoliated. Most importantly, the blocked pores with dead skin cells are also deeply cleaned. After using this, my face does not feel dry or sticky rather feels hydrated. After the scrubbing I also apply mild moisturiser. By the way friends, you should also use a sunscreen if you are going out in the sunlight just after applying any face scrub. This is because the dead skin is gone after you have scrubbed, so the new skin cells should be protected with harsh sunlight. As I know we don't want to get darker or get sun damage. Right? So,  use sunscreen or use face scrubs in the evening.
Good about Everyuth hydro active walnut apricot scrub
This is very affordable and will last long as we don't have to take much.

Packaging is good and easy to carry around

This is available easily in the various shops, medical stores and online as well.

This is not too sticky or creamy which is hard to rinse off

I like that this thoroughly exfoliates the skin.

This does not have too many granules which can be harsh on the skin or too less which will not help much so just the ideal amount of walnut particles.


This makes the skin softer and smoother
Not so good about Everyuth hydro active walnut apricot scrub
Practically none so far after using this face scrub.
Rating of Everyuth hydro active walnut apricot scrub: 5 out of 5
I liked this Everyuth hydro active walnut apricot scrub which makes the skin smoother and clearer. This is ideal for oily, combination, dry sensitive skin. This is very easy to use and does not make the skin too dry or very sticky. This gets rinsed well. With regular usage you can prevent the blackheads, whiteheads and pore blockage. I will recommend this.