Everyuth Tulsi Turmeric Face Wash Review

Hi guys! This post is about Everyuth Tulsi Turmeric Face wash review. You may have seen the ads of this new face wash by Everyuth Naturals. I like Everyuth natural products like Everyuth Golden glow peel of mask. This Everyuth Tulsi Turmeric Face wash claims to have the goodness of Tulsi and turmeric, These 2 ingredients are anti bacterial thus prevents the pimples and also heals the acne. I had this face wash but gave that to my cousin. Then when I was at a store recently, I decided to use it again as there are some zits on my face which I though Everyuth Tulsi Turmeric face wash will remove. I like using face washes that contain ingredients like neem, Tulsi, tea tree, turmeric etc for my combination oily skin. Okay so let me start the review of this face wash.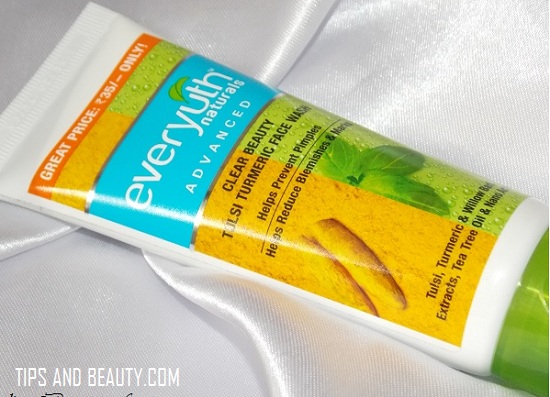 Price of Everyuth tulsi turmeric face wash: This face wash is for just 35 rupees for 50 g tube. This is very inexpensive hence will be very good option for the teenagers who are on a budget mostly.
Experience with Everyuth tulsi turmeric face wash
I like this colorful tube of this Everyuth face wash. It looks so attractive. The face wash is light greenish in color and has a gel like texture. I like gel based facial cleansers they are hydrating and clarify the oily skin effectively. This face wash has herbal ingredients thus smells like Tulsi also. The brand claims that this is soap free face wash which I think is very good.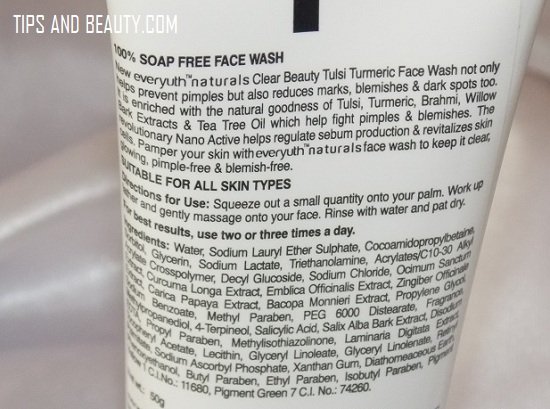 This Everyuth tulsi turmeric face wash form mild lathers. The lathers are not too much but very satiny moisturizing lathers which cleanses my face very nicely. I will have to splash the water a lot of times so that the face wash can get removed fully. Once I dry my face with a towel I can really feel that it gives slight cooling and refreshing. My skin won't feel dry or as if some sebum is still left. This face wash actually takes all the sebum and extra oils from the face. I rub a little extra on my T zone like on my nose, chin and forehead where there are more oils produced.
The few zits I had on my face they have been cleared after suing this face wash which I know that is because of the antibacterial ingredients like Tulsi, haldi etc.
Good with Everyuth tulsi turmeric face wash
Price is very good
Packaging is good
Mild lathers which helps to clean the skin
It will not make the face dry
This is good or oily to normal skin
Prevents the acne and pimples
Heals the acne and pimples but you will have to use some pimple creams as well.
Not so good about Everyuth tulsi turmeric face wash
It stings a little bit when the face wash goes into the eyes.
Rating: 4 out of 5
Everyuth tulsi turmeric face wash is a daily use face wash which is very good for the teenagers who have got oily skin that is acne pimple prone. The herbal ingredients in this will prevent the pimples and will clarify the skin. This is also very inexpensive for just rupees 35 so, this can be tried.