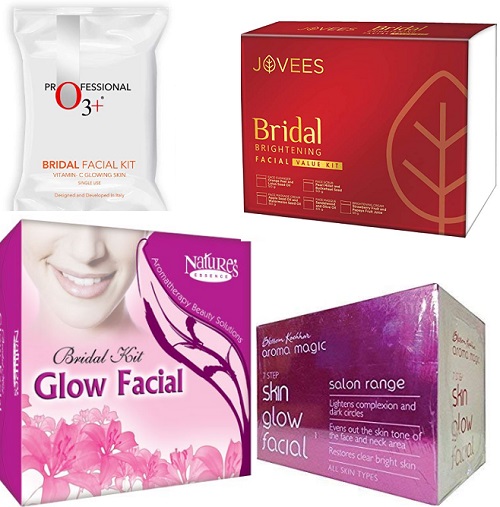 Wedding day is an important day in anyone's life and where every bride would like to look the best. Bridal facial treatment helps a lot n making the skin smooth and radiant. Your beauty starts with the skin and brides should have a glowing and bright skin tone. This is why using the best facial kits for bridal glow in India is often searched by several people. In fact, there are multiple bridal skin and hair packages available that comes at every price that you are comfortable with.
Got glow, you can definitely have a facial session, which can be done at home or get it done at a salon by the professionals. For that you must choose the good facial kit for brides as per the skin type. Let's see, which the best facial is for brides before marriage which grooms can also use.
Best Bridal Glow Facial Kits in India
Here're the best bridal facial kits in India that would help you in getting the instant suppleness and glow. You can also try these facials for Engagement, Roka and other post bridal functions.
1. O3+ Bridal Facial Kit Vitamin C Glowing Skin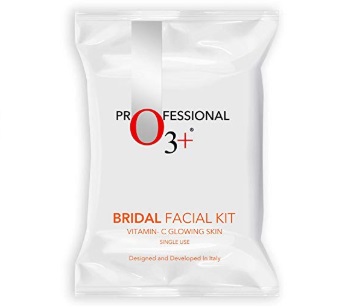 The vitamin C brightening facial kit is for glowing and bright bridal skin. It is suitable for all skin types and contains 9 elaborate steps of facial.  It comes with cleanser that cleanses the face for oiliness cure and Vitamin C tonic clarifies the skin. The product also comes with the Whitening Mask, Glow Face Sheet Mask, Whitening Cream With SPF 30, Vitamin C Serum Power Mask, Gelatin Powder, Vitamin C Massage Cream and Microdermabrasion. It ensures your skin gets wonderful boost of radiance. The bridal facial treatment is used to remove the tan and dead skin cells.  It is the best facial kit for pre bridal which has ingredients like Vitamin C, Cucumber and Glycolic Acid. Brides can also try O3+ diamond luxury facial kit for dry to normal skin type.
This kit includes:

Vitamin C Cleanser

Microderma Brasion

Vitamin C Tonic

Vitamin C Massage Cream

Whitening Mask

Facial Power Mask 2030 Gel & Powder

Vitamin C Glow Face Sheet Mask & Serum

Whitening Cream SPF 30

Clearly one of the best bridal facial kits for home and salon.
2. Jovees Bridal Facial Kit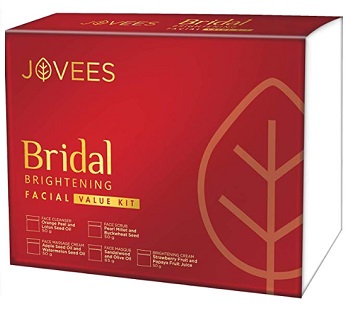 The bridal brightening facial kit contains 5 steps of facial like a Face Cleanser with orange peel and Lotus seed oil, Face Scrub with pearl millet and buckwheat seed. Face massage cream that contains Apple seed oil and wheat watermelon seed oil face mask with Sandalwood and olive oil and brightening cream that is made from using strawberry fruit and papaya fruit juice. The bridal fruit facial kit is sure to give you glow before your wedding and helps in removing the dead skin cells and reducing the melanin count. The product helps to awaken the sagging dull skin. It can be applied 1  time in 15 days and is the best facial for bridal smooth skin for all skin types.
3. Nature's Essence Bridal Glow Facial Kit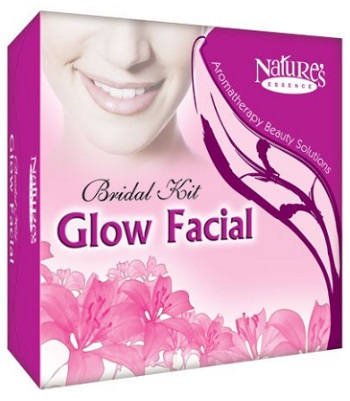 The bridal glow facial kit has 4 steps of facial that comprises of a Face Cleanser, Face Scrub, Face Massage Cream and Face Pack. Rich in the goodness of lavender and sandalwood oil, this facial kit reduces tan, enhances the texture and maintains glow on the skin. It is suitable for women with dry skin and it's nature's bridal glow face pack is best for dry skin which helps in the proper suppleness of the skin. In fact, it's amongst the best facial for bridal in parlour by the professionals.
4. Aroma Magic Bridal Glow Facial Kit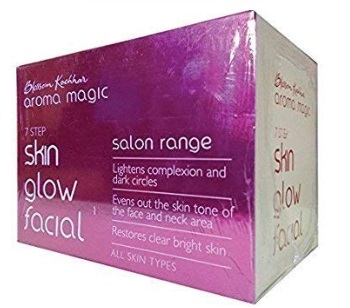 Aroma Magic Skin Glow Facial Kit lightens skin complexion and dark circles. The pre wedding facial even out your skin tone of face and neck and unveils clear and bright skin. The Blossom Kochhar bridal glow facial kit is suitable for all skin types and has 7 steps of facial. It's one of the best facial for brides-to-be in India.
The wedding facial kit comprises of: Face Cleanser, Exfo Gel, Skin Serum, Nourishing Cream, Face Pack, Hydrating Gel and Sunscreen.
5. Astaberry Bridal Aroma Facial Kit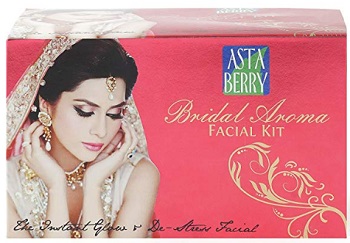 Astaberry bridal Aroma facial kit has 5 steps of facial. It has Bridal Face Cleanser, Face Scrub, Face Massage Cream, Face Serum and Bridal Face Pack. It is based on the principles of aromatherapy and contains the beneficial essential oils. The facial kit is suitable for dry skin to achieve glow and is also ideal facial for wheatish skin and dusky skin to whiten the skin.
6. Nutriglow Gold Kesar Facial Kit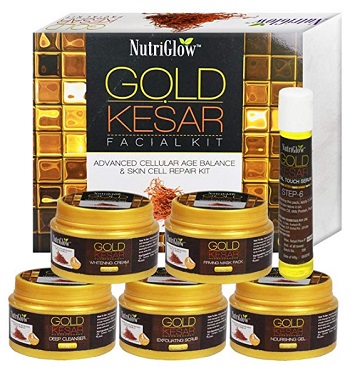 The bridal radiance facial kit contains two of the main herbs  like gold and saffron that are bound to give you pre wedding glow. It has a 5 step facial with Exfoliating Scrub, Nourishing Gel, Whitening Cream, Firming Face Mask and Serum. Gold is a precious metal that has been known since ages to fight ageing of skin and to offer an instant glow. It's the best gold facial for bride that renews cells and diminishes the appearance of brown spots. It can be used by people of all skin types.
7. Oxylife Salon Professional Gold Radiance Bridal Kit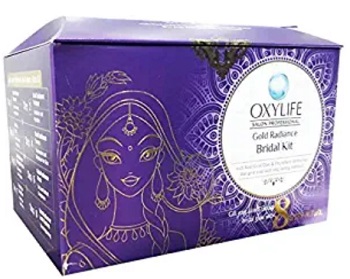 Oxylife gold radiance bridal kit is specially developed for brides for that special pre wedding glow. It's an 8 step facial kit that will make your skin look soft, radiant and glowing. This oxylife bridal facial kit has real gold and oxygen which along with other actives help make skin glowing and beautiful. 
It has a Cleanser, Toner, Scrub, Massage Cream, Massage Gel, Face Pack, Face Serum, Face Cream and  Sun Lotion.
8. Shahnaz Husain 7 Step Skin Whitening Treatment Facial Kit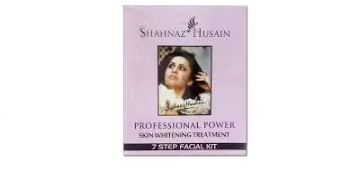 It's an elaborate 7 step skin whitening treatment professionally to brighten your skin and add glow. It has bio Hydrating Cleanser, Exfoliating Scrub, Hydrating Massage Cream, Whitening Mask and Whitening Serum with a Covering Cream. You have to follow the steps given on the pack and use products in the same sequence. The bridal facial for sensitive skin can be used once in month. 
9. VLCC Diamond Facial Kit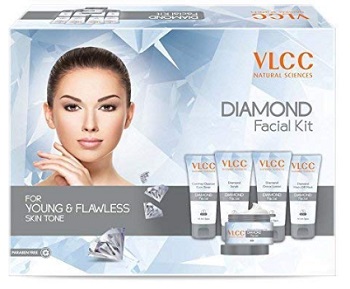 Diamond facial are known to make your skin young and flawless. Step facial kit which comes with a Comfrey Cleanser Toner, Saffron Massage Gel, Snigdha Massage Cream, Insta Glow Face Pack made with Diamonds ash or bhasma has been traditionally known to boost the skin's natural repair system. Diamond ash is obtained from heating and pulverized Diamond with herbs therefore, it contains cell renewing and rejuvenating properties. It improves skin the metabolism and helps in absorption of the active ingredients. It's suitable for normal to dry skin, even bride groom can try this facial.
10. Lotus Herbals Natural Glow Kit Skin Radiance Facial Kit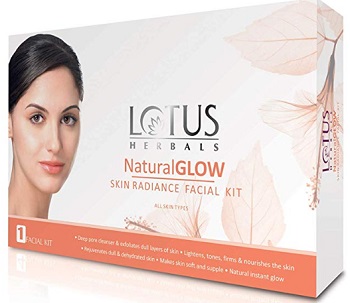 Lotus Herbals glow facial kit is for all skin types and is made to give you light and firm skin. It deeply cleanses and exfoliates the dead skin layers while making the skin soft and supple. In order to achieve a natural instant glow, a kit like this shall be used at least once in 15 days. It has 5 steps of facial. This lotus bridal facial can be applied once in 3 weeks to achieve good skin tone and is the best bridal facial kit for dry skin.
The bridal facial kit includes:

Lotus Herbals Lemonpure

Lotus Herbals Orange Peel & Alpine Salt

Wheat Germ And Honey Nourishing Cream

Lotus Herbals Frujuvenate Fruit Face Pack

Lotus Herbals Cocomoist Moisturising Lotion
11. Richfeel Skin Whitening Facial Kit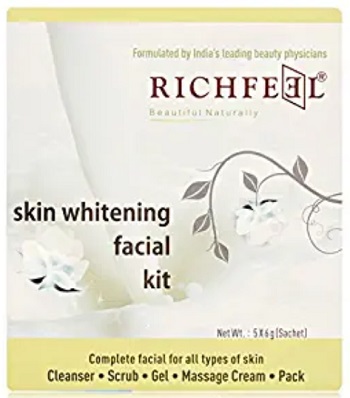 Skin whitening facial kit comes with 5 steps of facial. It has a Cleanser, Face Scrub, Face Massage Cream and Whitening Pack. It is a powerful formulation for improving your dull and dark skin complexion. It helps in the improvement of skin's natural fairness and is excellent to get rid of the tanning. The whitening facial kit is suitable for brides of all skin types.
12. Oshea Herbals Pearl Facial Kit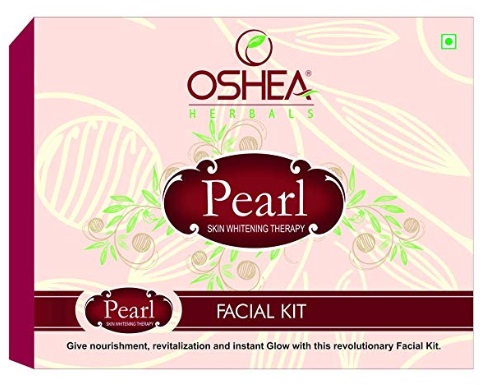 Oshea Herbals Pearl facial kit is primarily a skin whitening facial kit. Before the wedding, brides would want a glowing fair skin complexion and pearl facial kits are known to give you anti tan and glowing results. It is made of natural extracts of fruits and pearl Ash. It comes with an exfoliating Facial Scrub, Energising Cream and Pearl Whitening Face Mask. It gives you really good results when you have combination to oily skin. Even though the product is safe for all skin types it's good for brides with oily face.
Hope out of the listed facial kits would be able to choose the best bridal facial kit in India. Facials are important to keep your skin firm, tight and even toned. Doesn't matter what you are skin type is facials benefit all.
Having said that you must make sure that the facial before wedding for bride that you choose your skin type.