Fem Gold Bleach Review
Hello everyone. Fem is a very old brand that makes skin bleach creams. In this post, I will do Fem gold bleach review. I still remember that ad that says gori gori in 15 minutes. Haha. I wished to be fair too but did not know what bleach does when I was small. But now know what a gold bleach cream if for and how exactly they work. So, fem makes bleach cream in so many variants alike the pink one, blue one then a herbal one and this Fem gold bleach. I have used all of them and will be posting the reviews soon now so, lets start with this Fem gold bleach cream first which is my favorite out of all the fem bleach creams.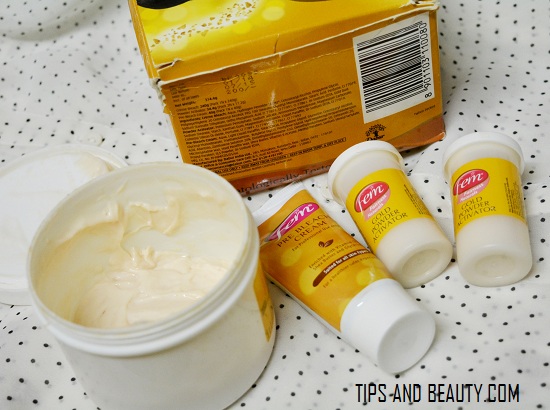 Price of Fem gold bleach cream:
This gold bleach cream comes for 50 rupees for the smallest pack. I have this huge box that is for 210 rupees. It is a salon pack that can be used more than 40 times. I mean my entire family, my cousins, mami, masi, chachi can use this for once a month still this will last for an year. This is great. Bigger packs are always money saving. Even fem herbal bleach is good too.

Experience with Fem Gold Bleach Cream and the direction to use this

This Fem Golden Glow gold bleach comes in a yellowish gold colored carton which has 3 things inside. A tub of the cream, a tube of activator and a pre bleach cream. If you are buying a small pack then the pre bleach cream will not be in a tube but will be in a small sachet. I got 2 tubes of activator as I had this fem gold bleach salon pack.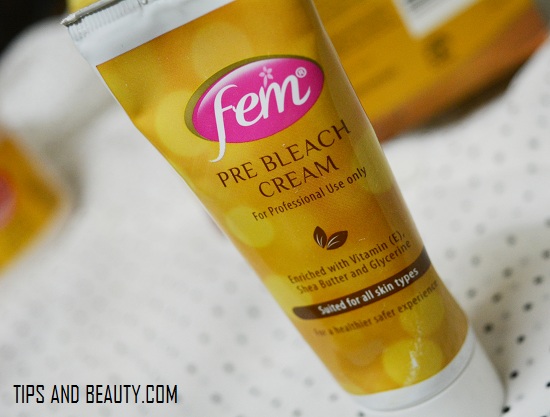 The cream is white in color. The powder activator is yellowish gold colored with fine gold colored particle in it. And the pre bleach cream is slightly yellow in color. This contains shea butter. Actually you know why they give this pre bleach cream. This is because we can have an irritation free bleaching experience as I have seen some ladies have extra sensitive skin which will gets red and rashes will come when they use any bleach on their faces. I have no such problem so, even if I use this Fem gold bleach without the pre bleach cream, I won't face irritation. Okay so let me tell you how I use this fem gold bleach.
How I use Fem gold Face bleaching cream

I will first wash my face with a face wash and pat it dry with a face towel. Then I take some of the pre-bleach cream and apply this like in the massaging motion on the face.

Then I take a small plastic plate and take out around 2 scoop of this bleach. I will add 5-6 pinches of the golden glow powder activator. I will mix them with my fingers. Leave this for 30 seconds so that the powder activator's crystal gets fully dissolved in the cream.

Then I will apply the fem gold bleach cream on my face with the fingers. I don't like using the spatulas that they give. Fingers works the best for bleach cream application.

My skin complexion is fair so I will wait for around 15 minutes but of some of you have darker skin then girls, keep any bleach cream or this fem gold bleach for only 10-12 minutes.

While I am waiting, I can feel mild tingling sensation which is okay.

After 15- 17 minutes, I will take a tissue paper and wipe of the cream then go and wash my face, I don't like washing the bleach cream from the face directly as this sticks on the hands and becomes so difficult to remove. So after washing my face, I will let it dry.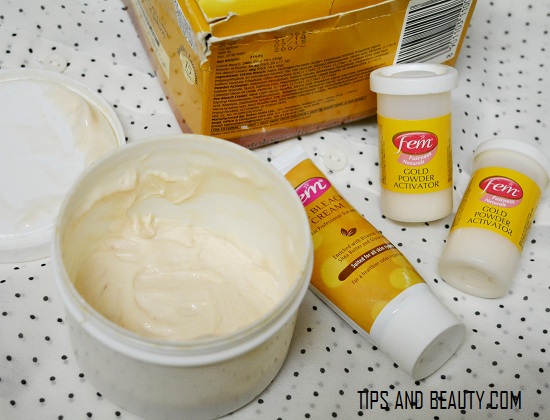 Results and benefits of fem gold bleach cream golden glow
Right after washing my face, I could see how brightened my face looks. I will bleach like once in a month mainly because it hides the facial hair and also take away the dead skin, skin tanning etc. I just love the fresh and fairer looking skin that skin bleaching gives. I like this fem gold bleach because this gives a natural glow on my face which is just amazing. This is the main benefit that I bought a large pack of this fem gold bleach. I have used so many bleaches, others were good too but this is the best gold bleach cream. You can also see other best gold bleach cream in India so that if you choose the one you like.
Good about Fem gold bleach
Price is good as small packs are also available

Adds a very natural glow on the face

Lightens the facial hair to match them with the skin tone

Safe and sensitive for the sensitive skin

Mild tingling is there but not too much skin irritation

The effects last for good 2-3 weeks

It does not leave the skin dry or greasy after the usage.
Not so good about Fem gold bleach cream

There were none so far

Bigger pack is for salons only and will expire sooner than you will be able to use this.
Rating for Fem gold bleach:
4.5 out of 5
Final Thoughts
I will highly recommend this fem gold bleach cream if your skin is sensitive as this comes with a pre-bleach cream which protects the sensitive skin. This adds glow on the skin and skin appears so much softer. Some sebum and dirt that accumulates on the face. This fem gold bleach also removes that. Now, what else one can ask for. Right girls?
This was the Fem Gold bleach cream review. How did you like it? Have you tried this yet?
Do check more on bleach creams from our collection.
6 Best Gold Skin care products in India