For most of your traditional ethnic dresses, you would require an nice set of ethnic bangles. The bangle set or bangles, in general is an important accessory that one would really go for specially when they are married. Married women can pair beautiful and attractively colored bangles along with their sarees, salwar suit or even with Anarkali suits and gown. Wondering which are the latest designs of bangles for women for festivals and ethnic wear dresses, we've compiled the image list and catalogue of the beautiful bangle set designs available in the market currently.
Women can mix and match their bangles, according to their outfit. Even bangles can be worn with the western wear however with the Indian traditional wear, they are like a must-have. So if you're allergic to metal, you can go for the glass bangles.
However, we've compiled this image catalogue. Bangle sets can be metal bangles, thread bangles and even the Silk thread jewellery. When comes to different metal bangle designs they can be of acrylic, alloy, brass and even aluminum.
Beautiful Festival Bangle Set Designs and Images (2023)
1. Golden Bangle Set For Parties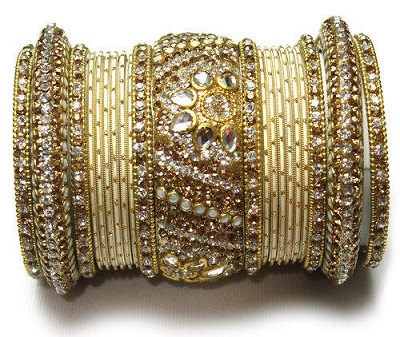 The beautiful bangle set has the golden color middle bangle that has Kundan stone work. The set has small rhinestones as well with the thin chudis of aluminum. The metal bangles have golden glitter work over them. This bangle set is really beautiful and one can use that for their Karva Chauth saree or even for the anarkali on long churidar dress.
2. Pearl and Gold Bangle Set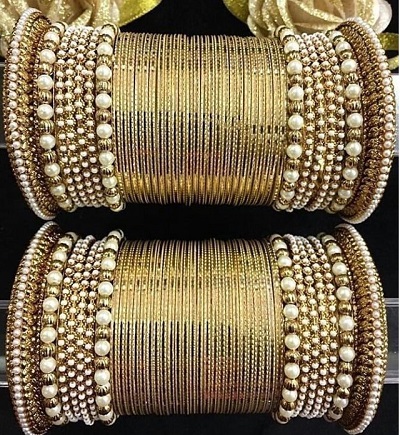 The beautiful Golden and pearl bangle set is for any women who would love to have these full-fledged bangles with their beautiful dress. The Pearl and gold bead work on these designs make them really unique and stylish. In fact, the centre part of the gold bangles, can also be taken out and only the pearl and gold beaded bangles can be worn. Mix and matching and refusing the design is all up to you.
3. Stylish Kundan Studded Bangle Set For parties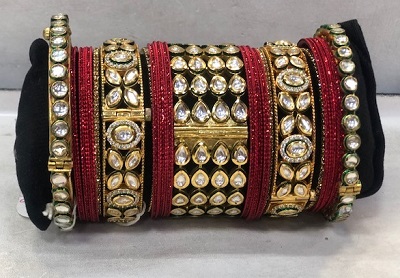 The stylish kundan and stone work bangles is extremely gorgeous. The centre Kada has good amount of gold work and thicker band like bangles, that can be worn on its own. The other two sides of the karas are also beautiful and can also be worn as a standalone bracelet with your western wear. It is a bangle set that is very suitable for married women or even for the post bridal affairs.
4. Latest Bangle Set For Karwa Chauth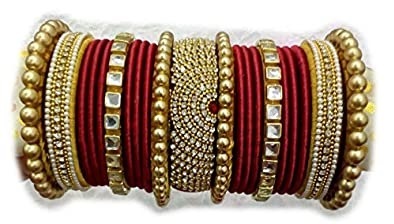 If you are looking for a bangle set for Karva Chauth, this bangle set is one of the most beautiful ones that we have seen in the market. It has metal bangles and Silk thread bangles. With Kundan work and the gold beaded work, it is a gorgeous set that you can pair with your red and maroon color sarees, even if your saree is a different color, you can always wear red bangles when you are married.
5. Silk Thread and Jhumki Bangle Set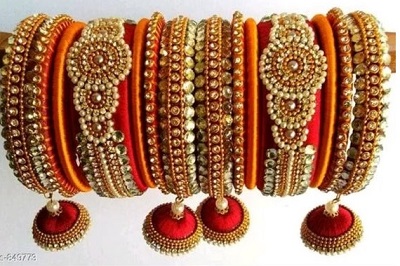 The bangles with beautiful jhumki work is actually silk thread jewellery. The heavy rhinestone and pearl work going on in these silk thread bangles set is exclusive and very unique. Made with the orange and light gold color, it's a beautiful and breathtakingly stunning bangle set for women.
6. Ethnic Wear Bangle Set For Ladies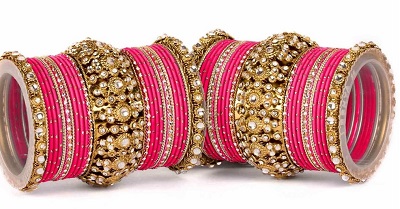 Girls would like to go for a gorgeous that of ethnic bangles with their lehenga or sarees can try this at. The centre is there which more like a bracelet is while the metal pink colored bangles are added in between to the gold bangles. It is a stunning kada set or bangle set that would compliment your Indian and ethnic wear beautifully.
7. Party Wear Gold Bangles Design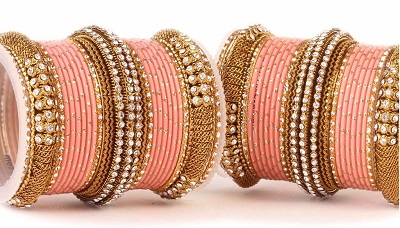 The set in gold is a color, you can even go ahead with your other colored dresses like try a peach bangle set with a yellow dress or even a dress where peach in there even minimally. This is a gorgeous bangle set which is affordable and is available in shops and online easily.
8. Fancy Bangle Set With Kundan work Design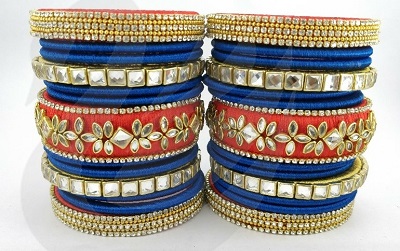 If you like fancy and studded bangles and kundan work bangles are the most beautiful things that you can go for. This bangle set has thread work in blue and red color with rhinestones and pearl work. The bangle set is stunningly gorgeous and try pairing it up with your traditional blue and red ethnic wear.
9. Green and Gold Combination Bangle Set Design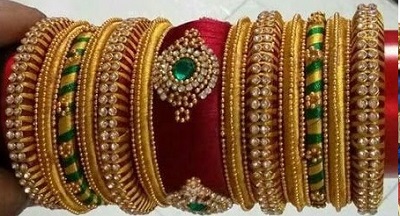 Green is the color which depicts prosperity and success. These silk thread bangles with Red and Green colors would be appropriate for all your wedding attire for parties and other functions. Even for the new bride, wherein she has to attend the post wedding functions, such bangle set would be appropriate.
10. Pink Bangle Set For Brides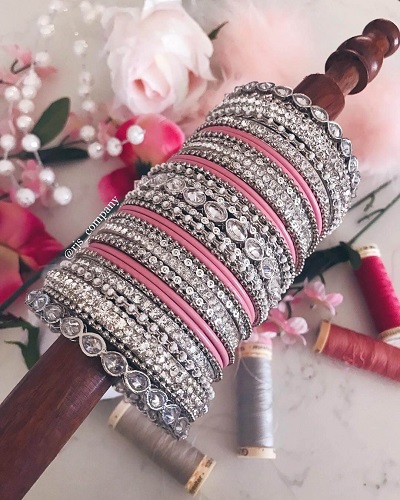 To make your outfit look even better, these beautiful pink colored bangles would be amazing. So you are if you are a fan of subtle and light colors, then try this bangle set and you will surely gain many compliments.
11. Bridal Light Pink Chura Design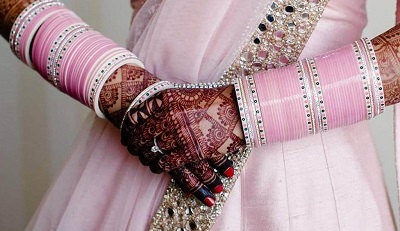 These pale pink bangles with the white thicker bangles, the set is more like a bridal chura. This eye catching and subtle design is elegant for the brides who like things to be simple and classier.
12. Festival Bangle Set Designs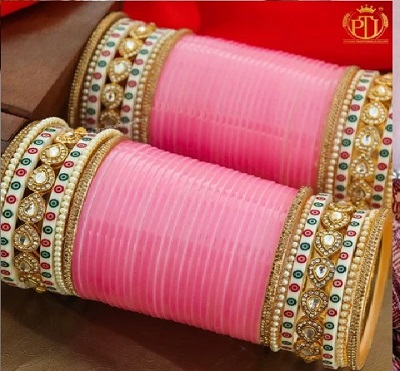 If you are a new bride, wear a stylishly design bangles set with your wedding or post wedding attire. So, if there is a Puja at your home or meeting the relatives, try this and you would surely look stunning.
13. Latest Orange Bangle Set pattern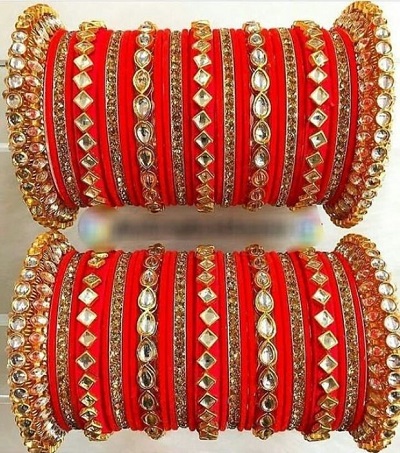 Orange is a color that instantly catches everyone's attention. This metal bangles set in deep orange color has Kundan work. It's very affordable and easily available on online shopping stores. Heavy Kundan work on this bangle set, make it a party wear and wedding wear bangles set. So like, if in case, you're going for a wedding in the family, then such set can never make you look less than anyone.
14. Bracelet Style Bangle Set For sarees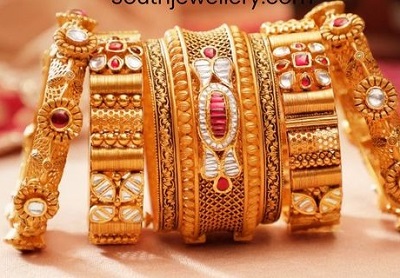 Talking about the beautiful bangle set, that we have even the bracelet styled bangles. It is a gold jewellery inspired design which is for the women who are not just like the regular thin bangles but wide kada style bangle as well.
15. Indo Western Wear Bangle Set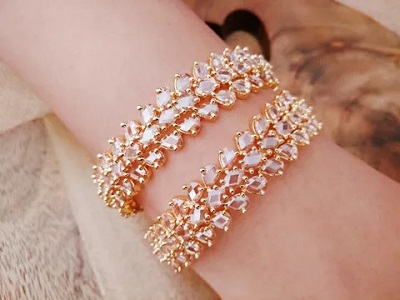 The bracelet style bangles have beautiful stone studded amazing and breathtaking design. It can be paired with not just your Indian traditional wear but with your western wear as well.
16. Blue and Gold Bangle Set For Suits and Sarees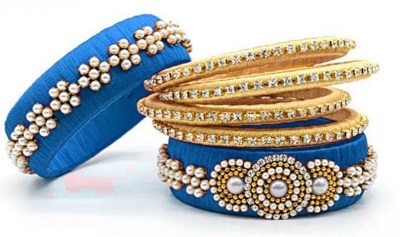 Like we say gold and blue is a color which looks stunning on many girls. Blue in anyways is a color that is gorgeous in itself. So if you have a blue saree or blue salwar kameez try such blue silk thread bangle set.
17. Green Latest Bangle Design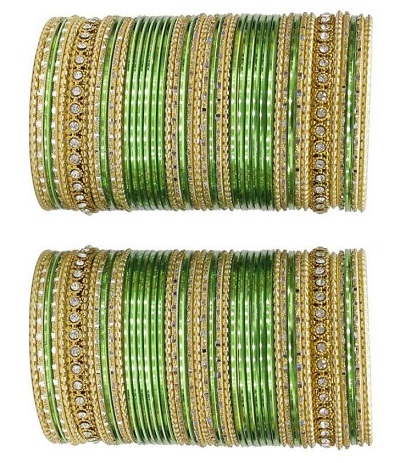 The green color bangles mixed with gold bangles is a mix and match thing that is very gorgeous to look at. So if you are going for a pooja, or there's a party at your home, where you have to wear suits, sarees and ethnic gowns, then why not try such a gorgeous bangle set to gain attention.
18. Rhinestone and Cutwork Bangle Set For weddings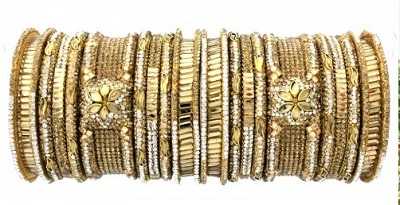 Rhinestone and cut work in this gold beautiful bangle set makes these really amazingly classy and beautiful. So it does not matter what dress color you have, gold is a color that blends very well with most of our Indian ethnic outfits. So if the detailing and work on the outfit is in gold thread embroidery or similar sequins are used, gold color bangle set can be easily mixed up.
19. Stylish Bangle Set pattern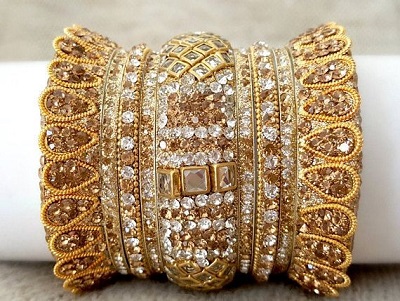 This is a very stylish looking bangle set that is surely very attractive and eye catching.  People would definitely compliment you and ask you about it. These are also available on online shopping sites.
20. Fancy Kundan Side Bangles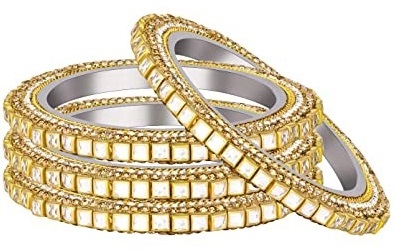 These kundan studded bangles are for girls wherein they can use other metal bangles in between these side bangles or wear them just like that.
These amazing bangle set designs are available in the market. Hopefully, out of these designs would be able to choose the particular one that you would like to pair up with your dress.