Finger Mehndi Designs: Mehndi application is an art and this art look beautiful when made on the hands, feet and other notable body parts. In several cultures, mehndi is a sign of femininity, youthfulness, beauty and celebrations. In India, whenever there is a celebration like Eid, Diwali, Karwa Chauth, Anniversaries, Wedding etc then mehndi is applied. Mehndi designs can be intricate to simple but a lot of us also like to put stress on the finger designs. Some likes to put lovely patterns on their fingers alone while some people would like extensive designs on the fingers and then keep the rest of the palm bare. There can be multiple combinations too so, let have a look at finger mehndi designs.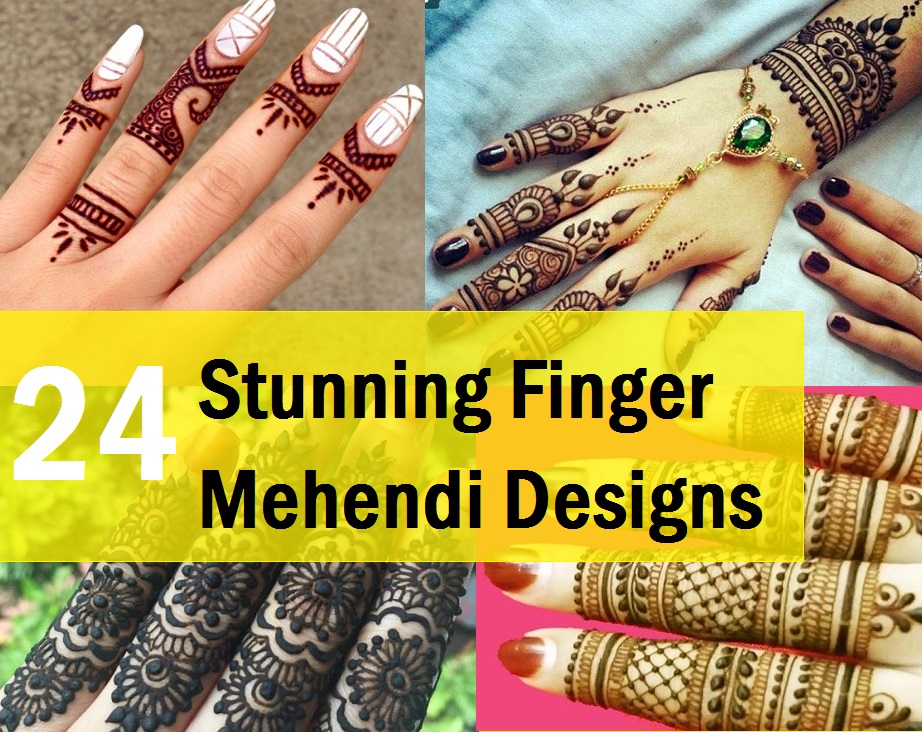 24 Best Finger Mehndi Designs For Festivals and Weddings (2022)
Here are the best, easy and eye catching Mehndi Designs For Fingers to make your fingers look remarkable and dazzling. Note brides too can try such designs by applying henna on their hands
1. Easy Mehndi Finger Design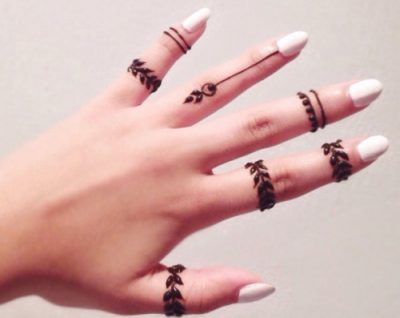 Nothing can be as simple as this. This reminds us of the royal Rome. The leafy vine that goes across the fingers looks lovely. One should try this design on their finger to look stylish and trendy. It's appropriate for small kids and for women who like simplistic patterns.
2. Henna Simple Finger Design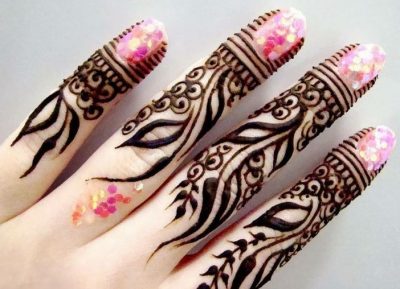 If florals are your choice then, this floral pattern loaded finger mehndi is such spectacular. The thick leafs and parallel lines on at the top part of the finger nails are appealing. Young girls would certainly like such finger designs. You can try this design this Eid or Rakhi to make people look at your hands repeatedly.
3. Latest Front Finger Mehndi Design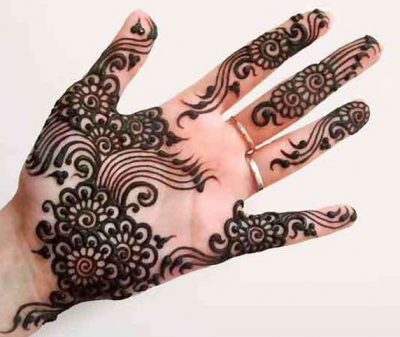 Another floral and curvy design is this one. It has round leafed flowers and tendrils. There is a different design and pattern on the fingers. The circular floral touch to this design is surely easy and perfect fr people who are at beginners level in henna application. Do check out the stunning peacock mehndi designs.
4. Back Hand Bridal Mehndi Design For Fingers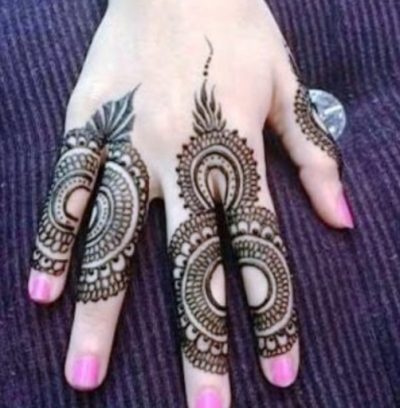 This design here somehow screams Royalty and luxury. The design looks like those embellished big decorated mirrors. The design is made half on each finger and this actually has made it really opulent and unique. Brides should definitely try this on their hands or even for feet. Check out some amazing bridal feet mehndi design Ideas
5. Single Rose Finger Mehndi Design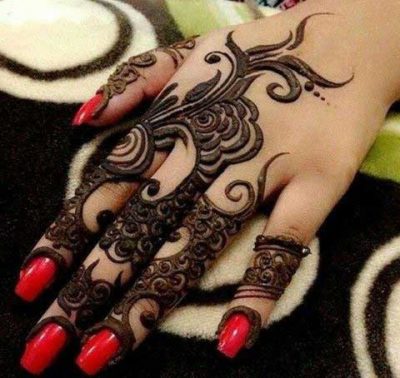 If Arabic inspired or gulf mehndi design for fingers is your choice then this is perfect. The finger mehndi design has beautiful rose and the fingers are adorned with small intertwined circlet patches.
6. Stylish Finger Mehndi Design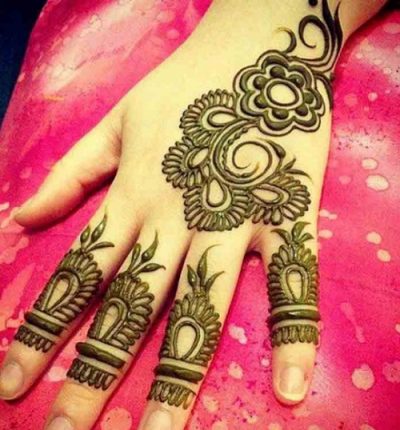 Here, the pattern for all the fingers are kept similar, But look at this spectacular art on the back fingers. Truly amazing and worth trying the next time, you are looking for beautiful new mehndi designs for fingers. You can replicate this on your fingers this Eid. It has very Middle East and Mughal Era like Vibes to it.
7. Hand Finger Mehndi Design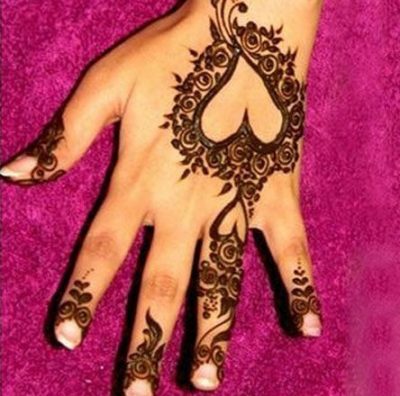 Dubai mehndi inspired Simple design is for the new age fashion ladies. The heart shaped floral motifs gives it a very romantic feel. Fingers are designed in rose like mini patterns with small twinkling hearts shapes. I am sure the special person in your life would admire a design like this.
8. Latest Neat Arabic Mehndi Design For Fingers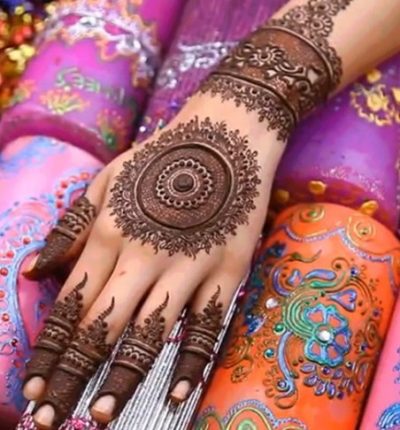 For royal pattern lovers, this is a great piece and inspiring art. This design is made with such intricacy and creativity that it screams grandeur. The intricate designs on the fingers are great for brides. Muslim brides love such finger mehndi designs. The richness and vibrancy of this henna pattern talks about its elegance with a bracelet on the wrist.
9. Ring Finger Mehndi Design for Eid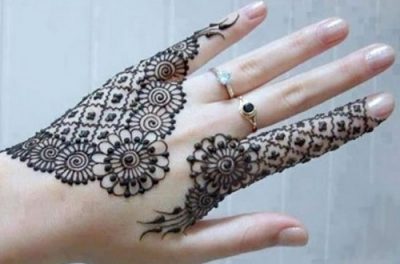 Geometric patterns are very much in trends when it comes to trendy mehndi designs. The design has criss-cross patch on index finger that ends in a round flower like shape. It also looks like a crochet art. Young women with thin fingers would be able to carry it really well. The floral pattern adds more appeal to it.
10. Simple Front Finger Mehndi Design For Eid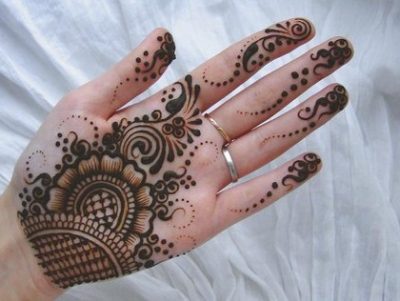 Small tendrils and flowers like this also appear nice. The little finger mehndi design is very cute and is suitable for beginners in henna application. or small girls this design is pretty good. The cool design is ideal for small baby girls. It can also be tweaked by extending till the wrist area.
11. Trendy Back Finger Mehndi Design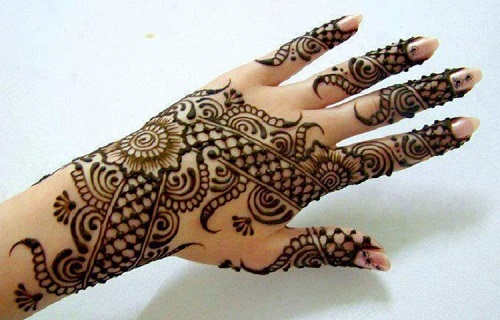 Simple patch on the fingers with criss cross is for simplicity lovers.  The geometric patterns and parallel lines makes this design look better and prettier. You can even apply a similar design for the front palm. It will look ideal or Eid and Diwali or as you wish. It looks very much like the Arabic mehndi designs.
12. Simple Finger Mehndi Pattern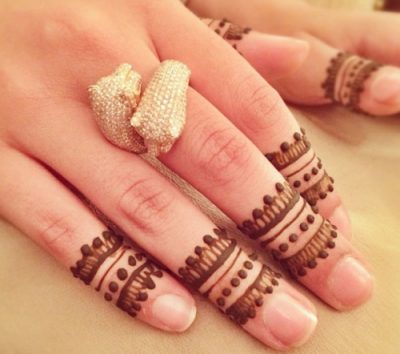 Parallel lines with dots!! Never knew these two geometrical figures can look stunning and give such an eye catching design to the fingers.Such designs are not finger filling henna art but have to be let simple.
13. Cute Mehndi Design For Fingers Only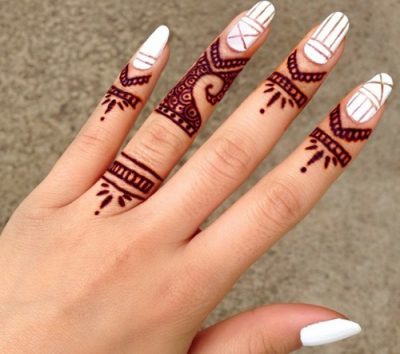 For the art and history lovers, this pattern for finger mehndi design, speaks of Maya, Aztec like design. Nonetheless, the pattern gives an impression of mehndi tattoo. A lot of people from European countries too are getting inspired from such finger henna patterns.
14. Simple Henna Design For Back Fingers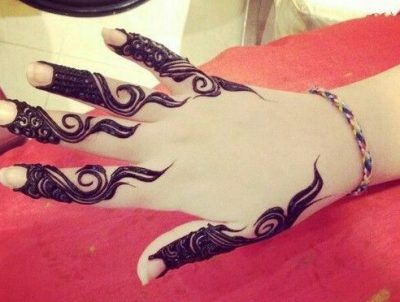 Rosette tendrils with thick lines are the key to make such a gorgeous pattern on fingers from henna. It gives rich and dark color and gets applied quickly as compared with the other intricate and complicated patterns. Perfect for festivals, it gives alluring touch to your hands.
15. Mehndi Design Only For Fingers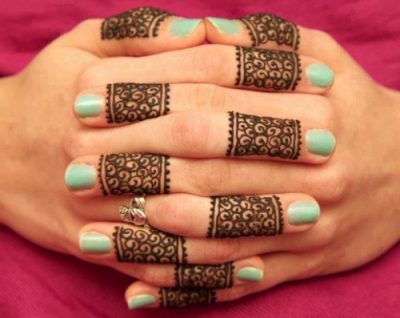 Thick circular embedded bands on the fingers are like a perfect mehndi tattoo design for fingers. This is not just for the Modern Age Brides but for young girls as well, who loves to try new fashion trends.
16. Bracelet and Finger Style Mehndi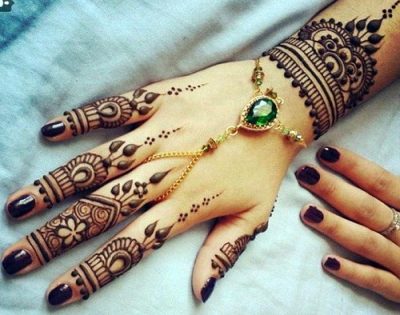 Symmetrical and beautiful with very Egyptian inspired art. Do try this finger mehndi design. The neatness of this design is sure to catch your attention and make you look stunning. Trying it is not difficult as it has pretty easy to make motifs.
17. Lace Full Finger Mehndi Design Back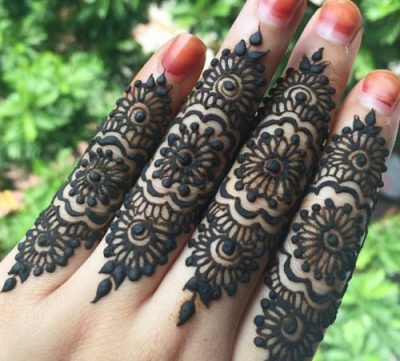 It is not just a mehndi design but more like a rich crochet lace like design on the fingers. Truly Breathtaking design!! We are sure that once you try this design, it will make heads turn and you will receive loads of compliments.
18. Finger and Back Hand Mehndi Pattern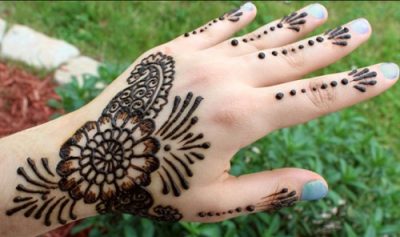 Tiny does and slanted lines, that's it!! Use this design when you are making a design on your little girl's hands. For beginners it is easy to try and apply design.
19. Parallel Lined Back Mehndi Design Of Fingers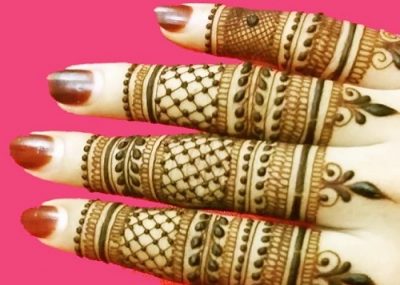 You can try this magnificent design which is so stunning that you can miss a short breath, due to that. The clarity, simplicity, intricacy makes this patch great. You can mix this inger pattern with other henna designs too o create your own style. It is easy but you need a steady hand to draw parallel lines.
20. Finger design for beginners and small girls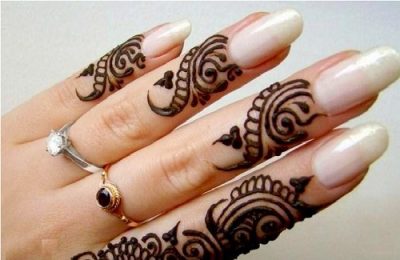 This S shaped leafy pattern is for brides and grooms as well. You can also try your own creativity along the lines of this same pattern. It can also be replicated for foot fingers.
21. Geometric Design of Mehndi Style
Geometric and Aztec print design is appropriate for people who like to stay in trend with such mehndi tattoo designs. It is ancient in appeal yet modern when tried. For modern girls, this contemporary pattern is perfect.
22. Baby and Kids Easy Finger Mehndi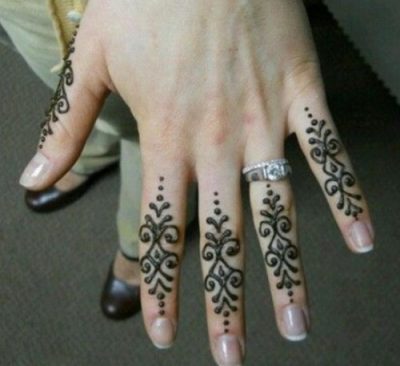 The Victorian pattern is for everyone, even if you like to apply henna or mehndi for fashion then too such patch can be tried. It is very creative design that is neat and near perfection.
23. Index Finger Design Mehndi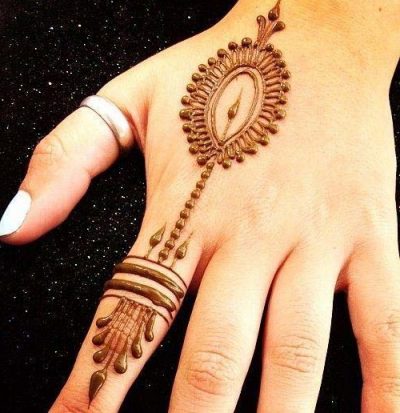 This looks like a hair pin with a oval shaped disc. This mehndi design on the finger reminds us of the ancient Indian Designs seen on Architecture. 
24. Fingertip Mehndi Design Art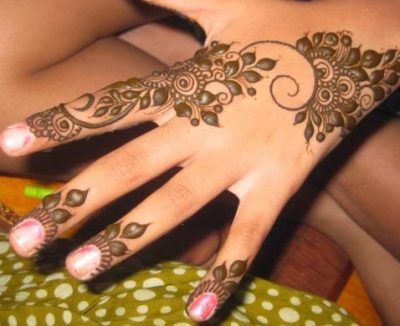 One of the most stunning designs of finger. This filled up leafy pattern is gorgeous. Try this the next time you apply mehndi for Eid festivals, weddings etc.
So, these were the opulent and splendid finger mehndi designs that everyone can try to reveal their stylish and fashionable side. Which is the design for fingers that you liked? Hope these Finger Mehndi Design Images are sure to inspire you the next time you apply henna on your hands.