Fit and flare dresses are quite popular and they can never go out of trend. There have been so many different variations of a fit and flare dress that women can try for creating different looks. The fit and flare dresses are the classy evergreens that any women can try. Regardless of the body type, women can try the classy fit and flare dresses. One can have a solid design, floral short or long even the basic fit and flares simple dress for the summer season. Undoubtedly, these fit and flare dresses are versatile. In fact they are also quite comfortable,  chic, and are known for their contemporary and feminine vibe.
How To Style A Fit And Flare Dress?
Styling a fit and flare dress is not that difficult when you know your body type and some styling tips. Doesn't matter the body type, fit and flare dress still looks best on any body type because of the shape of the dress which can look flattering on even the most slimmest and the bulkier or plus sized ladies. There are different dressing tips, that are good to know when it comes to the fit and flare dresses.
Fabric
Fabric of the dress that is quite heavier can make you look bulkier and healthy. Hence, opting for the lighter and more flowy fabrics like Chiffon, Georgette and Satin. These fabrics are good with their draping ability to make one look slimmer and leaner
Length of the dress
The length of the dress is quite an important parameter when you are styling your dresses. For the plus sized women, fit and flare dresses till the knees or above can be safely ignored to shift the attention from the bulky thighs. Fit and flare dresses that goes beyond the knees are better when the legs are bulky or quite flabby. Women with the leaner and slimmer bodies can try these fit and flare short dresses too without being conscious.
Dress Neckline
Neckline is an important part of any outfit that you wear regardless of the body type. Women try to gravitate towards fit and flare dresses because they look feminine, modern and has that girly vibe to them. For women who would like to hide their large hips, thighs or bulky lower bodies can pay attention to the neckline. A halter neckline will be good to strongly emphasize on narrow upper body and large lower part of the body. To draw the attention, attractive neckline like scoop, square, heart shape looks flattering as that broadens the shoulders and gives you a more proportional body type.
Sweep or circumference of the skirt
The circumference of the skirt is actually the sweep of the skirt. The larger the sweep the bigger the flare would be. But that is not always better for at least healthy our body type. Too much flare can make you look wide and short. Thick fabrics with too much of skirt circumference will shorten the height and will give wider appearance. Therefore, fabrics like Georgette and Chiffon work the best if you want too much of flare.
Waist
Placement of the waist is another feature that has to be taken. The waist placement is the place from where the waistline merges with the flare of the skirt of the dress. It's better to stick to the slimmest part of your body. If the waist is slimmer then placement of the dress should be on the waist itself.   Waist placement of your fit and flare dress is below your natural waistline, then it will give an appearance of a longer torso for the body looks long and leaner.
Prints
Print of the dress is equally important. Smaller prints are good for bulkier frames and vertical strips are ideal to have the illusion of height and slimness.
Types of Fit And Flare Dresses For Women (2022)
Let's take a look at the latest styles of fashionable fit and flare dresses for women of all age group and body type.
1. Black Printed Fitted Fit and Flare Dress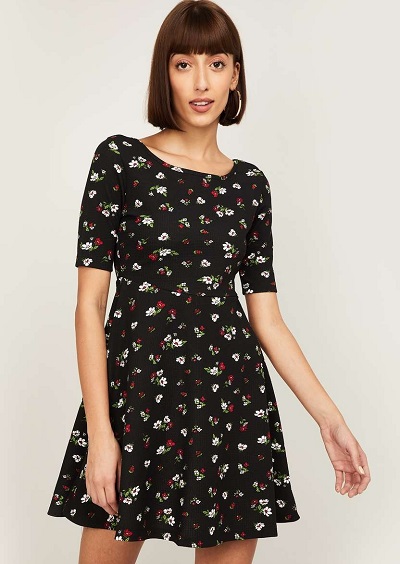 The gorgeous dress looks amazing because of the style and the design. The beauty of this dress is the floral print on the black base. Such dresses can be tried with women with plus size and even the women with height. Pair it with a nice cross body bag and Flat Gladiator Heels to look your best.
2. Double layered fit and flare dress for women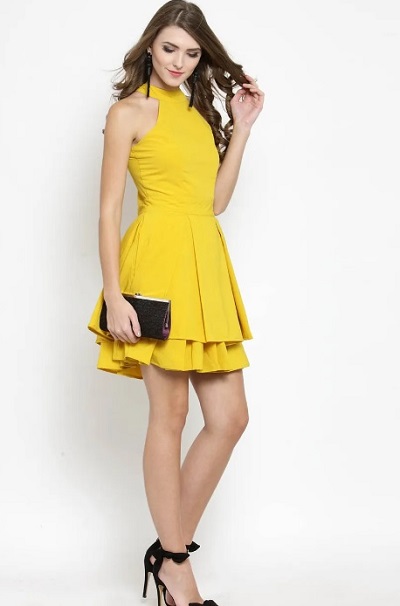 One can definitely flaunt your toned body and leg in this beautiful double layered fit and flare dress. It can be paired with statement jewellery and the Gladiator strappy sandals. The colour of the dress is summer appropriate and is going to make you look amazing.
3. Tank style fit and flared floral dress for women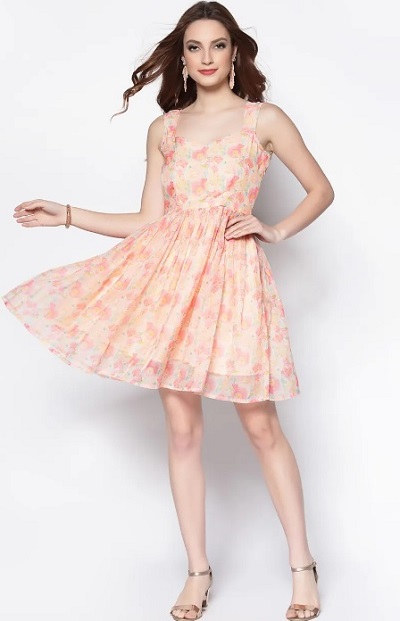 The gorgeous dress is one of the best looking dresses for summer season. It is sleeveless dress with a sweetheart neckline which looks amazing with women toned upper body. Dresses like these have this amazing ability to hide the bulkier bottom. If you have broad hips or huge thighs then this dress in beautiful floral printed Georgette fabric can certainly cover up. You can acquire a gorgeous style with this dress. Try it for the next vacation or for a get together with your friends.
4. Empire style fit and flare dress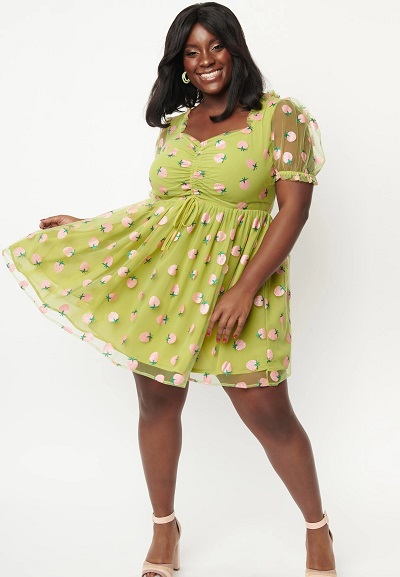 The net fabric dress has a quality and vibrant color. The design in the front part also add quite attractiveness to this style. You can never go out of trend, if you pair such a gorgeous looking dress with a Gladiator sandal or even with flat Bohemian kind of shoes. A nice dainty necklace also work in making this entire summer perfect.
5. Lace fabric short sleeve fit and flare dress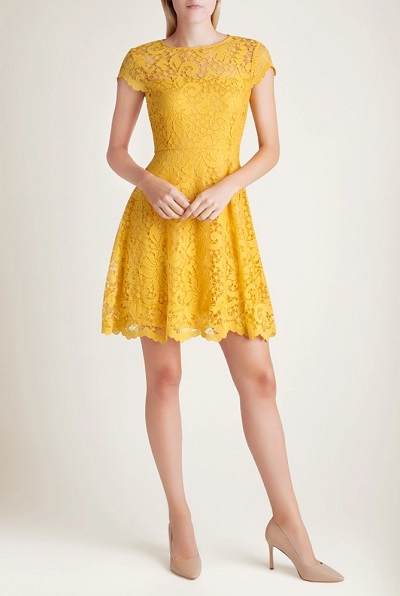 This color is everyone's favourite when it comes to summer and spring season. You can flaunt your toned figure in such a gorgeous looking lace dress. Even the women with plus size can try such dresses as the gorgeous lace fabric falls on the body nicely. For the accessories, statement necklace with boots can make this dress instantly a clubbing dress for the summer season.
6. Layered high low pattern fit & flare dress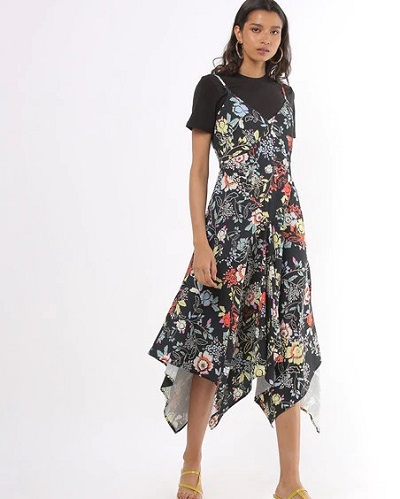 This shirt dress is actually quite quirky and sassy with the chic look. The beauty of this dress lies in the uneven hemline and the gorgeous floral print. With the v-shaped neckline and a t-shirt underneath, it can be worn in multiple ways. One can try it with or without the t-shirt. If you are going to wear it without the t-shirt then it's going to give that perfect Bohemian beach kind of look.
7. Box pleated solid fit and flare dress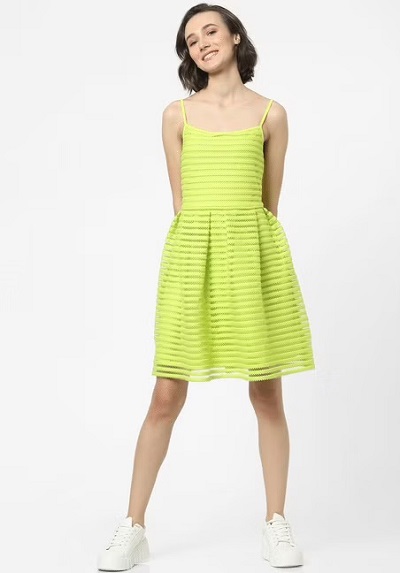 The box pleated dress is ideal for women who have thin frame. The dress is amazing and summer appropriate. The color of the dress is quite cheerful and brings out that carefree spring vibe. Summer spring dresses like these are ideal for the summer get-together, spring functions or you have to wear something comfortable, casual and colorful.
8. Sleeveless Flair netted dress design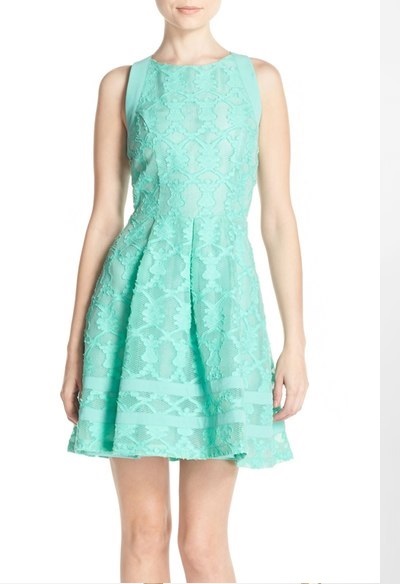 The sleeveless dress is ideal with a Boat shape Neck line to give you that feminine and chic look. It can be paired with flat sandals or with the wedges sandals as well. It has box pleated pattern and the fabric is for everyone. For plus size ladies as well this fabric is going to follow the body nicely to create that elegant look perfect for the spring.
9. Wrap style fit and flare dress for women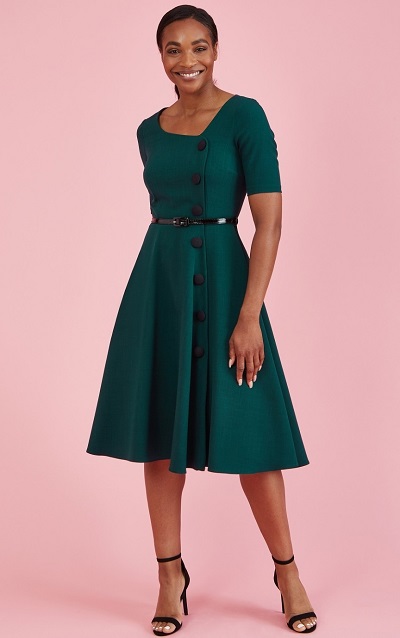 The dress has quite a fabric as compared to the other fabrics that we have seen in this catalogue. It has a wrap pattern with a button placket that goes all the way from the neckline to the hemline. It also comes with a leather belt and medium length sleeves. The flavour of the dress is also good enough. However, we would recommend such dresses for the women who have toned or slim body. For plus sized women the pattern is not going to work in their favour.
10. Boat neckline short fit and flare dress design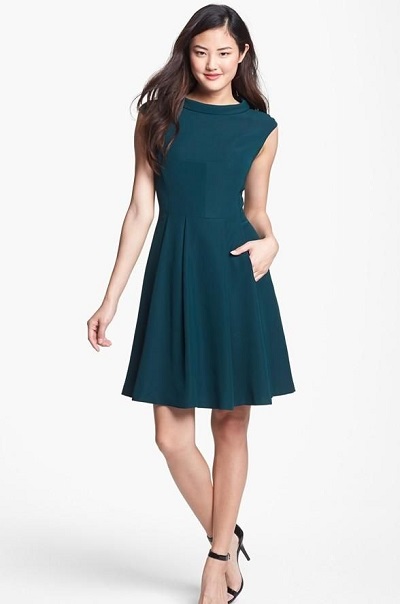 The boat neckline of this dress with sleeves pattern makes it quite a formal and semi casual dress. It also comes with a side pocket. The dress looks amazing in the solid deep blue colour. Such dresses are ideal for woman with all body types. Pairing these with pumps gives you that nice sophisticated and office meeting kind of look. Such dresses are also ideal for the jacket to create a layered look.
11. Floral printed Georgette fit and flare dress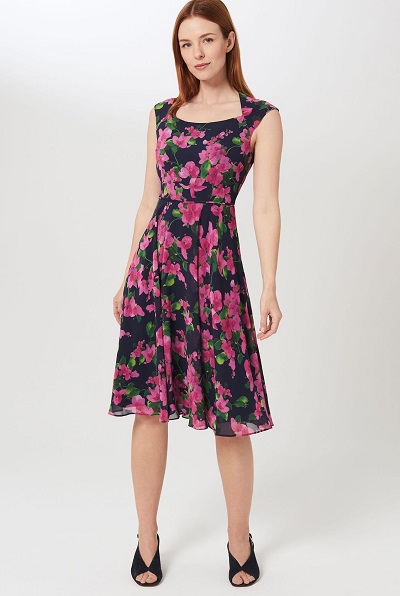 12. V neck Georgette printed flat fit and flare dress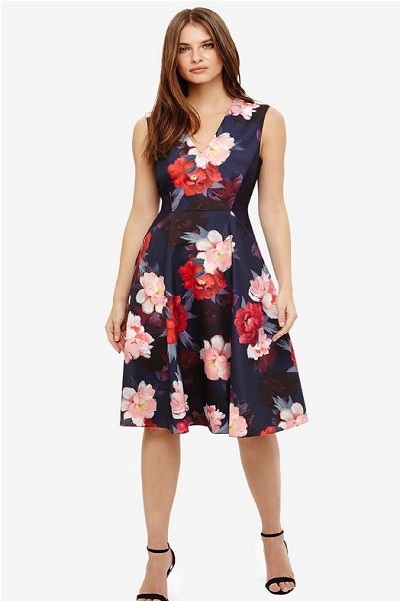 13. Lace fabric party wear dress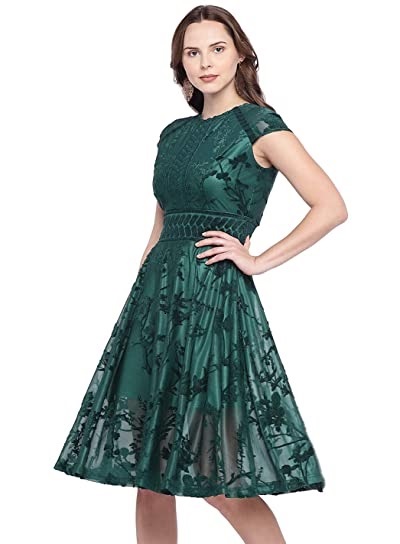 14. Simple Polka dotted fit and flare dress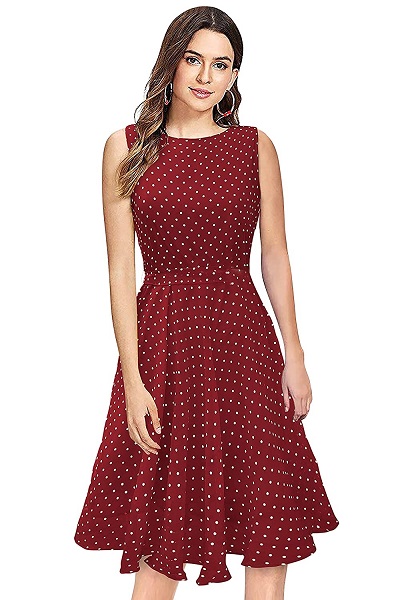 15. Scoop neck fit and flare dress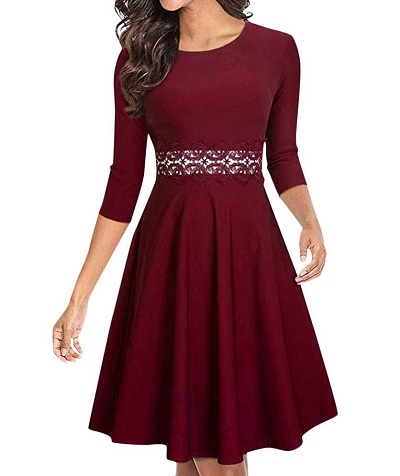 16. Flutter sleeve Flair dress for women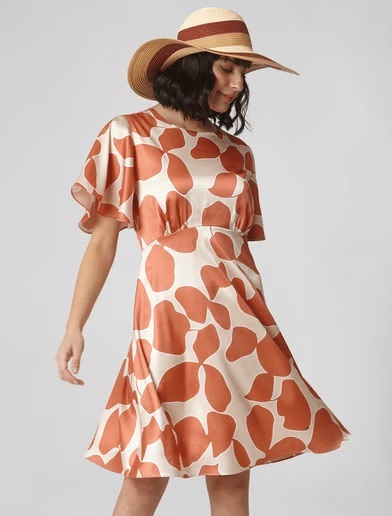 17. Pink from fit and flare netted dress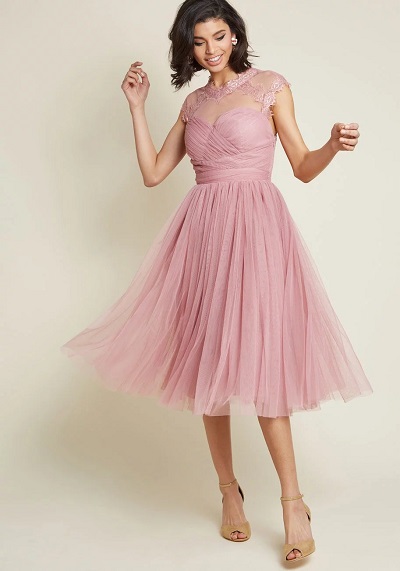 18. V-neckline Georgette fabric dress for women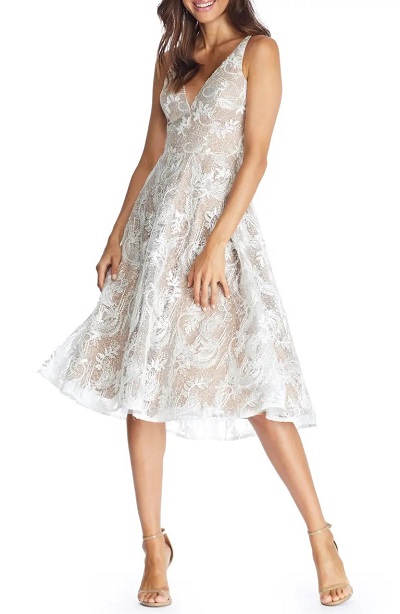 19. Vertical striped dress for ladies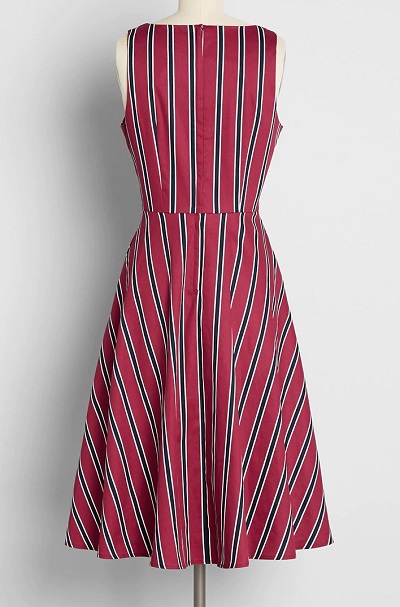 20. Floral printed fit & flare dress design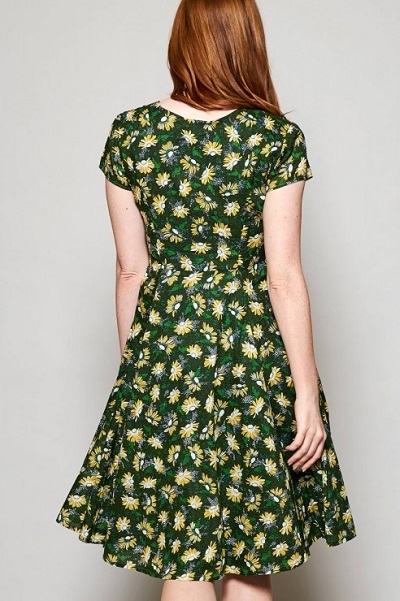 21. Smocked flutter sleeve dress design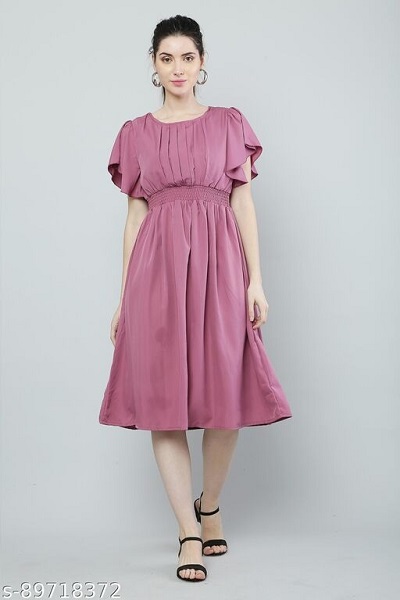 22. Fit and flare dress with front belt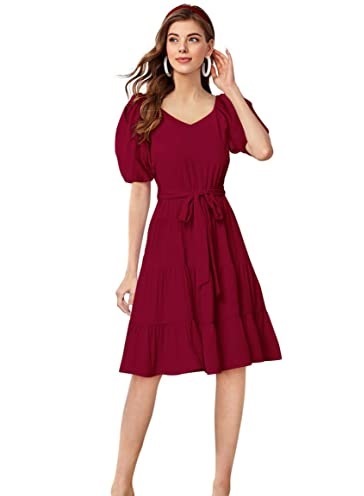 23. Georgette style dress for ladies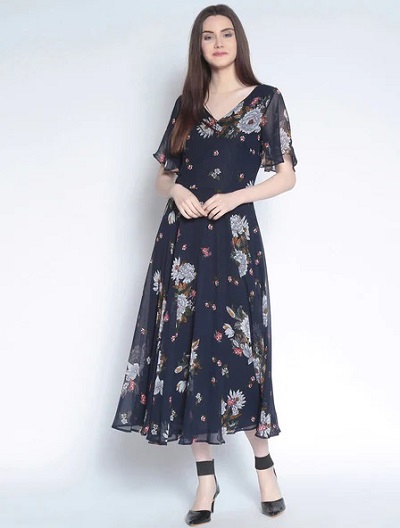 24. Short fit and flare style wrap dress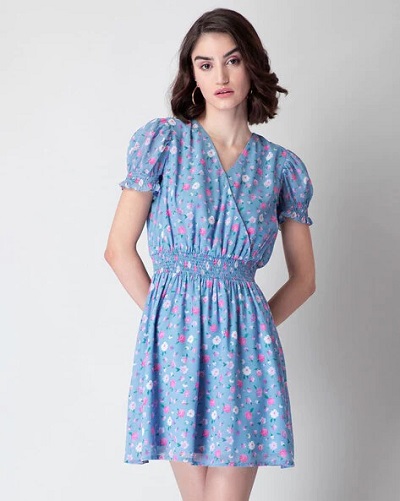 25. Floral printed simple summer dress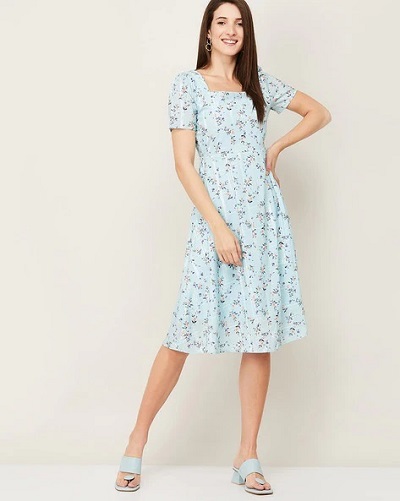 26. Green printed summer dress for ladies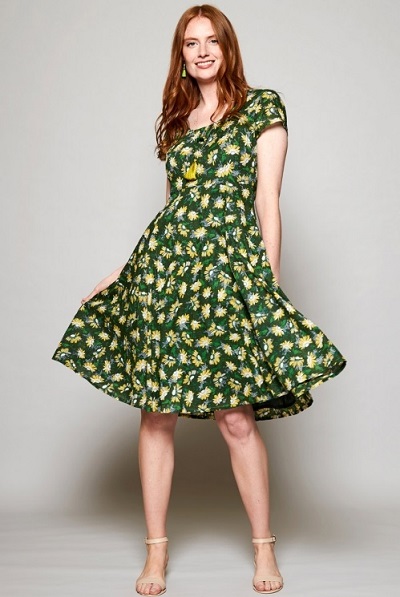 27. Spring dress for girls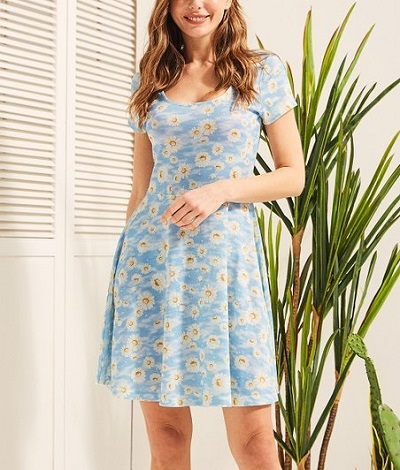 28. Shimmer fabric fit and flare sleeveless dress
29. Silver grey fit and flare dress for parties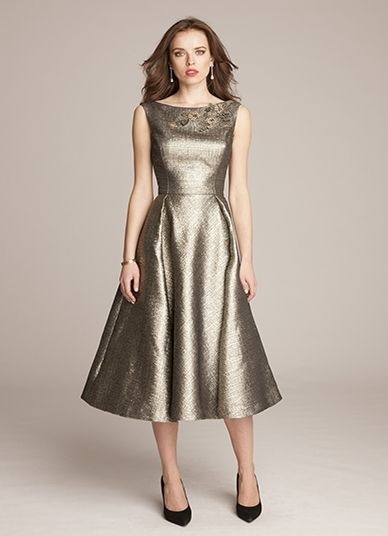 30. Boat neckline pleated fit and flare dress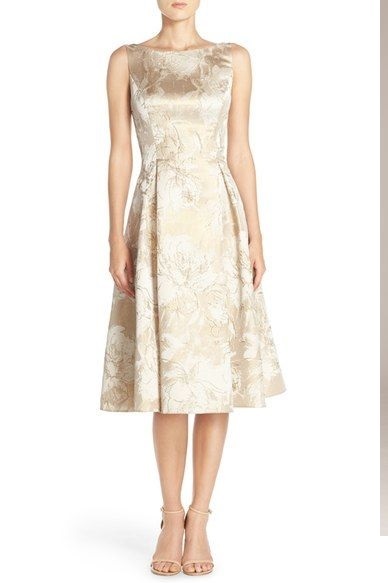 31. Simple fit and flare box pleated dress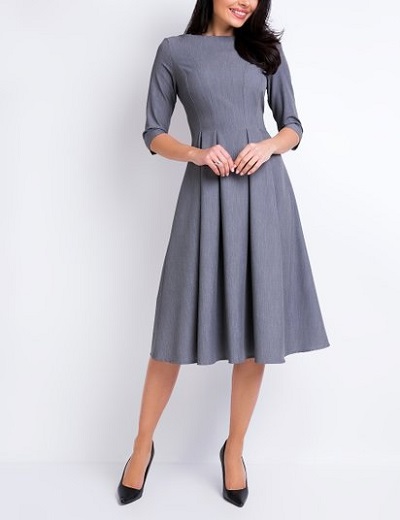 32. V-neckline Georgette floral printed dress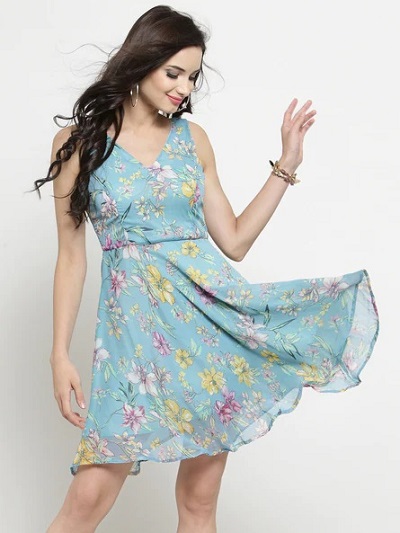 33. Crinkled fabric tiered dress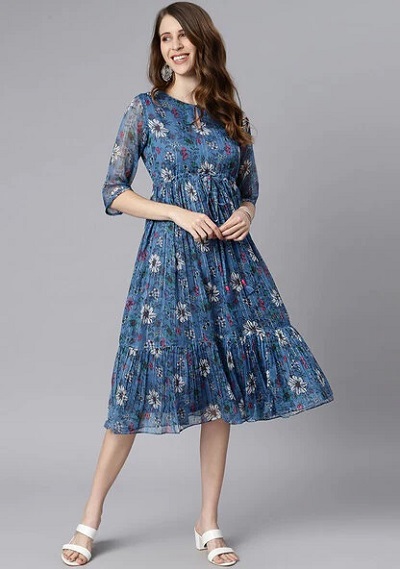 34. Peter Pan collar dress for ladies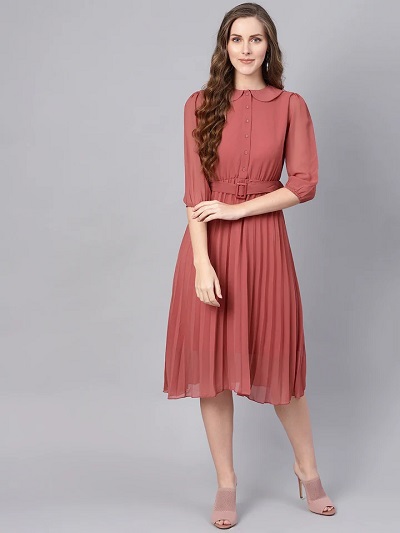 35. Shirt style fit and flare dress for women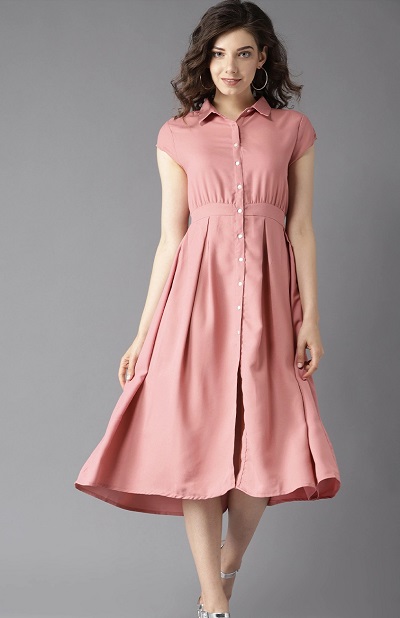 36. Ruffled sleeves simple lace dress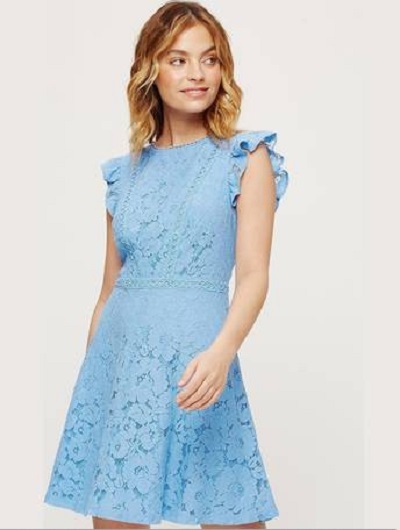 37. Halter style beach Bohemian dress design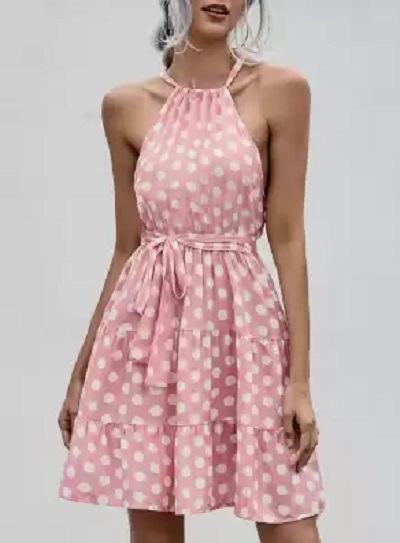 38. Halter dress for women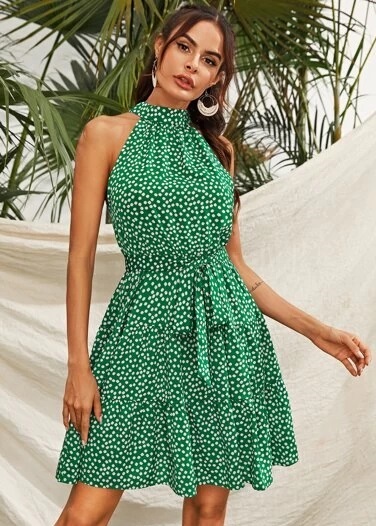 39. Wrap dress style for summer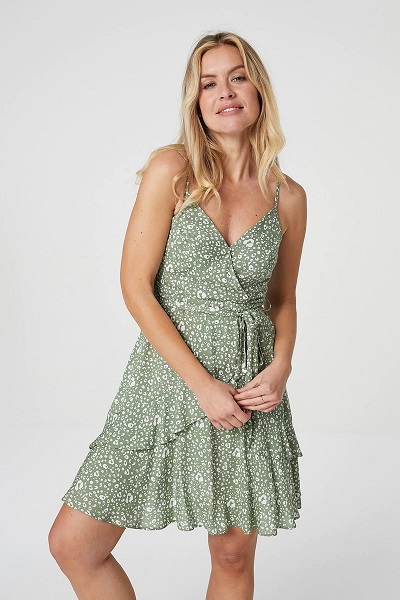 40. Tiered Georgette dress for women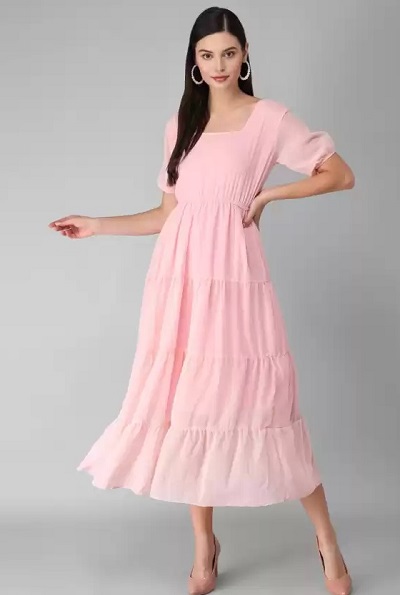 41. Cotton fit and flare dress design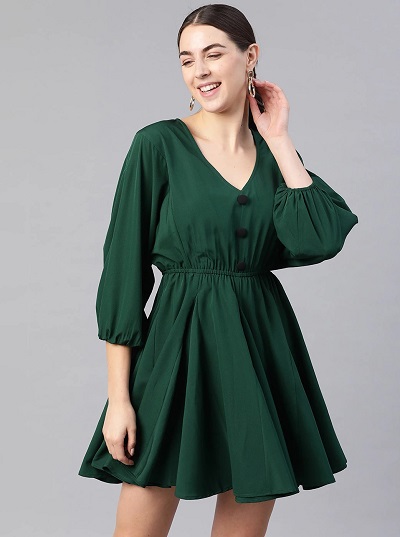 42. Flutter sleeve long floral printed dress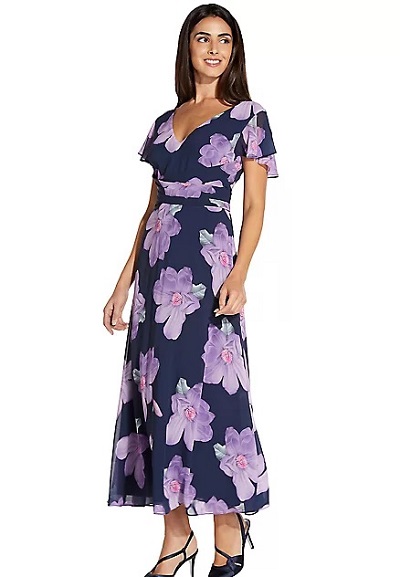 43. Flared short dress for women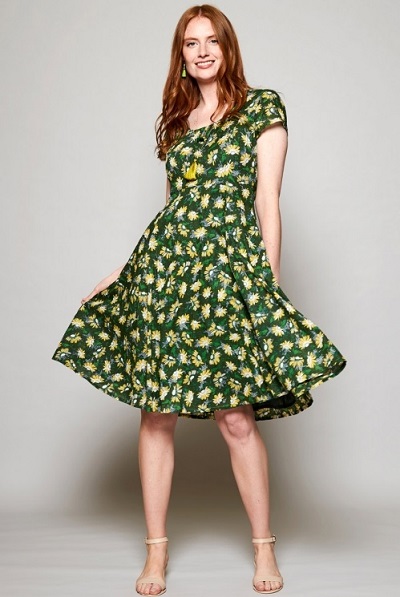 44. Party wear Halter style dress for Cocktail functions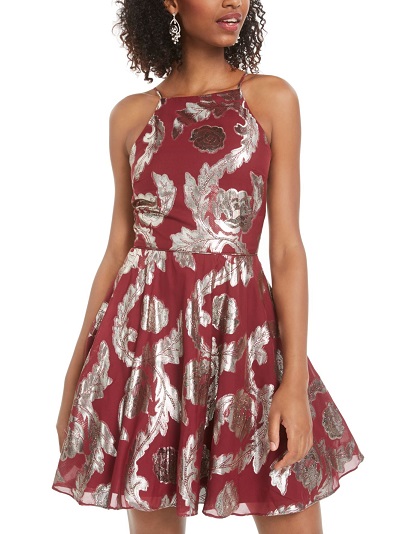 45. Simple keyhole neckline fit and flare dress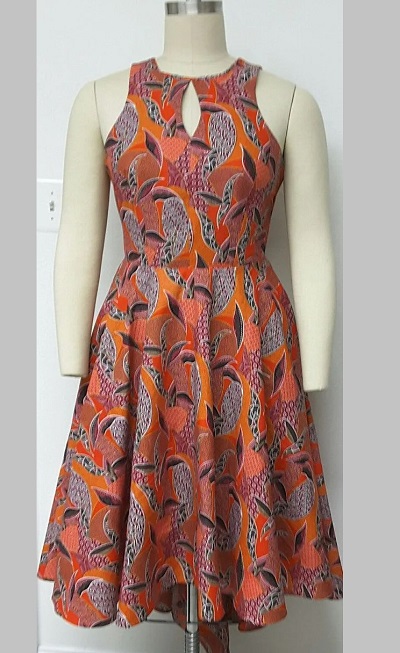 46. Sweetheart neckline dress for ladies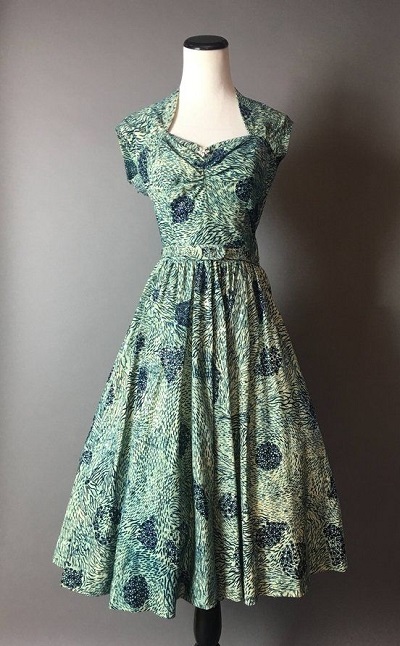 47. Inspired V neck dress design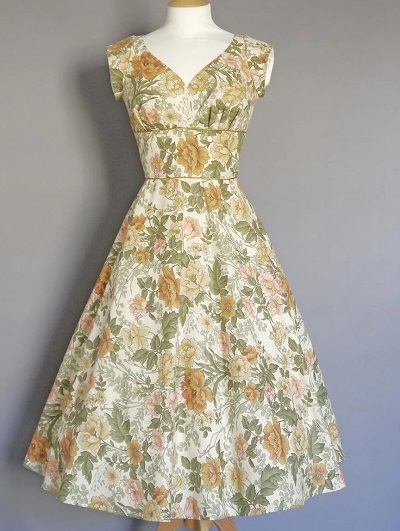 48. Princess style prom dress for ladies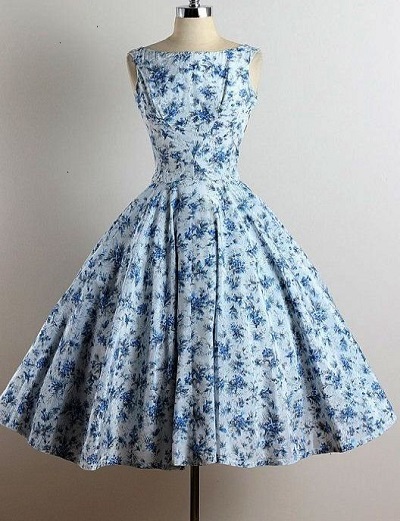 49. Cotton fit and flare dress with belt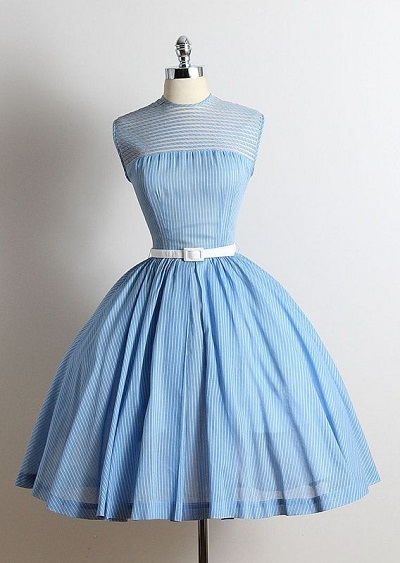 50. Lace fabric dress for ladies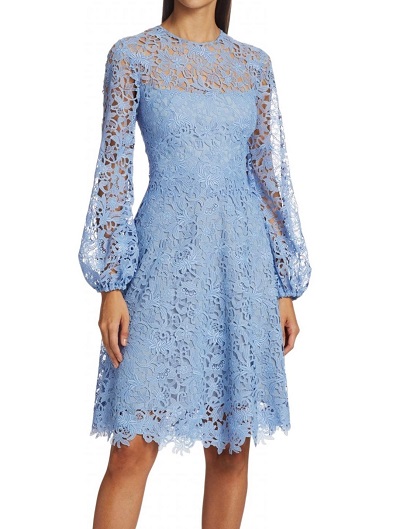 These are the latest designs of fit and flare dress. That can be different types of fit and flare dresses for women. However the best type suitable for your body can only be chosen by you. Looking at your body type, your preferences, and likings and even the personality can do a lot in choosing the best dress for yourself.