Floral printed lehengas are the latest fashion trend amongst the younger women. The beauty of a printed lehenga is astonishing and mesmerizing and brings out the fact that instead of the floral embroidery or the design, flower print has been used to create the gorgeous lehenga patterns which actually stand out. The printed lehengas can be embroidery Zari work border, mirror work and stones. However the printed fabric is the base over which the other embellishments are done.  This is why, at present printed lehengas with regular blouses, printed or even velvet blouses are so popular. We are presenting this catalogue where you will get enough of the ideas to choose a new age and contemporary printed lehenga choli for yourself.
A floral bridal lehenga comes with this modern carefree appeal and designers have come up with the latest and innovative lehenga designs that every to-be-bride would definitely think of incorporating them in her wedding trousseau.
Styling a Printed Lehenga Choli Set For Women
Lehenga with floral print are quite popular lehengas at present that are available in the market. They are also quite lightweight because there is not much of the work unlike the regular heavy embroidery, sequin or stone work.
Stonework floral lehenga is also quite popular because of the trend. They give that ultra glamorous look for a wedding function. Even the floral printed lehengas are used for festivals and Indian women are very much in favor of this trend. To get the proper Indian traditional look in the Lehenga Choli, women can try these to have the lively and vibrant look. They can also be suitable for the traditional event or casual parties where you are supposed to wear Indian ethnic wear.
It's not that the printed lehenga choli can be plain or boring, but present, these printed lehengas have made a place for themselves and new generation women simply adore such modern and innovative designer ethnic wear.
Trendy and Different Types of Floral Printed Lehenga Choli
Let's take a look at the different types of floral printed lehenga choli. There are various types of floral lehenga choli on the printed lehenga choli.
Lehenga choli with the floral print: This is actually the lehenga blouse or choli design which has the floral print and nothing else. These are quite lightweight and are very trendy amongst the young women who are not able to carry very heavy work lehenga choli.
Floral embroidery lehenga design: At times, over the print embroidery is done to make the design more detailed and to simply add more dimension. This embroidery actually makes the lehenga a bit heavier and more luxurious. It is more expensive than the regular printed simple lehengas.
Sequin work floral lehenga design: The sequin work lehengas are also quite amazing because sequin gives more dimensions to the lehenga and adds more shimmer. Sequin studded floral lehengas are appropriate for the Grand wedding festivals and functions. It is up to you, the kind of sequin work you like. There can be very heavy sequin work or just the light sequin embellishment here and there to add some required shimmer to the party wear lehenga choli.
Thread work lehenga with floral print: The thread work lehenga choli are also quite popular because of the fact that thread work is quite luxurious and it has been in trend since medieval ages. Thread work lehengas also look amazing because of the work and the charm that they give to the Indian ethnic dress.
Stone studded floral lehenga design: Floral lehengas are also embellished with heavy or light stone work. The stone work is actually done using various types of stones, rhinestones and beads. Such lehengas are also in fashion, because of the fact that they make the lehenga look Ultra glam for the wedding function while adding some heaviness and a bit of luxury. If you want an organza floral lehenga then you can also go for stone work.
Latest Designs of Floral lehenga Choli Set For Women With images
Now let's take a look at the latest and trendy designs of floral Lehenga Choli for women with images.
1. Blue Floral Printed Lehenga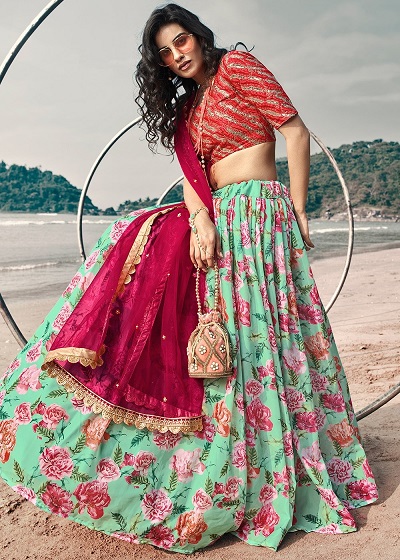 The blue floral print lehenga has a very simplistic design. It has a blue base on which pink rose flowers are printed. It comes with the Chanderi blouse and a simple net red embellished dupatta. There is very simple lehenga for the festivals and functions, but it does not mean that it will make you look any less glamorous. With the right jewelery and accessories, it is going to certainly make you look Ultra glam.
2. Floral printed red lehenga with layered blouse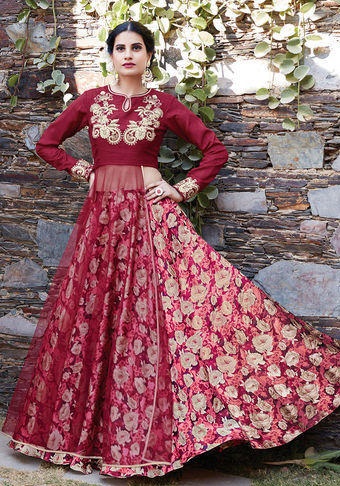 This floral printed lehenga is absolutely gorgeously made to make heads turn and give anyone that sophisticated and sizzling look. The blouse of this lehenga has full sleeves and Zari work is also there. Instead of the regular dupatta layer on the blouse itself has been created that gives and appearance of a lehenga Kurti pattern. Undoubtedly, you can never go wrong in such a modern looking lehenga choli design.
3. Peach floral printed lehenga choli with dupatta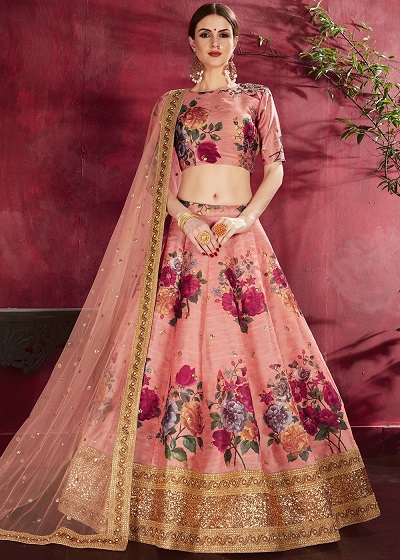 This lehenga choli Dupatta set is ideal for festivals and weddings. It is made with art Silk printed fabric. The bold floral print is amazing and very neatly made. In between stone and sequin work can also be seen and a broad border of zari work and Golden sequin is also added. It is a very designer looking lehenga that one can wear for the wedding.
4. Floral printed lehenga with blue Dupatta set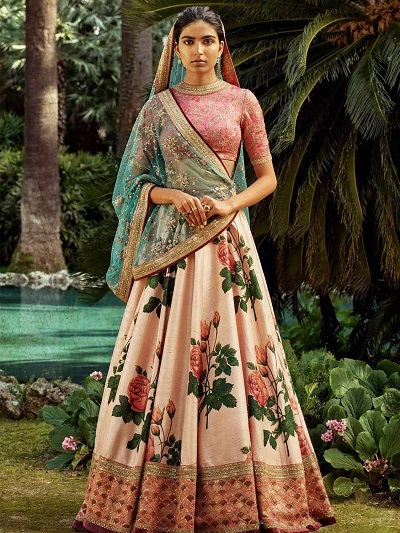 Floral printed lehenga can never go out of fashion because of the fact that they are generally paired with a net embroidered Dupatta and Silk blouse. This Satin Silk lehenga is truly amazing and has a designer touch to it. It has big rose flowers printed with the border on the bottom. It is a designer piece that is ideal for the Grand weddings for that contemporary look.
5. Floral printed lehenga kurti design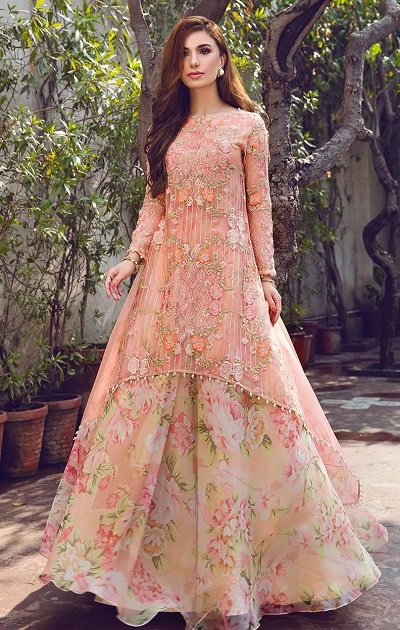 The lehenga kurti is equally popular as lehengas because they are very comfortable and easy to wear. This kurti has the embroidered floral design while the lehenga has the print on it. The flower print on the organza fabric makes the lehenga look even prettier.
6. Silk floral printed lehenga with silk blouse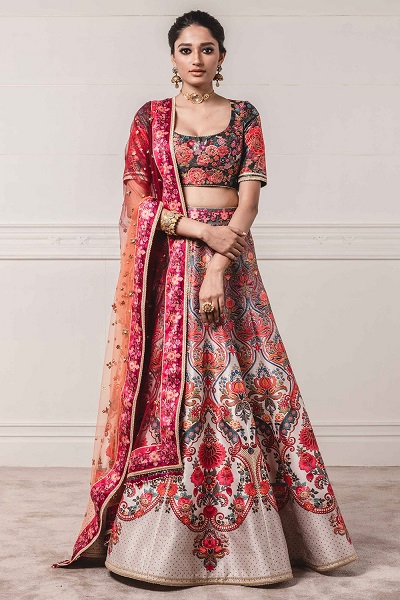 The gown looking printed lehenga has huge flare due to the addition of can can at the bottom. It is an umbrella cut printed Silk lehenga that comes with a net embroidered Dupatta. The choli is also printed with bit of work on it. With the proper accessories this ethnic wear dress is going to make one look like a million bucks for the parties.
7. Bridal flower floral printed lehenga pattern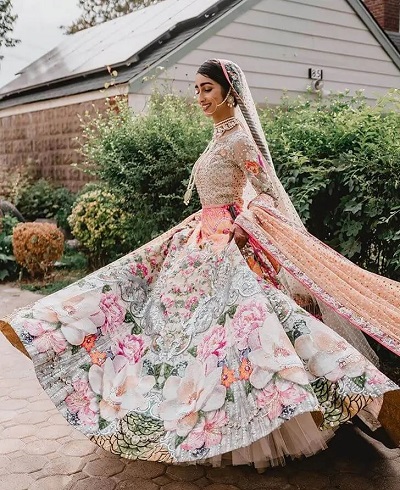 The floral printed lehenga has beautiful white and pink flowers on it. It also has some amount of sequin work on it. Undoubtedly, it's an ideal lehenga for the brides, who would like to look different and would like to give preference to the uncommon bridal lehenga colors. We are here talking about the bright hues of red, orange, and pink that have been used since ages. Having said that, it never mean that those evergreen bridal colors are out dated but the pastel colors are in trend.
8. Floral printed white bridal lehenga design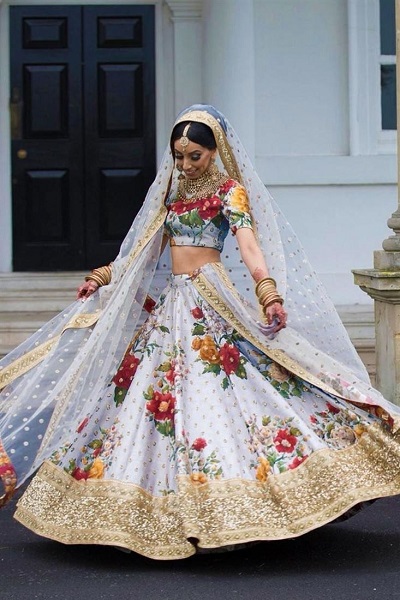 Satin white floral printed lehenga are also quite liked regarding the bridal lehengas. It is not a bright red or hot pink or even and Orange color but yet has that color on it that makes it an ideal lehenga for brides. It has a golden border and red and Orange colored bright flowers. This ethnic wedding wear lehenga comes with a white sequin studded net dupatta.
9. Lehenga with floral embroidery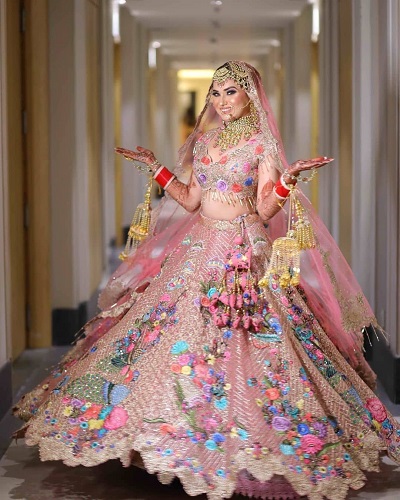 The bridal lehenga has floral embroidery on it and it looks absolutely gorgeous with the design and the pattern on the bottom. It's for sure a designer piece that is going to make the bride look amazing.
10. Simple floral printed lehenga with Silk blouse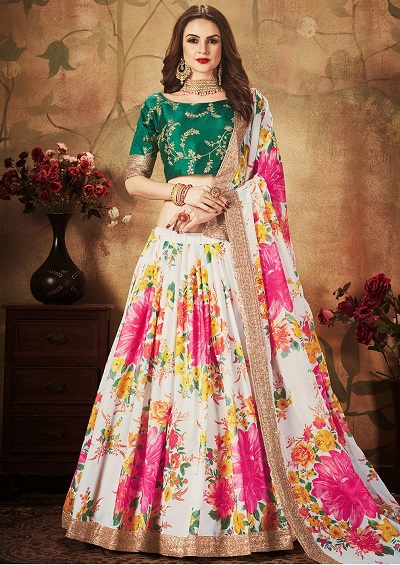 This lehenga choli set has a white base over which pink flowers are printed. A golden border is also attached on the hemline. The dress is paired with a contrasting colored dark green Silk blouse.  It is made in the same fabric as that of the lehenga. Undoubtedly, a combination like this can be very attractive and eye-catching. For sure, to become the centre of attraction you can wear this lehenga with the beautiful jewelery and the box clutch.
11. Floral print lehenga for wedding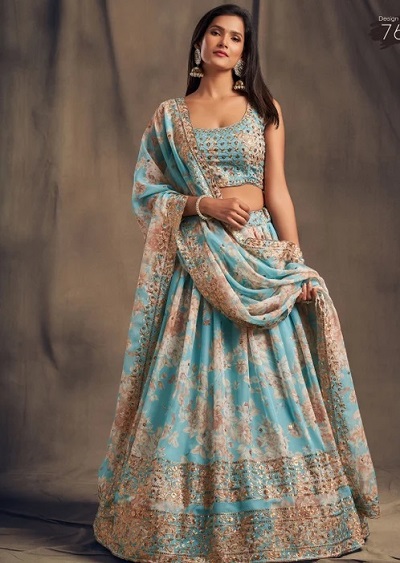 12. Printed lehenga with net Dupatta for wedding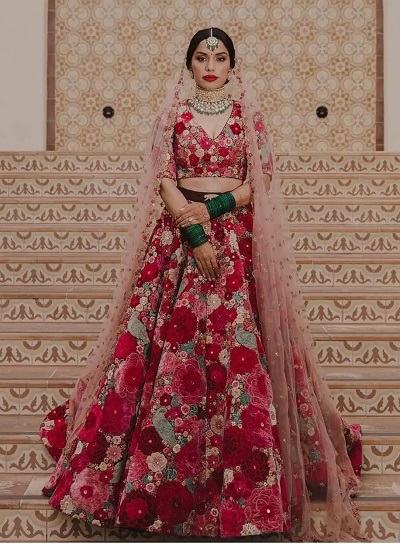 13. Heavy Bridal organza floral print lehenga with blouse
14. Simple crop top with floral lehenga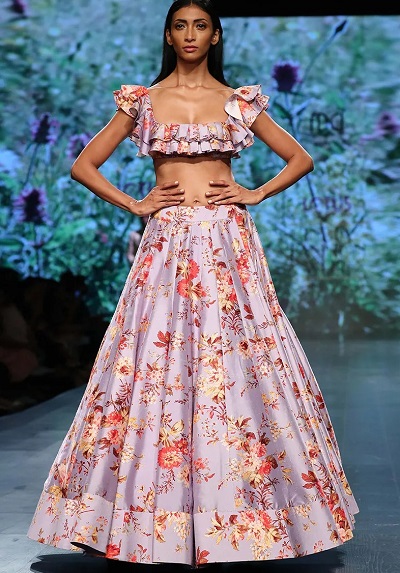 16. Net blouse with full flared floral print lehenga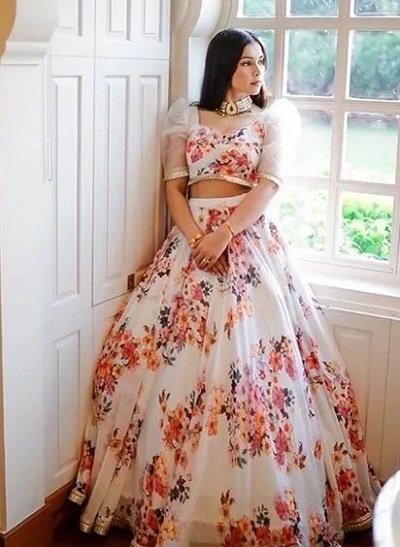 17. Yellow crop top floral printed lehenga skirt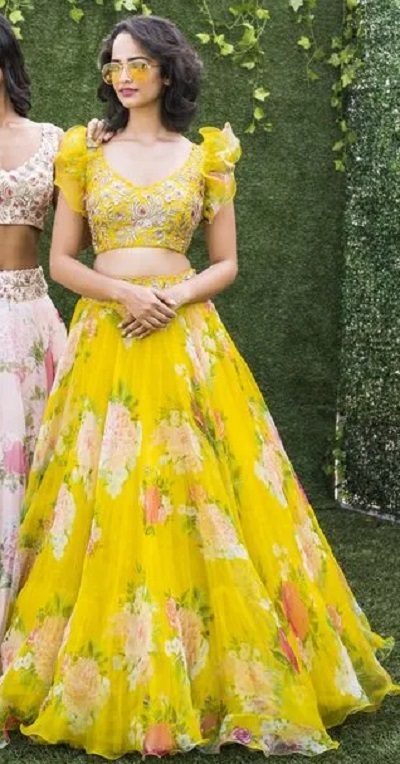 18. Peach floral lehenga with border work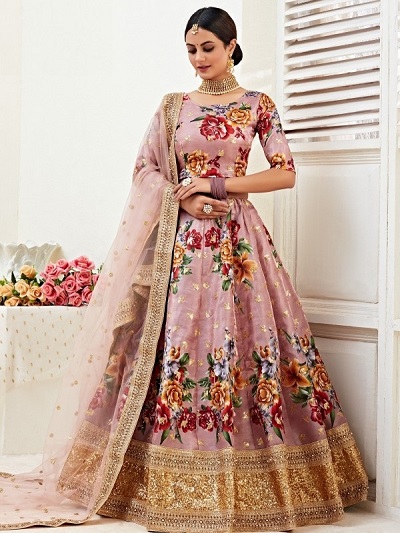 19. Green blouse and chiffon floral printed lehenga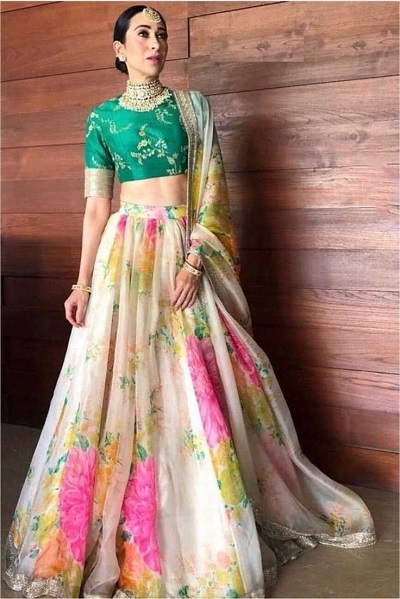 20. Subtle floral lehenga skirt and crop top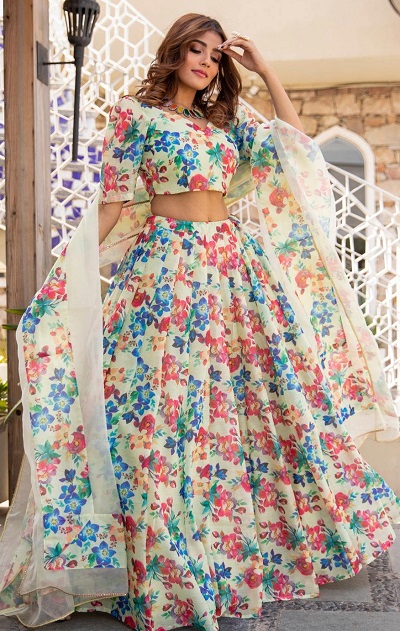 21. Wedding wear pink floral printed lehenga with dupatta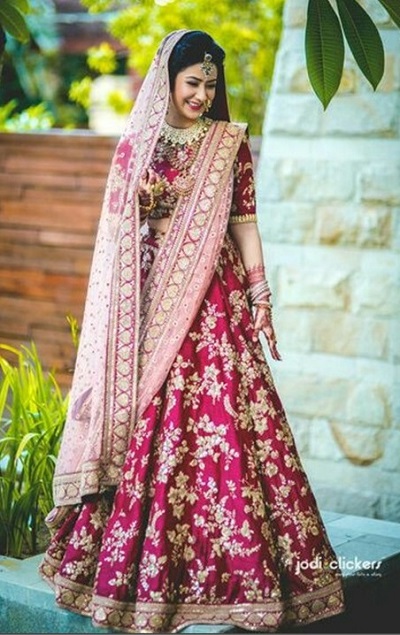 22. Organza flower print lehenga with sleeveless crop top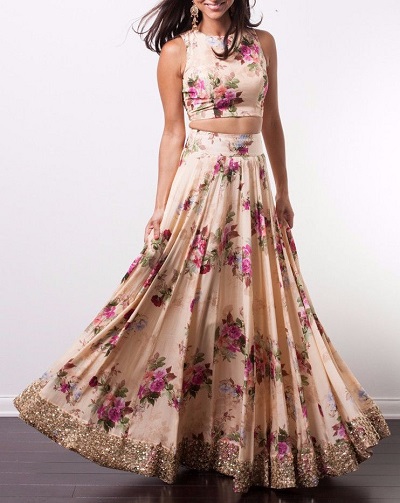 23. Sequin gold blouse with floral print skirt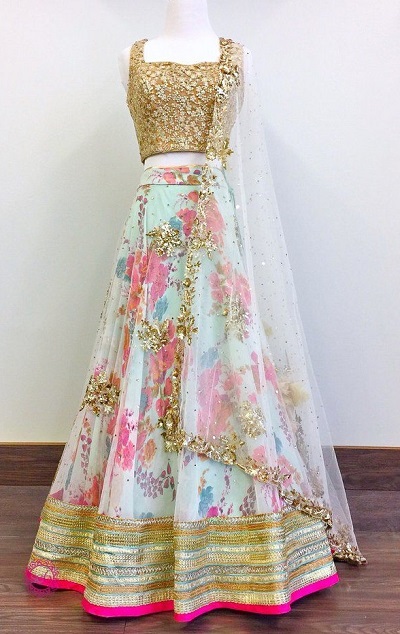 24. Designer blue floral print lehenga blouse set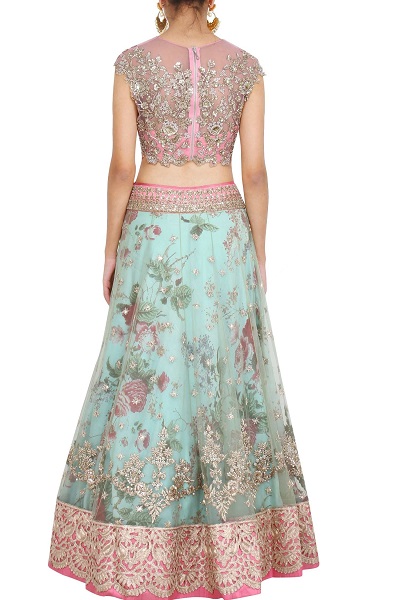 25. Simple Satin blouse with floral skirt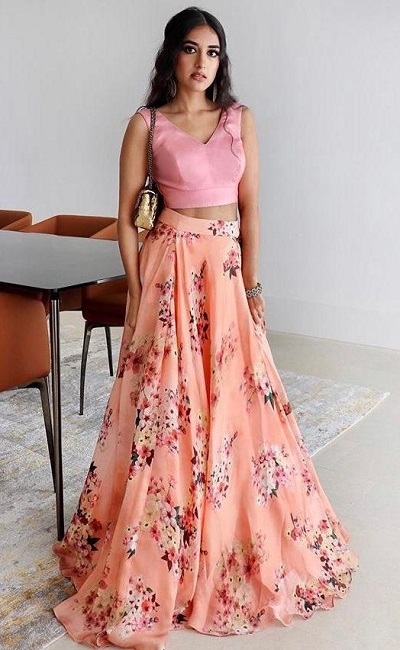 26. Full sleeves floral print lehenga blouse set
27. Silk floral print multicolored lehenga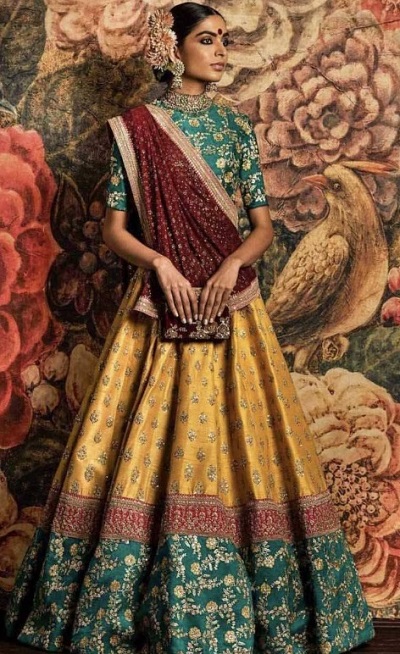 28. Stylish floral lehenga with chiffon dupatta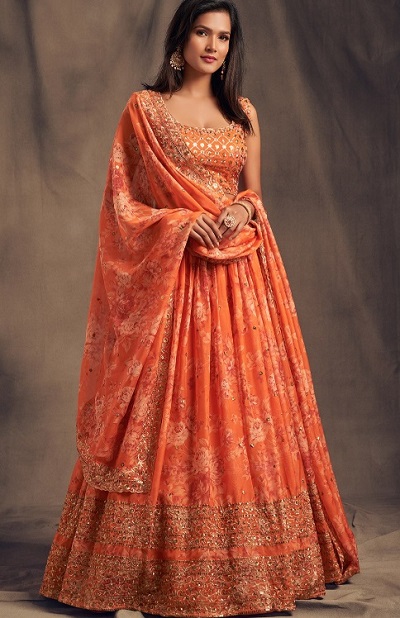 29. Black and white floral printed lehenga with sleeveless blouse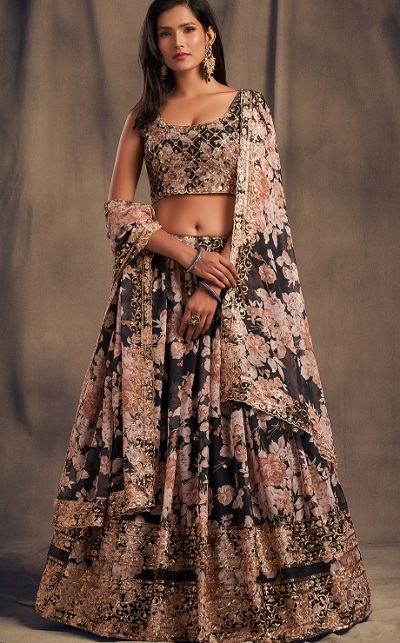 30. Simple yellow cotton floral lehenga blouse set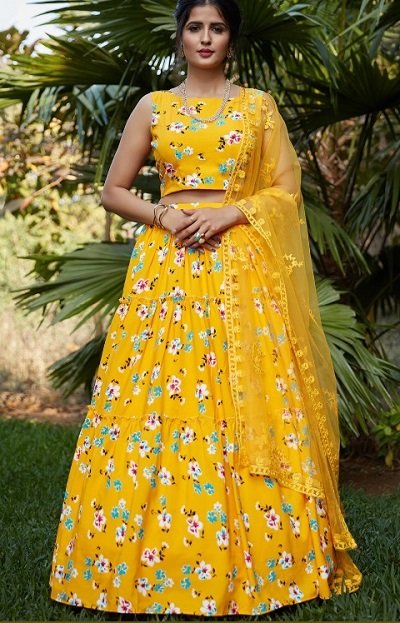 31. Luxurious full flared floral printed skirt with blouse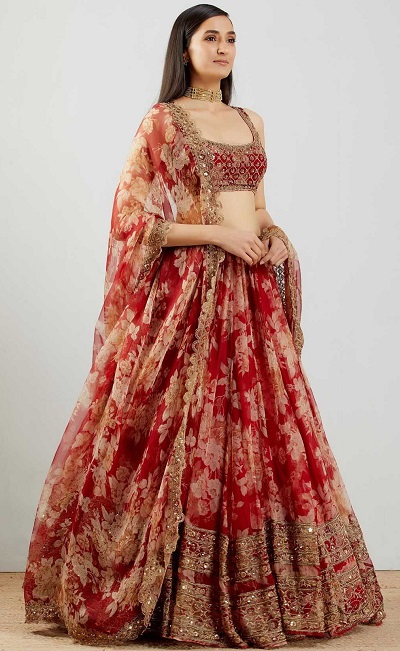 32. Designer blue floral print lehenga with Ruffle dupatta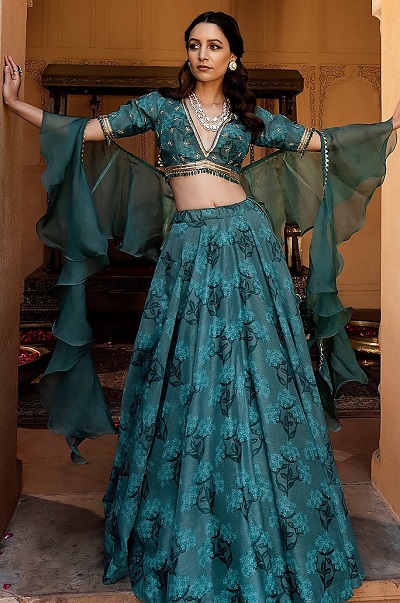 33. Cotton floral lehenga with cotton blouse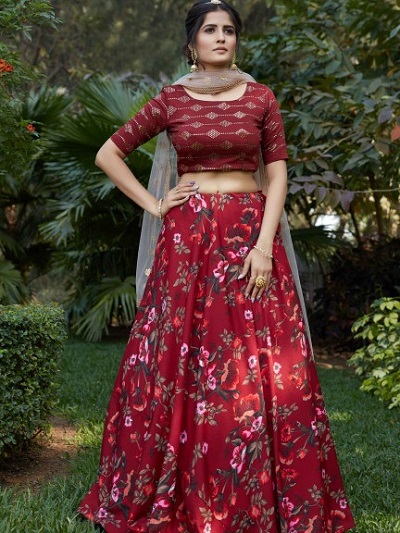 34. Designer lehenga choli with dupatta set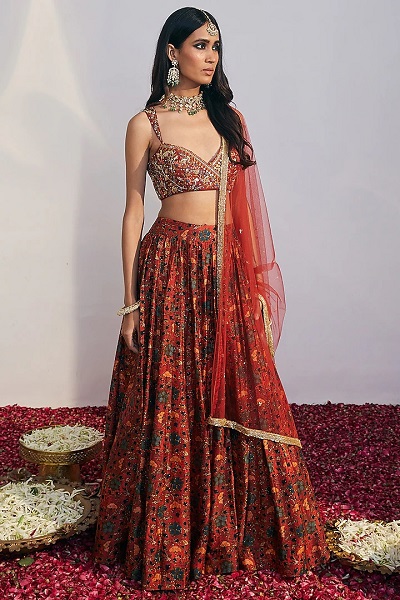 35. Flower print lehenga skirt with shrug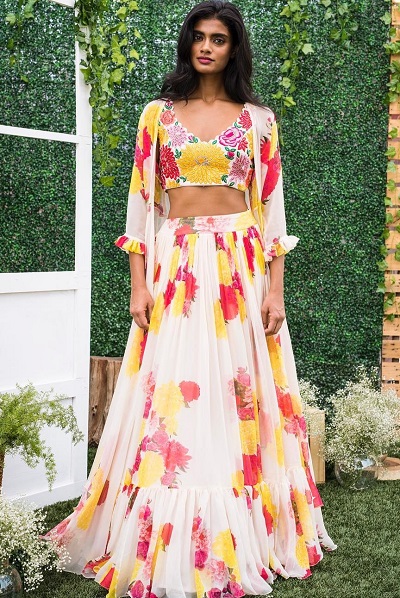 36. Stylish organza lehenga skirt set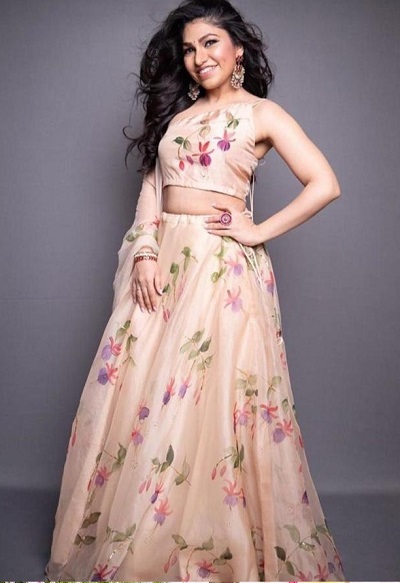 The floral printed lehenga skirt can be paired with the regular blouse and dupatta or it can be paired with the crop tops. Crop top with full sleeves or sleeveless patterns are very much in trend. With the right jewelry and accessories you can really grab the attention in any party. Such flower printed gorgeous lehengas are also ideal for the weddings and parties. Always try to make gorgeous hairstyles for your flower printed organza or silk lehenga to make the look even more versatile and trendy.