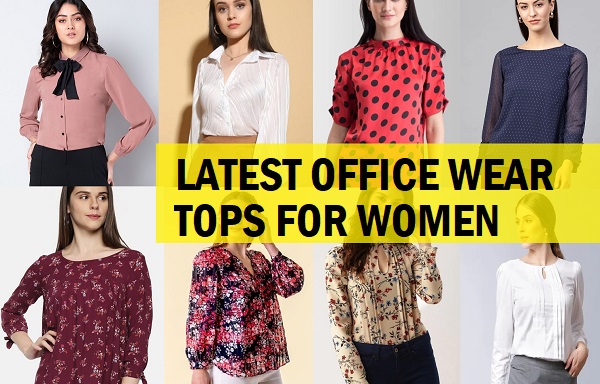 There are different formal tops of women available for office wear and work wear. Out of the different styles and patterns of formal tops, we have selected the latest catalogue of formal tops for women. The ladies formal tops can be of different patterns and styles. Right from a polka dotted nice formal shirt to a nice long flowy chiffon fabric blouse, there are so many designs to choose from. The formal tops for girls have various patterns to pick from a plain jacket long sleeves shirt style to even the short or sleeveless patterns. Most of the formal tops would have a nice stand collar or even the Chinese collar. Selecting the different patterns and types of formal tops for ladies is easy, because there are so many beautiful patterns available. You can have a nice formal top paired with a combo of trouser skirt or even a palazzo you can also pair them with a cigarette pant or even the regular trousers.
Women's Formal Office Wear Tops
So, here in this post, we are going to talk about the latest formal tops for ladies available in different designs and patterns.
1. Full sleeves stand collar formal top
The nice and beautiful formal top in light grey color is made in a Georgette chiffon fabric. With stand collar, it also has a metallic pin on the collars. The top has pleated design that makes it really beautiful and very formal and stylish. It has full sleeves with cuff that also makes it shirt resembling blouse.
2. Full sleeves Blush Pink formal blouse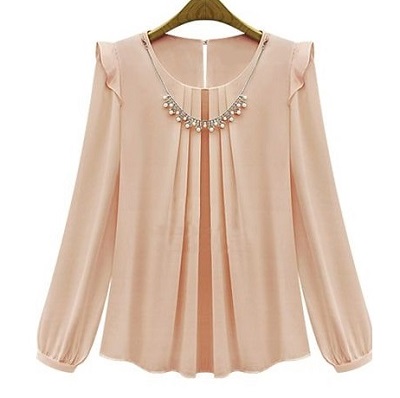 The blush pink color is beautiful and it has the pleated pattern in the front and even the sleeves has pleated pattern the beautiful top can be paired with nice necklace because a necklace is also added in the front part of the top. It can be paired with a line or pencil skirts or even with the regular trousers
3. White ruffled Office wear formal top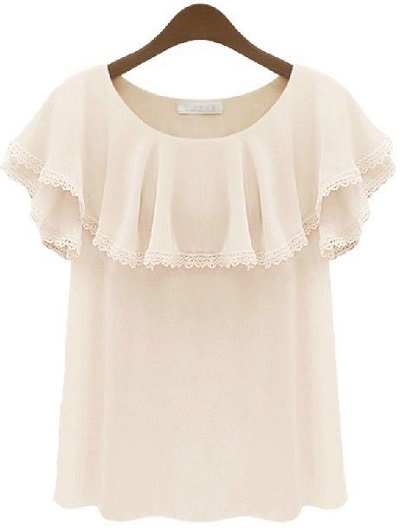 This is such a beautiful top, it is very easy to wear and suitable for summer season for office. The top also has a ruffled collar that comes all over the upper bust part. It also has lace border applied to make it look really beautiful.
4. Linen Square Neckline formal top for ladies
This is a beautiful top that is made in a line in cotton fabric. It has squarish neckline for both front and back. The blank sleeves has band and it is a very simple yet comfortable formal top for women.
5. Style formal top for women with bow tie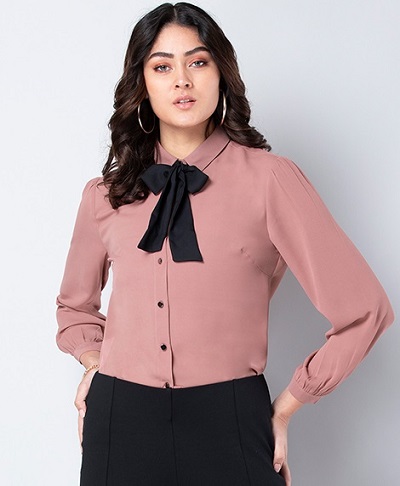 The nice top comes in a beautiful pastel pink color with full sleeves. The top has buttons in the front part and it has black with collar. It is more like a formal shirt like blouse that is appropriate for office work and for other formal meetings.
6. Stylish White Peasant Sleeve Formal Shirt for women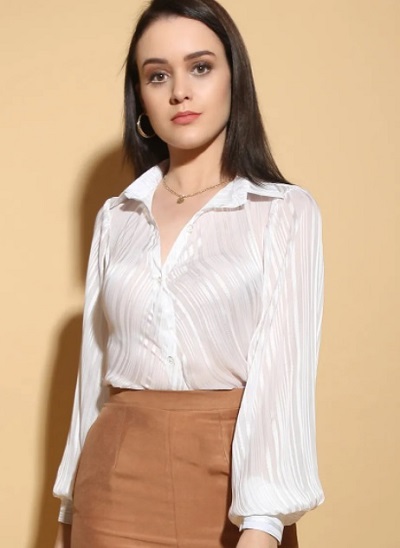 The beautiful shirt is made in a nice fabric which is semi-transparent and it has beautiful peasant sleeves. Such tops are wonderful to pair with trousers and skirts. Long skirts look really good with such patterned shirts.
7. Brown chiffon ruffled office wear top for ladies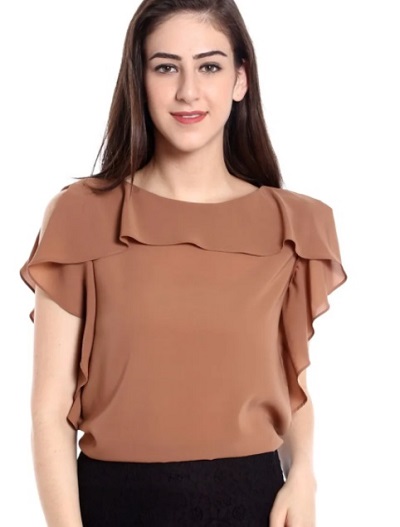 The beautiful top for ladies has a nice feminine feel to it. It is a formal top that can also work as a casual top for women. Therefore it's more like a semi-formal top. It is best to be paired with pencil skirts trousers and palazzo pants.
8. Sleeveless Wine colored formal top with bow tie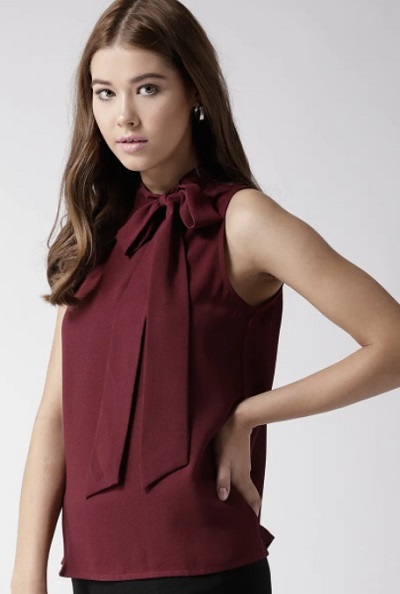 The wine colored top is a beautifully made top that has sleeveless pattern. The wine color looks really amazing and is very appropriate for meetings and work. It has bow tie like collar that gives it a more formal appearance.
9. Polka dotted Office wear formal top for women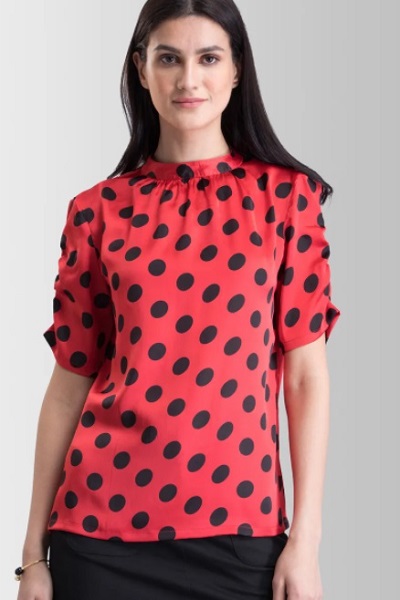 This top has elasticated band on the sleeves and a stand collar. The Polka dotted pattern is also beautiful. It is a long top that can be tucked inside the trouser or skirts.
10. White Stylish Shirt like formal blouse for women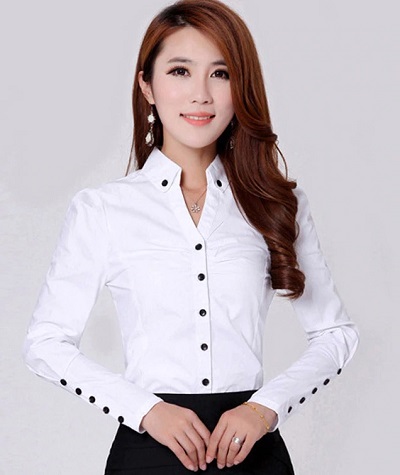 It's a crispy white shirt, which is a must have in your formal wear office clothing wardrobe. The shirt has black buttons and the cuffs are really broad with multiple buttons. The nicely made formal top for women is suitable for different types of bottom wear.
11. Keyhole neckline printed and pleated formal top for women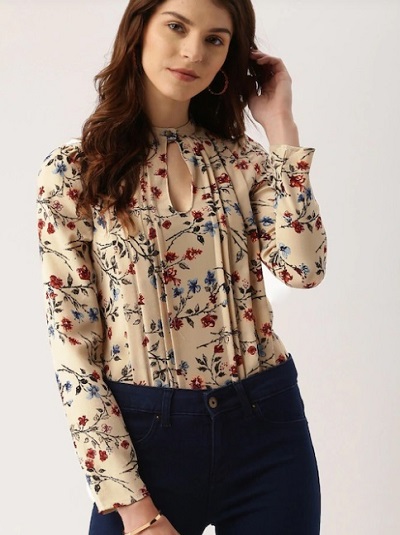 12. Mint green Office wear formal top with full sleeves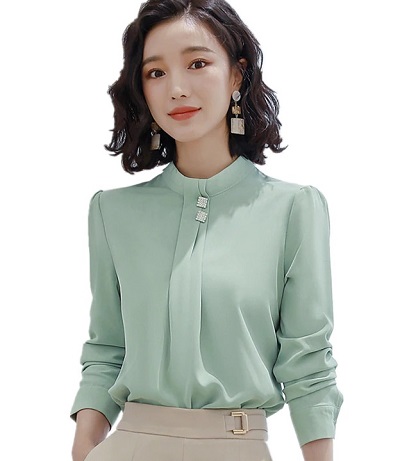 13. Full sleeves formal top with pearl and bow pattern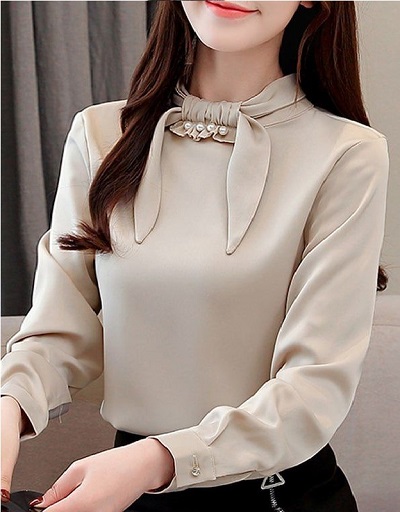 14. Stylish printed white and black formal shirt for women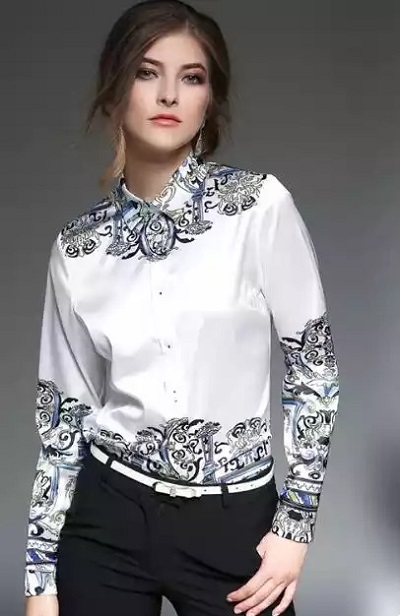 15. Light pink formal top for women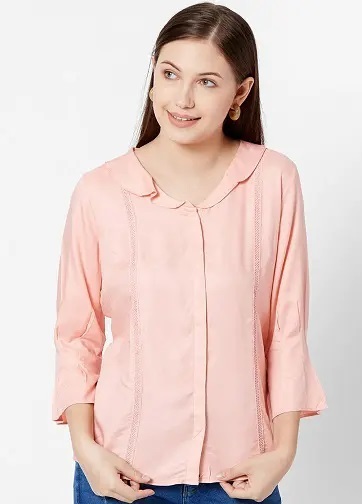 16. Printed chiffon full sleeves Office wear top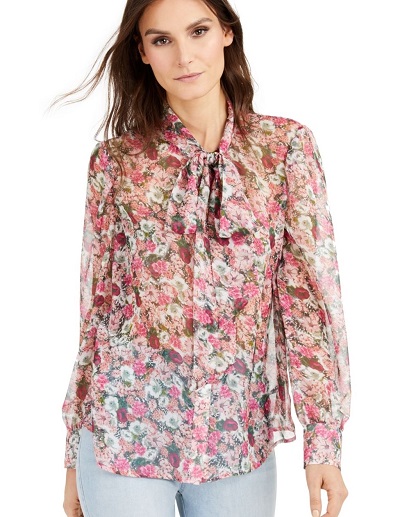 17. Printed full sleeves pleated women formal top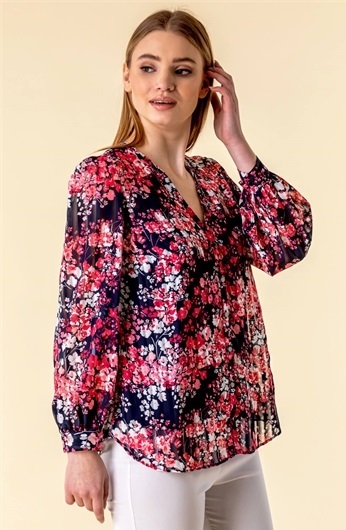 18. Office wear printed top for women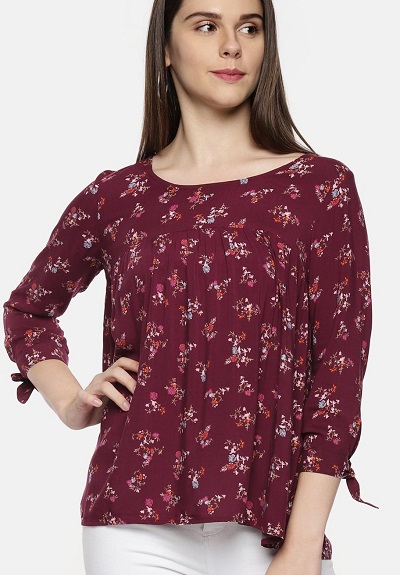 19. Stylish pink printed boxey formal top for women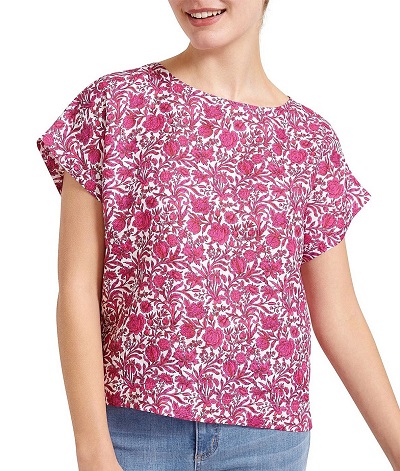 20. Printed Maroon office wear women top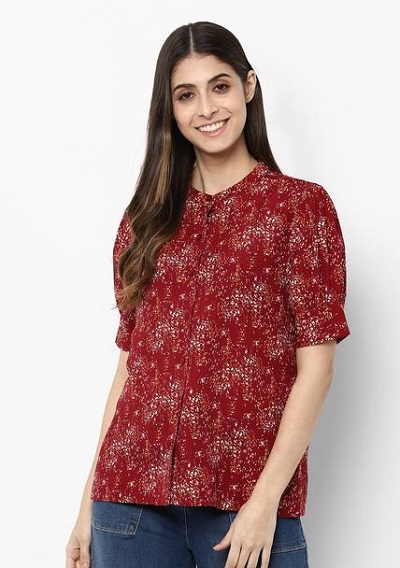 21. Chiffon keyhole neckline transparent formal top
22. Satin formal wear short sleeve shirt for women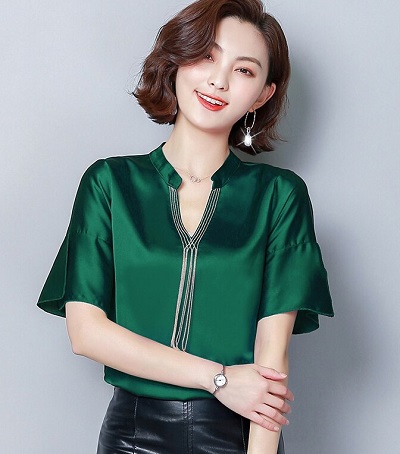 23. Checkered full sleeves shirt for office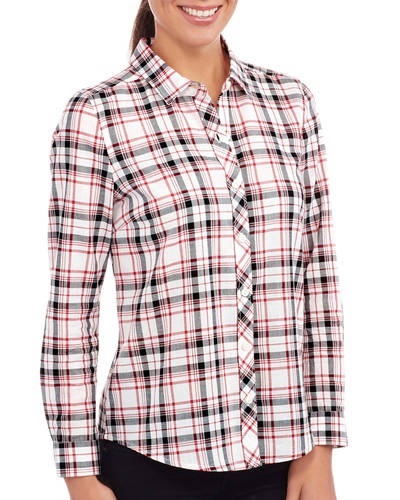 24. Maroon full sleeves office wear shirt for women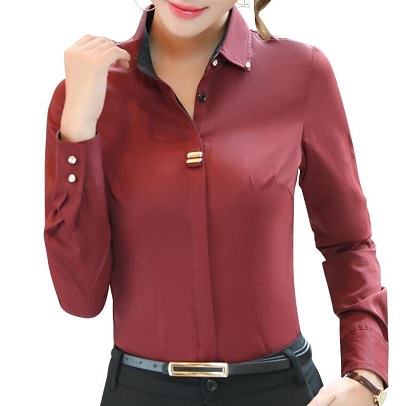 25. Office-wear Full sleeves navy blue Georgette top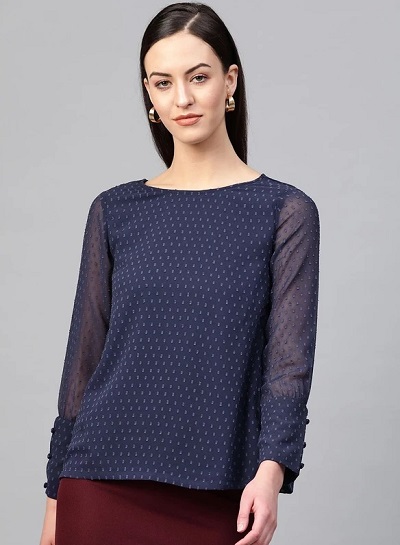 26. Stylish sleeveless stand collar green for office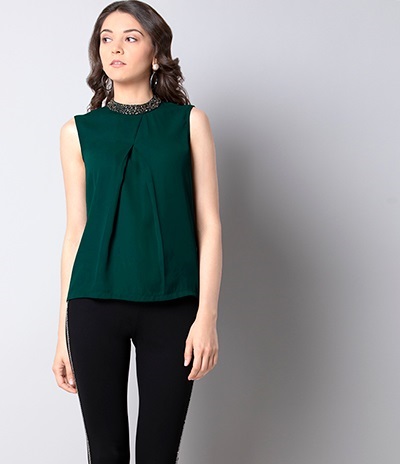 27. Full sleeves navy blue pleated formal top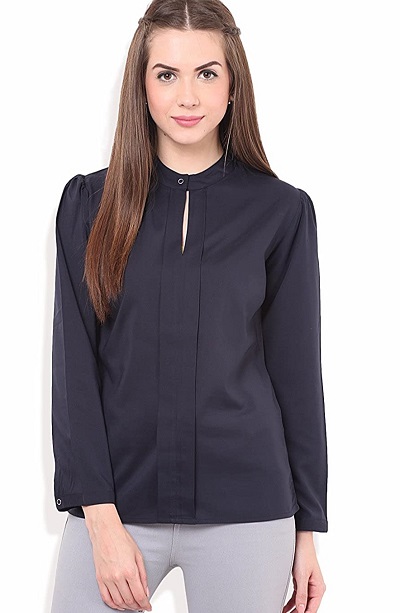 28. White pleated formal shirt for office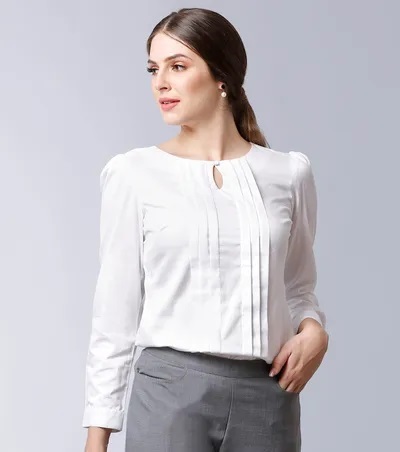 29. Chiffon formal full sleeves Shirt with Peter Pan collar and tie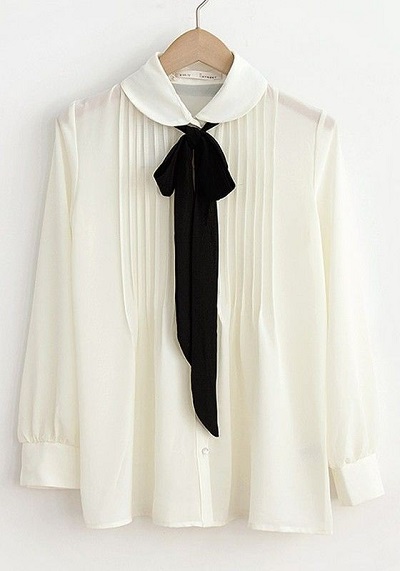 30. Satin green three fourth sleeve blouse for office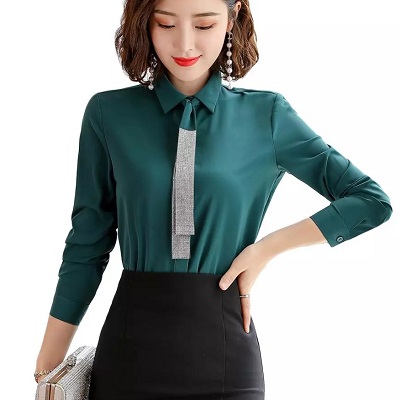 31. Office-wear Collared full sleeves Georgette shirt for women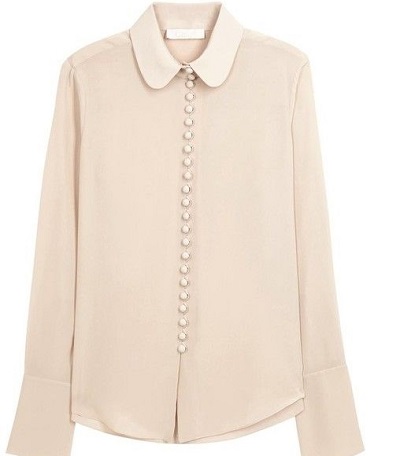 32. Stylish collar and bow design full sleeves office wear top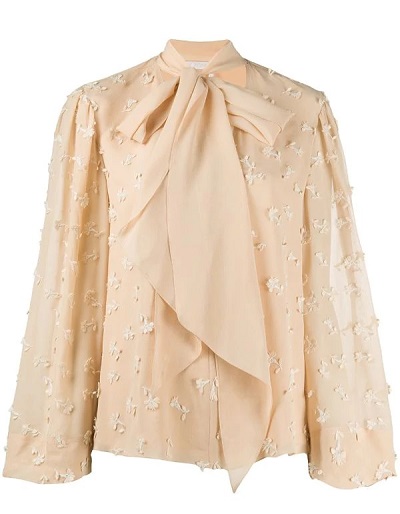 33. Office wear top with net and Crepe fabric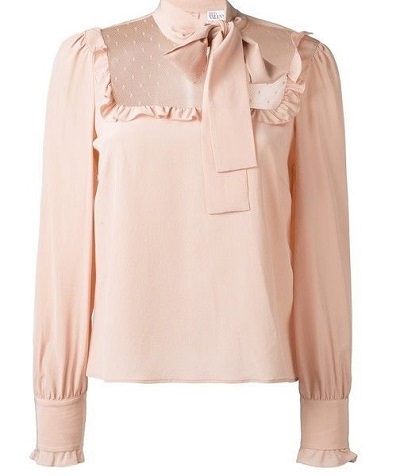 34. Office wear top in metallic beige color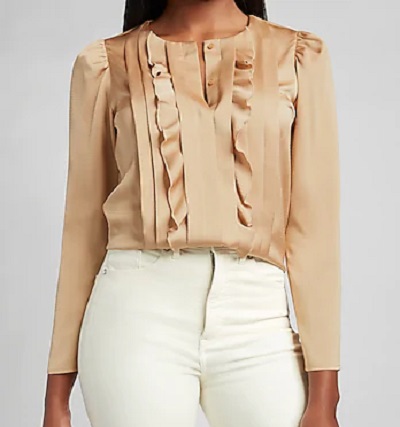 35. Light Blue full sleeves formal top with pearl accent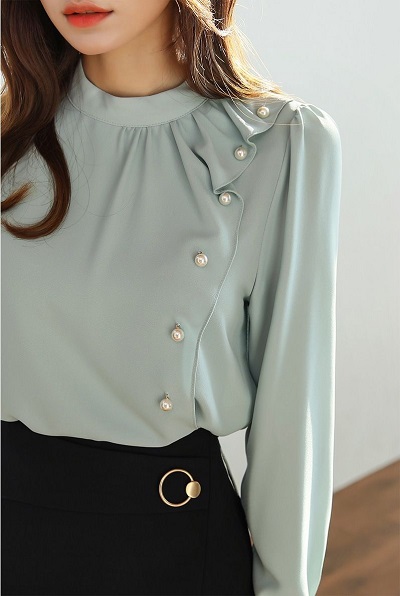 36. Stylish blouse sleeves office wear top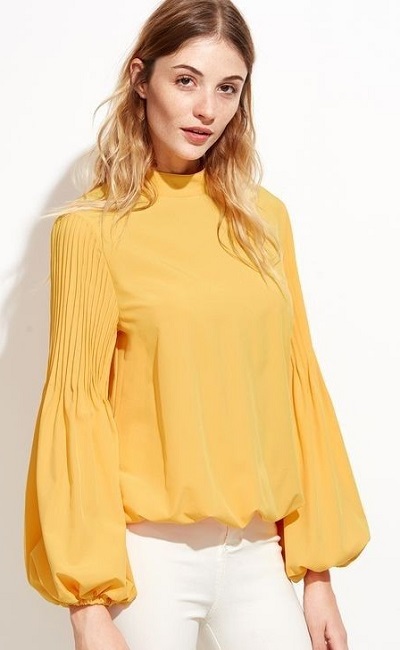 37. Yellow chiffon office wear formal top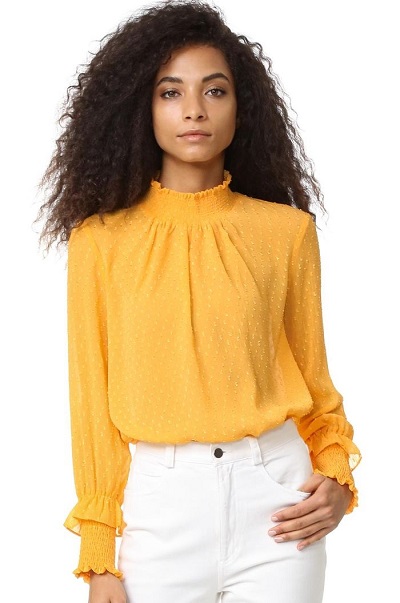 38. Short sleeves Maroon pleated formal shirt for women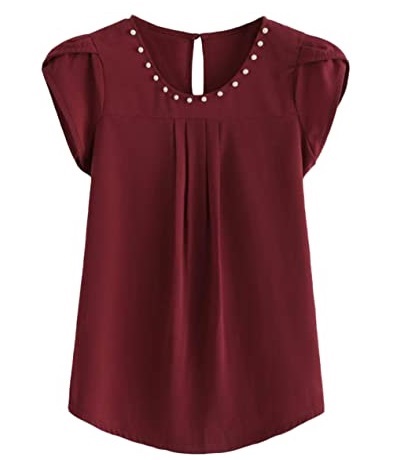 39. Full sleeves bow pattern office wear Ladies Top
40. Light brown colored front not pattern full sleeves formal top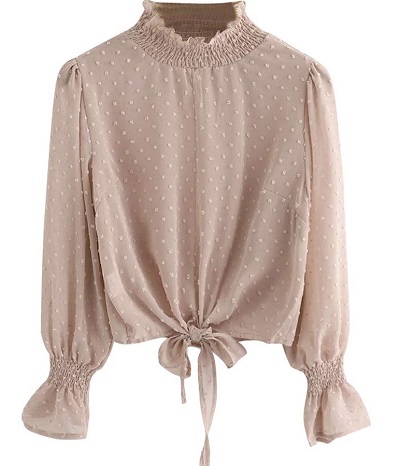 41. Stylish short sleeves printed pattern formal top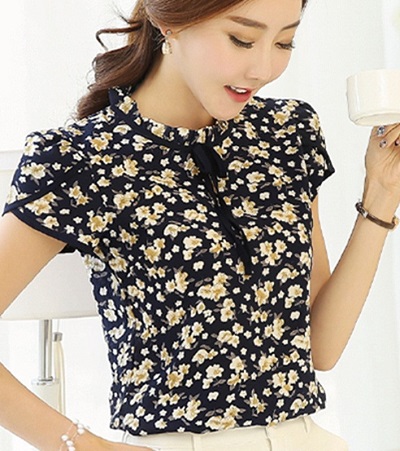 42. Full sleeves floral print formal shirt for women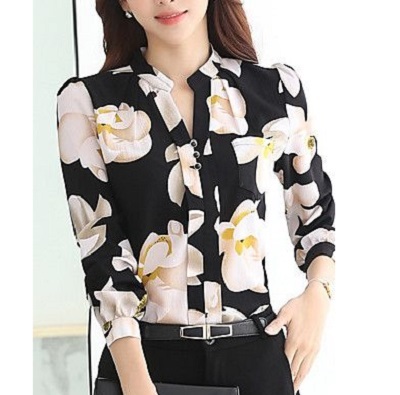 43. Full sleeves floral pattern women shirt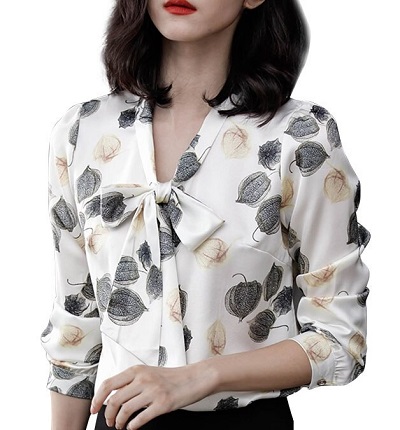 44. Cold shoulder Ruffle pattern women formal top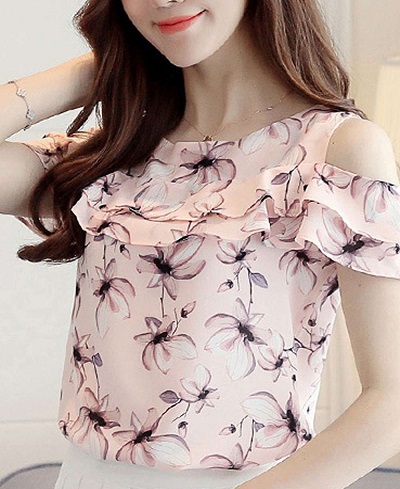 45. Short sleeves stylish printed formal top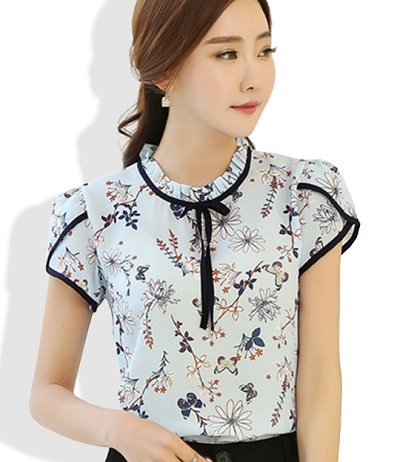 46. Vertical line print formal shirt for women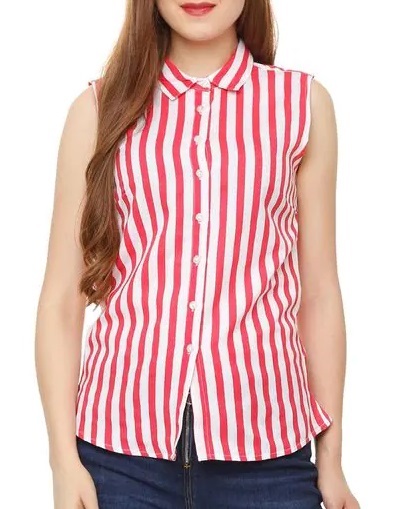 47. Vertical pattern formal shirt for women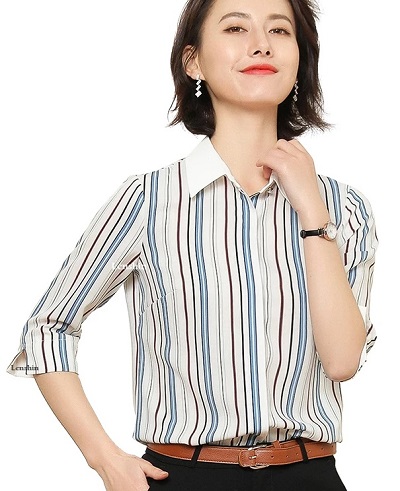 48. White stand collar lace design formal women shirt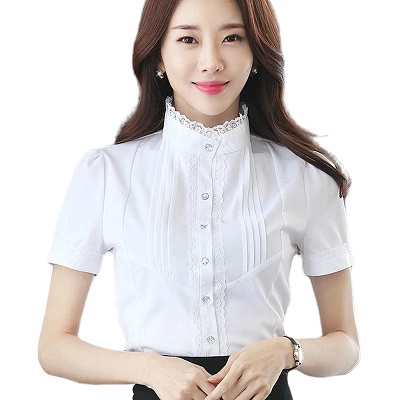 49. Red and white checkered formal office wear shirt for women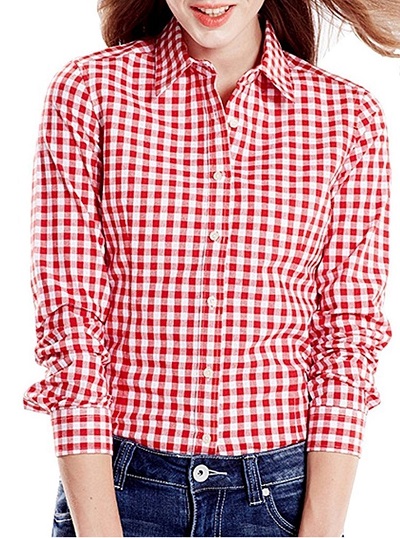 50. Floral Cinched waist office wear top for girls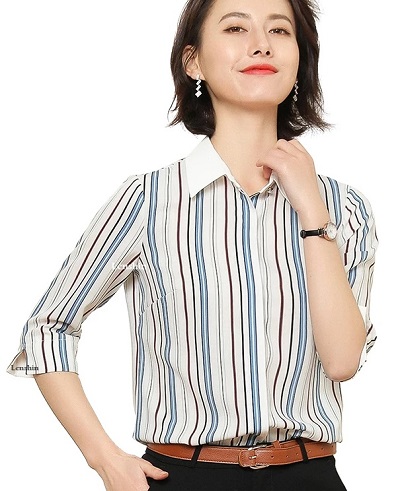 These are the formal tops for ladies, which they can wear for office and work. But please remember that whatever blouse, formal top, formal office wear top you are wearing for your work and office, they  must be comfortable because you have to spend the entire day in that dress, which is why comfort should be the first thing. Therefore, always keep in mind the season and pick the fabric accordingly.