Blouse is an integral part of the saree. While a saree can be really beautiful with heavy embroidery com embellishment or it can be really plain or simple. However, a women can do a lot with the blouse design. The blouse design has interesting front neck line pattern and the back neckline design. There is so much, that the designers are coming up with the front neckline designs and the back neck ideas. So, let's take a look at the back neck design for blouses for sarees and lehenga. 
Latest Designs of Front and Back Blouse Designs (2022)
Here are the latest front and back blouse designs for weddings, festivals, parties and for even the daily wear or casual wear sarees.
1. Broad Boat Neckline Embellished Saree Blouse Pattern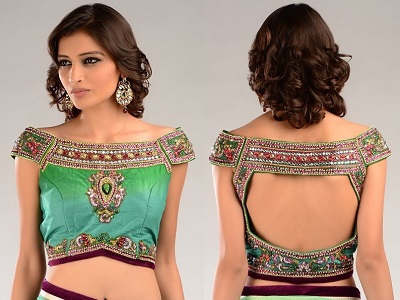 It is such a beautiful saree blouse that it looks really stunning for any Grand event, wedding or party. The broad boat shape neckline is quite extended that goes over the shoulders. So it also gives an off shoulder kind of design. It has heavy embellishment on the front part with Kundan stones, embellishment and embroidery. The back blouse has boat neckline and a cut at the back that makes it a backless blouse as well. It is really a very heavy saree blouse pattern that will also go with the lehenga.
2. Sequined Fabric And Net Fabric Patchwork Blouse Pattern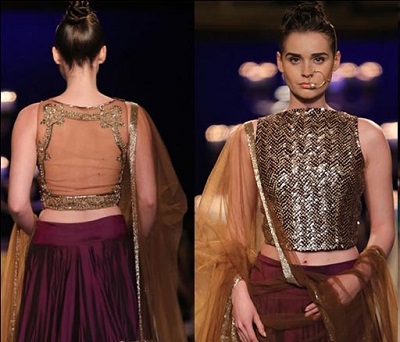 This blouse is a sleeveless blouse with high boat shape neck line rather a straight neckline with a Boat Neck line at the back. It is a bad work blouse design wherein an embroidered net fabric has been used for the Back Part without any lining. Here, the blouse is paired with a lehenga in wine color, however for sarees as well such a beautiful long length blouse would be perfect. The blouse is not the regular blouse but has a longer length with the side zipper. The gorgeous blouse does not need any neck jewelery, only the statement earrings and the bangles or bracelet would do.
3. Collared High Neck Full Sleeves Blouse Design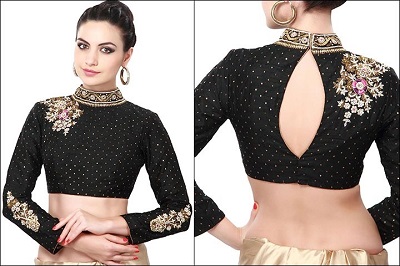 The full sleeves blouse is are back in fashion and especially during the winter weddings and parties full sleeves blouses rule. The collar blouse has a high neck collar in the front and at the back it has a Boat shaped cut. It is an innovative and stylish blouse with embroidery on one of the shoulder and on the sleeves. The blouse looks really amazing and one can pair it with a lehenga or with the saree.
4. Stylish Chanderi Scoop Neckline Blouse For Sarees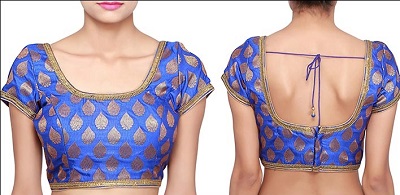 It is a versatile blouse pattern that can work with both sarees as well as lehenga dresses. It has a scoop neckline in the front, while at the back the deep scoop neckline pattern is used. The back hooks are also given with shoulders strings. The blouse has been given short sleeves and princess cut in the front. The blouse is really beautiful to pair with different types of sarees and lehengas.
5. Sleeveless Black Sequined Backless Blouse Pattern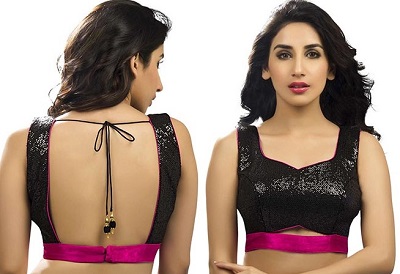 The blouse is really a glamorous blouse for your plain and simple sarees as well as with the heavy net sarees. It is a beautiful blouse made with a black sequin fabric wear in a contrasting fabric strip has been used that keeps the blouse in place around the waistline. At the back the same contrasting satin colored fabric strip is used to keep the blouse in place by adding hooks at the back. It is a backless blouse pattern that has shoulder strings as well. The beautiful blouse looks really amazing and works really good for any type of saree specially for the Cocktail, events and functions.
6. Round Neckline Keyhole Full Sleeves Blouse Design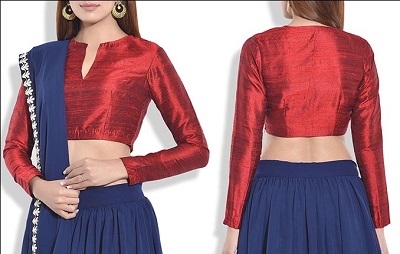 The beautiful blouse has a round neckline and a keyhole kind of pattern that has a centre notch. It is made in a maroon art silk fabric with full sleeves. The back neckline is pretty high for this blouse and it is a very elegant blouse that is very comfortable to wear.
7. Half Chinese Collar Sleeveless Sequin Silver Blouse Pattern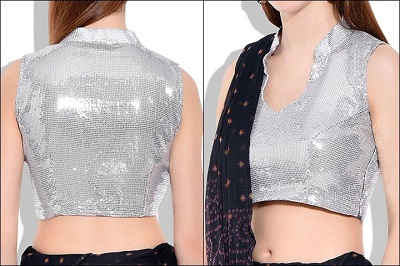 The gorgeous blouse has a high neck collar which has a knot in the front it is a princess cut blouse that has side zipper or side hooks you can say. The beautiful blouse has sequined silver fabric used with gold that goes really well with the Indian ethnic sarees and dresses.
8. Embroidered backless blouse pattern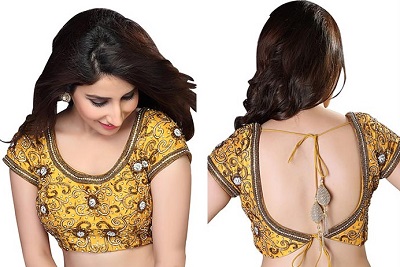 The backless blouse has latkans in stone work. It's a beautiful yellow colored blouse with heavy stone and embroidery work. It is a party wear blouse for women would like to wear heavy or plain sarees with such blouses.
9. Embroidered collared Patchwork saree blouse design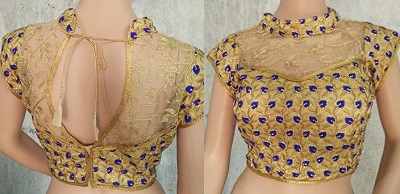 The colored saree blouse design has a patch work in the front as well as the back part. Even the blouse has a back hook that keeps the blouse in place. It is made with an embroidered silk fabric and net fabric. It has a collar and a patch of net fabric is used in front.
10. Purple Backless Cotton Silk Blouse Design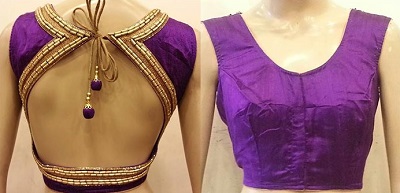 If you will notice the blouse is pretty simple with front hooks and no ambulance mint. While for the Back Part the blouse is really stunning and beautiful. It has sequin and bead work around the edges of the back design and neckline.
11. Heavy Designer Bridal Blouse Front And Back Design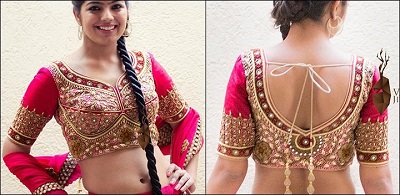 12. Party Wear Front Zipper Blouse Pattern
13. Latest Embroidered Front and Back Blouse Pattern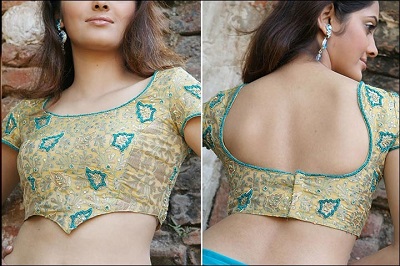 14. Princess Cut Collar Front and Back Blouse Design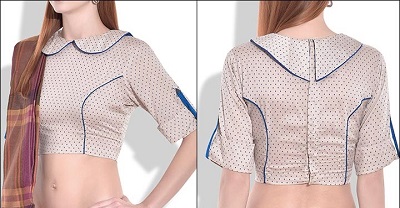 15. Front Sweetheart Blouse with Scoop Back Neckline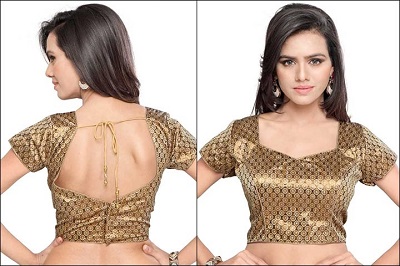 16. Front Cut Work Blouse With Back Heavy Embroidery Work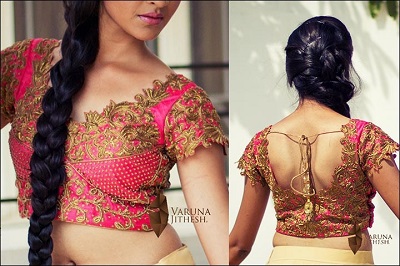 17. Stylish Blouse With Mesh And Embroidery Work In The Front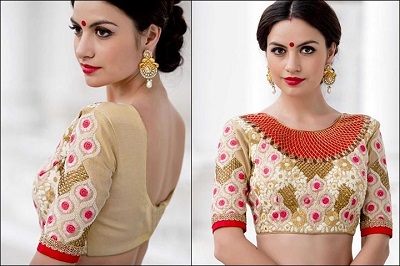 18. Gorgeous Embroidered Front And Back Blouse Pattern
19. Bridal Sequin Work Blouse With Beautiful Front And Back Design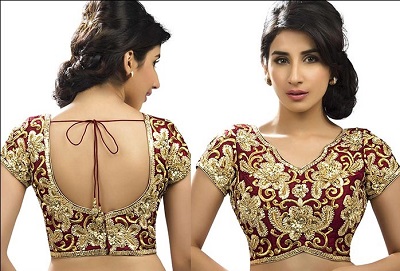 20. Latest V Neck Front and Back Neck Pattern For Blouse
21. Velvet and Silver Round Front Neck Line With Deep Back Neck Line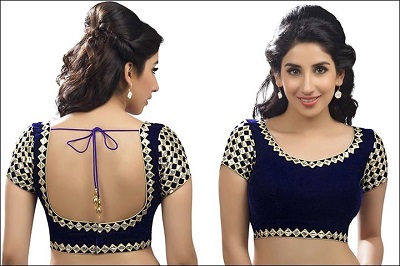 22. Stylish Sleeveless Front and Back Blouse Pattern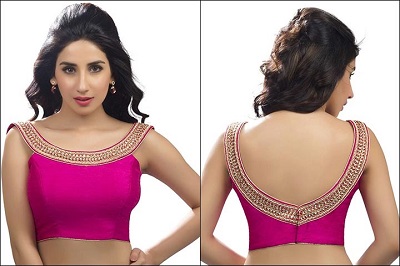 23. Sleeveless Silk Front and Back Blouse Design For Sarees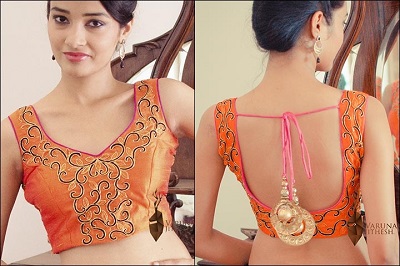 24. Heavy Embroidered Patch Work Front and Back Blouse Pattern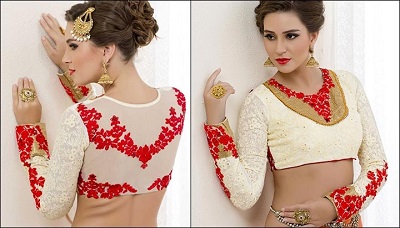 25. Collared Back and Front Blouse Design In Velvet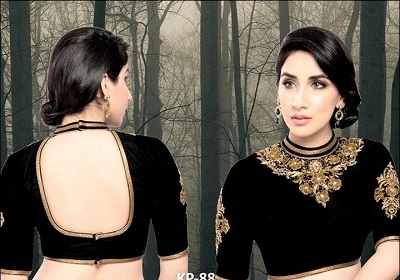 26. Latest Halter Style Collared Back and Front Blouse Design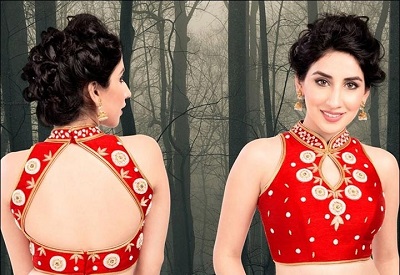 27. Sleeveless Keyhole Back and Front Blouse Pattern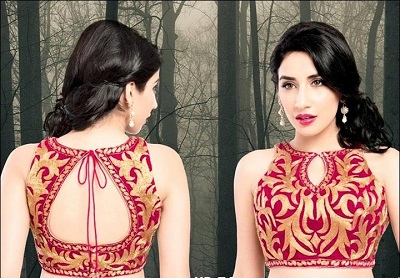 28. Embellished Silk Stylish Half Chinese Collar Blouse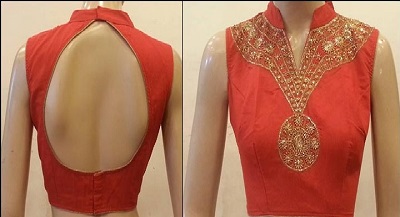 29. Butterfly Pattern Back Blouse Design In Brocade Fabric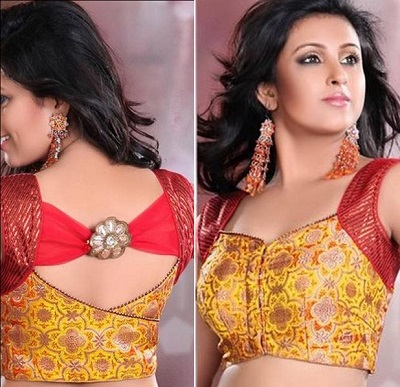 30. Stylish Stone Studded Butterfly Work Back Blouse Design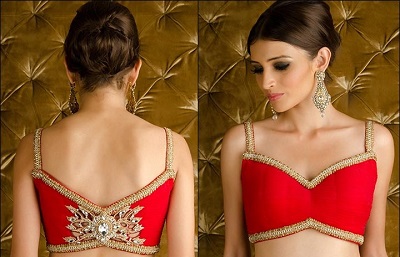 31. Golden Net and Embroidered Velvet Blouse Pattern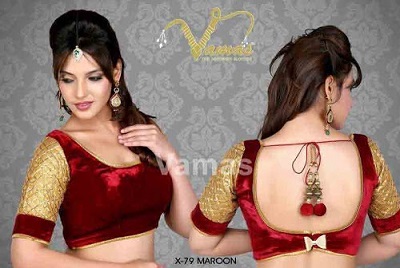 32. Stylish Maroon Silk Embellished Blouse Design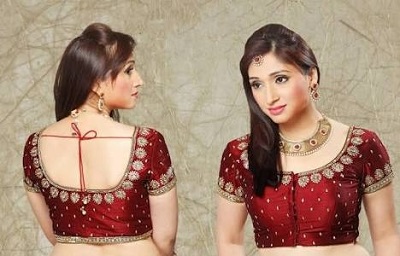 33. Black Silk and Net Patchwork Blouse Design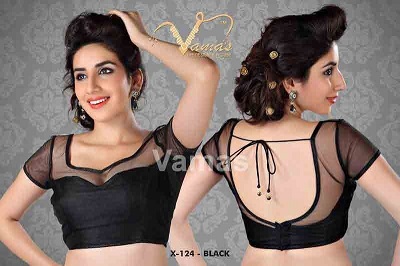 34. Lace and Silk Fabric Blouse Design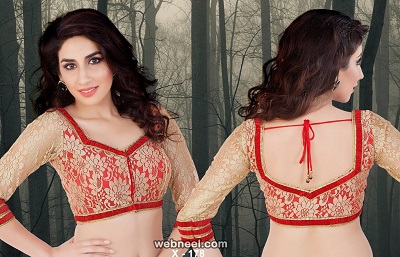 35. Stylish Choli Cut Front and Back Blouse Pattern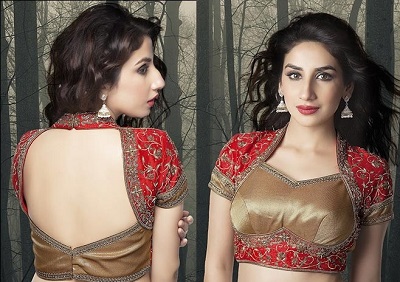 36. Stylish Golden Blouse Front and Back Design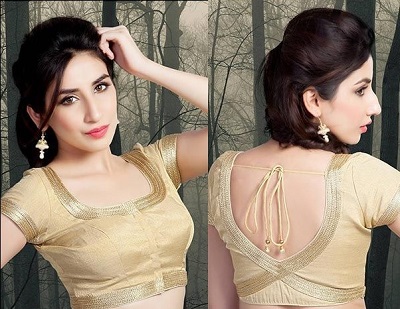 37. Patchwork Pink and Gold Stylish Blouse Design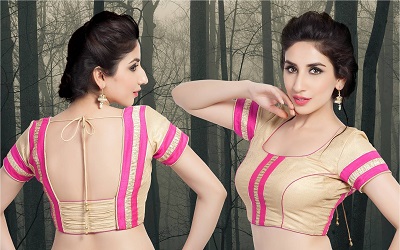 38. Attractive Net and Black Art Silk Blouse Design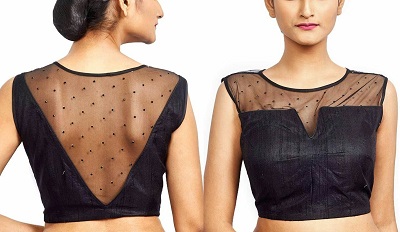 39. Shrug Style Pink Blouse Pattern Front and Back
40. Deep Back Neckline Boat Shape Blouse Pattern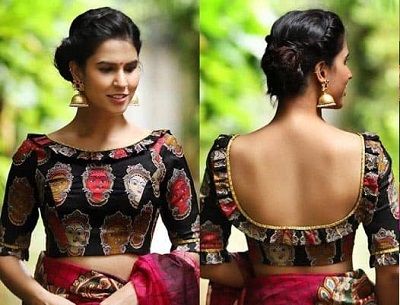 41. Backless Blouse Design with Princess Cut
42. Designer Party Wear Bridal Blouse Design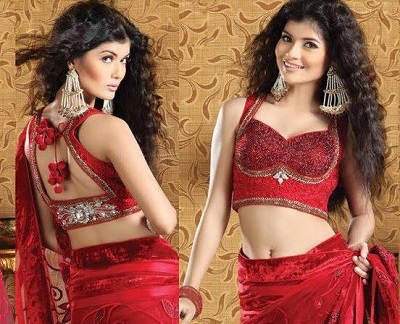 43. Silk and Net Green Blouse Pattern

44. Sequin Net Fabric Stylish Blouse Design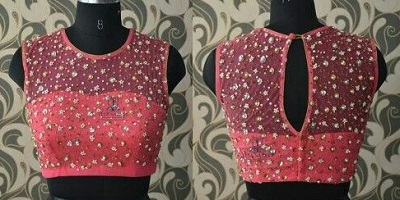 45. Bridal Red Net Front and Back Blouse Design For Wedding
46. Black Velvet Embellished Net Front and Back Blouse Pattern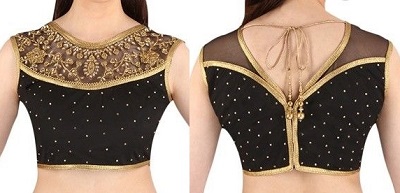 47. Simple Black Blouse Design Front and Back Side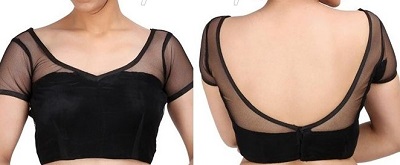 48. Party Wear Blouse Design with Back Bow Pattern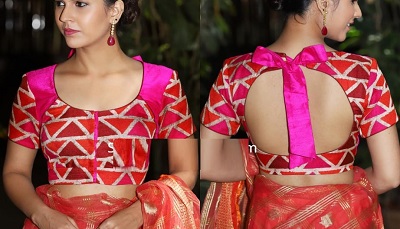 49. Casual Wear Printed Blouse Design For Front And Back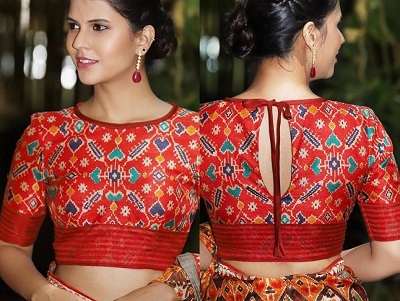 50. Red Neck Net Patchwork Blouse Front and Back Neckline Pattern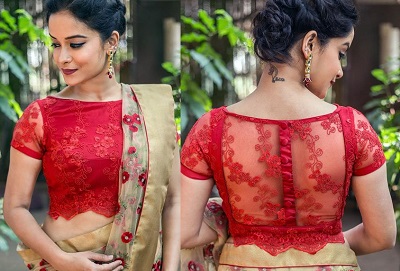 These are the latest designs of front and back blouse designs for different functions, occasions and events. These front neck and back blouse designs can be made at the nearby boutique shops. However always make sure that your blouse back and front pattern should be comfortable to wear.