Blouses are an important part of your saree or lehenga. This is why, the blouses are crucial in making your attire look really beautiful. One can have blouses in different varieties of fabrics and designs. Just like we have different types of back neck line for blouses, the front neckline is also important. So here we are talking about the latest catalogue of the front neck line blouse designs. The blouses can be in multiple patterns like, it can be deep neck, collared, high neck, Patchwork and more. So let's take a look at the latest and trending front neckline blouse designs.
Latest and Trending Front Neck Blouse Designs (2022)
1. Keyhole neckline blouse pattern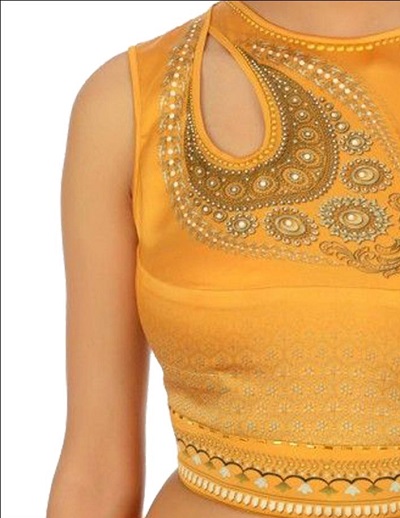 The blouse is a perfect party wear blouse which you can try for parties and weddings. It has a keyhole pattern on one of the shoulders and a round neckline. It is an easy to wear and very comfortable kind of blouse which you can wear for parties and occasions where you would like to look really stunning.
2. Sweetheart neckline blouse design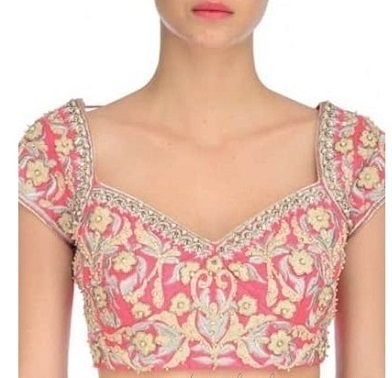 This sweetheart neckline blouse is a popular blouse front neck pattern design which can be seen in different types of ethnic wear. This sweetheart neckline is quite deep and has nice finishing. It reveals the collar bone and also makes your neck look longer. The blouse is embroidered and is appropriate to pair up with heavy sarees as well as for the lehengas.
3. Collared Patchwork blouse pattern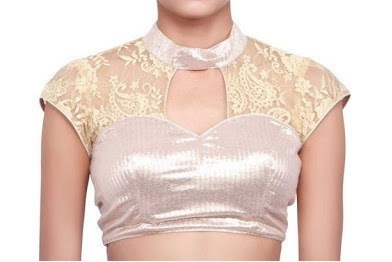 In this blouse here, there is a patchwork pattern and a collar design. Underneath the collar, there is a cut that makes you look really stunning. It is an innovative kind of blouse design that has lace and net fabric used along with the satin Ivory white fabric. It is a party wear blouse which one can pair with saree as well as lehenga.
4. Big collared front blouse pattern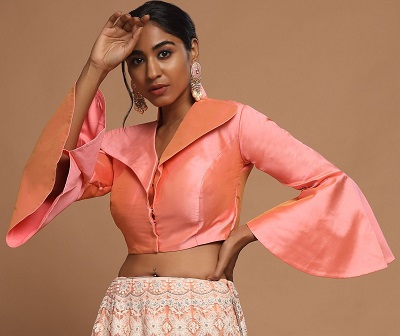 The front neck line of this beautiful peach colored blouse has big collars and the front hooks with bell sleeves. The blouse is easy to wear and is comfortable also.
5. Round colored party wear blouse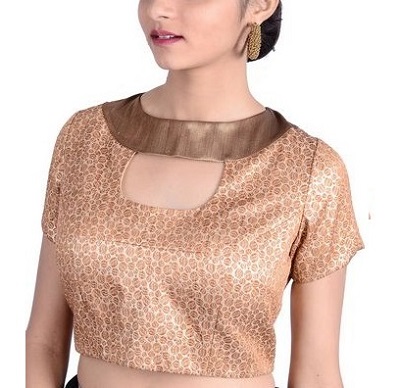 This is a beautiful party wear blouse which is made in a Silk fabric. Such blouses are ideal for your georgette and chiffon sarees as well. It has a nice collar band that creates a round neckline effect. The collar band is in a contrasting gold copper color fabric.
6. Scoop neckline Gota Patti work front neckline design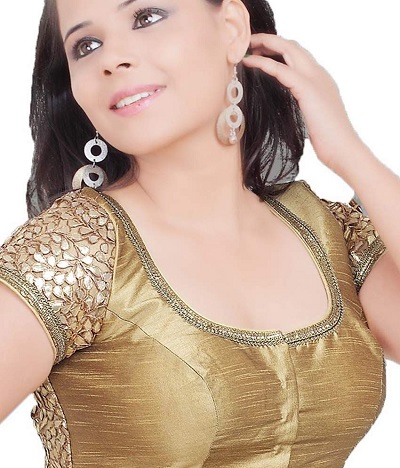 The blouse has a nice scoop neckline and Gota Patti work is done on the sleeves and on the back of the blouse. The Silk blouse is it really beautifully made and is suitable for all your Silk heavy sarees. In fact, If you are wearing the net or Georgette sarees, then also this blouse will work amazingly.
7. Round patch work front neckline design
This beautiful blouse has a patch work design in net fabric. The net fabric used has an embroidery and mirror work going on. The beautiful blouse looks really pretty and is suitable for the wedding wear as well as the festive wear sarees. In fact, girls can also try this blouse with their lehengas. The gorgeous blouse pattern has a sleeveless design and lace and net fabric both are used to create this stunning designer blouse.
8. High Neck Collar Front Neckline Velvet Blouse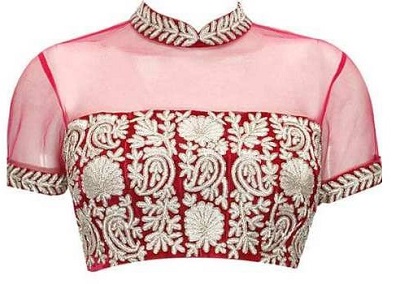 Velvet Fabric in embroidery work is used to create the collar and net fabric is used to create the upper portion of this blouse. The bust part is made using the embroidered velvet fabric. The gorgeous blouse is a perfect choice for all your Cocktail functions, where designer sarees would look best. Even for the Grand occasions or for the wedding wear sarees, where you would like to look perfect, such blouses are ideal.
9. High neck front neckline blouse pattern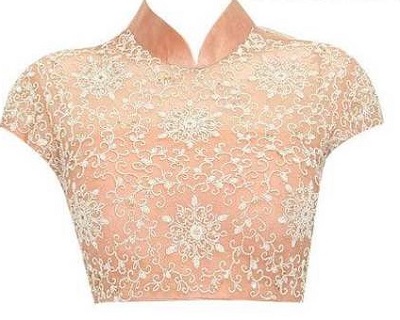 This gorgeous blouse has a Mandarin collar and looks ideal when it is paired with the silk sarees. Even the net and Georgette saree works wonderfully well with such type of high neck Mandarin blouse designs. The front neckline is kept really high and which is why it is also comfortable for the winter season.
10. Stylish net and velvet Patchwork front neckline design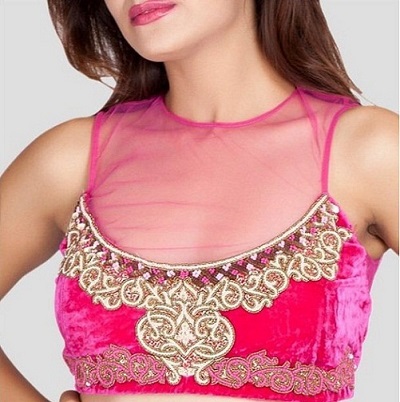 This is a gorgeous blouse in velvet pink fabric where the heavy embroidery done. The blouse has a patch fabric used for the upper part. It is a very glamorous and fashionable looking blouse which is perfect for the Cocktail functions and for the events when you would like to look modern and a head turner.
11. Designer front neckline party wear blouse design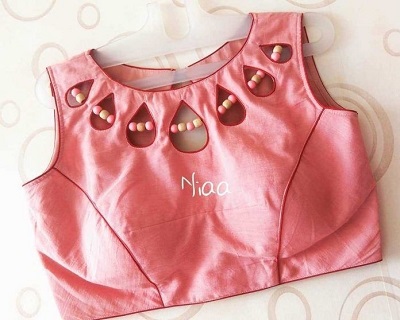 12. Stylish Patch Work Front Neckline Embroidery Blouse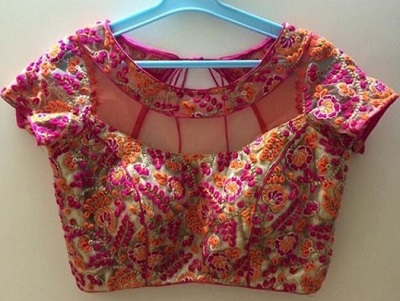 13. Stylish Neckline Front Blouse Pattern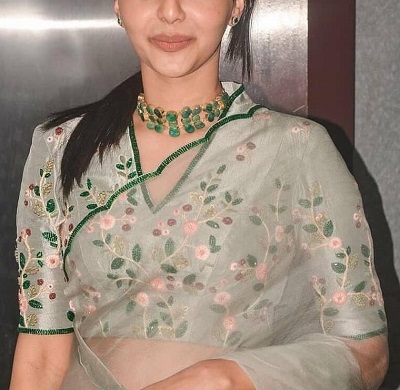 14. Designer Front Neckline Blouse Design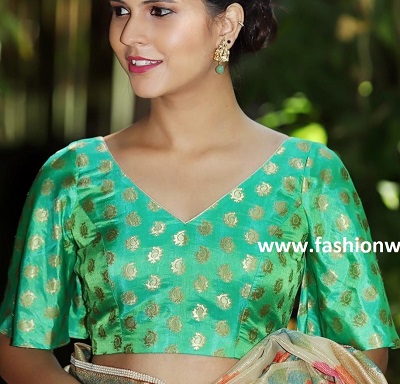 15. Boat Shaped Front Neckline Blouse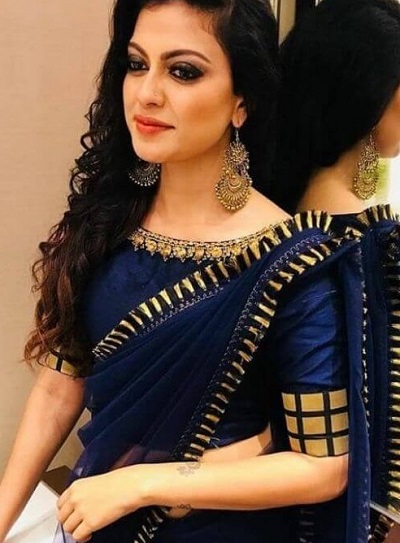 16. Tie Style Front Neckline Blouse Design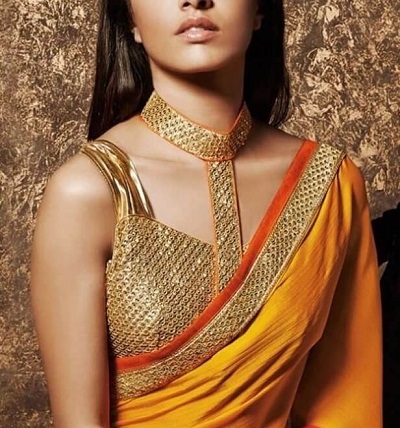 17. Ruffled Collar Style Front Neckline Blouse Design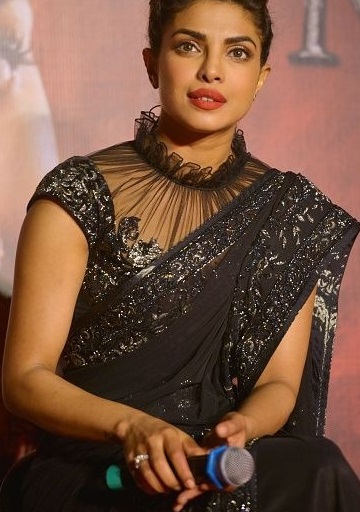 18. Stylish Front Zipper Collared Saree Blouse Design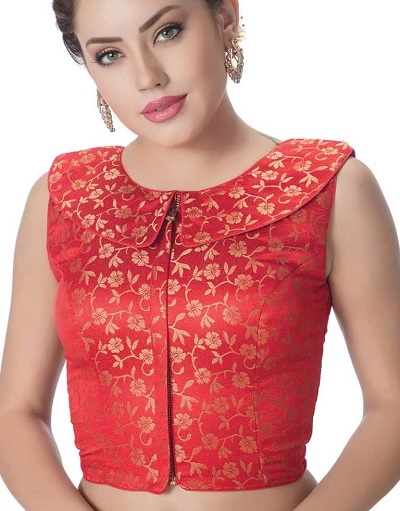 19. Deep Front Neckline Blouse Pattern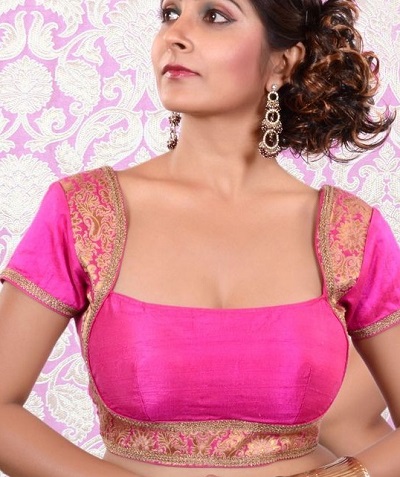 20. Chinese Collar And Keyhole Neckline Blouse Design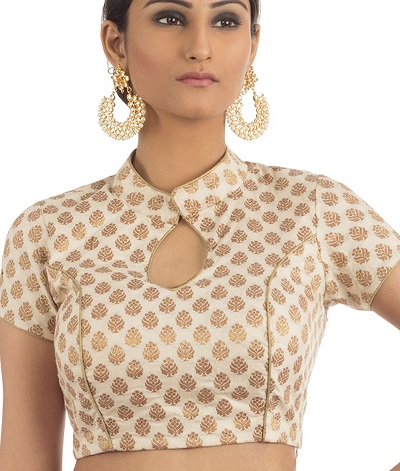 21. High Neck Front Neckline With Keyhole Pattern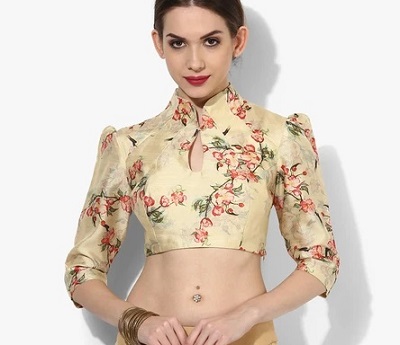 22. Boat Shaped Cut Work Style Mirror Blouse Pattern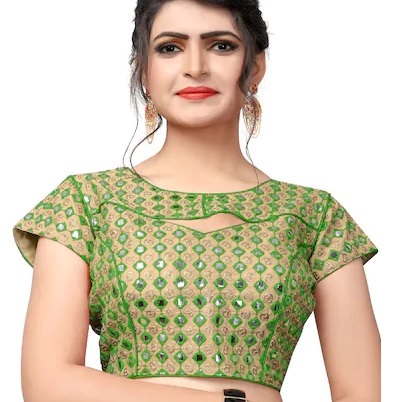 23. Boat Neckline With Knot Front Neckline Design
24. High Neck Collar Front Neckline Blouse Pattern
25. Simple Round Neckline With Front Opening Hooks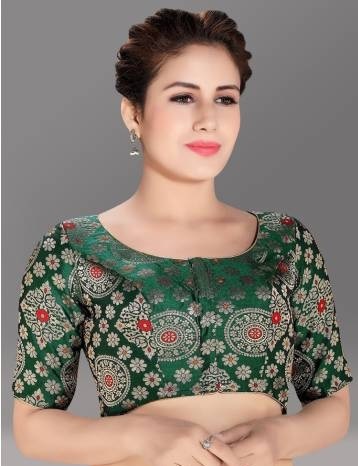 26. Boat Cut Stylish Front Neck Blouse Pattern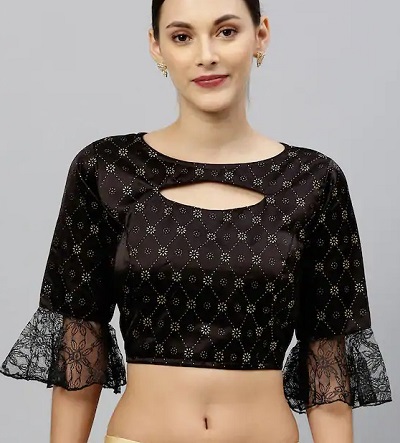 27. Ruffled Collar Front Blouse Design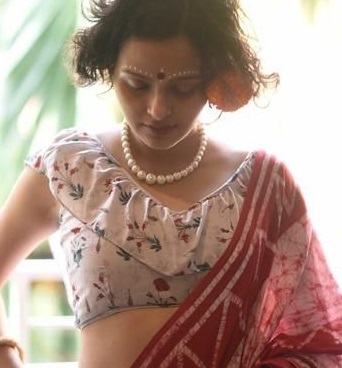 28. Front Neckline Wraparound Blouse Design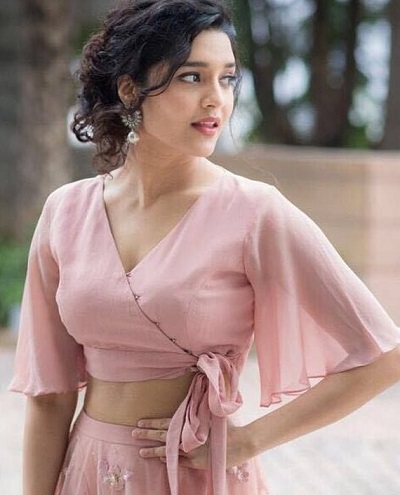 29. Designer Blouse For Net Sarees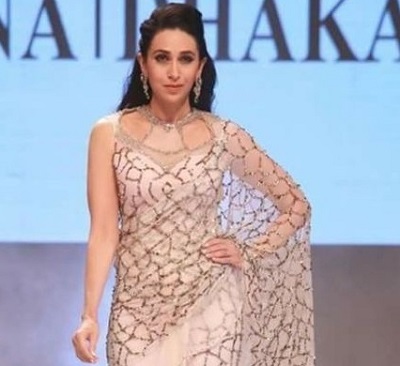 30. Stylish Halter Style Blouse For Party Wear Sarees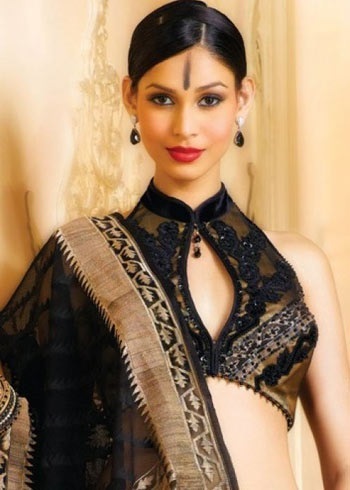 31. Side Keyhole Pattern Boat Neckline Golden Blouse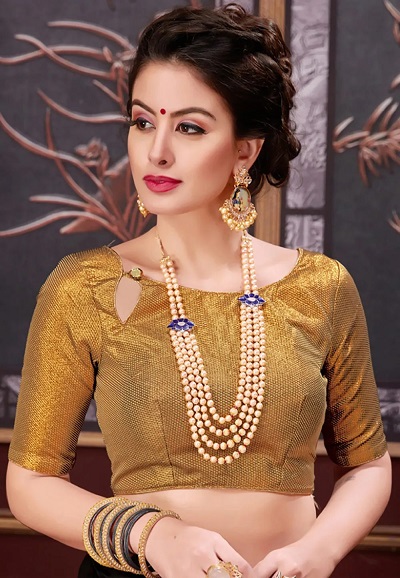 32. Peter Pan Front Collar Steel Grey Blouse Pattern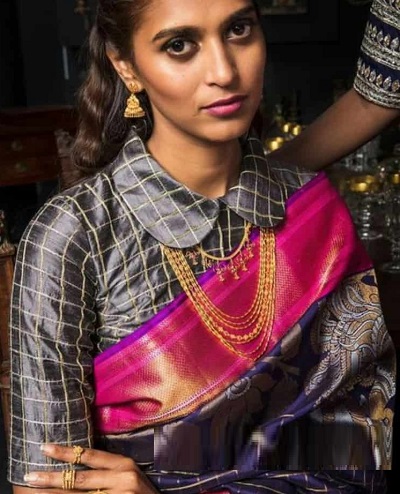 33. Halter Style Lapel Collar Brocade Blouse Pattern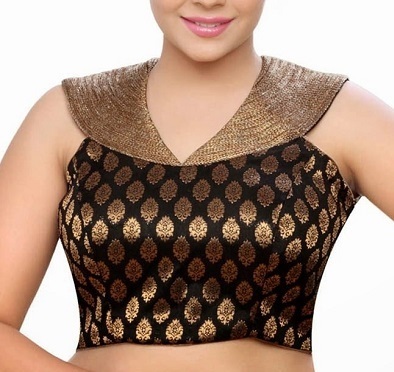 34. Shirt Collar Front Neckline Blouse Design Idea
35. Flower Shaped Colored Full Sleeves Blouse Pattern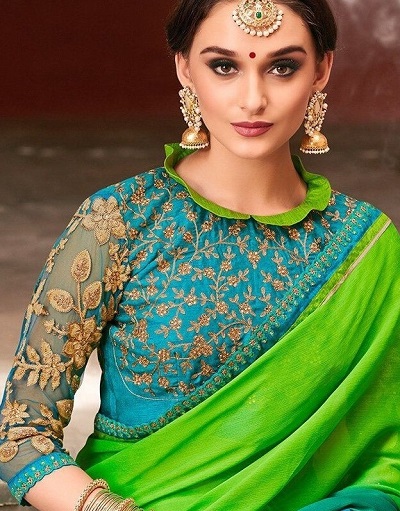 36. Front Scoop Shaped Neckline Blouse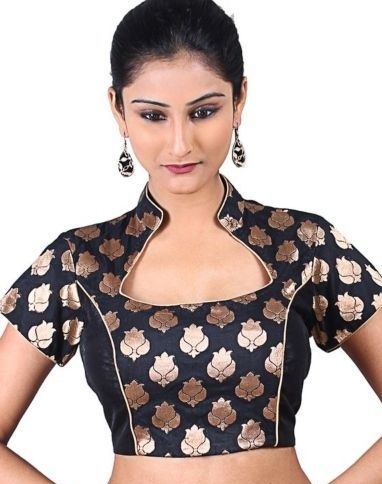 37. Stylish Full Sleeves Blouse Pattern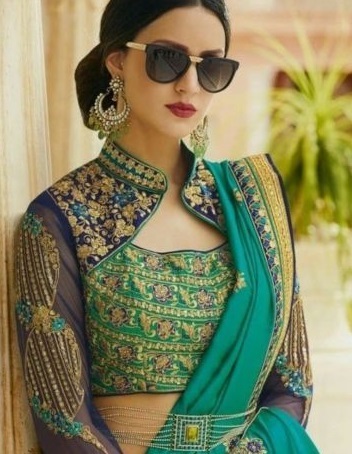 38. Jacket Style Front Neckline Blouse Design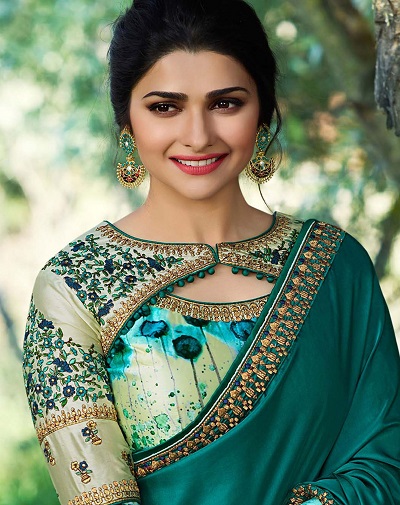 39. Front Neckline With Tassel Blouse Pattern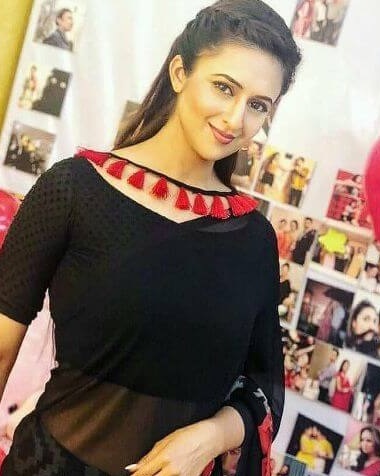 40. Side Heart Cut Front Neckline Blouse Idea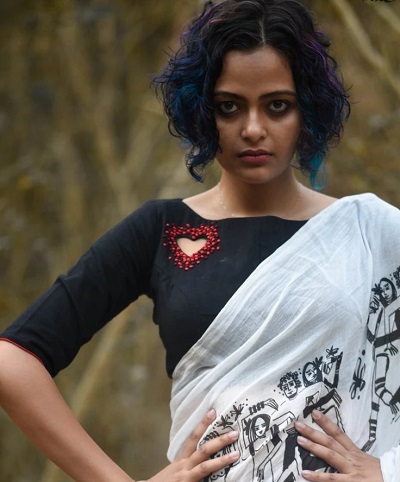 41. Shirt Collar Stylish Blouse Pattern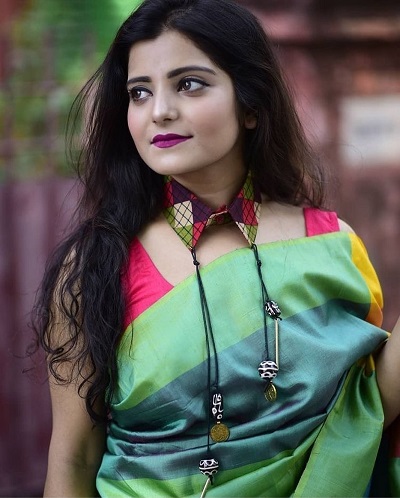 42. Boat Neckline Keyhole Cotton Blouse Design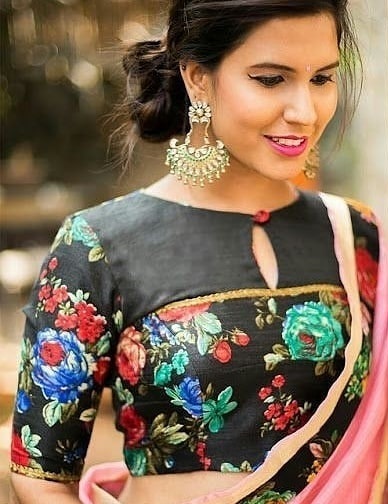 43. Boat Neckline Front Blouse Design Idea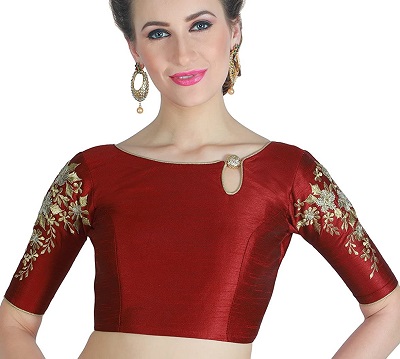 44. V Neckline With Ruffles Blouse Pattern For Front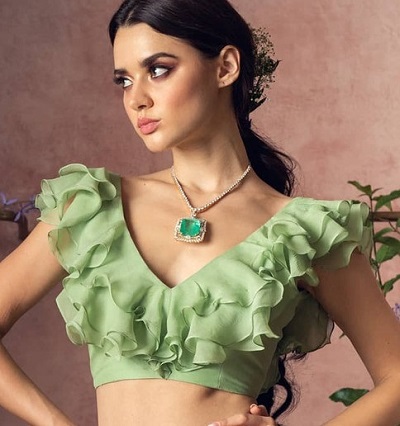 45. Net And Cut Work Style Front Neckline Idea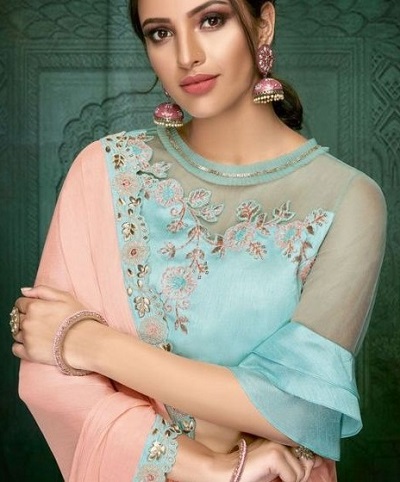 46. Stylish Front Strap Design Silk Blouse Pattern
47. Stylish Silk Bridal Wear Neck Collar Blouse Pattern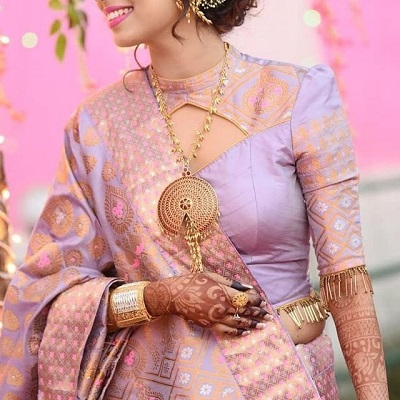 48. Stylish Jacket Style Saree Blouse Pattern
49. Sleeveless Ruffled Collar Chiffon Blouse Design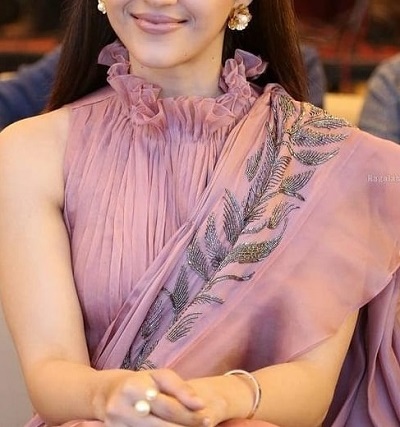 These are the latest front neckline blouse design ideas which you can try. The best thing about creating a front neckline is that it makes your overall dress look amazing. But before going for a neckline for the front, you must always remember the comfort level. Because there are certain blouse collars and designs which look really amazing but may not be that comfortable. This is why it is always better to go for blouse designs and patterns which are comfortable for you.