Garnier Fructis Oil in Cream Review
Hi everyone! Recently, Garnier has recently introduced a new and innovative product which is a Garnier Fructis Oil in Cream. This is a product that has the goodness of nourishing oils in the form of a creamy texture just like the hair conditioners. This product has been launched just now in the market and you may have also seen Alia Bhatt who is the face of garnier, endorsing this Garnier Fructis Oil in Cream products. It has the power of Coconut oil, almond oil and olive oil have used this for the past on month so, this is the Garnier Fructis Oil in Cream review time. Read to know about this product and how it works to give beautiful hair.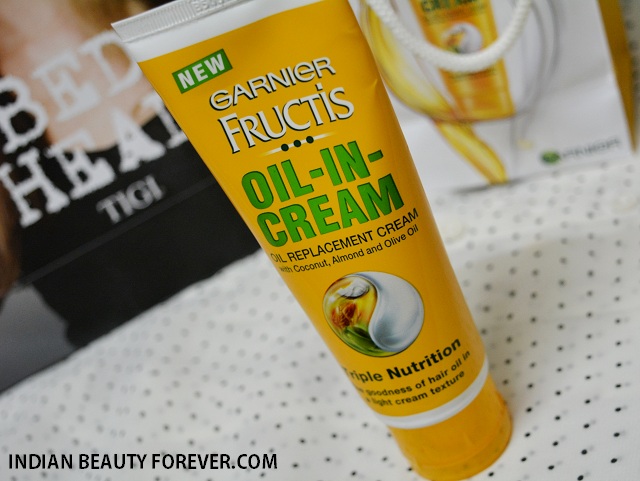 Price of Garnier Fructis Oil in Cream: This costs rupees 60 for a tube of 100 g.
Claims about this Garnier Fructis Oil in Cream:
This product gives the nourishment of hair oils in non oily creamy formula. It nourishes the hair and makes them stronger. It has zero stickiness and has very pleasant fragrance that stays longer.
How to use Garnier Fructis Oil in Cream:
This product should be used like the regular oil. It can be used before the hair wash like massaging this oil in cream on the scalp and hair then you can wash it in the morning. It can also be used after the shampoo so that the hair stays manageable and mess free. It can be also used to keep overnight then wash the hair next day like the overnight hair oil massaging benefits.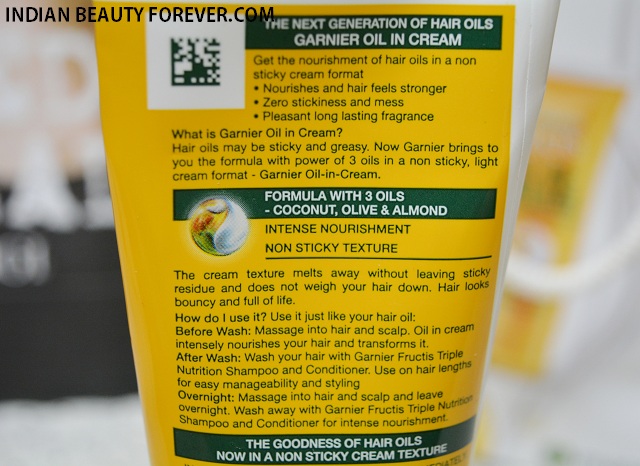 Experience with Garnier Fructis Oil in Cream
This Oil in Cream is packaged in a squeezable tube which is of yellow color. I like the color of this pack, a bright cheerful yellow juts like the garnier Fructis shampoos. This oil cream is a thick conditioner like cream which smells very good. The smell also reminds me of the Garnier Fructis triple nutrition conditioners. The pleasant smell stay on the hair for the entire day and the subtle smell is very enticing. I loved it. This Garnier Fructis Oil in Cream is not a greasy product in spite of it being hair oil in cream form. It is quite non sticky and I used it after washing my hair it will not weight down the hair or will not make them stick them together. I also liked that it tames the frizz and flyways that is very common in summer season. I have also used this Garnier Fructis Oil in Cream has to massage the scalp and hair at night. Then too, it doesn't feel like I am applying some greasy sticky hair oil in my hair and scalp. In the morning when I washed my hair they were softer and shinier. I think for 60 Rupees this product is good and can be tried once to see if that suits you as not every product will suits everyone like this Oil in Cream will work well for the oily hair, normal hair nut for the extreme dry hair, I will suggest that you should go and try the regular hot oils to massage the hair. Oil massaging at night is wonderful for the dry and damaged hair.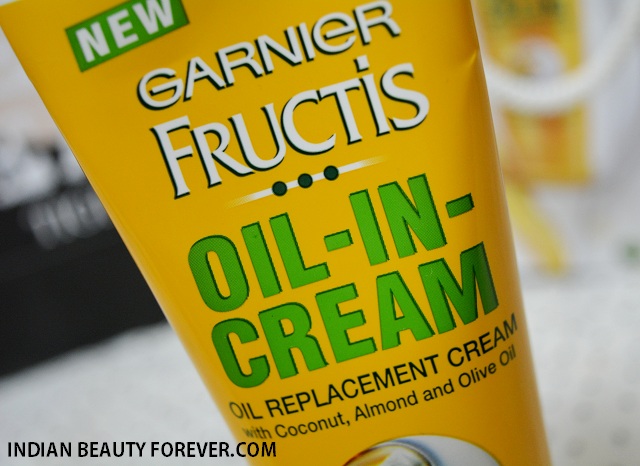 The only problem I find with this product is that it has some chemicals other than the oils so I am okay to use this product on my hair as a leave in conditioner or to make them softer like the way we use the hair serums. But I am not sure if I can regularly use this Garnier Fructis Oil in Cream on my scalp and that too overnight as I am afraid of the chemicals in it. When I use oils I can be sure that the oils are generally pure and with no chemicals. But otherwise it is a good to be tried products. Read the good and bad points about this Garnier Fructis Oil in Cream so that you can make up your mind if you want to buy it.
Pros of Garnier Fructis Oil in Cream
Good packaging
Price is good
Smells really nice and pleasant
It is easy to apply and spread on the hair
It helps to tame the hair and make them smoother
Hair gets manageable
Cons of Garnier Fructis Oil in Cream
It has chemical so I can not use this for overnight massaging.
It is not very good for the dry hair
Rating: 4 out of 5
Garnier Fructis Oil in Cream is good for the use after hair wash to take the hair softer and shinier so that the hair gets manageable. This is okay for normal to oily hair but not extremely beneficial for dry hair and also I am not comfortable in using this on my scalp as it has chemicals other than the oils.