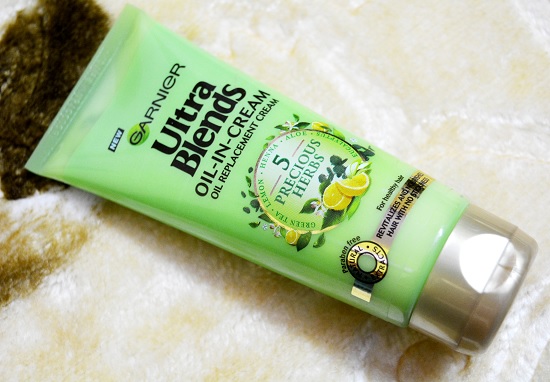 Garnier Ultra Blends 5 Precious Herbs Oil in Cream Review, Price, How to use. Hi girls!! This is the time when we use oil in cream things instead of the regular oils. I would still say that oil is oil and no cream like thing can match up to that. But this is also true that, you cannot step out with sticky oily hair. Hence at those times, such oil in cream products can be wonderful. They give nourishment but not the extreme stickiness. I will review this Garnier Ultra Blends 5 Precious Herbs Oil-In-Cream. This has 5 precious herbs just like the Garnier Ultra Blends 5 Precious Herbs shampoo. Let's see friends, who this has fared for my hair type and overall.
Product Description
You can get the nourishment of hair oil but without the stickiness. This is a unique Oil-in-cream spreads on the hair nicely without leaving sticky residue and does not weigh your hair down. This is rich in the ingredients like the 5 precious herbs. These are Green tea, Eucalyptus, Aloe, Lemon and Henna. These ingredients give a vitality, nourishment and revitalized hair. This has the soothing moisture of Aloe vera, great shine due to the lemon, whereas the unique conditioning of Henna and anti-bacterial goodness of the eucalyptus. It also has the Green Tea's anti-oxidants. Also see Garnier Ultra Blends Mythic oil shampoo review

Price: Rs. 70 for 100 gm
My Experience with Garnier ultra blends 5 precious herbs oil in cream
This product is packaged in a bright green tube with a golden flip top cap. Isn't that looks lovely. Tube is very travel friendly and is very sturdy. The pack is only for 70 rupees for a 100 g tube now this is very affordable and even the college going people can also afford it. By the way, I feel that this can be used by both girls and boys.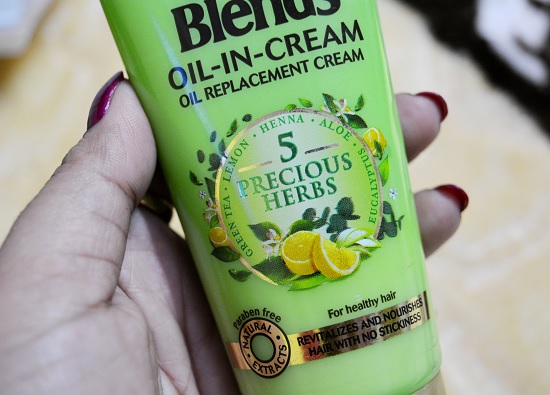 This oil in cream has a nice smooth hair conditioner like fluffy thick texture. The cream is white in color and you will like the texture which is very easy to use. It has a nice smell which makes me like this even more. The faint smell coming from this oil in cream makes it also act like a hair perfume haha. This has to be applied directly on the hair so let me tell you friends how and when I use this Garnier ultra blends 5 precious herbs oil in cream.
How to use this Garnier ultra blends 5 precious herbs oil in cream
I have used this quite a lot of times and so my experience varies. Like I have used this when I am at home and I have washed my hair.  This is not so greasy but give a hydration and smoothness son to the hair. When you apply Livon then your hair feels smoother and satiny but with this the hair feels a little just little greasy at first. So this will give hydration but not so silky feel. Hence, I find it good and have used at several times like that. This also helps to make the tangled hair get combed faster. There is no greasy or sticky residue or the stickiness. For my medium length hair, I will take less that a teaspoonful and it works well. My husband also uses this and for him just 3 pea sized amount would work well.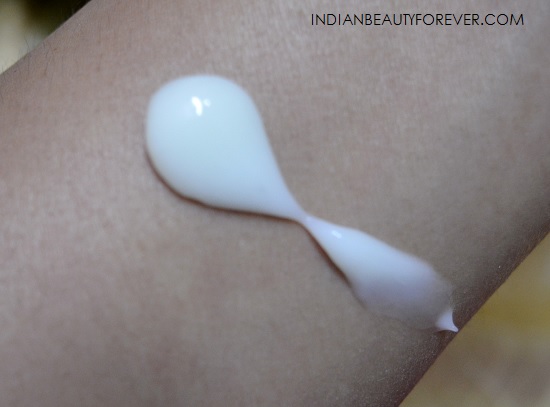 Another time, I used it when I was going out. Now the levels of pollution are really high hence, the hair would get loaded with the dust etc. This happens with normal hair too so, I wouldn't blame this product for this. After applying this oil in cream, I have not seen that this weighs my hair down or makes then less voluminous.
This is rich in 5 herbs like the aloe vera, green tea, lemon, henna, eucalyptus hence I loved the natural ingredients in this. I think for the price this product is really good and can be used everyday. Like at times when you have frizzy hair just apply a little bit of this on the outside of the hair and it will also help to tame them. Moreover, when you are making some hairstyle and would need some texture then apply this along with some hair spray to tome down the effects of hair sprays. This works well on the freshly washed hair as when you have not washed the hair then it attracts some dirt, dust etc so this won't work as you assumed friends.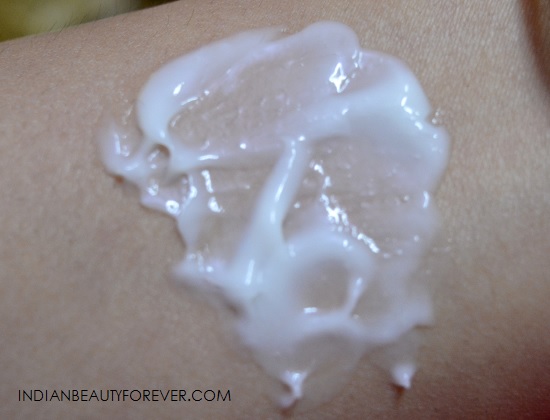 I am satisfied with this product and would love to use this as well but I also think that this would not work extremely well for the very dry or rough hair. I am saying this as I have some very dry hair stands at the very bottom and it has not done much for them. I have now chopped off those dry hair ends. Peace now!! :D
Pros of Garnier Ultra Blends 5 Precious Herbs Oil in Cream
It has a nice travel friendly packaging which also looks good
This is very inexpensive and it good for everyday use.
The smell is very subtle refreshing and pleasant.
The product is non greasy and light weight on the hair but the hair should be freshly washed.
This will be good to tame and manage the hair
This detangles the hair nicely
Can be used for all the hair types
Cons of Garnier Ultra Blends 5 Precious Herbs Oil in Cream
Not too effective for very dry hair.
Not for the hair that is unwashed for few days
Rating: 4 out of 5
Garnier Ultra Blends 5 Precious Herbs Oil in Cream is a very good product to tame the hair and to control the frizz as well. Moreover, this will keep the hair shinier and smoother. But very dry haired ones will have to use hair conditioners as well. This is affordable and very easy to use.