New Garnier White Complete Multi Action Fairness Cream with Speed White

Hi all, I had recently reviewed the Garnier white complete fairness face wash and now in this post, I will do Garnier white complete fairness cream speed white review for you guys. This cream has a new and improved formula. This new Garnier cream consists of speed white serum and pure lemon essence. I got this when I was thinking of getting a new day whitening cream with some decent sun protection. This Garnier white complete fairness cream has SPF 19. This is why I thought of trying this cream. Lemon essence actually lightens the complexion and makes the skin glow. So, does this Garnier white complete fairness cream speed white actually works? Let's find out in my review.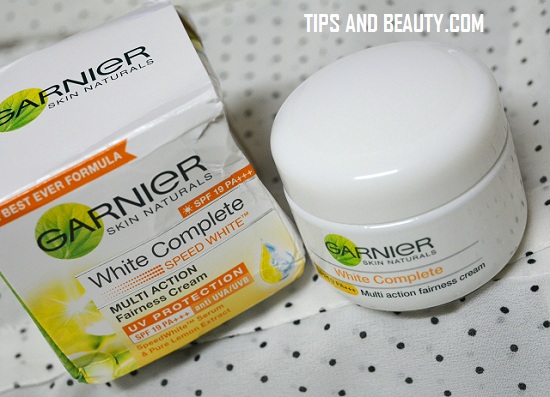 Price of Garnier White Complete Fairness Cream:
This cream is for 160 rupees for the 50 g tub pack and 18 g pack costs rupees 85.
Brand Claims: Garnier Skin Naturals White Complete Multi Action Fairness Cream has the new and improved formula which has speed white serum and lemon essence with the SPF 19 which gives sun protection to the skin. The lemon essence acts as a whitening agent to give fairer and flawless skin.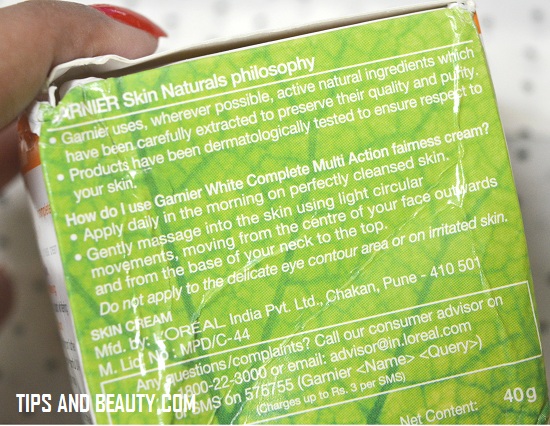 Experience with Garnier White Complete Fairness Cream Multi Action
This Garnier white complete fairness cream is packaged in a small white yellow jar packaging with the yellow lettering. This is very convenient to use. This garnier cream is a white colored cream which is not extremely thick but very easy to blend on the skin. I like skin creams that gets blended fast. As I mentioned it's thick therefore you will need a little more else while rubbing it in your palm the cream literally gets vanished.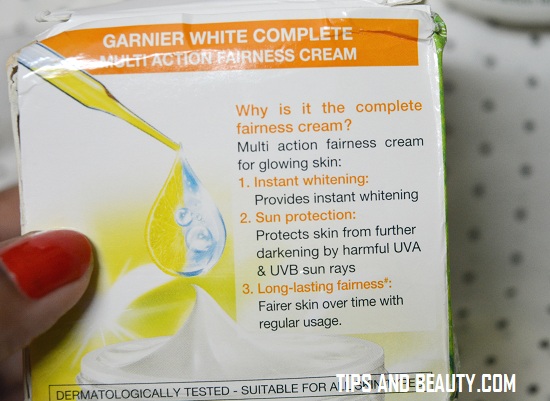 How I use this cream: After washing my face, I take around a blob like a pea sized amount of this fairness cream. I would rub the cream on my fingers and then apply evenly on my face. This cream does not leave white cast or ashyness, which I have seen with some of the fairness creams. You can also check out my recommendation of the best fairness creams for dark skin in India which you may read.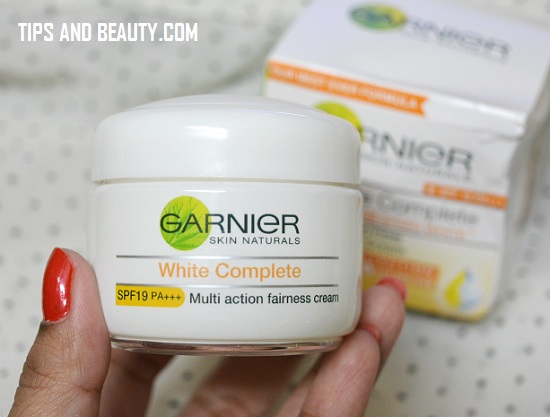 Results: Once I have applied this fully on my face, I can notice that my skin looks matte and non-oily. It tones and gives moisturization but not too much which can make the skin look oily. Honestly, I like this cream as a day cream. I will tell you why, because this cream does not feel oily or have blocked the pores on my skin. Other thing is that, it adds slight fairness after the usage. It doesn't control the skin oils for too long and so I could feel that my nose gets oily after 2 hours which is fine with me as I can dab some compact or wipe the oils off my nose. You can read about the fairness creams for oily skin here, if you also have oily acne prone skin type.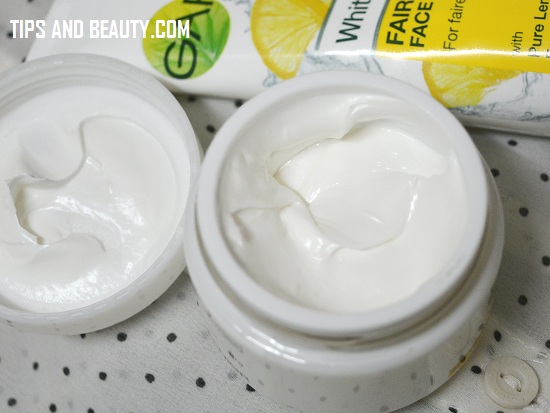 I have been using this Garnier white complete fairness cream for the past 2 weeks and can see that it has vanished some of the dark spots and some pimple marks on my face. My complexion had some tan which this has also removed which is why I am liking this. This cream will not be very suitable for dry skin but for normal to oily skin it is good.
So, who can try it? Young boys and girls who want fairness for dark and dull skin tone and have oily to normal skin. Other than that, this has low moisturisation so, not for very dry skin during winters. Moreover, it's a skin whitening cream so, do not expect any anti-aging qualities from this cream. If you have in your late 20s or 30s, then I will recommend that you shall go for skin lightening creams with anti-aging benefits.
Good about this Garnier White Complete Fairness Cream
Price is good and very affordable

Packaging is good

Smell is light and not too much

Has brightened the skin complexion

It is good for summers and comes with SPF 19

The lemon essence helps to remove the sun tan

Does not make skin greasy after the application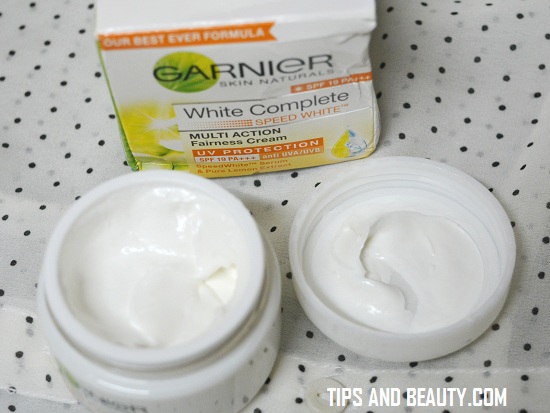 Not so Good about Garnier White Complete Fairness Cream
Does not control oils for long on the skin

This is not so suitable for the dry skin, may be in summers but definitely not in winters.
Rating: 4 out of 5
Take: Garnier White Complete Fairness Cream is a daily use fairness cream which will not make skin oily or greasy. It is good for oily to normal skin though doesn't control the oils. This brightens the skin complexion and lighten the sun tan. It is a decent day cream for teenagers and people below 30 who don't want anti aging properties in their skin creams.