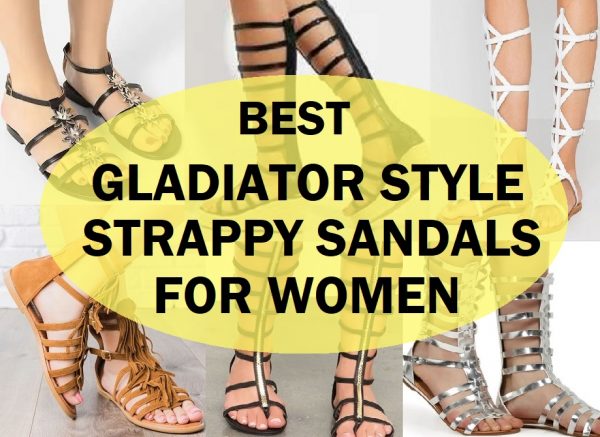 Gladiator Sandal Style for Women
Gladiator sandal is one such shoe style that will never go out of trend. These sandals are Gladiator inspired and for the summer season they are just perfect. There are so many variations of a Gladiator sandal for men and women. One can pair Gladiator sandal with jeans, crop top and even with the cropped Denim shorts. There are so many things that you can do with these. In fact, with the miniskirts these long Gladiator sandals are very much in trend and those tie up Gladiator sandals for girls are suitable for the summers. Additionally, these Gladiator style sandals are most comfortable and are available in different types and varieties that one can get spoilt with the choices. Mostly the sandals would be flat but some of them can also have wedge heels or some can have at least one or two inches block heel. Even Gladiator sandals in style heels are very popular. Here, in this catalogue you will find the best looking Gladiator style sandals and models for women.
History of Gladiator Sandals
These sandals have been here since ages. They were really popular since the Roman and Greek era where both men and women use to wear them.
Later on, these gladiator sandals were also incorporated for the wars as because of the flat sole they were easy to wear and ideal for long standing.
In the 60s these gladiator model sandals were very much in craze and they have been here since then. The pattern, shape, designs and make has been changed and different designs have been seen these days.
How to Choose Gladiator Sandals for Yourself?
Here are some tips that will surely help you in choosing the best gladiator sandals for yourself.
Color: See the color that suits the dress you are wearing or even your skin complexion has to be kept in mind. The shades of beige, tan, white and black are popular along with the metallic shades like copper, silver, golden and more.
Heel or Flat: This you will have to decide whether to go for heel or flat gladiator sandal. The wedge heels are better as they are more comfortable if not then choose the flat style.
Height:  The height of the sandal model is also important. One can choose the lace up ankle length sandal or the long gladiator style sandal for women.  There are knee length style sandals also available which can also be tried.
Different types and Designs of Gladiator Sandals for Women
Let's see the various designs and types of the gladiator sandals available for women.
1. Ankle Length Zip Closure Gladiator Sandal Style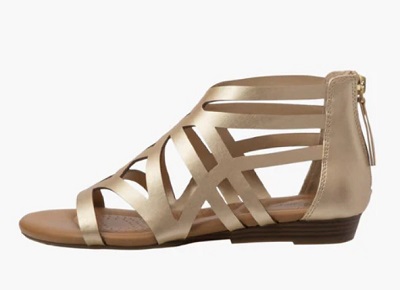 The zip closure at the back makes it really easy as there are no laces or straps that one has to tie. The medium silver colored sandal is amazing with its design and pattern. It is a durable product which is also comfortable to wear during summer season and is ideal for long wear. Not just it is comfortable but it is also suitable for work and college.
2. Lace-Up Gladiator Style Sandal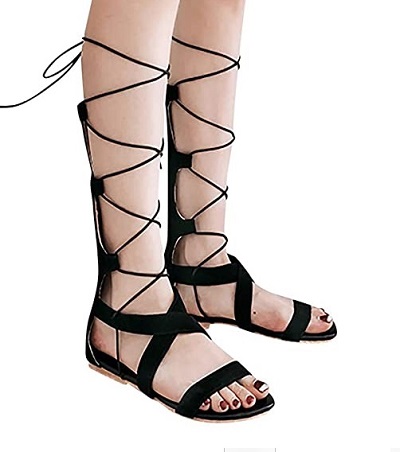 This lace up Gladiator style sandal goes all the way till below the knees. The sandal has a strappy design and the laces that are really long. This is a suitable design in black suede fabric. Ideal for the short skirts and the shorts, this sandal is suitable for women who would love to have the high style lace up sandals for Bohemian look.
3. Strappy Ankle Length Gladiator pattern Sandal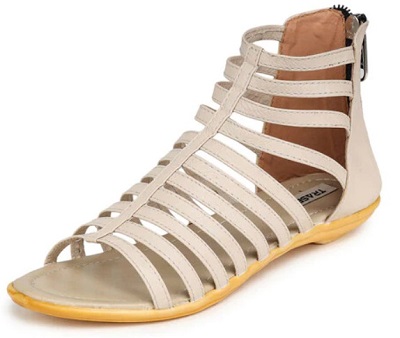 The flat ankle sandals are very comfortable and are ideal for women who would have to stand for long time. The sandals can be paired up with the Denim shorts and a nice top to complete your summer look. In fact, for the rolled up pair of jeans and casual T-shirt, these pair of gladiator style shoe will put the look together. You can also use a pair of nicely fitted Chinos with this pair of shoes.
4. Golden Long Gladiator Sandals Style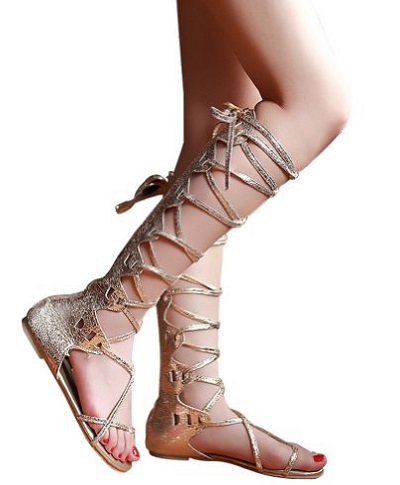 These are the sandals which are not just ideal for summer season, in fact they are suitable for parties as well. Pair a short skirt with these and they would adjust looked amazing. There is a support or a panel at the back that holds the laces and sole in place. It is comfortable and ideal for beaches as well.
5. Tan Strappy Gladiator Long Sandal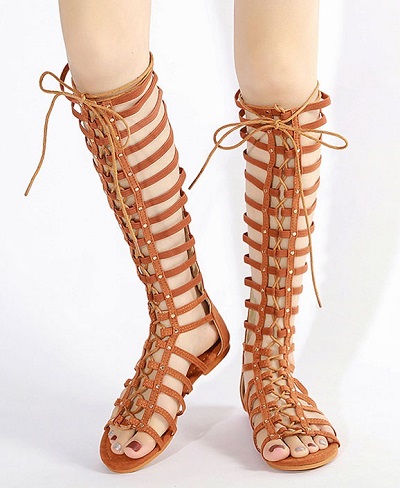 These pair of sandals here is really long and go all the way up to the knees. On the knees, it has the lace tie up design. Strappy sandal is designed in a way that you have to put the foot inside and the lace closure is only on the top. You can tighten the sandals according to your foot yet it is more like the long knee boots but it's just it has a strappy design.
6. Lace-Up Gladiator Women Sandal Model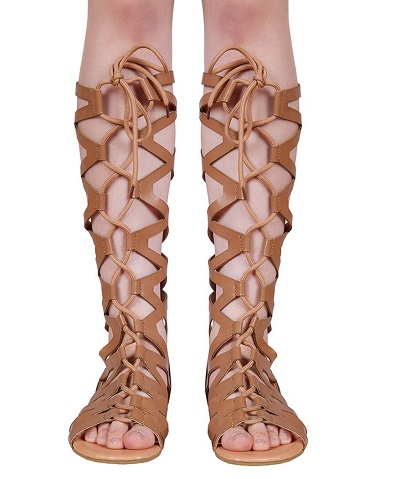 The lace up Gladiator sandals is not just in fashion but they look so ultra glamorous. The long style of Gladiator sandals are easily available these days and can also make your leg look longer. With the lace up closure these knee length long sandals are ideal to draw attention and to suit the style of modern women.
7. Silver Strappy Long Sandals For Women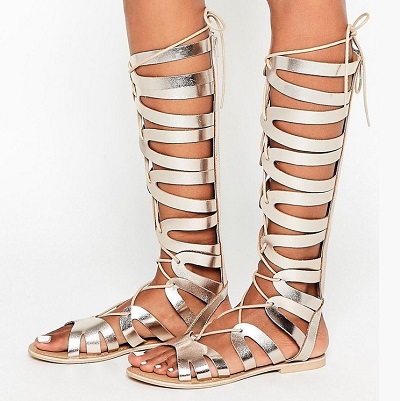 Made with the PU material, these silver strap sandals are not only comfortable but easy to wear and they can also be paired up with different types of attires. So, whether it is for lunch outings, casual hang out or even for the date night, one can pair these with a nice sleep fitted skater dress. These embellished flat Gladiator sandals will do the work.
8. Silver Strappy Medium Height Gladiator Sandals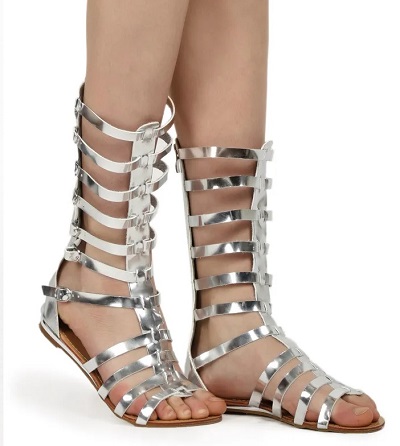 Made with the shiny strappy silver material, they are sure to draw attention. These sandals have a Zip closure at the back. They are not just easy to wear but highly comfortable. They are ideal to pair with a nice pair of is Capris, Chinos or even with the shorts.
9. Gladiator Sandals With Side Zipper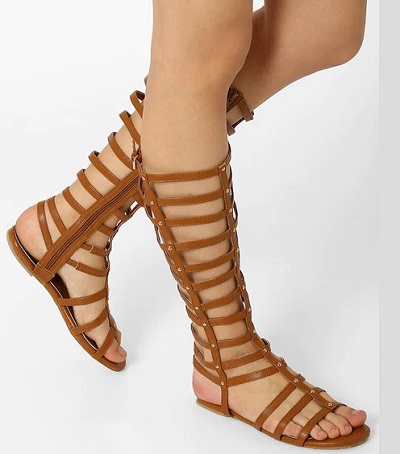 The Gladiator sandals for women mostly have the zipper given at the back, however here it has been given on the inner sides of the sandal. These are also made in a Gladiator pattern with lots of straps and open space to show the leg.
10. Designer Gladiator High Sandal Style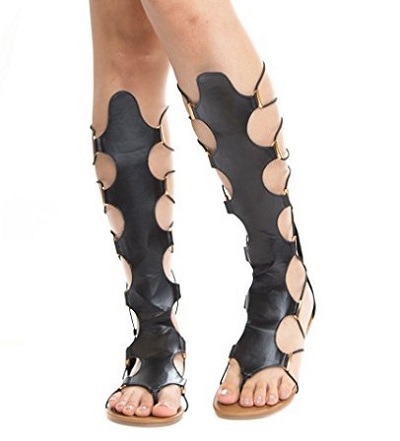 The sandal style is unique and is a bit different than the rest of the strappy Gladiator sandals. The lace tie is given at the back and leather panel is given on the front. This is for sure and nicely made sandals to pair up with your edgy outfit for clubbing Nights.
11. Stylish White Strappy Sandals For Women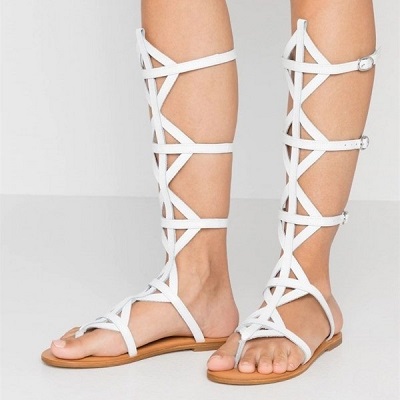 12. High Up Knee Length Gladiators Style Black Sandals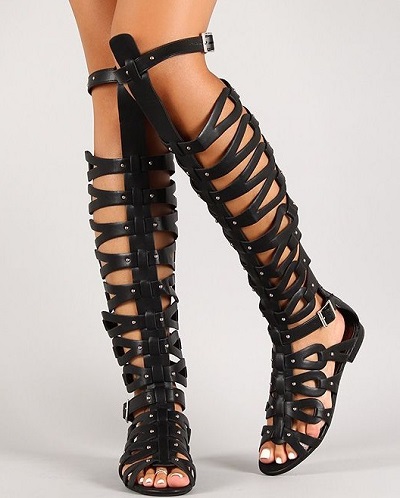 13. Black Leather Short Gladiator Sandals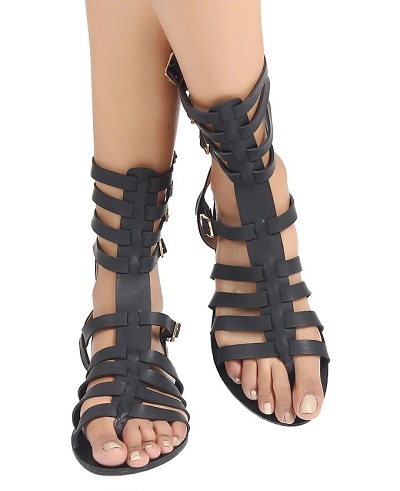 14. Zipper At The Back Black Gladiator Shoes Style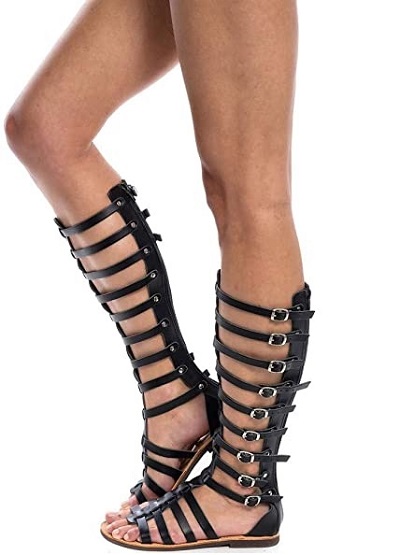 15. Very High Above Knee Gladiator Shoe For Women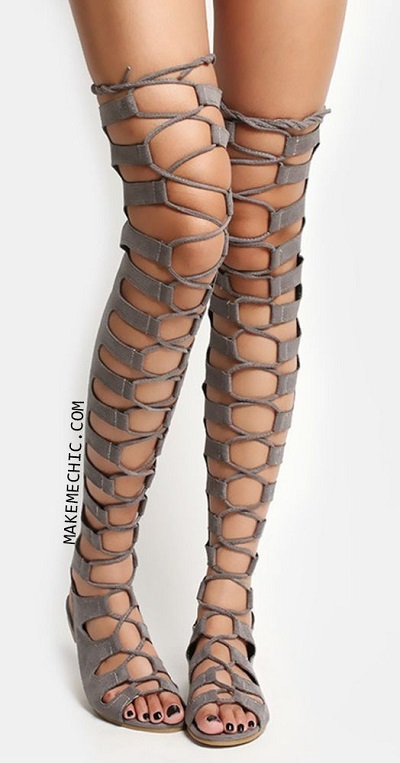 16. Golden And Black Strappy Gladiator Pattern Sandals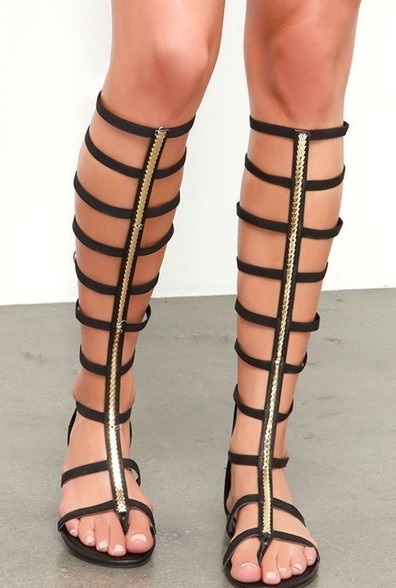 17. Skin Colored Zip Closure And Lace Up Sandal Style
18. Tan Lace Up Flat Gladiator Sandal For Women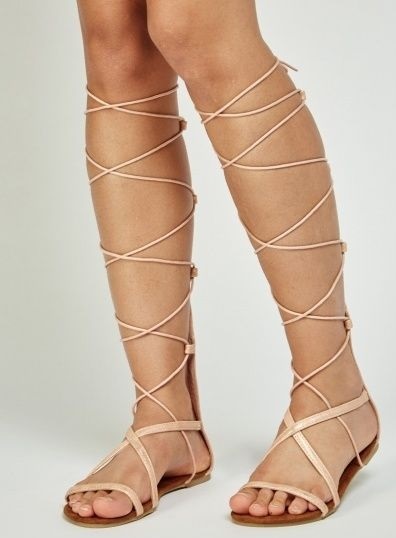 19. Flat Golden Thin Strips Sandal Style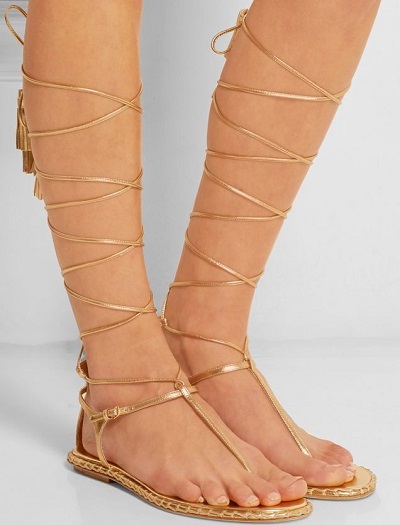 20. Aztec Pattern Flat Gladiator Style Long Sandal Design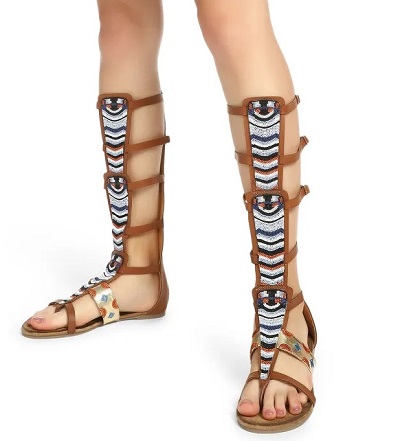 21. Ankle Lace Up Gladiator Style Sandal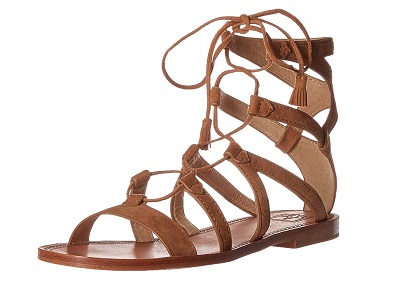 22. Golden Strappy Gladiator Ankle-Length Sandal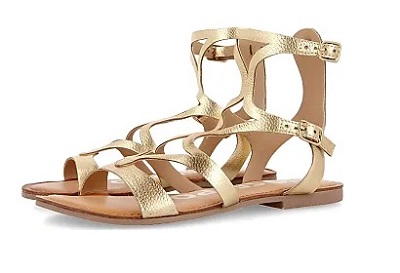 23. High Heeled Knee Length Long Gladiator Sandal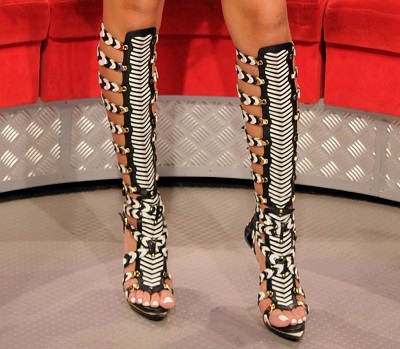 24. Wedge Heeled Brown Gladiator Style Shoe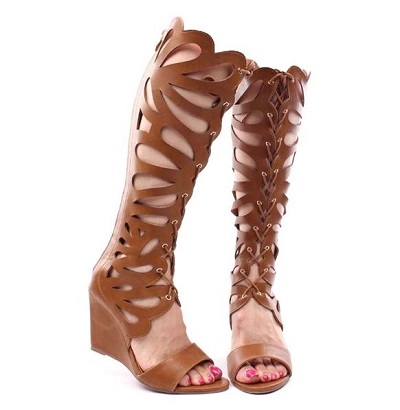 25. Embellished Strappy Block Heel Sandals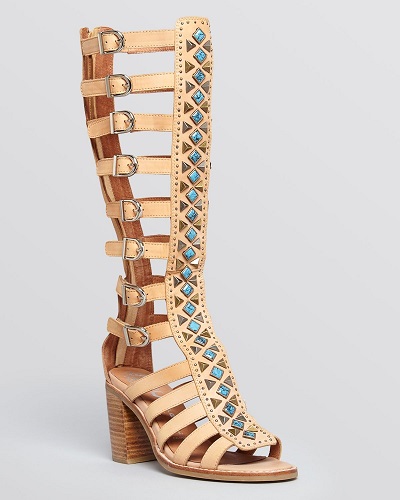 26. Wedge Strappy Sandals Gladiator Style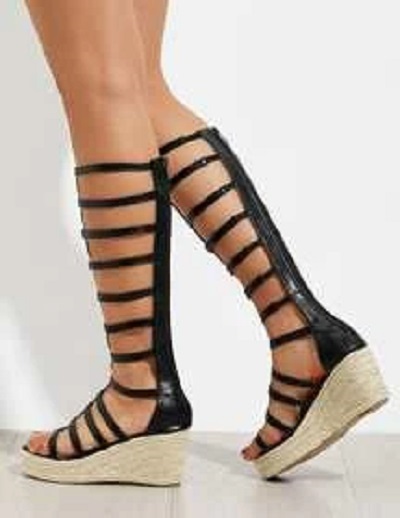 27. Brown Leather Ankle Length Shoes For Women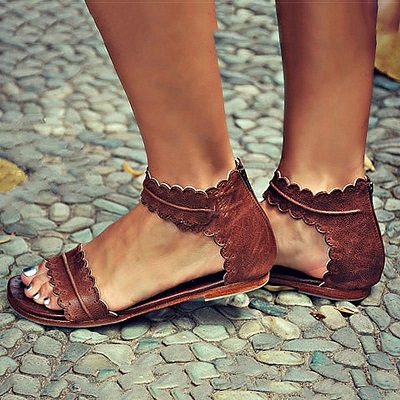 28. Platform Heel Strappy Gladiator Shoes For Ladies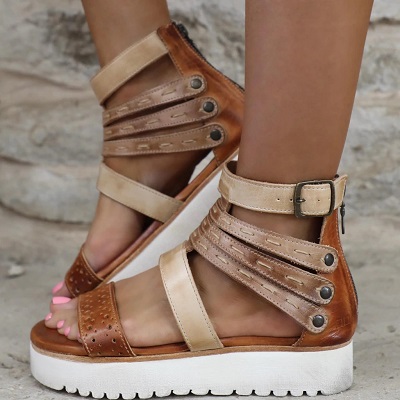 29. Casual Black Strappy Sandals Style For Girl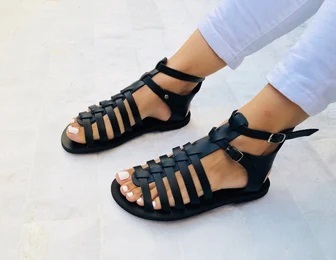 30. Flat Black Strappy Sandals For Ladies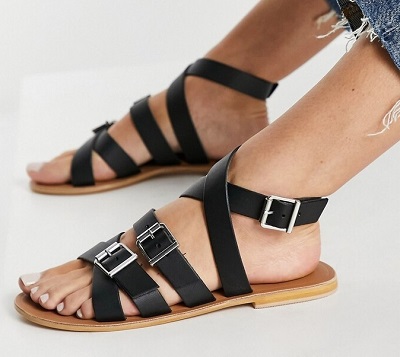 31. Tan Brown Flat Zip Closure Lace Up Style Sandal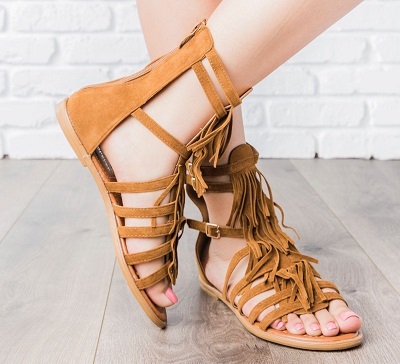 32. Office Wear Gladiator Style Flat Thong Styles Shoes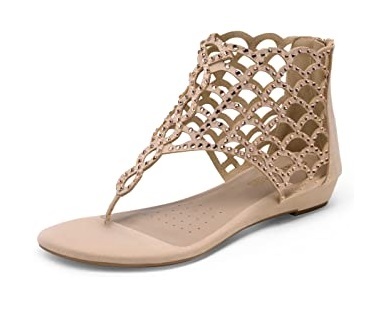 33. Simple Brown Ankle Length Sandal For Girls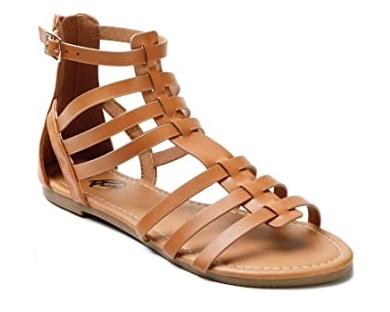 34. Gold Embellished Brown Strappy Sandal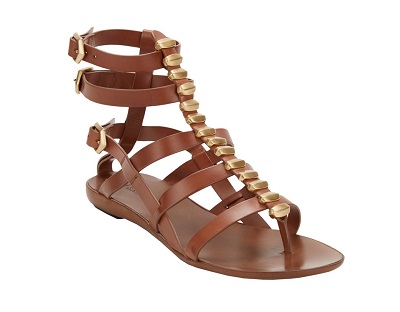 35. Black Front Zipper Gladiator Ankle Length Shoe For Ladies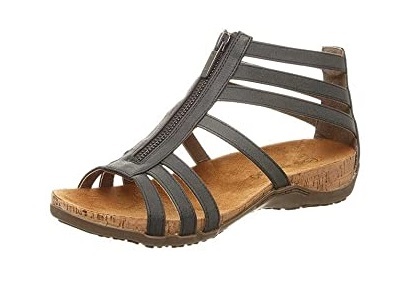 36. Simple Embellished Strappy Sandals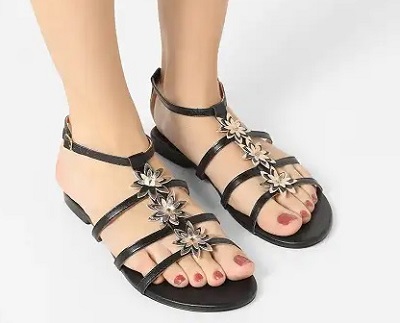 37. Mesh Off Strap Style Sandals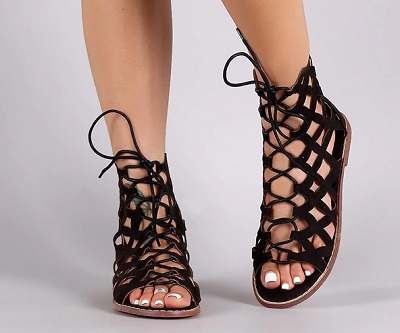 38. Simple Ankle Length Lace Up Closure Sandal Design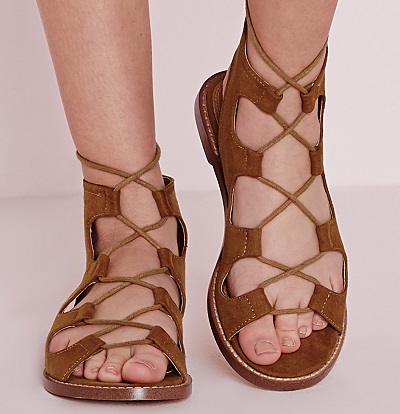 39. Partial Coverage Strappy Sandal Design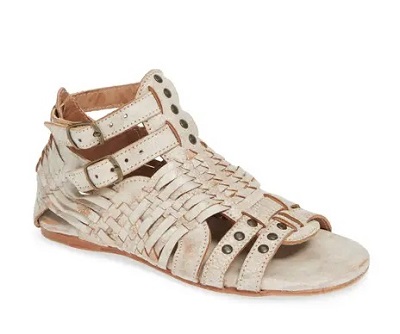 40. Thin Lace Ankle-Length Sandal With Back Zip Closure