Glam Up Powder Cream Review: I have been watching this Glam up powder cream ad coming on the TV for the past so many months. This is why I tried this product a couple of months ago. I like using the BB cream or the tinted moisturisers as they help make my skin look better than before without making it look as if I have used a lot of makeup or base like foundations etc. So, as per the claims this glam up cream will help to make the skin look good without having to use any other skin care products. So, if this cream really good or it was a waste of money. Let's find out in the glam up powder cream review.
Price of Glam up powder cream: This powder cream comes for 125 rupees in a tube form. It is available online ad in the shops where you can buy this cream.

Claims: This glam up cream product is manufactured by Vini cosmetics that also make Nufeel facial spray and the white tone face powder. I have used both of those products. This claims that this is the first powder cream which helps to give a sun protection and is easy to use.
How to use this cream: Just apply it all over the face and the massage on the skin to blend it.
Ingredients: Mentioned on the pack and they are too many. Really long list of chemicals in it.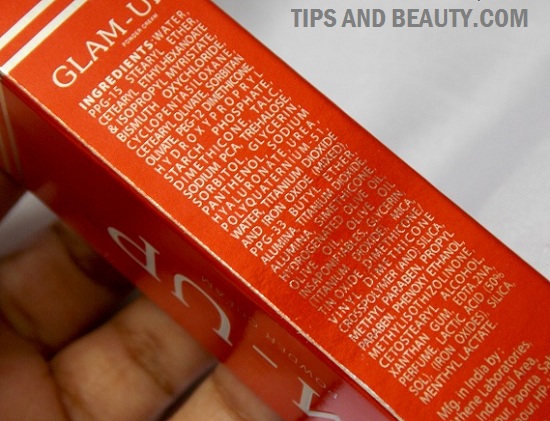 Experience with Glam up powder cream
This cream comes in a red tube with a black cap. The tube has an elongated nozzled thin mouth which is good as taking out product is easy and it is hygienic than the tub or jar like packaging. The cap is tight and it is a sleek tube which also makes the packaging of this cream to be very user friendly and travel with. The product, I mean this cream is not a smooth texture product. If you will see the pictures you can see that the texture is gritty though when I apply this cream it gets blended well without leaving any white acts of ashyness/ whiteness on my face.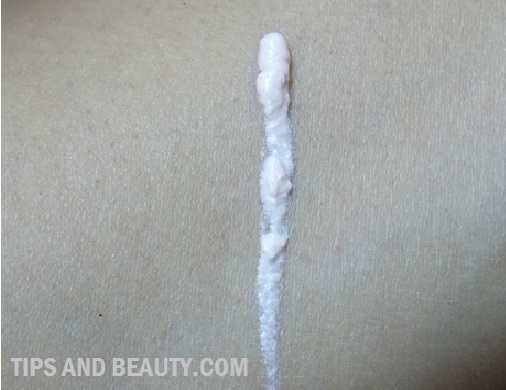 But the smell of this product is horrible. It smells like one of those scented pencils or colors that we have used as a child. I do not like too much scented products on my face as when a product as strong perfume that that means that lots of chemicals are there and to mask the smell of chemicals fragrance is added. Even if the product does not have too many chemical then also using such products can irritate the sensitive skin.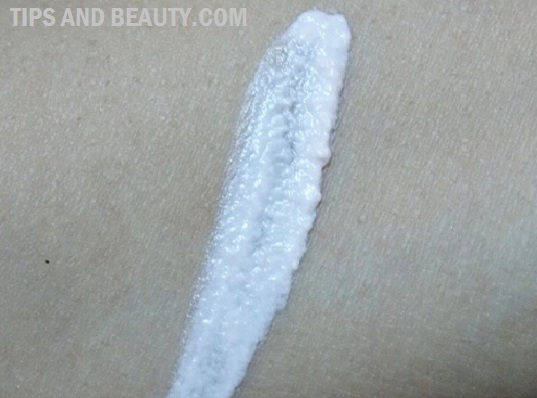 Anyways, so the cream gets blended well and face feels matte. It is okay for the oily skin as it will keep the skin free of oils for 2-3 hours then some oils and sebum comes on the oily parts. Like in my case my nose and chin gets oily fast. This cream has not break me out yet but I saw some redness on my face and I am sure that it has irritated my sensitive skin. I discontinued using this after that.
For dry skin this Glam up powder cream is not sufficient as it can give some coverage but no hydration or moisturization so you will have to use a moisturiser if you really want to use this product.
When it comes to giving some coverage and looking "special" as shown in the ad, I will say this gives just mild coverage less than the fair & lovely BB cream and do not cover the acne pimple marks.
So, summing up now for this powder cream
Pros 
Packaging is good
Price is okay
Gives mild coverage
Does not break me out or caused cane
Easy to bend the cream
Cons 
Very horrible strong smell
Has irritated my skin
Does not cover the blemishes and pimple marks on the face
Does not control oil for too long
Long list of chemicals
Rating: 2 out of 5
Glam up powder cream gives mild coverage on the skin even less than a regular BB cream. The smell is very strong and it has made my skin go red at certain spots after using this for 2-3 days though it has not given me acne or pimple but honestly, I will suggest you use any other BB cream or tinted moisturiser but not this cream. There is nothing in it that you should buy this leaving the other similar options like BB creams from Pond's Fair & Lovely, Garnier, Maybelline, Avon etc which are of similar price and better than this glam up cream at least.