A golden dress can be your best mate while getting ready for a party. A sequined  Golden dress can be your ultimate mate to become the centre of attention without trying much. Golden dresses are available in different patterns and varieties. There is so much that you can do with a Golden dress and the best thing is to not do much. Yes, when it comes to the golden sequin dress then it's best not to overdo it. Gold dress is in many ways quite over-the-top; hence you don't need a lot of accessories to go with that. This is why, if you know how to wear or style a Golden dress for women then you should know the trick.
Types of Gold Dress and Styling
There are different types of gold fabrics? Like that can be dull gold, vibrant gold, silvery gold, Orange or yellow gold or it can be earthy colored gold as well. It doesn't matter what shade of gold you are wearing, all it matters is the right and minimal accessories. If you are wondering which shoes you should wear with your champagne or golden color dress. Here are some of the tricks.
For bright gold colored dress, you can wear silver colored shoes or gold pumps.
Light Golden dress can look really good with black or darker shoes, if not the bright metallic hues. You can wear strappy sandal, neutral pumps or even the stilettos with lace ties.
While going for a fully sequin studded or glittery outfit in Golden shade, black suede pumps look good.  If you are wearing a short black dress, then black tights or stockings can also work with black pumps or black shoes.
Even with the golden short dresses or gowns, gold in pale color can also work. One can try the strappy stiletto, Heels, pumps, mules or even that block heeled shoes with the Silver Golden dress.
Gold is a color that is actually really gorgeous to style because you don't have to think a lot just to keep few tricks and tips in mind and you are good to go.
With a gold outfit, a bag with bronze or even a copper colored hue can work. If you are wearing a Golden dress has two tones, then you can also wear neutral colored shoes.
Silver colored shoes and belts and clutches can also go really well with the deep dark gold dresses.
Types of Latest Designs of Gold Dresses for women
Let's take a look at the different types of Golden dresses for women.
1. Gold Midi dress for women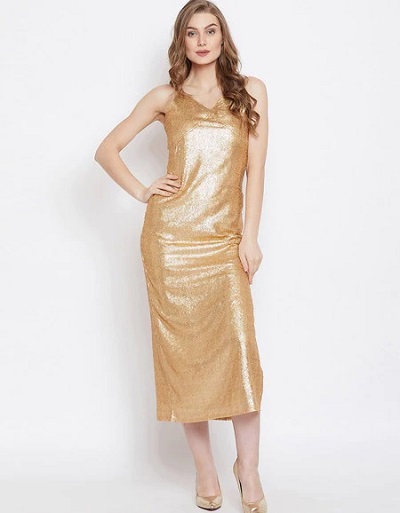 The Golden dress is made with the shimmery gold fabric and is a simplistic dress that can be paired with gold pumps for a great party look. With just a dainty Bracelet and a necklace, you can certainly look like a million bucks. It can be a clubbing appropriate dress for a date night dress as well.
2. Gold Boat Neck Mermaid Gown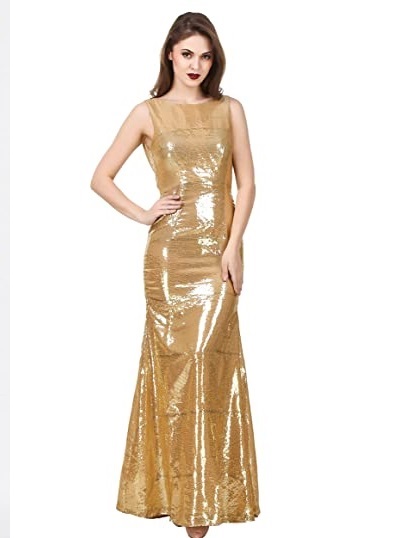 The mermaid gown in Gold shimmery fabric is an absolutely wonderful dress to have. With the deep dark lipstick and the perfect makeup, this gold dress is going to make you stand out in the crowd. The best thing about this is its perfect gold color and the way it has been designed. It is really simple and a Boat shape Neck line is ideal for different body shapes for a lasting impression. The heels will be barely visible which is why women can try pumps or block heels with this gown.
3. Boat Neck Short Gold Shift Dress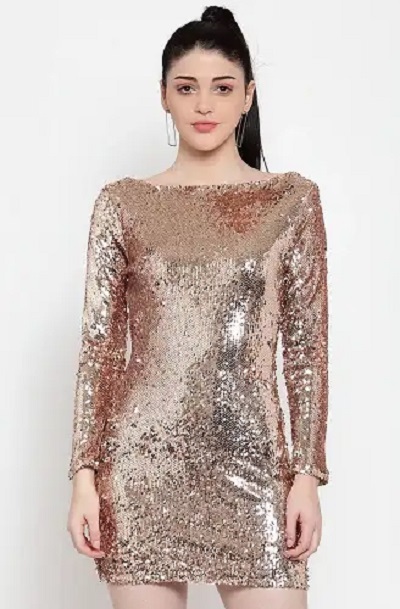 This dress is a party or clubbing appropriate dress and it is entirely made with the gold color. The gold sequin dress has boat neckline that appears to be really in trend currently. Undoubtedly, the full sleeved short dress can be paired up with neutral shoes and a silver or Gold Clutch bag for the clubbing nights can make you head turner.
4. Short Gold Wrap Dress Design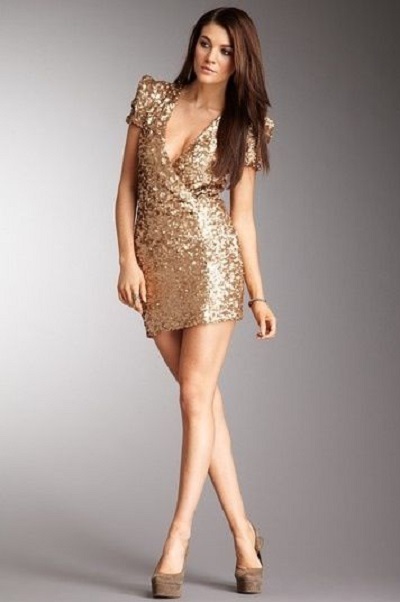 The wrap pattern dress with V shape neckline in this gold dress is one of the best things to have. This dress is a gold sequin dress that truly demands attention. It would certainly give you this party look but certainly you need the right kind of accessories and the shoes. The outfit is just gorgeous when you can pair the right accessories and the proper shoes to make you the surprisingly easy going, sassy and chic. A gold clutch would definitely be the cheery on cake for such dress.
5. Golden Fringe dress for women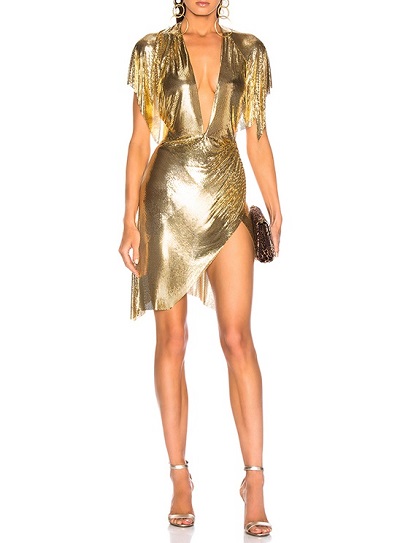 The fringe dress is a Cocktail function and a party dress for the modern confident women. The dress has the golden fringes on the shoulders and has an uneven wrap kind of hemline which is actually quite unique. The dress is not fully covered in sequin or anything like that, it's just the summary fabric has been used to create this attractive outfit. To wear such outfit it would be better to have a well toned body. It would look wonderful with the neutral colored ankle strap open toe heel and a Clutch bag in the neutral color makes the match made in heaven.
6. Short Gold French Mini Dress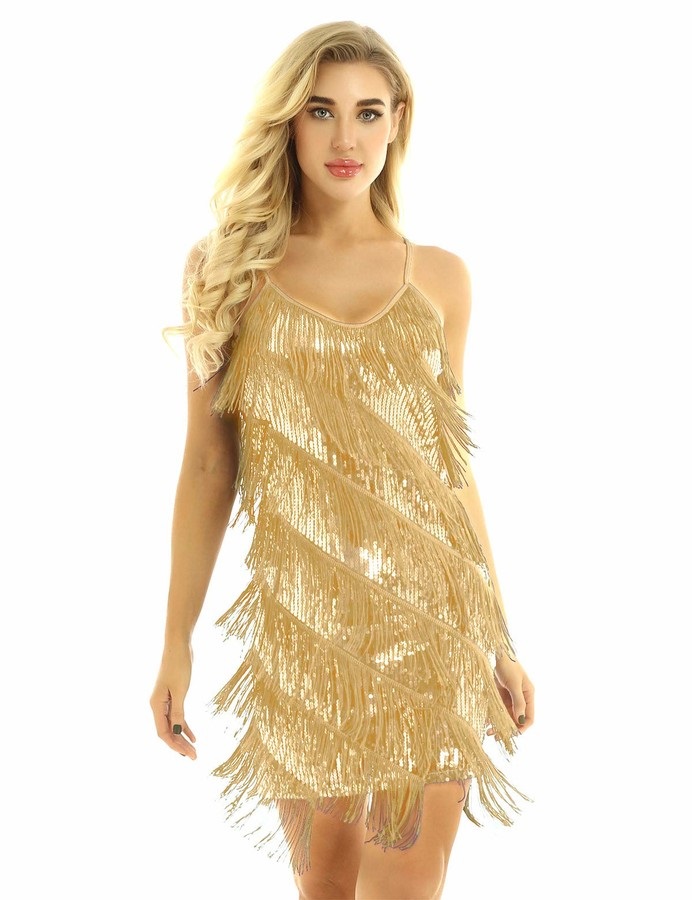 It is a bodycon inspired mini dress in the gold sequins. This dress looks heavily embellished and quite heavenly. The dress has a slightly yellowish gold touch to it and a very deep neckline because of the string pattern neckline. To style this beautiful Golden dress for woman, one can simply wear beige or pale pink ankle strap heeled pumps to go with.
7. Dull gold cotton Maxi dress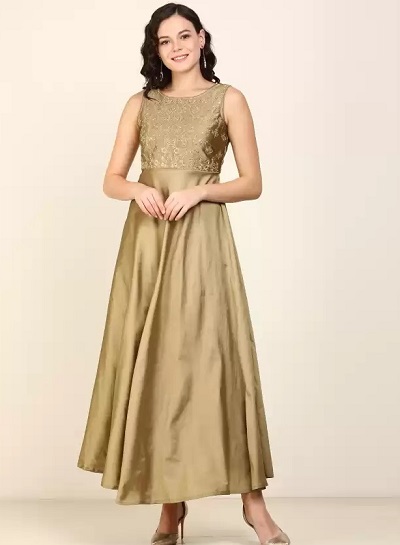 This full length cotton Maxi dress has a golden sort of color which is not shimmery or Shiny. So it can also be referred to as the deep top color. It has boat shape neck line with the sleeveless pattern which looks quite simple and formal. The dress is quite simple therefore, for the Cocktail functions a statement earrings or a statement necklace can do the work. Sequin studded pumps can also make this dress more festive appropriate.
8. Golden Long Shrug Inspired Gown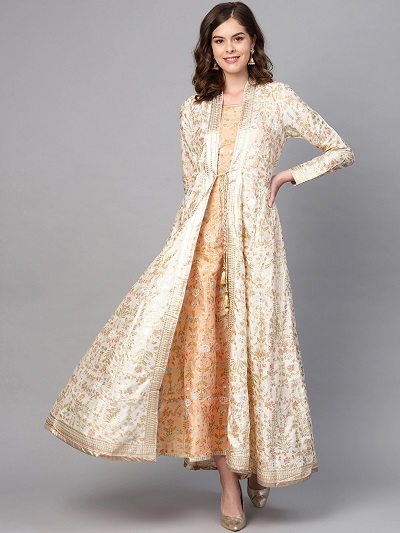 The dress is actually an Indian dress for festivals. Here the Peach colored sleeveless kurta goes inside and on top of that a long shrug is there. It has a beautiful embroidery and actually makes it quite festive wear kind. It is a beautiful and breathtakingly amazing dress that are good for the Indian functions and festivals gold pump pumps can be tried with dress.
9. Light Gold Batwing Sleeve Short Dress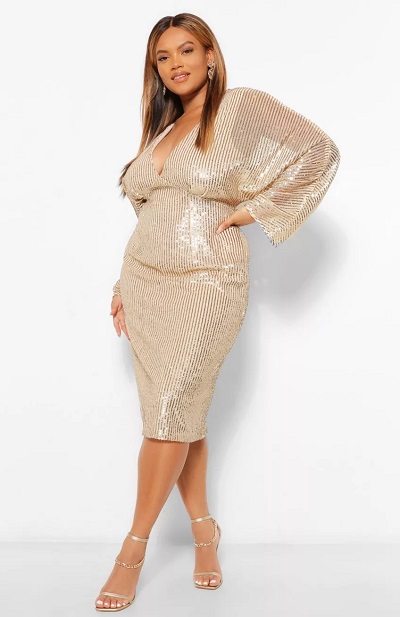 The dress is actually a mix of a body con and an Empire design length dress. One can pair this dress with neutral heeled sandal to complete the look and take a black clutch to shine in any party. This dress is ideal for the man with the toned body but it doesn't matter what body type you have, you can wear whatever you like. You can wear gold earrings to go with this nice and gorgeous looking dress.
10. Gold Wrap Midi Dress Design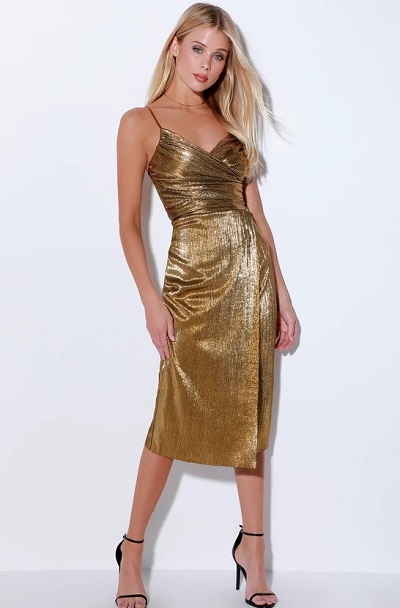 Made with the shimmery copper infused golden color this dress is ideal for women who would like to rock any party. This dress is a sleeveless dress that is ideal for the Cocktail functions during the spring summer season. One can complete this contemporary Golden outfit with the open toe heels and a nice matching bag. This is ideal for the formal events and actually the parties, where you have to be all dolled up and be pretty.
11. Wrap Style Silver Golden Dress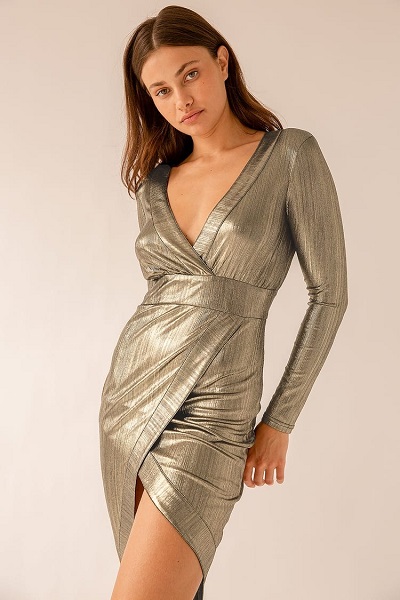 12. Halter Wrapped Dress For Parties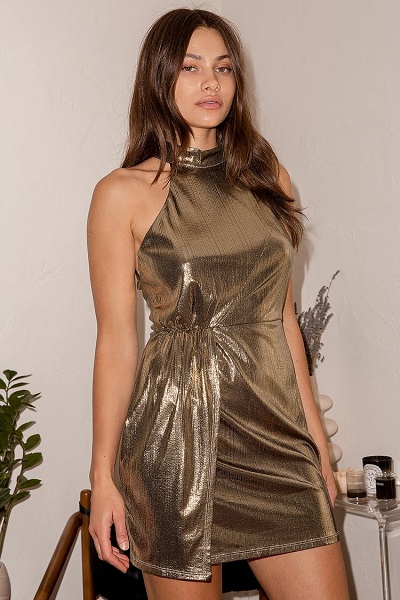 13. Full Length Golden Gown Dress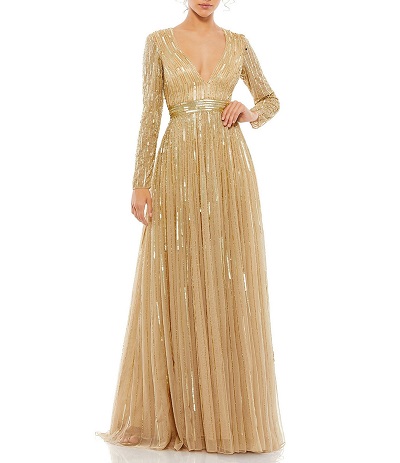 14. Off Shoulder Full Length Golden Gown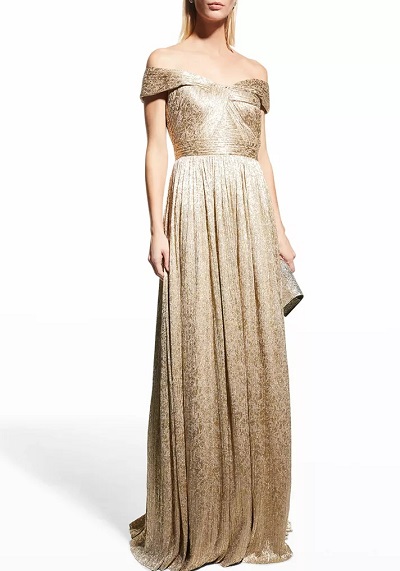 15. Gold Side Slit Off Shoulder Gown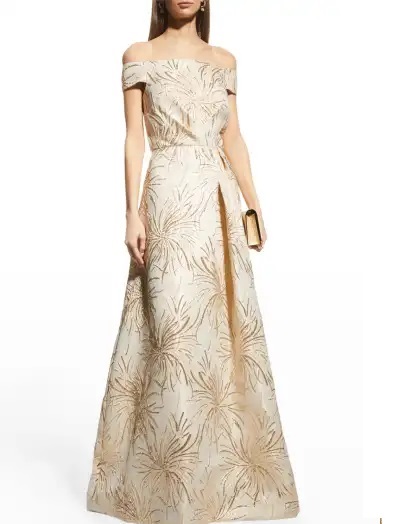 16. Golden Lehenga Kurti Design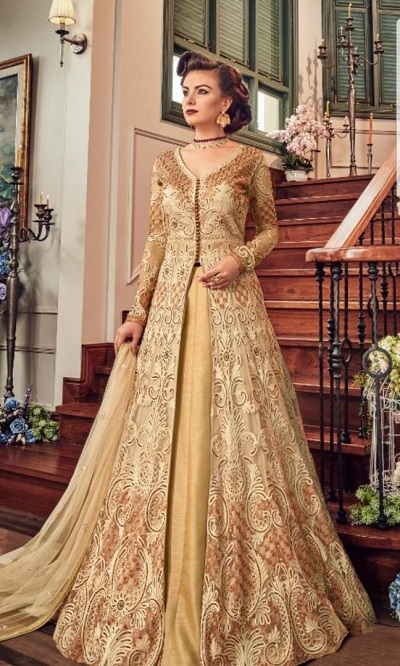 17. Short Rose Gold Halter Style Dress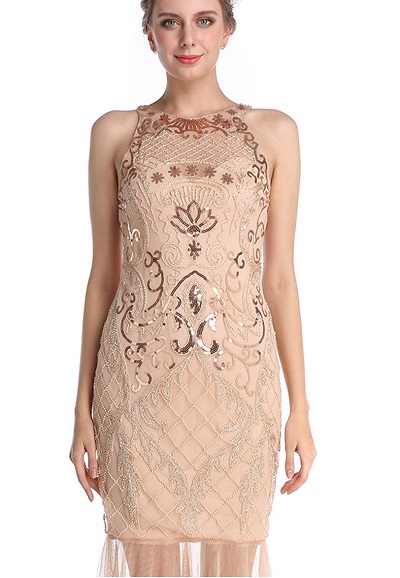 18. Golden Lace Fabric Gown Design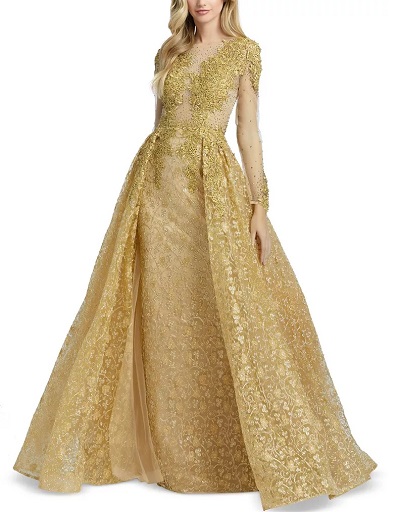 19. Party wear Golden Umbrella Dress for Ladies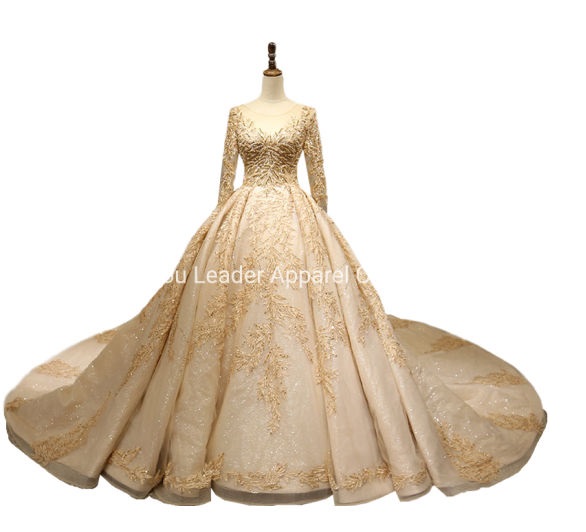 20. Off Shoulder Princess Gown Design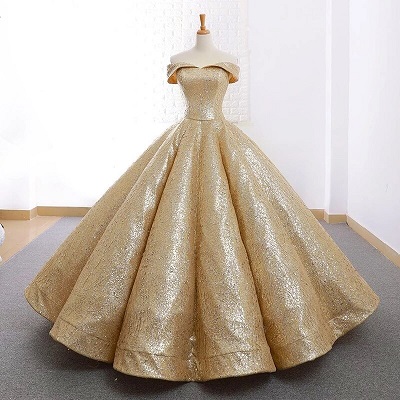 21. One Shoulder Golden Fit and Flare Dress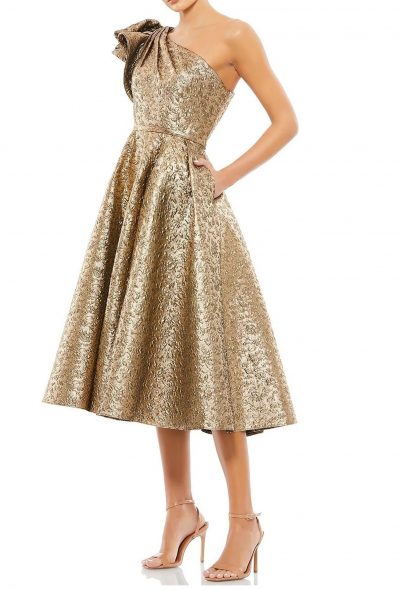 22. Simple Golden Dress Design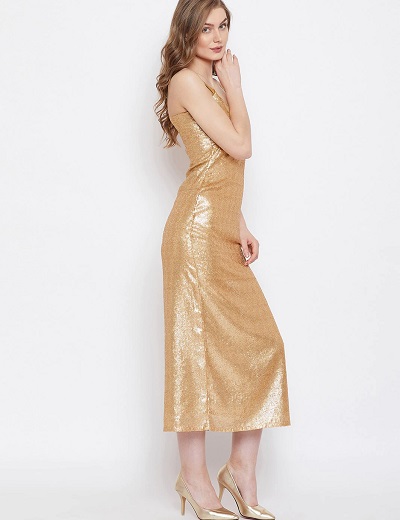 23. Halter Empire Velvet Dress Design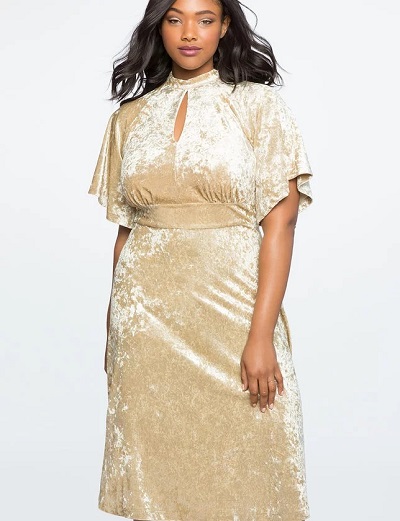 24. Belted Golden Wrap Dress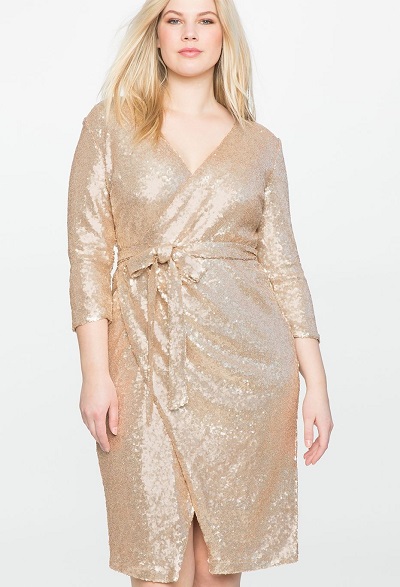 25. Gold Full Sleeve Short Sheath Dress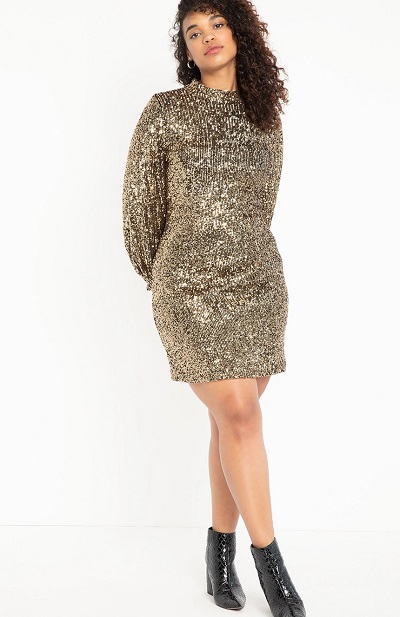 26. Gold And Black Sequin Studded Dress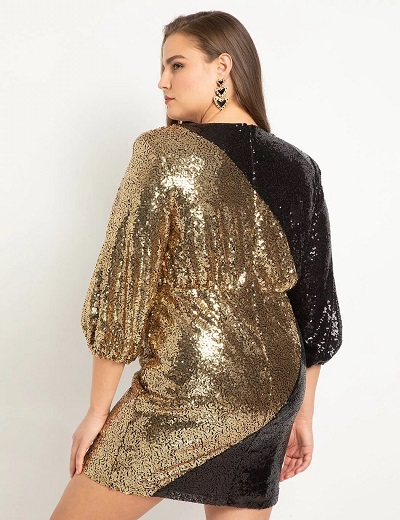 27. Golden One Shoulder Bow Short Dress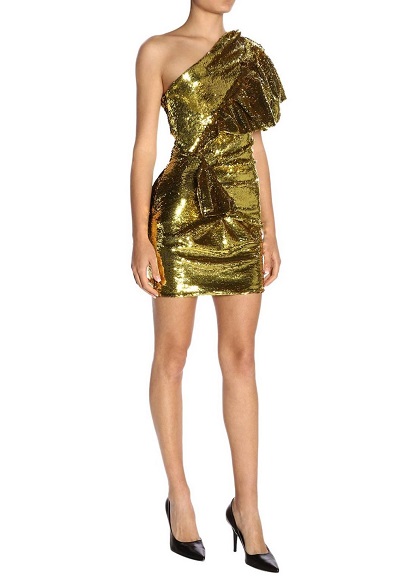 28. Halter Style Golden Evening Gown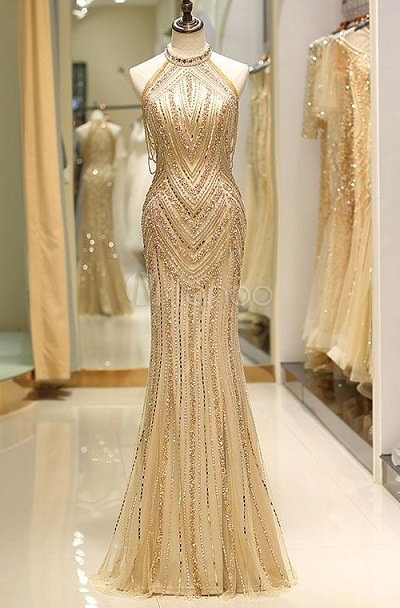 29. Mermaid Style Golden Net Gown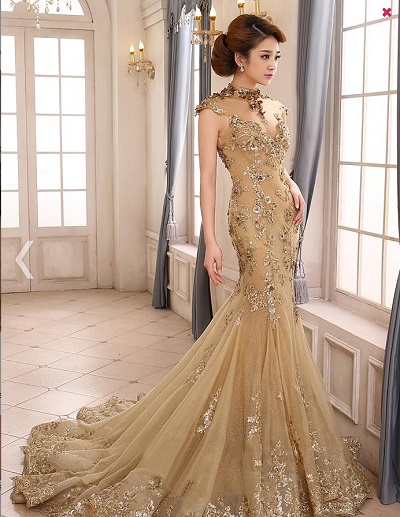 30. Prom Golden Glitter Net Gown