Golden is a color that is appropriate for festival and wedding. Golden salwar suit set looks amazing on most of the skin complexions. In this article, we are going to talk about the latest golden suit designs for women. Mostly Golden suites are worn for parties, festivals, occasions, engagement, ceremony and more. So, even if you want you can have a nicely made golden gym outfit for your Karva Chauth or post bridal.
Latest Designs of Golden Suit for Women
Let's take a look at the latest golden suit designs for women, that can be worn for the weddings, Puja ceremony, festivals, events and parties. The embellished designer golden suit in golden color will certainly make you look a stunner. Golden dresses can be worn with either golden or any contrasting colored jewelry and minimal should be the key when it comes to the jewelry.
1. Floor Length Net Golden Anarkali Design For Women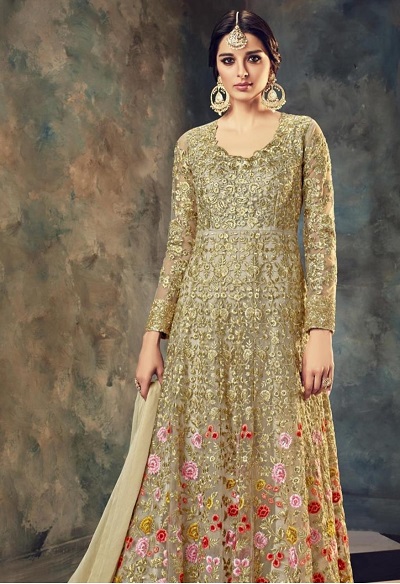 It is a really gorgeous and beautiful newlook golden suit design that is made in a net fabric. Golden thread work is used to make it look rich and royal. Contrasting colored floral pattern is also used with different colored thread. It has a light chiffon dupatta. This stylish and modern golden salwar kameez is more like and Indian ethnic weddings and parties.
2. Golden Chanderi Suit With Red Chiffon Dupatta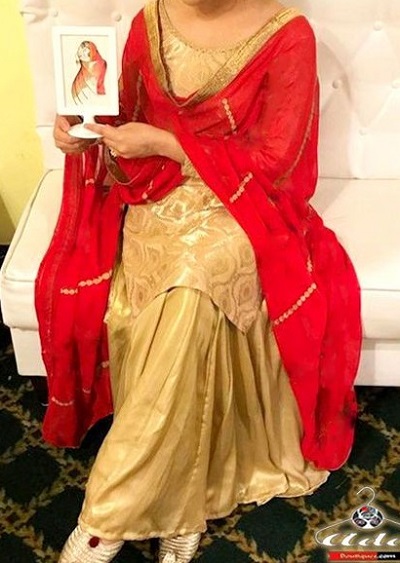 This is really beautiful full flared golden Punjabi style palazzo suit. A short kurti is paired with a palazzo pant. Georgette red Dupatta with borders is given with dress for parties for women. The golden suit set looks really beautiful and is even suitable for the puja, house warming and engagements.
3. Golden Anarkali Churidar Salwar Suit With Cape Dupatta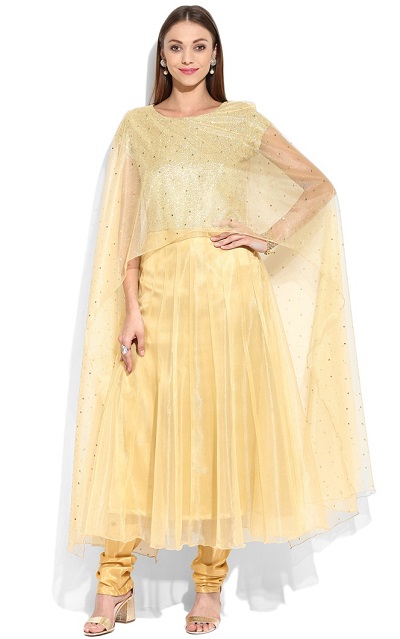 The Dupatta here in this Golden color Anarkali suit is not like a regular thing but it's more of a cape like design. The golden suit is long in length with golden shimmery churidar bottom wear. It is also a party-wear ladies suit dress that is appropriate for your Karva Chauth and even for a friend's engagement.
4. Floor-Length Gold Mirror Work Anarkali Dress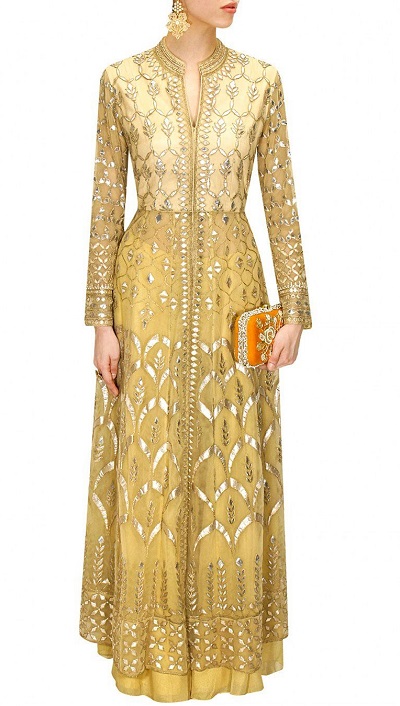 Use of the Mirrors and Gota Patti work in this dress has been done amazingly. And orange clutch is added with this dress that is making it even prettier. The best part about this dress is the Exclusive work that is done on Georgette fabric. Full sleeves are given with this stand collar dress. This golden suit for ladies t is an appropriate dress for the Grand events and weddings.
5. Anarkali Style Golden Suit For Women For Wedding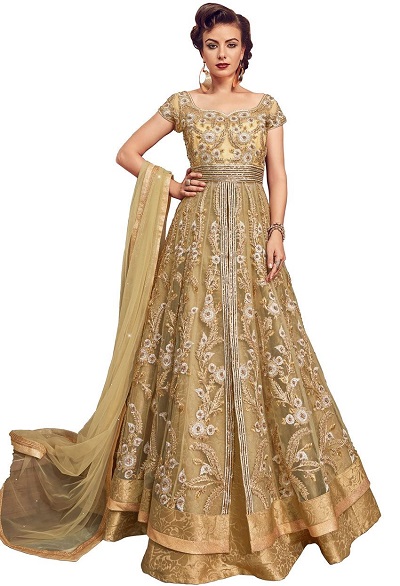 This golden suit combination is also a very grand looking dress that is made in a silk and net fabric. The top net fabric is heavily embroidered and it gives an appearance of a Indian gown.
6. Long Floor Length Anarkali Salwar Suit In Golden Color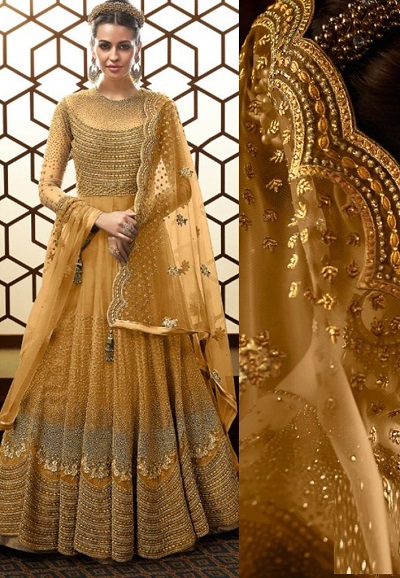 This dress is a perfect party wear and wedding wear dress. Even for brides, this is an appropriate dress that can be worn for engagement and roka ceremony. For the bride bridesmaids, such dresses are beautiful. This golden net fabric dress has beautiful embroidery old over. It has heavy embroidery on the upper part and the net neckline makes it really modern and beautiful.
7. Net Anarkali suit for wedding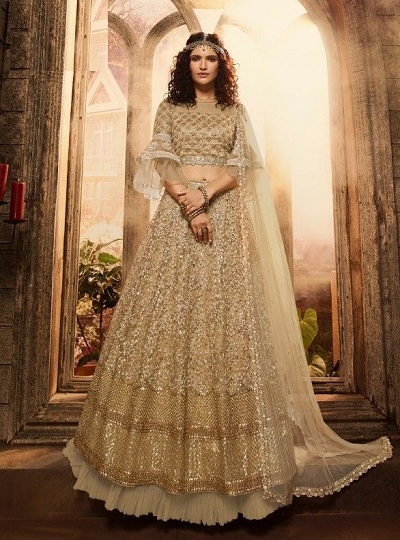 The golden Net Anarkali dress is an appropriate and beautiful dress that can be worn for weddings and parties. If you don't figure out which color to try for a grand event, this Golden dress would certainly help you out.
8. Golden Silk dress For Parties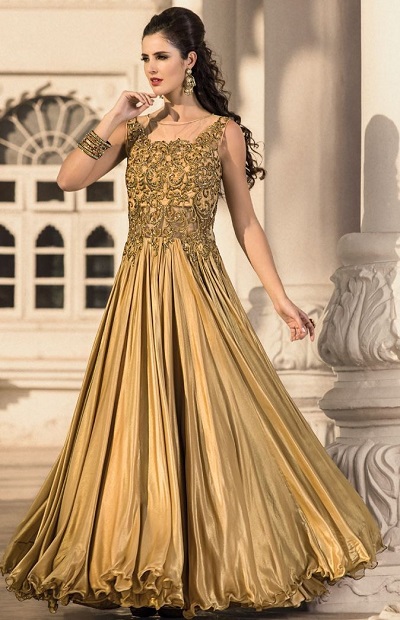 The gorgeous sleeveless golden salwar suit dress has beautiful embroidery on the upper part and the rest is just plain simple. The plain outfit is beautiful and looks really elegant.
9. Golden salwar suit with plazo pant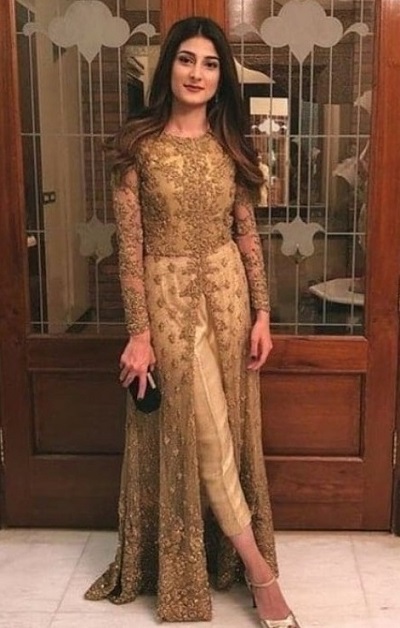 This beautiful Golden dress is amazing and extremely modern looking. Golden cropped trousers are paired with this dress. It is made in net fabric where in centre slit is also given.
10. Golden Anarkali suit for weddings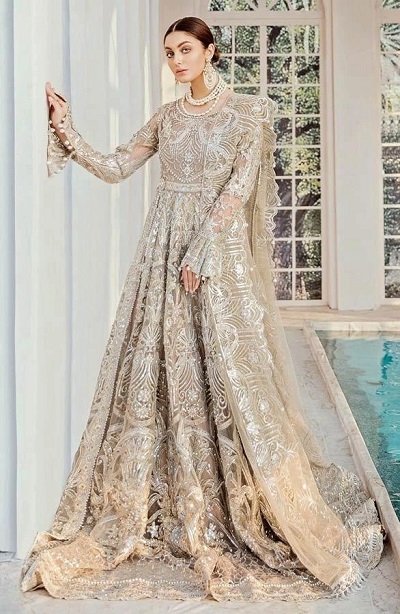 The designer golden Anarkali suit with peach embellished dupatta wedding wear Golden and peach suit for women for wedding.
11. Heavy Peach And Golden Dress For Women
12. Golden Suit With Full Flared Plazo For Parties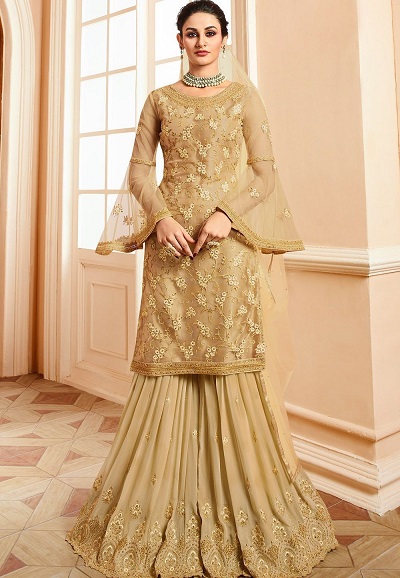 13. Designer Mirror Work Golden Suit With Patiala Salwar For Parties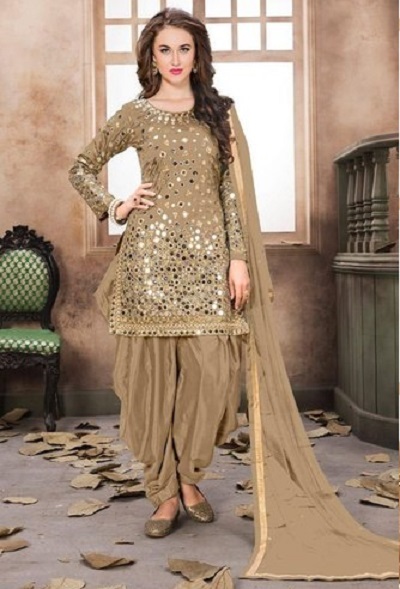 14. Party Wear Sleeveless Golden Suit With Blue Chanderi Patiala Salwar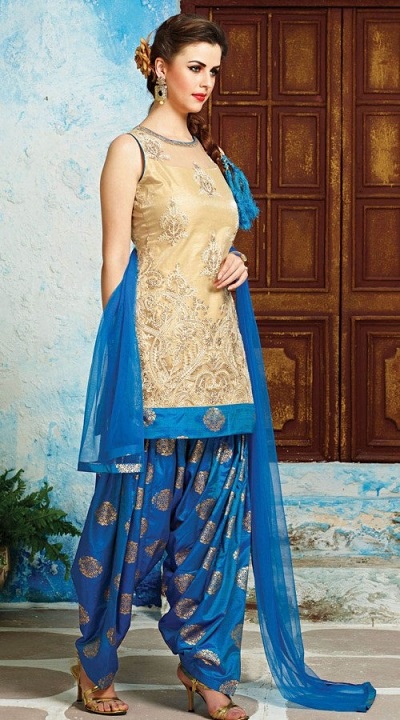 15. Golden Punjabi Short Suit With Patiala Salwar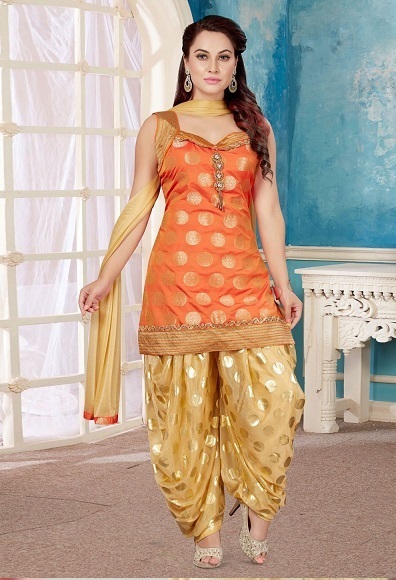 16. Chanderi Short Kurti With Full Flared Punjabi Salwar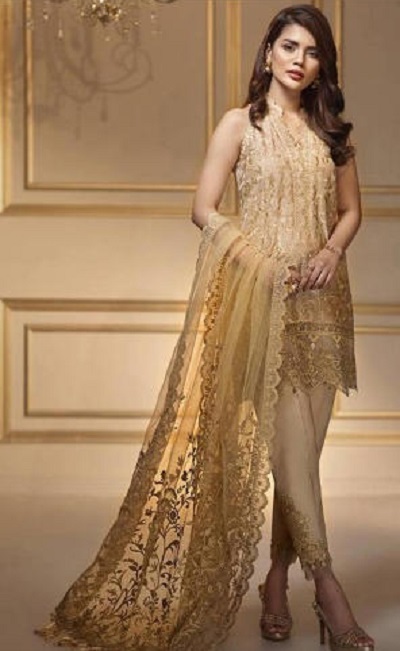 17. Sleeveless Golden Short Kurti With Trouser Pants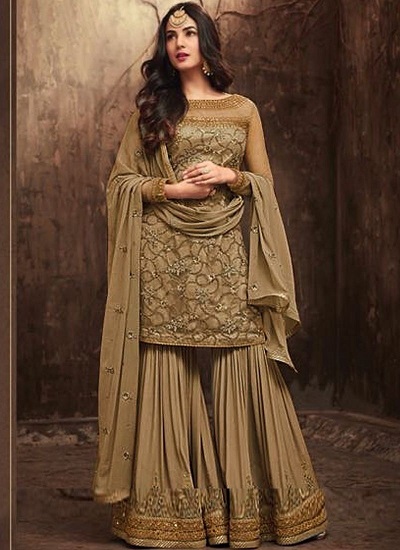 18. Golden Embroidered Shahara Suit For Parties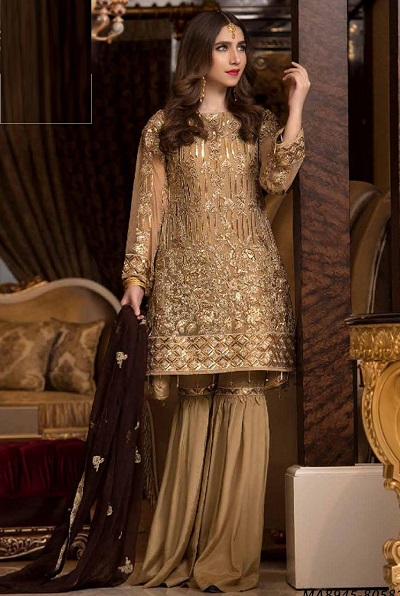 19. Party Wear Long Golden Brocade Suit With Churidar
20. Heavy Sequin Studded Short Punjabi Suit With Golden Salwar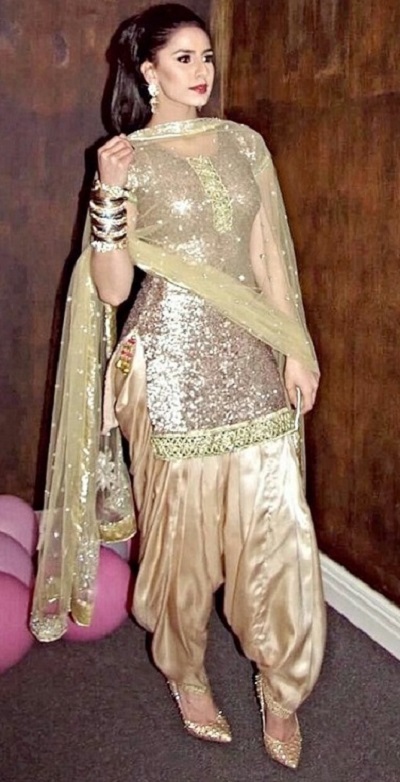 21. Silk Long Golden Suit With Banarasi Pink Dupatta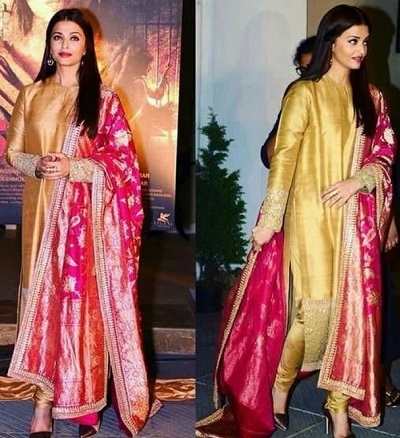 22. Dark Golden Punjabi Suit With Patiala Salwar And Net Dupatta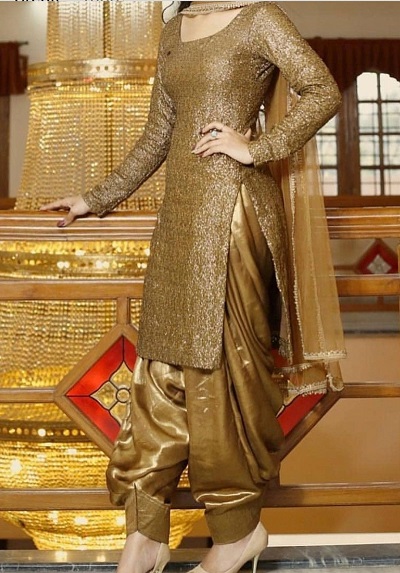 23. Long Golden Jacket Style Salwar Suit For Women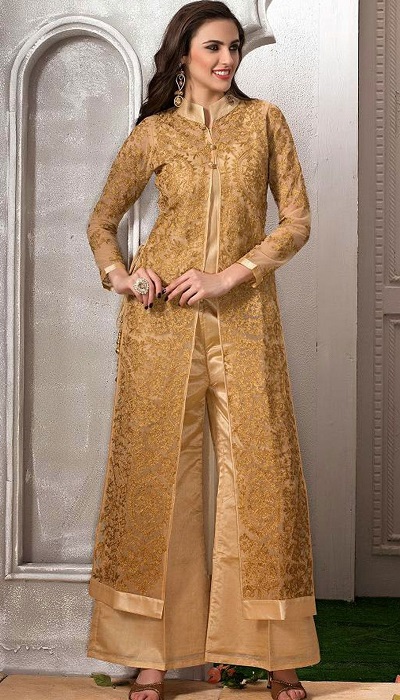 24. Party Wear Long Anarkali Suit For Women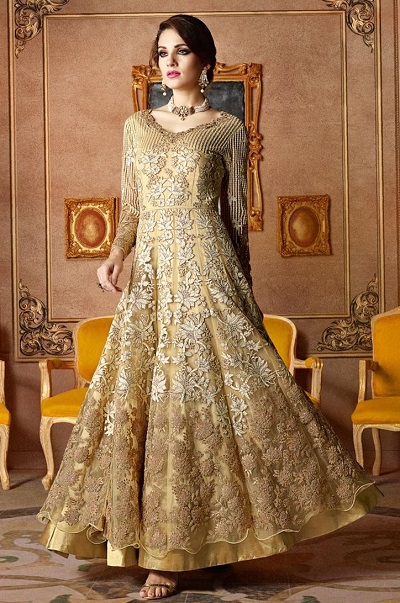 25. Golden Heavy Anarkali Style Suit For Bridesmaid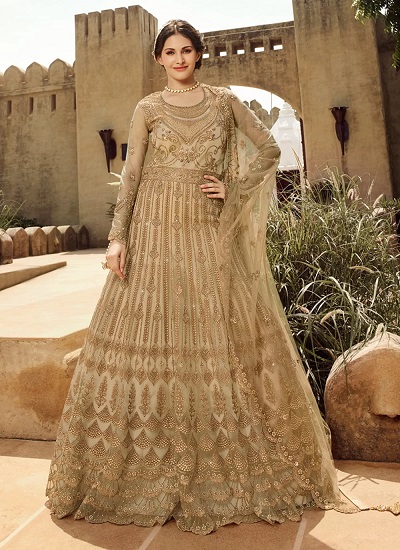 26. Short Frock Style Salwar Suit For Women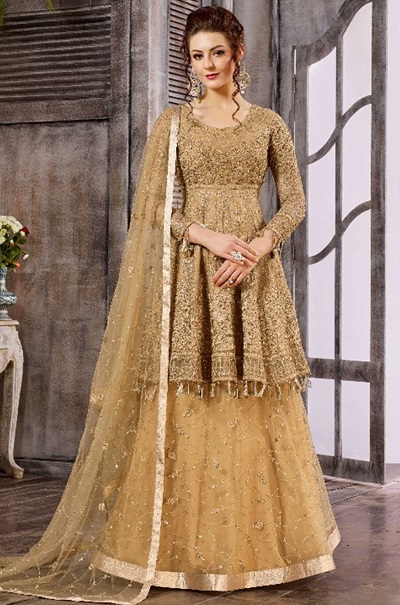 27. Long Golden Chanderi Silk Suit With Churidar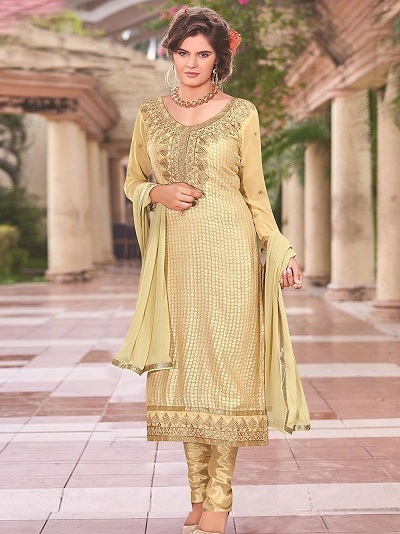 28. Golden Anarkali Suit With Churidar
29. Silk Printed Gold Suit With Trouser Pants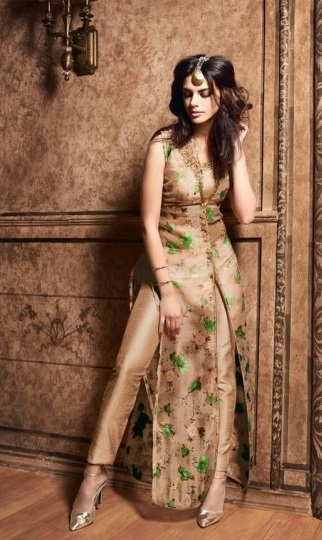 30. Stylish Golden Net Anarkali Suit With Centre Slit And Trousers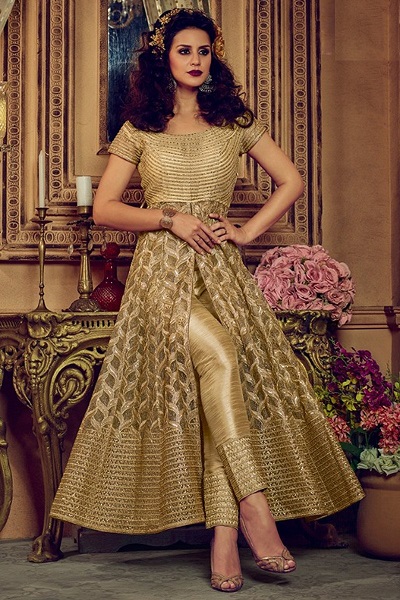 31. Very Heavy Bridal Golden Anarkali Suit With Net Dupatta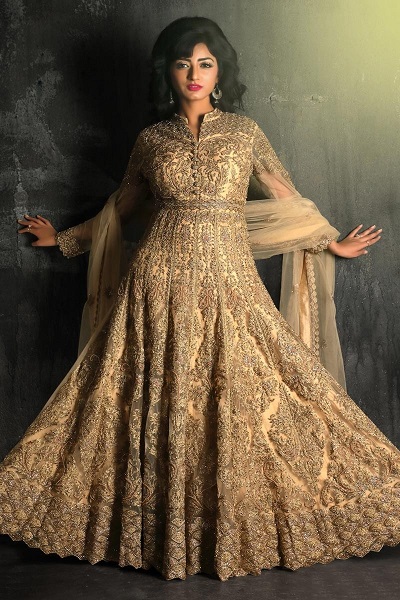 32. Bridal Wear Net Golden Suit With Skirt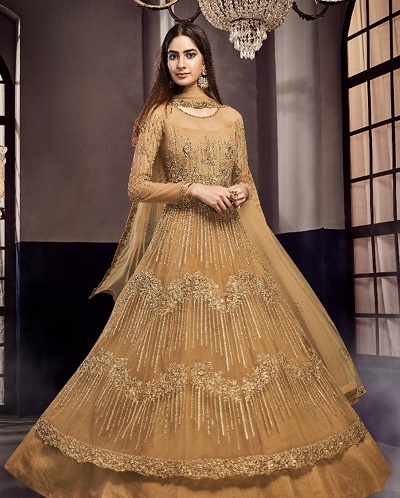 33. Heavy Thread Work Golden Anarkali With Churidar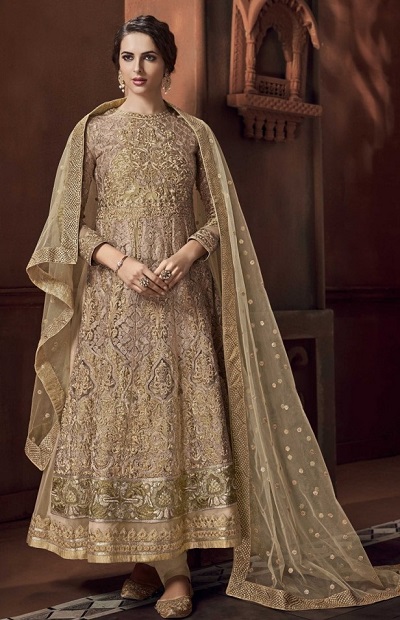 34. Long Floor Length Silk Golden Anarkali Suit With Printed Dupatta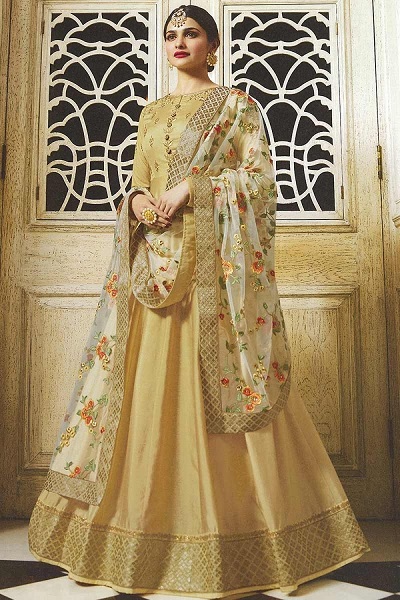 35. Short Golden Kurti Full Flared Patiala Salwar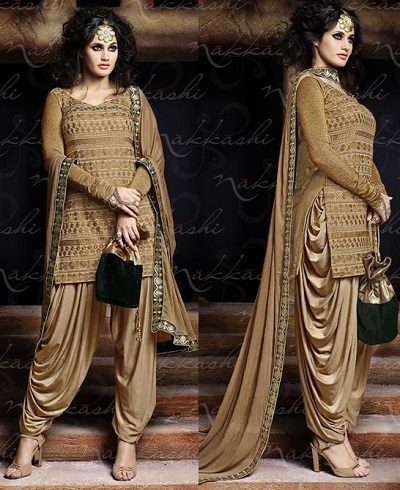 36. Designer Golden Suit With Skirt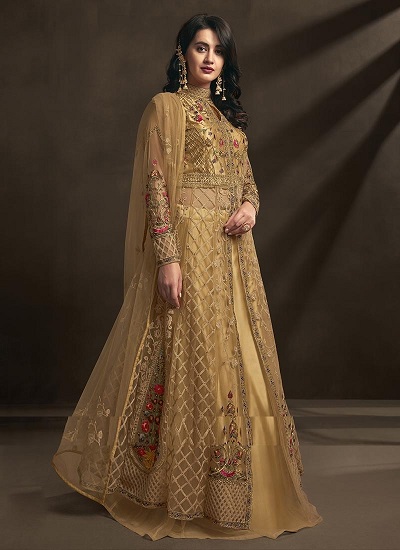 37. Stylish Net Short Golden Suit With Sharara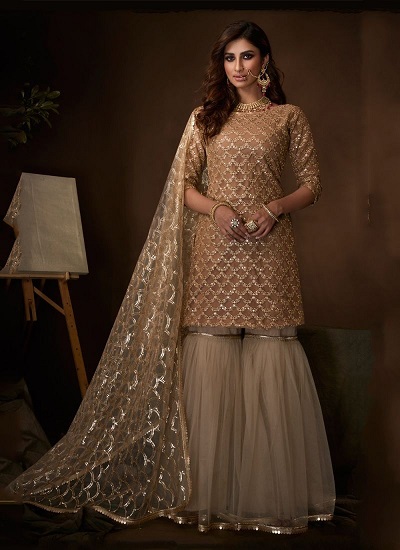 38. Simple Golden Chanderi Suit With Red Salwar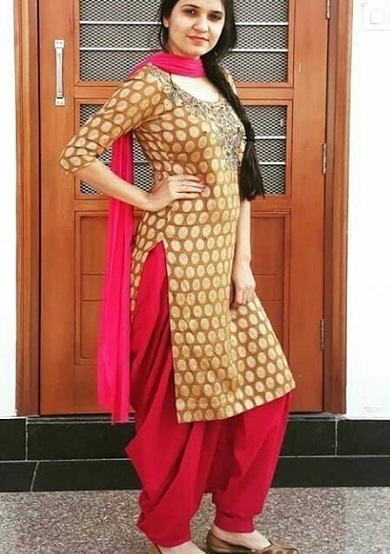 39. Punjabi Golden Suit Salwar With Phulkari Red Dupatta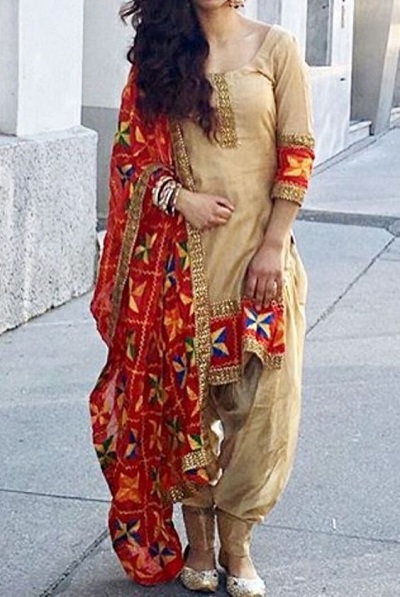 40. Shimmer Golden Short Punjabi Suit With Phulkari Dupatta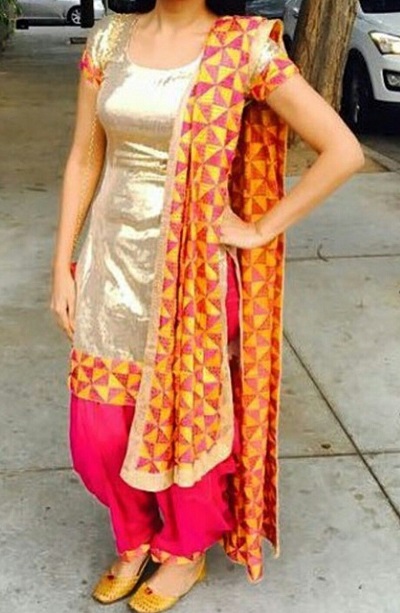 41. Wedding Wear Golden Dress For Brides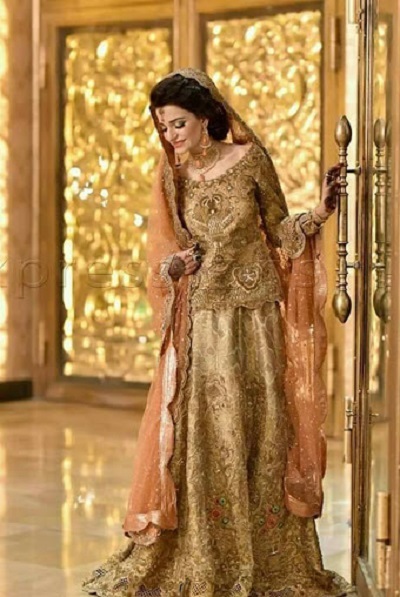 42. Short Golden Frock Kurti With Patiala Punjabi Suit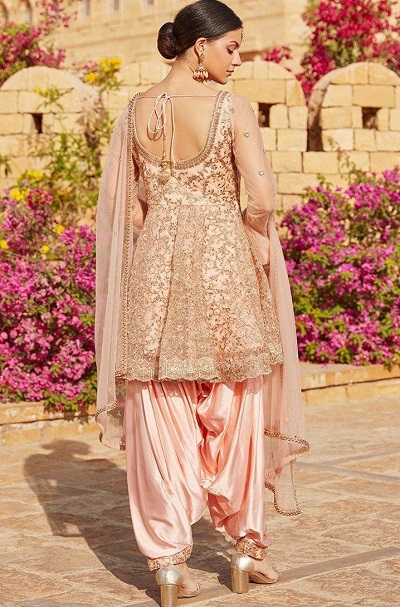 43. Golden Punjabi Suit With Trouser And Velvet Maroon Dupatta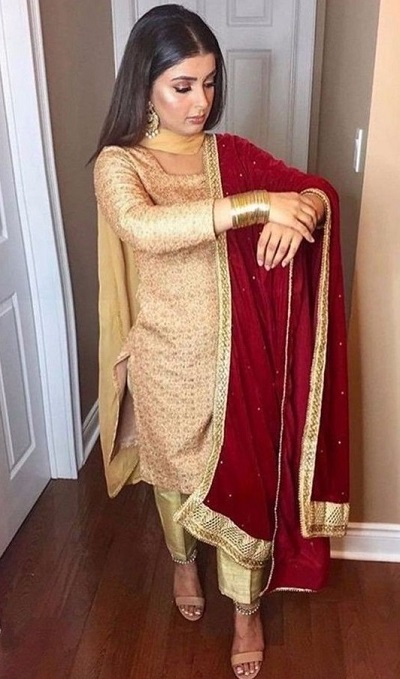 44. Stylish Silk Golden With Chanderi Orange Dupatta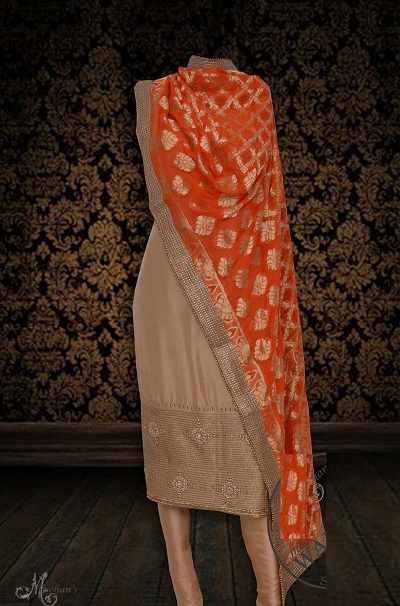 45. Bridal Long Golden Suit With Blue Dupatta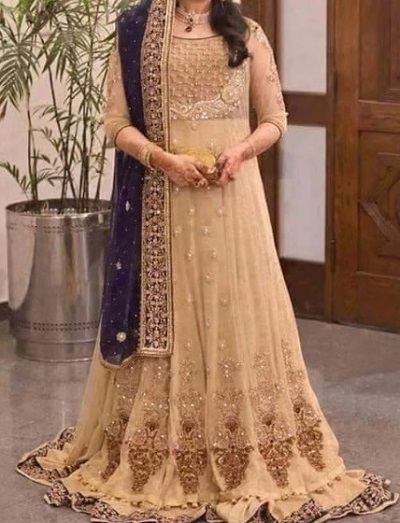 46. Heavy Bridal Golden Suit With Lehenga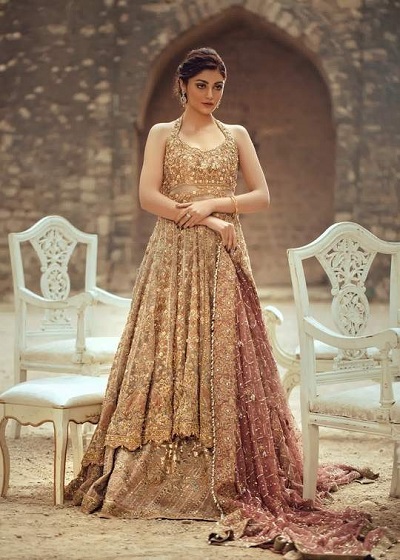 47. Bridal Wear Golden Suit with Lehenga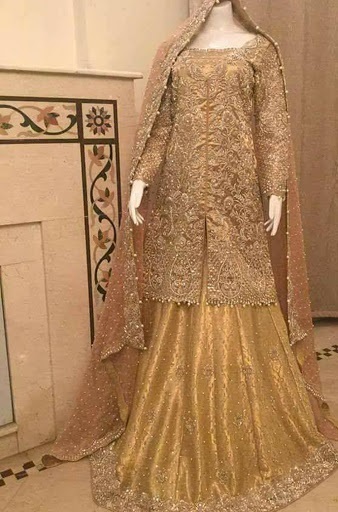 48. Designer Heavy Bridal Golden Lehenga Kurta Set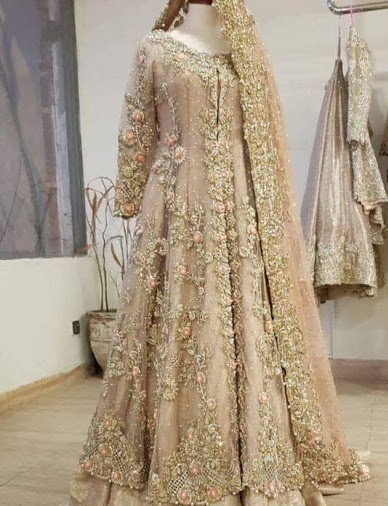 49. Party wear Net Sequined Golden Punjabi Salwar kamaeez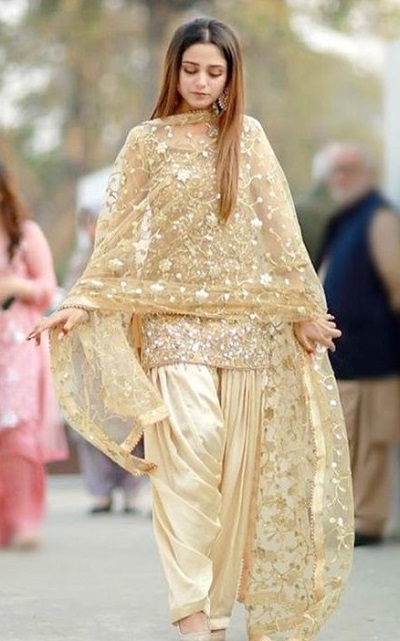 50. Gota patti Work Long Silk Kurta palazzo suit set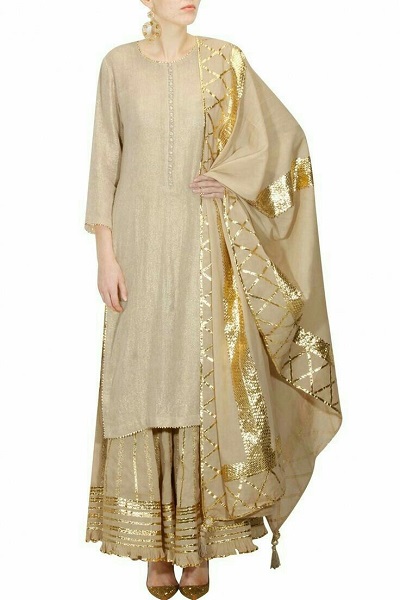 These are the latest designs of Golden suits for women. The beauty about a golden suit is that these can be worn with different combinations and can also be worn for different occasions. If the golden salwar suit is very heavy then, wear them for the events like weddings, parties and festivals and if they are not very heavy or embellished like the golden silk plain salwar suits, then it will be better to use them for the puja, roka, ring ceremonies and more.