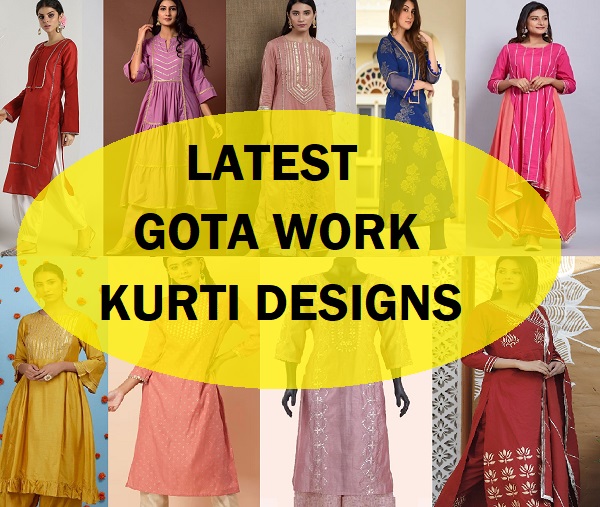 Gota Patti work is really popular and the fact that the make your clothes festive appropriate is what makes women like this form of embellishment work even more. To adorn the beautiful Indian traditional clothes with the gota patti work a design is made using the gota patti all the gota Border. They can be gold silver or copper or different kinds of gota colours used. Basically the gota colors are mainly the earth and neutral tones. The shine and glimpse of shimmer that these metallic gota borders give is amazing and is a highly recommended when you want beautiful embellished clothing for the traditional festivals or functions. As a matter of fact, gota work is less heavy than the other type of embellishment work involving beads, sequins, pearls and metallic motifs. This is why, the same amount of zing and bling can be seen in your clothes without the heaviness.
Latest Designs of Gota Patti Kurti And Kurta For Ladies
The different designs and types of the gota work kurti are simply intricate and look stunning. They can make any simple kurti or kurta really party perfect. The best thing about a gota patti work is that it is suitable for women who do not like to wear heavy clothing.
So, here we've compiled this catalogue of the latest gota patti work and gota border kurtis and kurtis for women.
1. Red Gota Work Salwar Suit Dupatta Set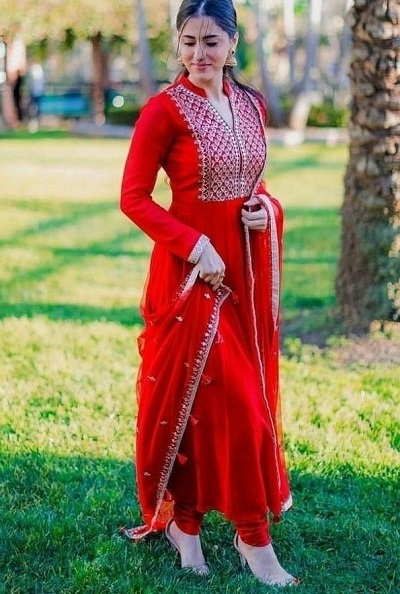 This gorgeous suit has a stand collar and a slit neckline. There is a square pattern as well which is embellished with a gota and embroidery work. The gota and embroidery work on front part is quite intricate and looks so neat and understatedly immaculate. Undeniably, the color of the suit is also beautiful and the fabric is rayon, which is yet another reason to choose it for a summer festival and festivities. This highly comfortable dress for women has dupatta too where, it has some beads, subtle embroidery and gota work goes on around all the four edges. Churidar salwar is also included in the set which is kept plain solid without any work. This suit is basically is an A-line suit with lot of flare at the bottom.
2. Festive Blue Gota Work Kurta Plazo Set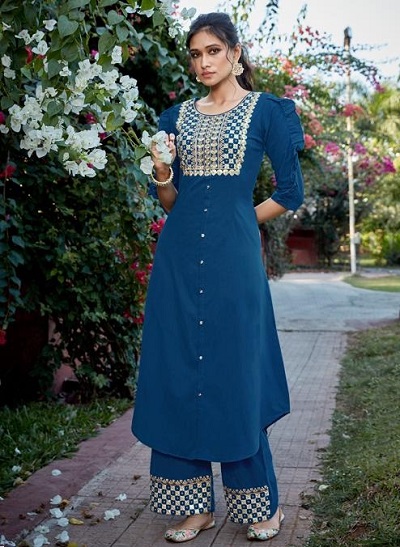 It's a blue soft pastel kurta plazo set with gota work embellishment. For the detailing and designing, there is a centre button placket and embroidery on the upper part. This kurta plazo set has a round neckline and it looks beautiful. The basic idea about this pretty plazo is the intricacy with which the embroidery and the gota work is used on this festival and Pooja ceremony appropriate kind of gota work kurta plazo set.
3. Chanderi Silk gota work kurti for ladies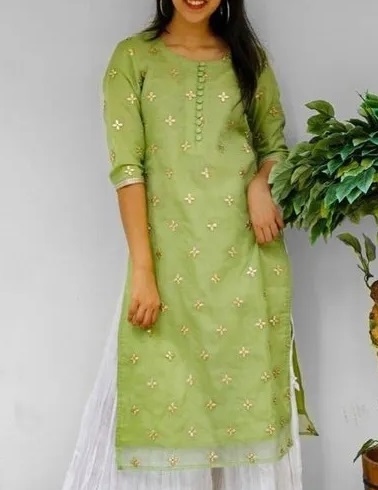 We are absolutely in awe of this beautiful kurti here. This kurta comes with three fourth sleeves and a simple round neckline further defined with buttons in the same color. All over the kurti there are small gota patti pattern flowers made to further make it embellished. It looks stunning, simple and loads of elegance comes with this kind of kurtis. This is beautiful and undoubtedly one of the best simple yet sophisticated kind of clothing for women. It can be paired with different bottoms as we always say like palazzo, trouser and leggings. However, we feel that the flared or wide legged pants would be the best to go with such beautifully made kurti for women.
4. Bell Sleeves A Line Kurta Dupatta Set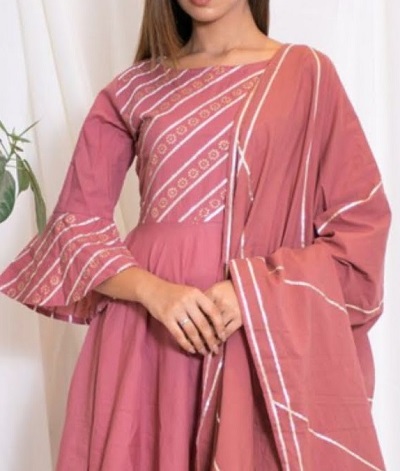 The gota work is done in diagonal lines over this kurta. It is a cotton kurta which is highly breathable and is undoubtedly suitable for the summer season. It has a boat shape neck line which is quite comfortable too. With Bell sleeves, this cotton kurta is highly recommended that it shall be paired with the stylish shoes and accessories to jazz up your look.
5. Blue Gota Work Kurti Design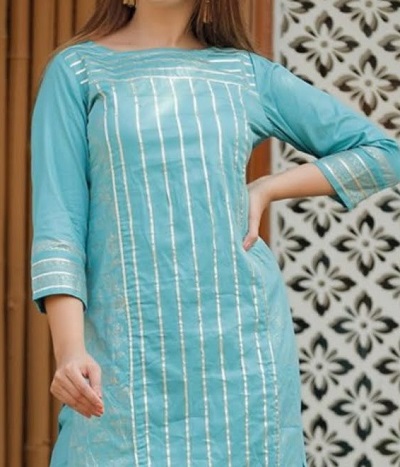 If you want a simple gota work kurti which does not have a lot of pomp and show but should be simple so that you can wear it for your office as well as for the college, then this is a perfect choice that can fit the bill. It has vertical and horizontal lines of gota border.  Thin gota borders are used, which is why we feel that it is one of the best simple looking kurtis with gota work.
6. Cotton Peach Gota Work Festive Kurti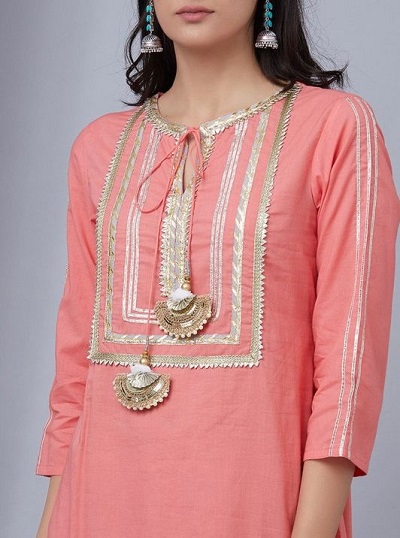 We feel that this is one of the best looking kurtis when it comes to the cotton fabric kurtis. It has a rectangular patch in the front that has the border of different size and patterns to add a beautiful design. For sure, this is a beautiful festive wear a kind of kurti that young girls can use for the pooja functions, Diwali, Bhaidooj, and even festivals like Eid.
7. Gota Flower Work Kurti For Parties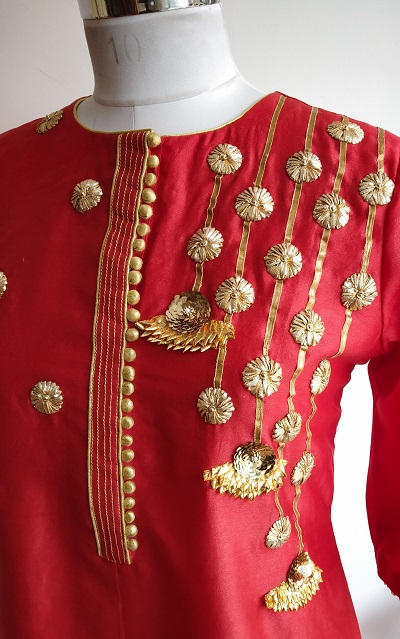 We are simply admiring this beautiful good to hear. This kurti is made in gota work but that go tries used to create small circular flowers. This actually creates a beautiful pattern which is quite eye-catching. This alluring kurta is quite decent and elegantly patterned and stretched. It is quite immaculate and looks quite sophisticated.
8. Stand Collar Gota Work Heavy Kurti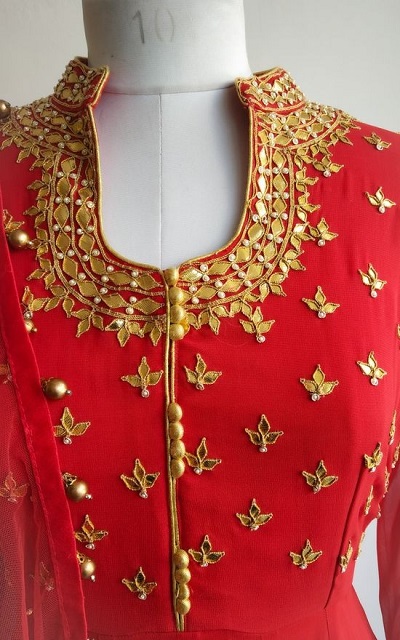 The stand collar has half collar, which is quite formal for women who would love to have the collared clothes. Collared kurtis are actually suitable for women with long and slender neck. Which is why, we feel that this is also one of the best looking kurti that has been a balanced with beautiful gota patti work. There is a button placket as well that has potli buttons stacked together in a group of four. It is definitely a festive of party wear kurti for ladies.
9. Simple Printed Gota Work Kurti For Women
When you need a simple kurti with gota work then this stylish kurti can definitely be in your list. It is a kurti and trouser set. It has elbow length sleeves and a Georgette fabric is also used to create a bell shaped on the sleeves to give it more attractive look and it is further defined with pom pom lace on the edge of the sleeve. The gota work is quite evident on the upper part of this kurti. It is not overboard on the embellishments like the shimmery glamorous kind of kurti but yes for small occasions and events this can surely be taken out of the wardrobe.
10. Bandhej Pattern Gota Work Kurti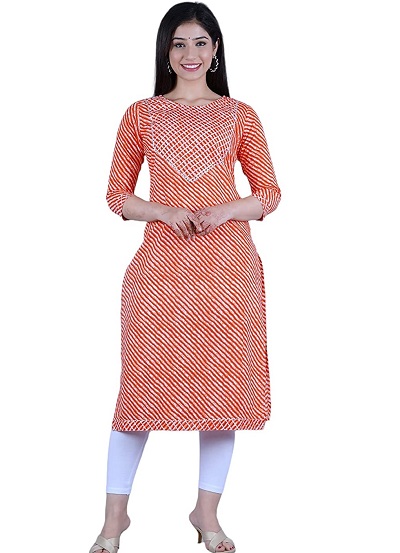 The ever popular bandhej or leheriya pattern has that exquisite tie and dye pattern. It was popular in the western part of India in the states like Rajasthan and Gujarat but it has undeniably made its presence felt all over the globe. This gota work kurti has gota on the upper portion of the kurti and it also has a round neck pattern.
11. Multicolored Festive Kurti For Women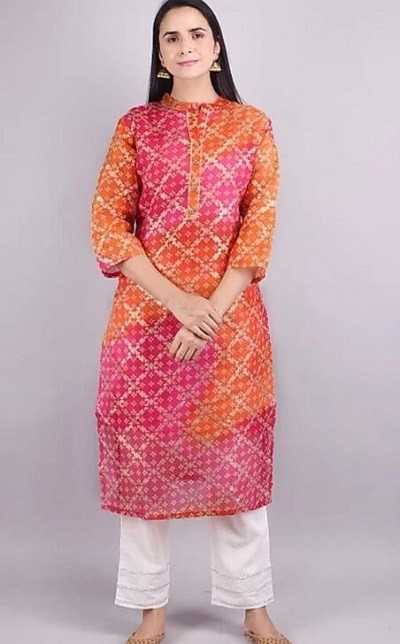 It is highly beautiful where in a multiple shades of orange pink and white are used and the gota work is quite subtle. Therefore, the kurti looks very attractive but it is not something which is over the top or too blingy for that matter.
12. Simple Cotton Gota Work Kurti Plazo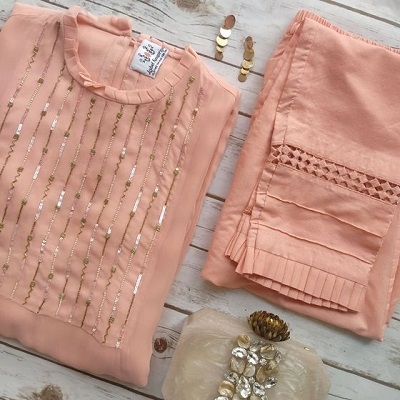 The kurti plazo or kurti trouser set as simple as this is quite hard to find. It is a designer piece wear in a round neckline with ruffled neck pattern and the gota and sequin work is used on the front part. The trousers are also pretty designer and it is indeed the best looking subtle kurti plazo or kurti trouser set that we have seen in this catalogue.
13. Simple Gota Work Cotton Anarkali Kurti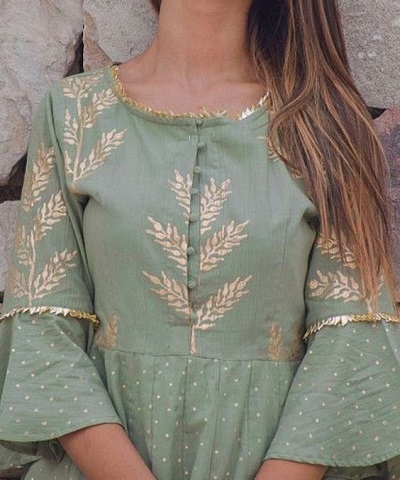 As a matter of fact, cotton is the fabric which is highly known for its breathability. For this reason, cotton is hands down, the fabric of the summer season at least in India, where the temperature soars like crazy in the summers. This is a good thing which has a long floor length pattern with Anarkali panels given all along. It has full flare adorned with beautiful pattern of gota. It even has gold foil print. It is a party wear kurta which is not very over the top but is subtle and sophisticated.
14. Party Wear Gota Elegant Designer Kurti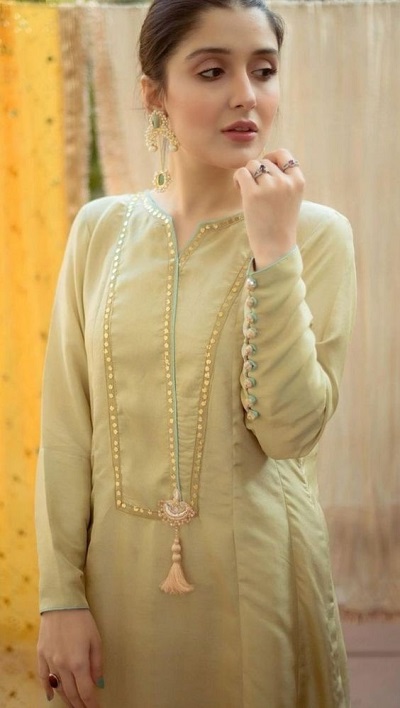 We have been bowled over by this kurti because of its pattern and the way it has been made. If you will check, it is one of the best looking kurtis which has a stunning button design on the sleeves and the front top pattern. It is indeed a sober yet not so simple and hard to miss kind of Kurti pattern.
15. Pink Festive Gota Work Kurti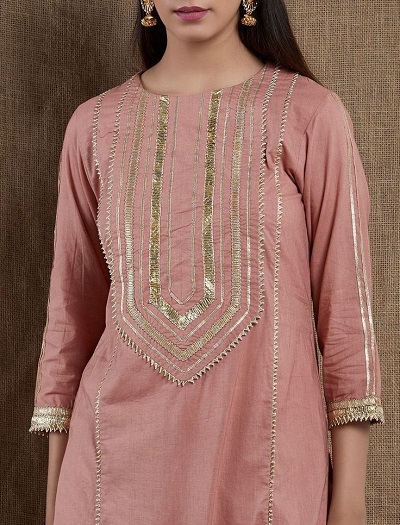 16. Anarkali Heavy Gota Kurti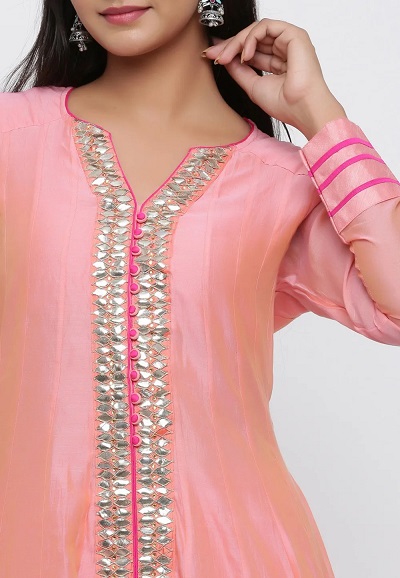 17. Keyhole Design Gota Kurti Dupatta Set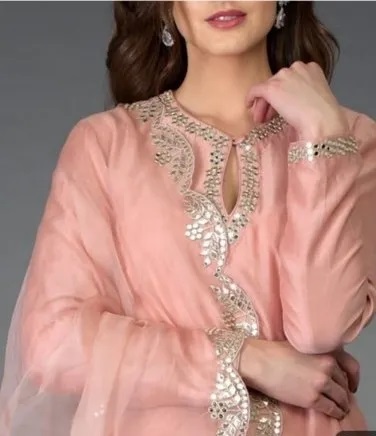 18. Magenta Party Wear Gota Work Kurti Dupatta Set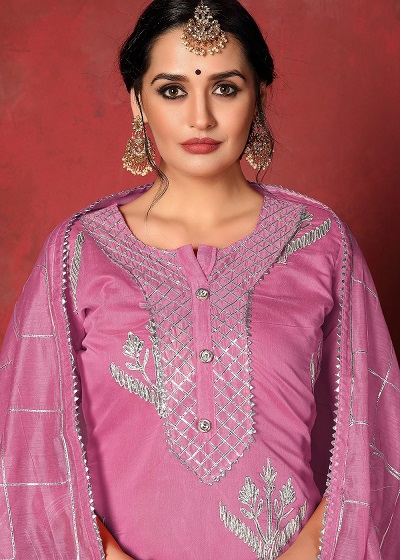 19. Tiered Cotton Gota Kurti Plazo Set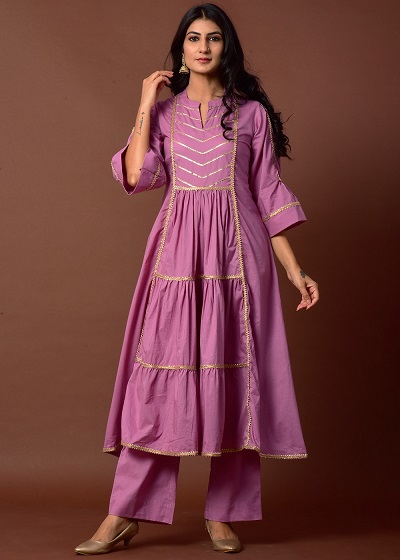 20. Handkerchief Pattern Gota Kurti Plazo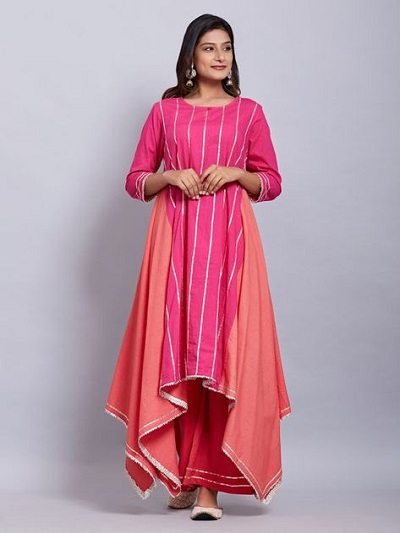 21. Yellow Gota Work Kurti Salwar Set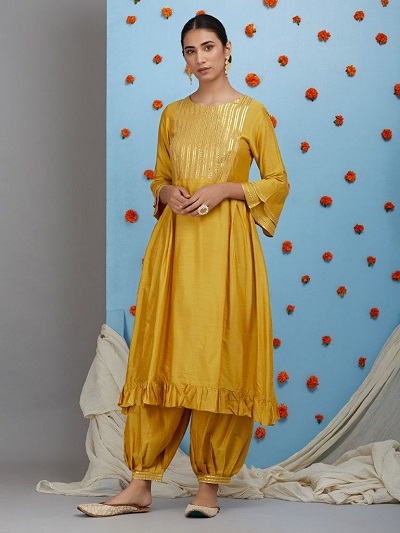 22. Orange Printed Gota Work Festive Kurti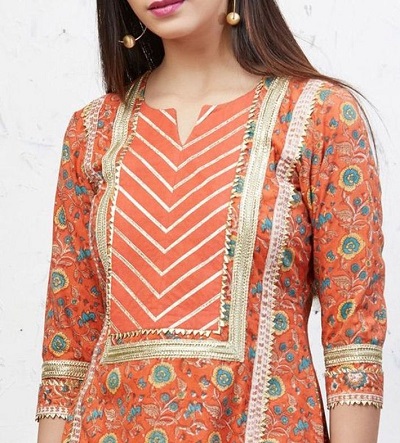 23. Gota Patti Work Stylish Kurti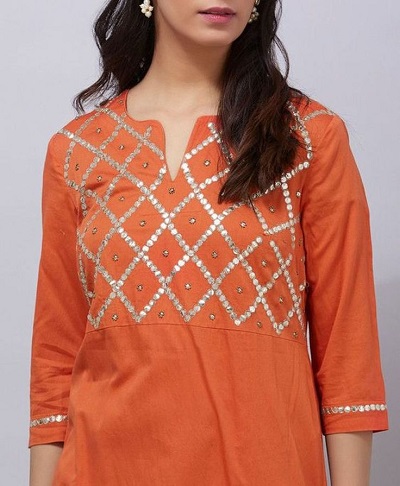 24. Maroon Cotton Designer Gota Kurti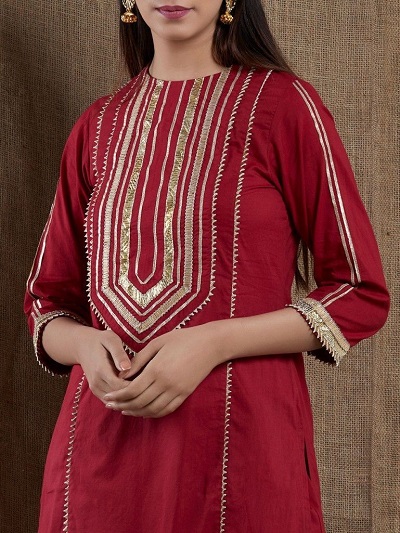 25. Long Straight Gota Kurti With White Salwar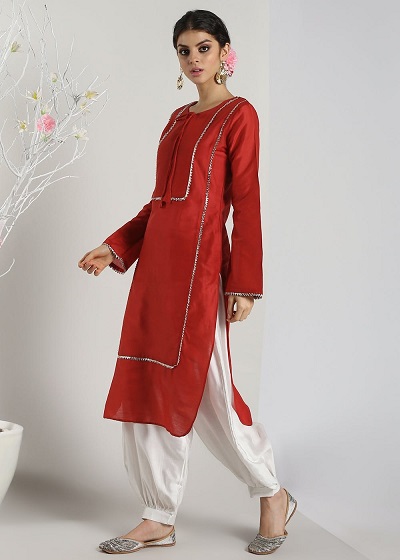 26. Gota Kurti Pant With Dupatta Set
27. Centre Slit Long Cotton Gota Kurti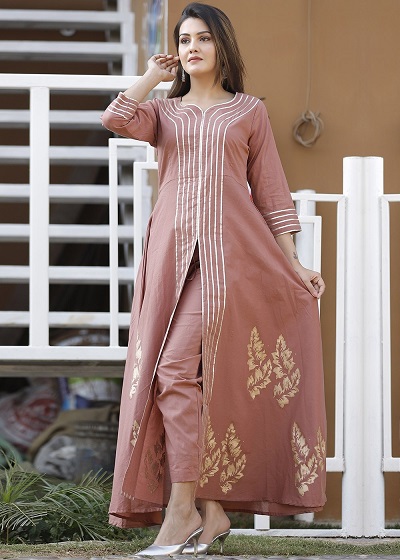 28. A-Line Simple Gota Work Kurti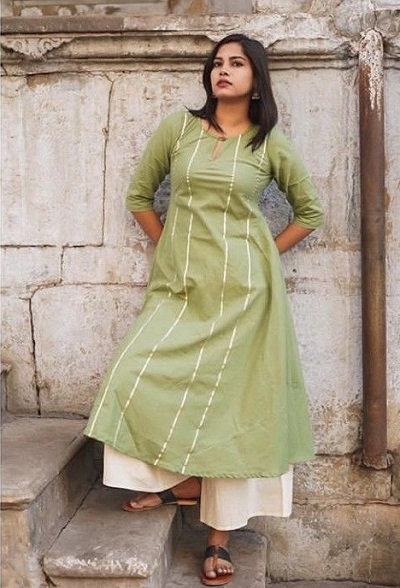 29. Gota Work Kurti Plazo Set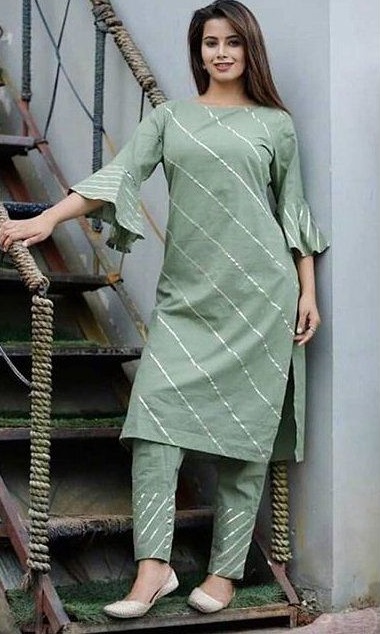 30. Blue Gota Work Party Wear Kurti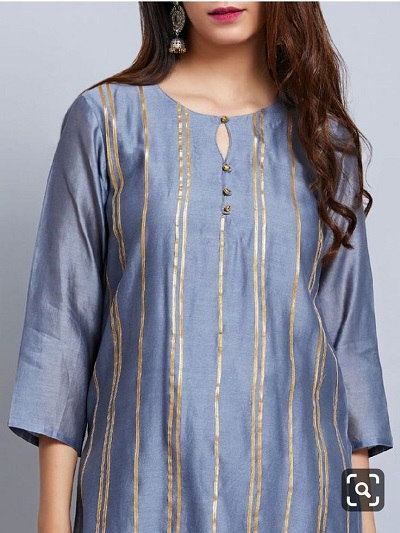 31. Designer Printed Kurti Dupatta Set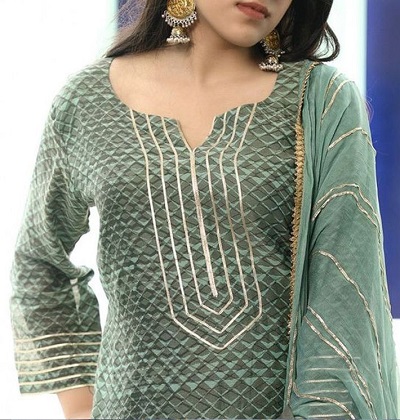 32. Cotton Gota Festive Kurta Dupatta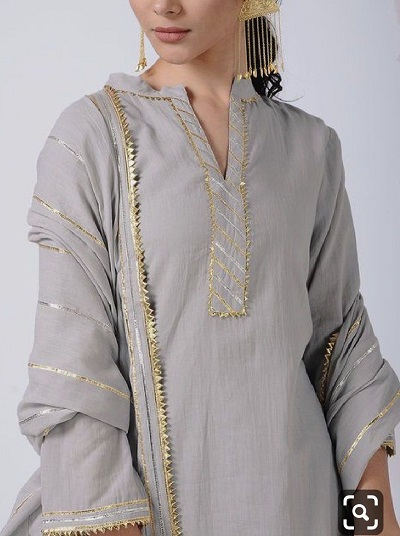 33. Long Straight Gota Cotton Kurta Plazo Set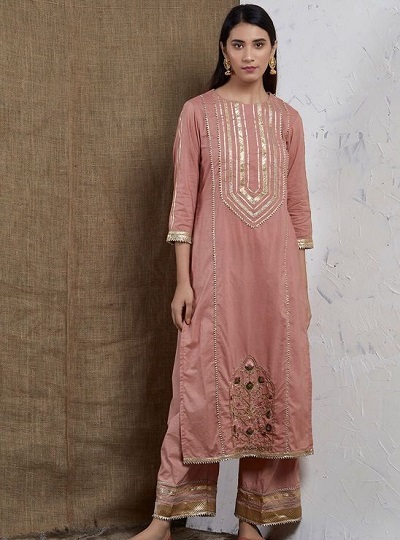 34. Party Wear Festive A Line Kurti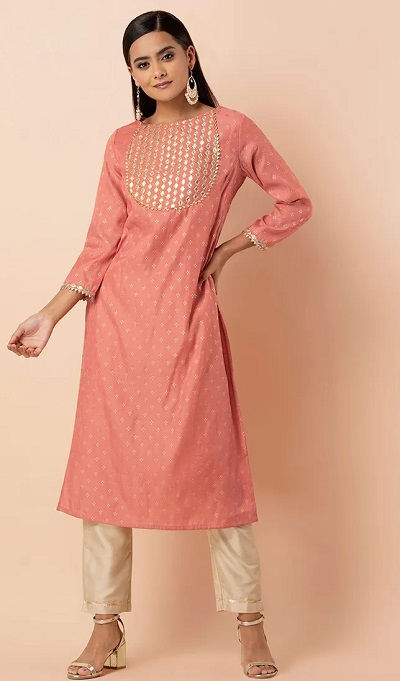 35. Princess Cut Panel Kurti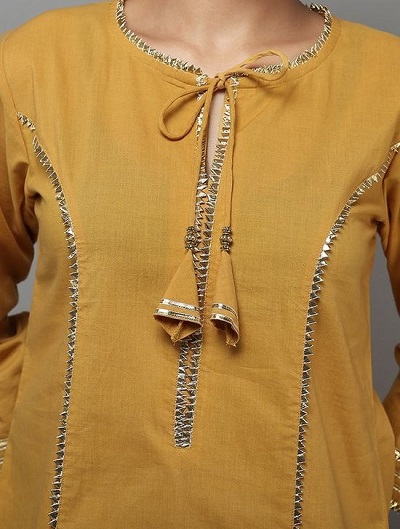 36. Cotton Yellow Gota Work Kurti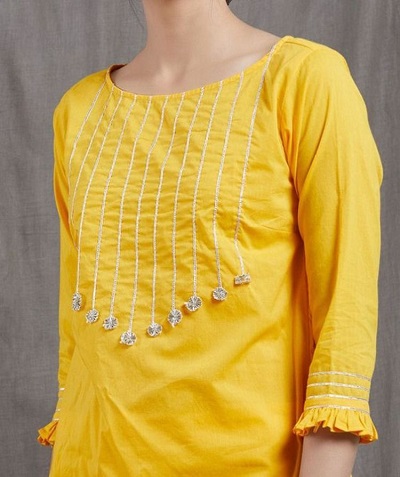 37. Double Ruffle Layered Kurti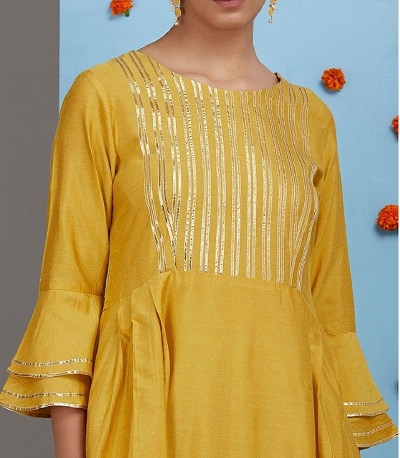 38. Heavy Party Wear Gota Work Kurti Plazo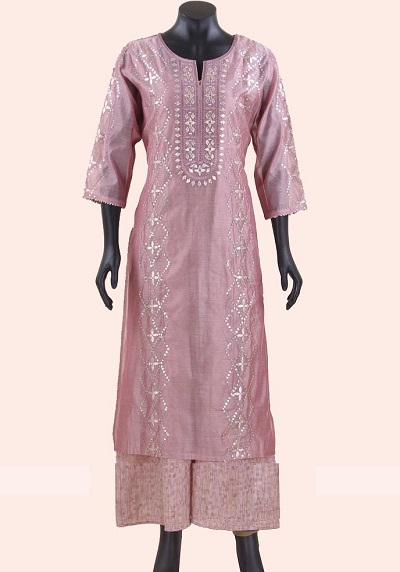 39. Simple A-Line Printed Gota Work Designer Kurta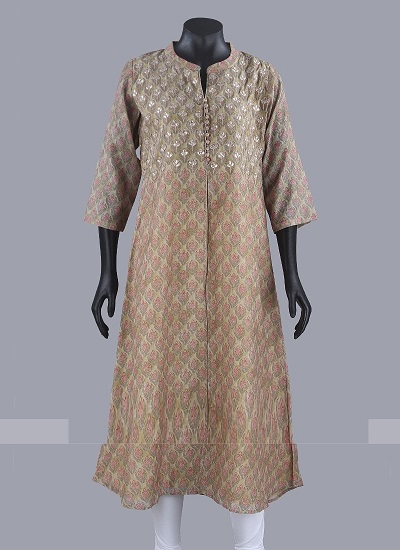 40. Floral Gota Work White Kurti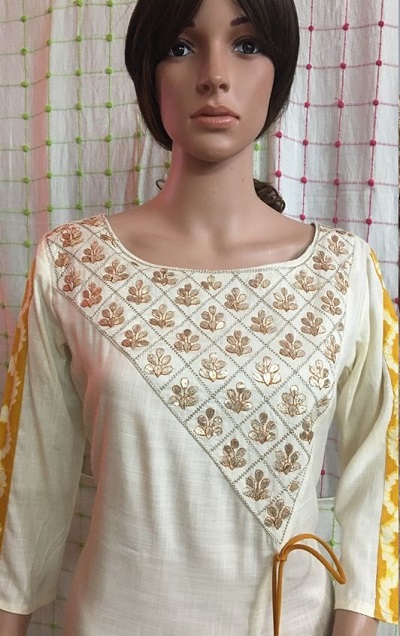 41. White Gota Embellished Kurti For Ladies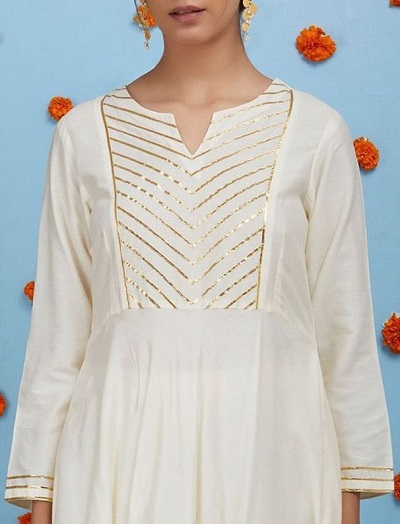 42. Boat Neck White Silk Kurti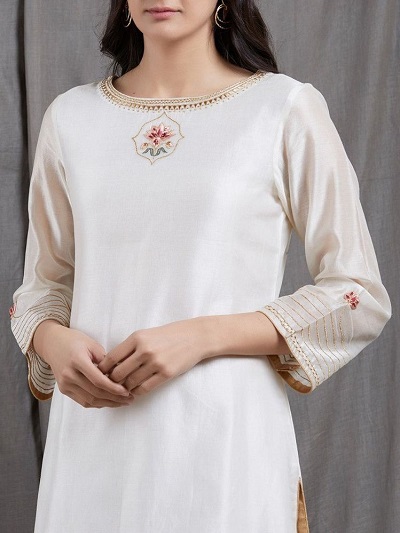 43. Designer Pink Gota Work Chanderi Kurti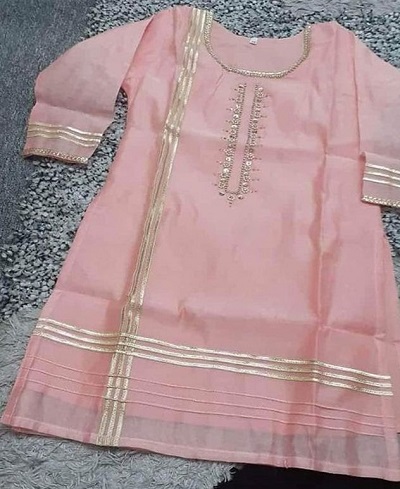 44. Very Heavy Chanderi Silk Gota Work Kurti Pattern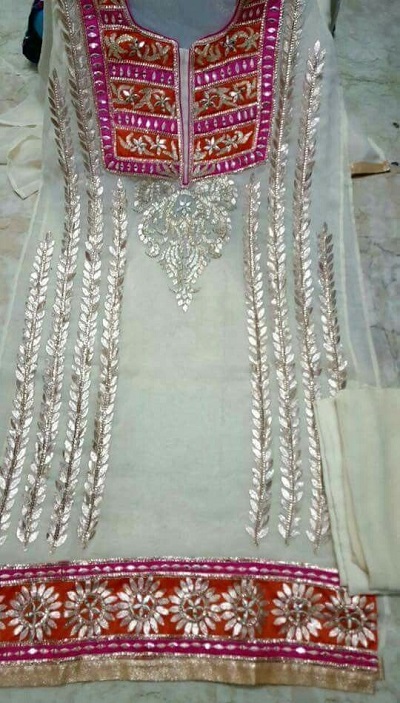 45. Designer Off White Gota Work Kurti Plazo For Wedding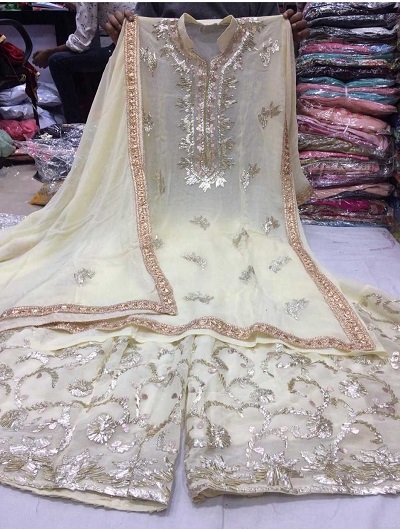 46. Red Heavy Gota Work Kurti Plazo Dupatta Set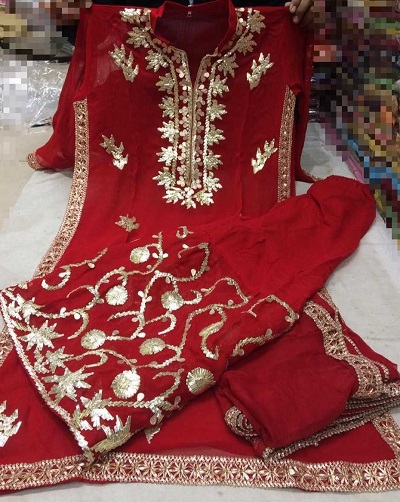 47. Black And Orange Leheriya Print Gota Kurti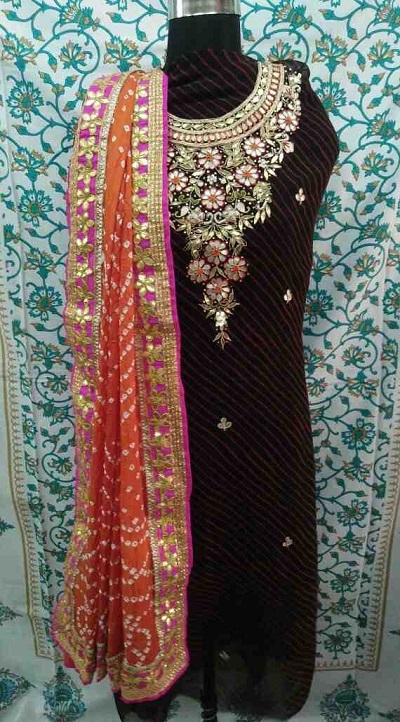 48. Casual Wear Simple Kurti Trouser Set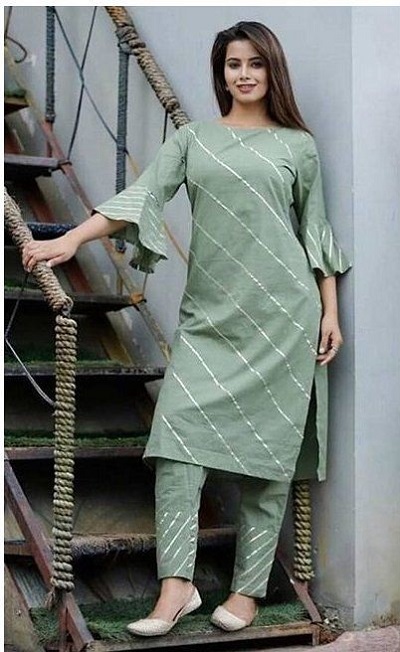 49. Jewellery Pattern Gota Work Kurti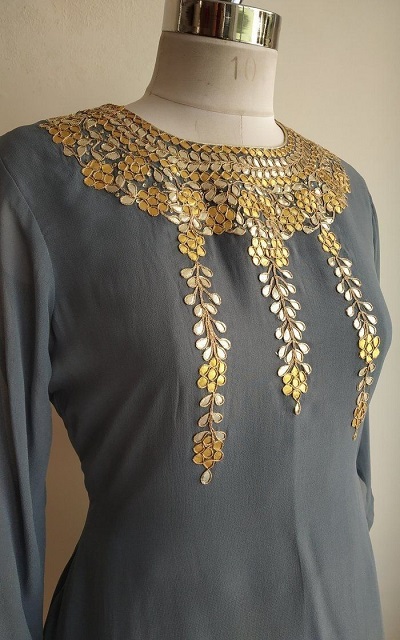 50. Designer Printed Maroon Gota kurta Dupatta Set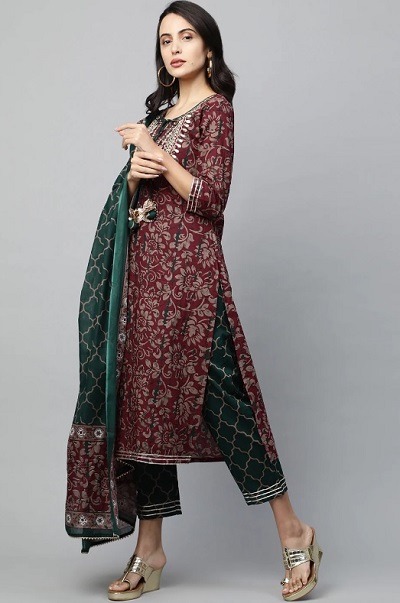 51. Festive Kurta Plazo Dupatta Set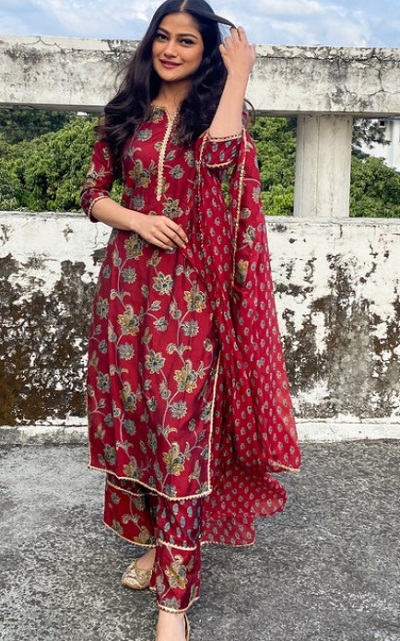 52. Grey Kurti Pant Set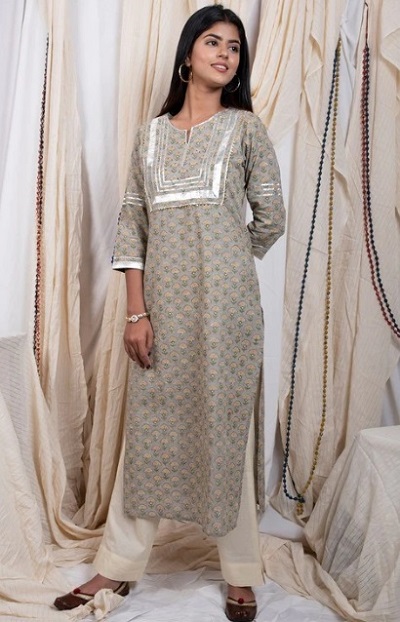 53. Anarkali yellow Gota Embellished Kurta Set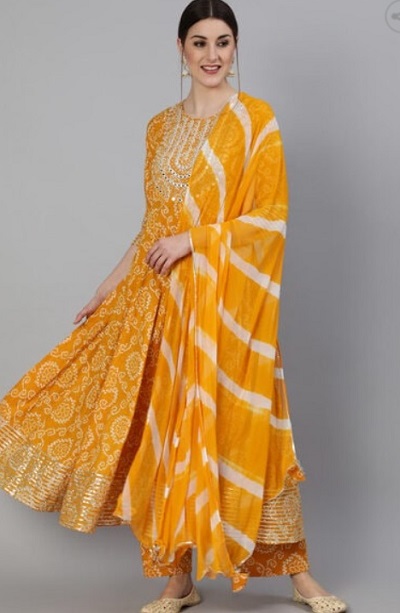 54. Kaftan Gota Kurta for Women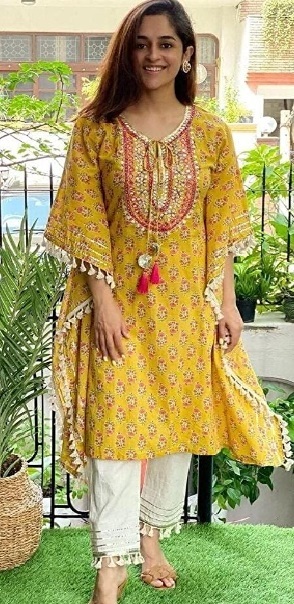 55. Kurta Salwar with Gota Embellishment