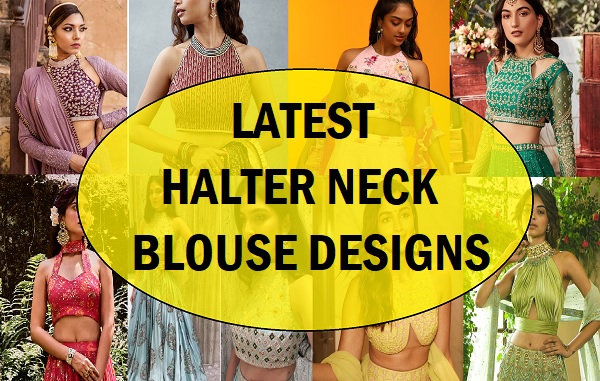 Halter neck style blouse designs are currently trending because of that extra glamorous appeal and stylish look that they give to the wearer. Honestly, the style is not for the conservative women but for the outgoing and modern women. The reason is that halter style blouses are made with a particular design that shows off the shoulder part and even some of the back skin as well. Here we have compiled the latest designs of halter neck blouse styles and designs.
Latest Halter Neck Blouse Designs for Sarees and Lehengas
Let's take a look at the Halter Neck blouse designs catalogue.
1. Maroon halter style blouse for saree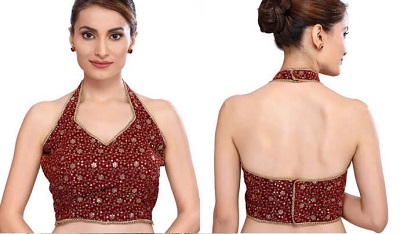 The beautiful halter style blouse in dark maroon colour has trap with hooks at the back. It's made with the brocade material with heavy sequins work. The blouse design is for the Indian ethnic wear. You can pick it up with your sarees and lehenga dresses. The beauty of the blouse is the work and the design it's made with.
2. Stylish halter blouse for saree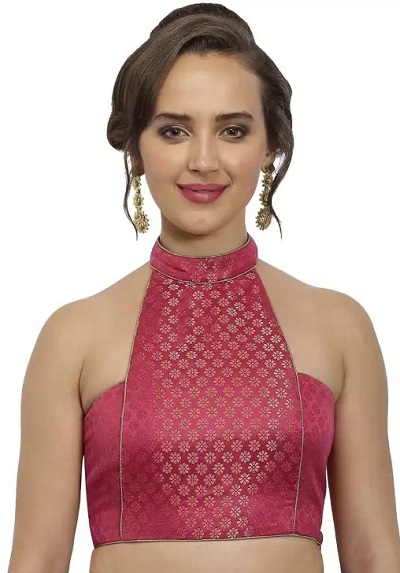 It's a beautiful halter style blouse in pink chanderi material. The blouse design has a Centre flap with which the neck strap or collar is attached. It is for the outgoing and modern Indian women. It would surely make you one of the most modern and Stylish looking person in any party or wedding. It can be paired with net sarees, heavy silk sarees or even with regular georgette or chiffon sarees.
3. Black Halter Blouse Design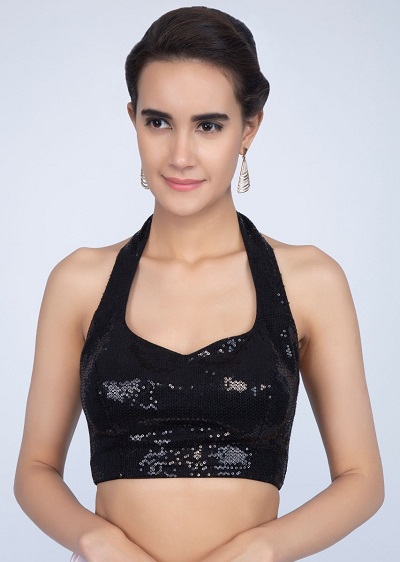 Beautiful black sequin halter style blouse is not just for the sarees and lehengas but it can also be paired with other type of Indian ethnic bottoms. It can be paired with palazzos, Sharara style skirts for the jeans for the Indo Western kind of look.
4. Halter Neck High Neck Design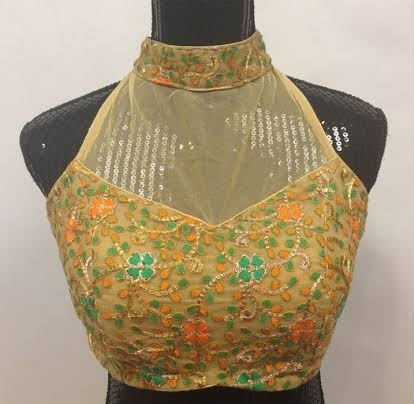 The blouse here is given designer look by using two different fabrics. A sheer net fabric is used for the neck part and heavy embroidered brocade Silk fabric is used for the bust part. The blouse design looks extremely modern and glamorous and the colour also pops out.
5. Net Fabric Halter Neck Blouse Design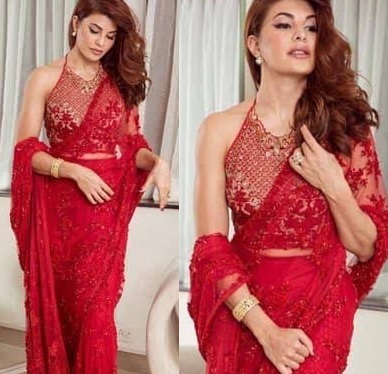 The Halter style blouse has a string that goes around the neck. With heavy embroidery in gold and silver colour, the saree blouse is best to be paired with the embroidered net sarees and chiffon sarees for festivals, functions for weddings and ceremonies.
6. Halter Neck Collar Blouse Design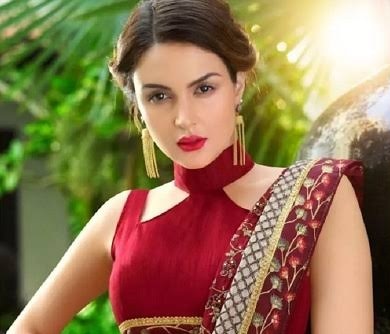 This Halter Style Maroon blouse has shoulder straps that looks extremely designer in appearance. By far it is one of the best looking Halter blouse designs in the catalogue.
7. Silver Halter Neck Blouse pattern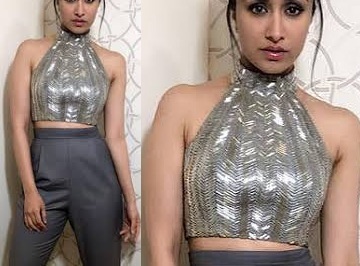 You can accentuate your party wear look with any ethnic wear bottom, saree or lehenga with this silver style blouse. It is a stunning beauty and looks extremely glamorous. It can be paired with different types of sarees like chiffon, georgette and net.
8. Mirror work Halter Neck Blouse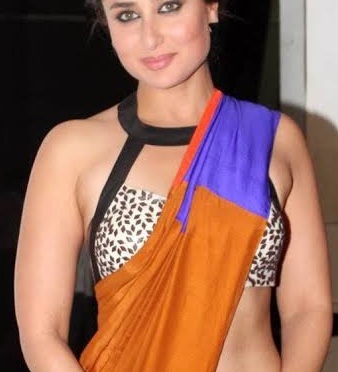 The blouse has the mirror work and has a Halter style neckline with a cut in the front. The black straps adds style to this and can be worn with different types of Indian and western wear.
9. Golden Halter Neck Blouse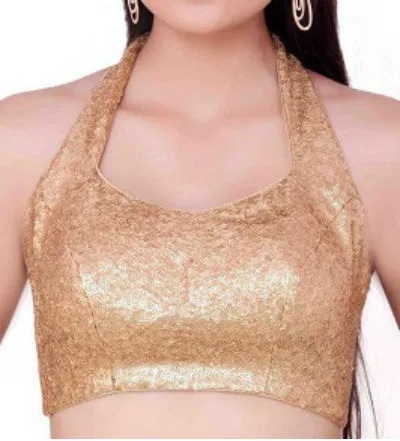 The golden Halter style blouse design is cut in a princess cut style.  The gorgeous blouse is one of the best blouse pieces that you must keep in your wardrobe. It can go with your lehengas, sarees and different type of attires. It can also be worn with a jacket over your lehenga or saree.
10. Brocade Halter Saree Blouse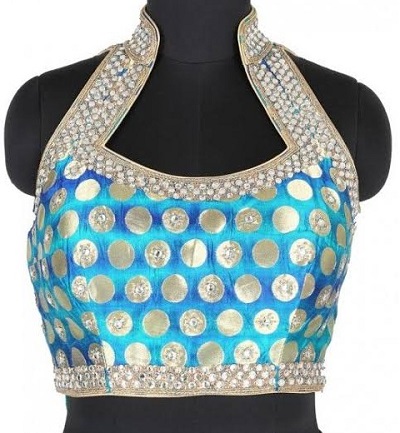 The heavily studded maggam work brocade blue Halter neckline blouse is for party wear sarees. The collar design is also studded, which makes it polished and expensive in appearance. Blouse designs like this are perfect for bridal wear and also to be paired with your silk sarees.
11. Halter Blouse Back Neck Design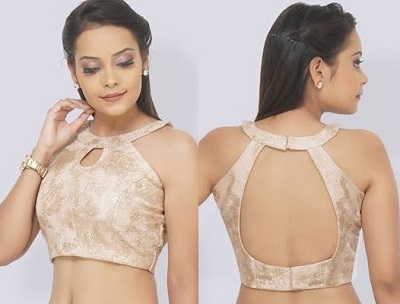 Halter style blouse has small oval cut in the front and a large oval cut. It makes it very stunning and exclusive. The designer Halter style blouse design is for different types of sarees and lehenga dresses. Here it is made with a light Ivory fabric with golden design. It is made with the princess cut and back hooks.
12. Sequinned Halter Party Wear Blouse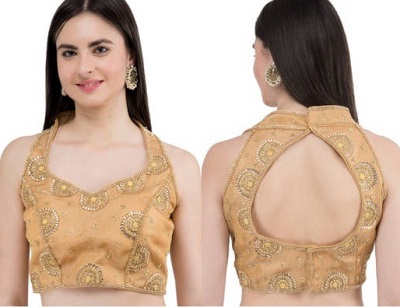 Just wait and gold Halter style blouse has princess cut and has sequins and stone. It is a party wear Halter style blouse for women to be paired with sarees and dresses. The blouse is suitable even for the women with bulky body types. The Halter Neck blouse designs for front and back pattern is stylish and appropriate for women of all age groups.
13. Jeweled Halter Style Blouse Design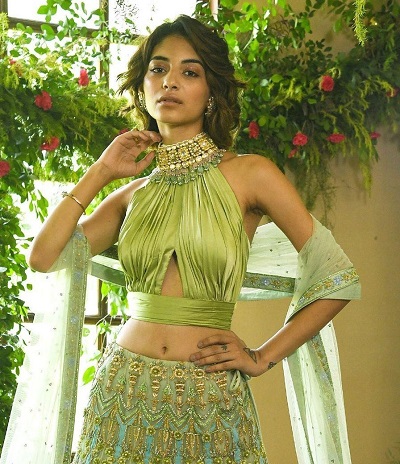 14. Yellow Halter Style Blouse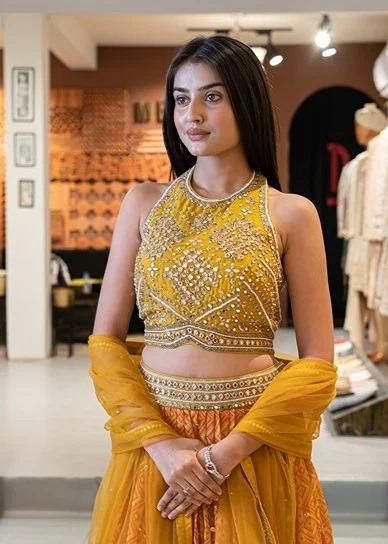 15. Blue Halter Blouse For Lehenga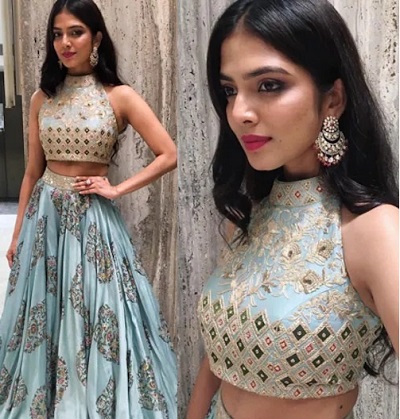 16. Designer Embroidered Net Modern Bollywood Halter Blouse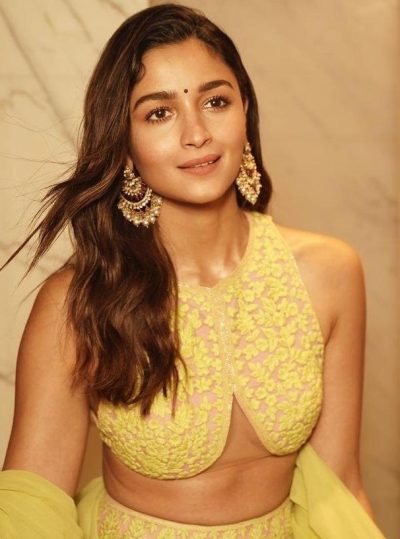 17. Stylish Cut Work Inspired Halter Cold Shoulder Blouse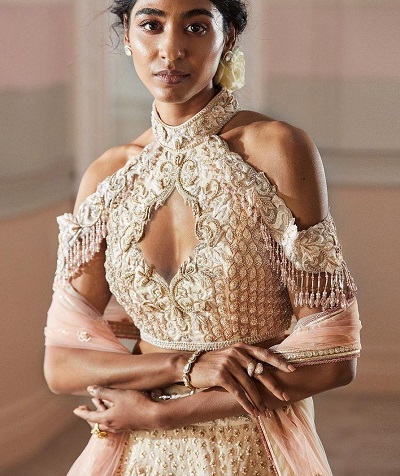 18. Golden Wrap Around Halter Stud Blouse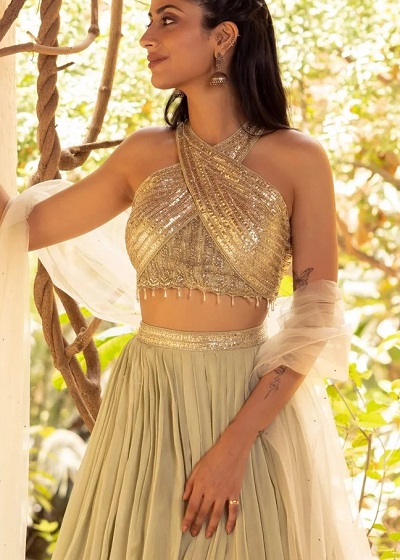 19. Silver Sequin Halter Blouse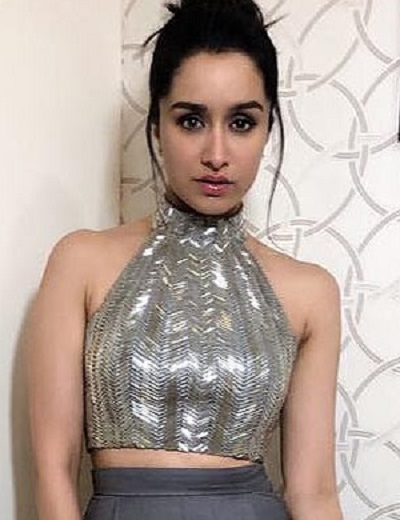 20. Cotton Halter Blouse Design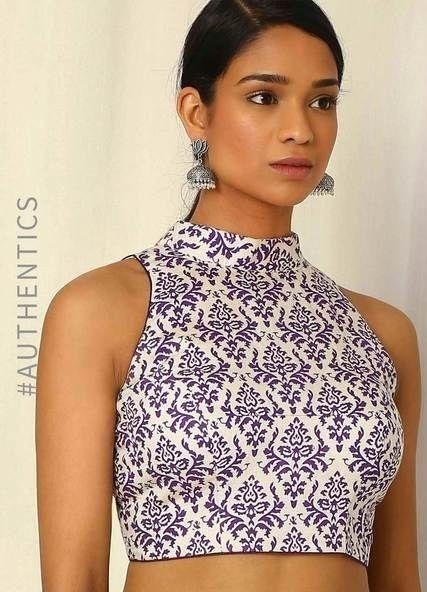 21. Printed Cotton Halter Blouse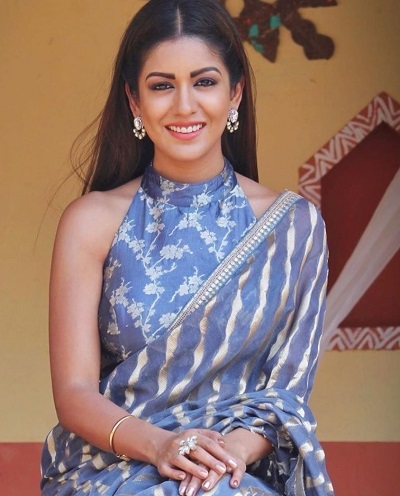 22. Stylish Halter Blouse For Chiffon Saree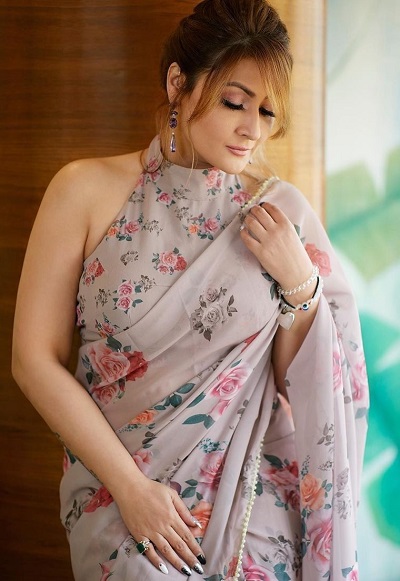 23. Designer Halter Blouse For Georgette Saree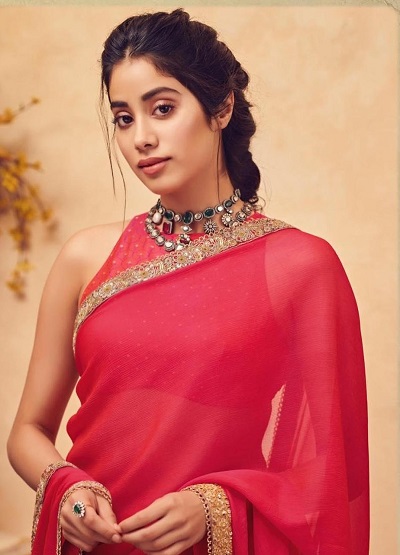 24. Black Princess Cut Blouse Halter Blouse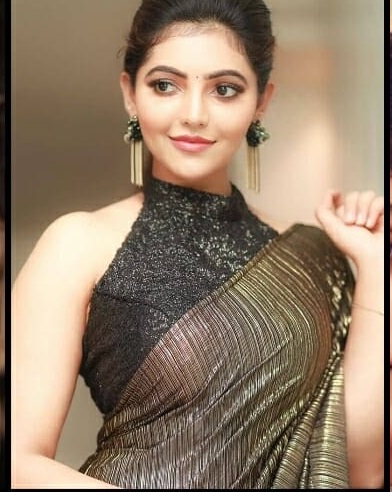 25. Pink Velvet Embroidered Halter Neckline Blouse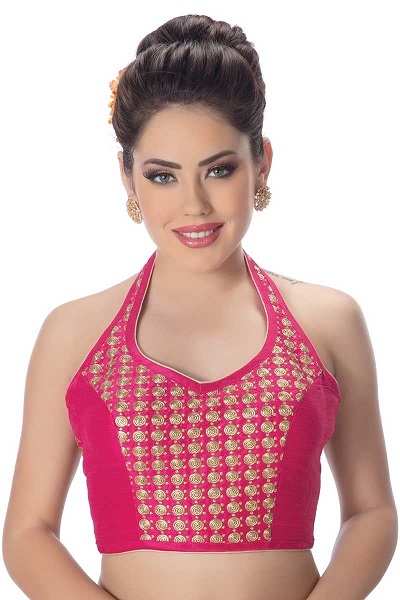 26. Yellow Brocade Silk Halter Neck Blouse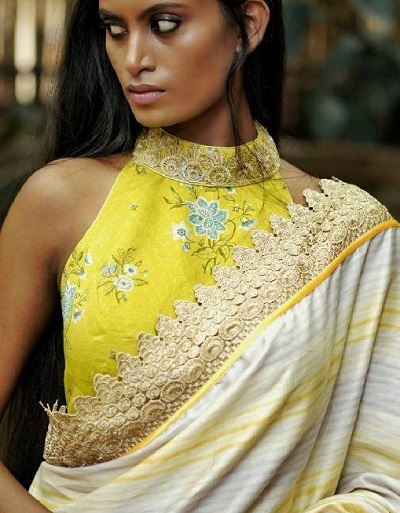 27. Party Wear Silk Halter Neck Blouse
28. Designer Organza Halter Blouse Pattern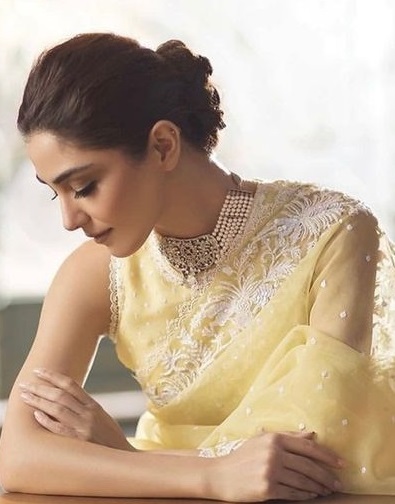 29. Mandarin Collar Golden Neck Blouse
30. Chanderi Silk Halter Keyhole Blouse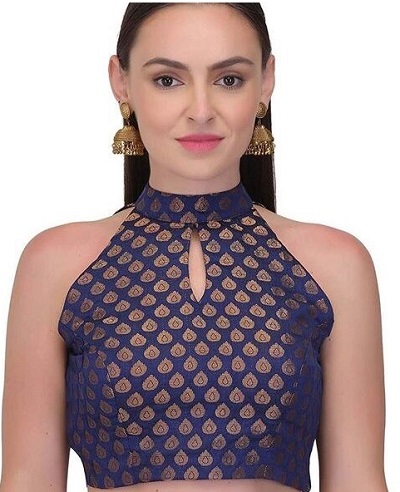 31. Velvet Embedded Halter Blouse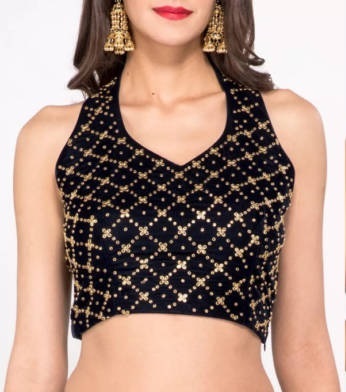 31. Net And Satin Cocktail Function Blouse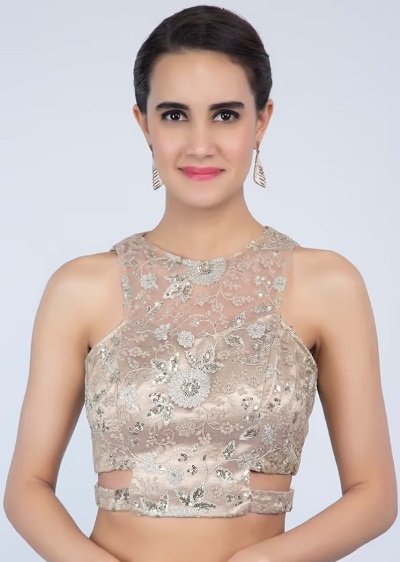 32. Blue Sequin Work Halter Neckline Party Wear Blouse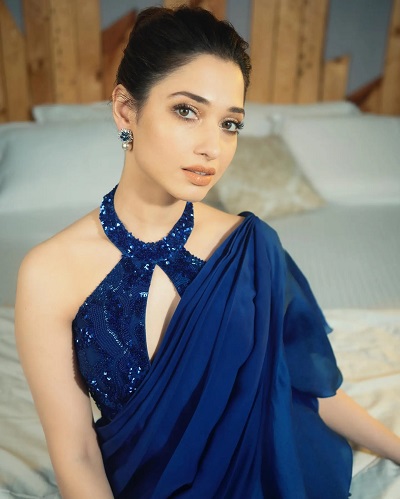 33. Modern Designer Halter Blouse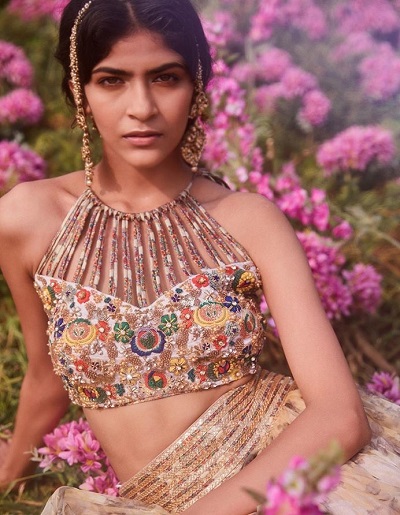 34. Net Cut Work Party Wear Blouse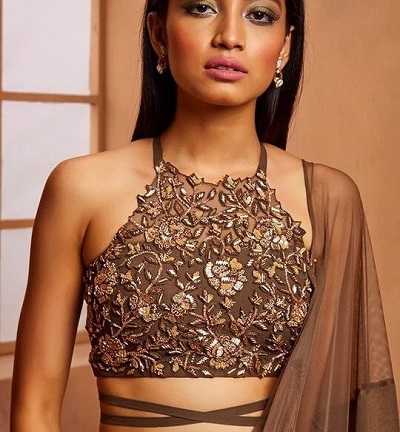 35. Designer Embroidered Silk Blouse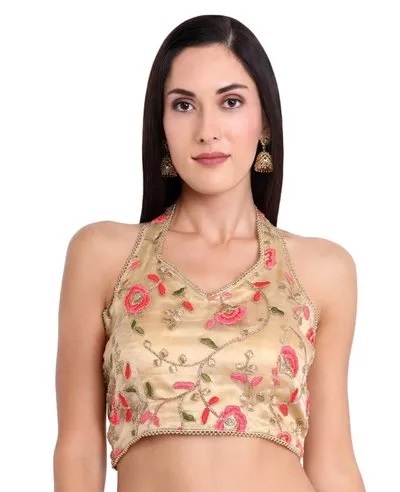 36.  Key Hole Neck Halter Pattern Blouse
37. Princess Pattern Cotton Blouse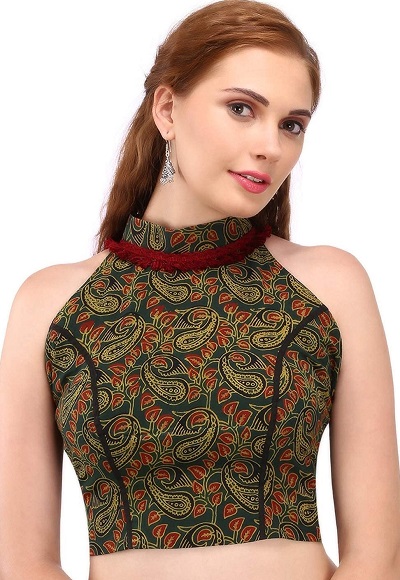 38. Embroidered Georgette Blouse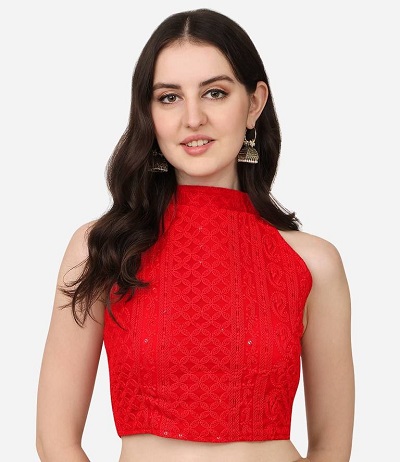 39. Georgette Deep Halter Neck Blouse Pattern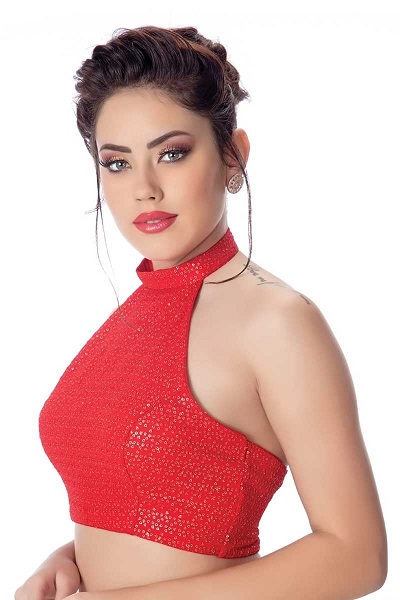 40. Golden Party Wear Blouse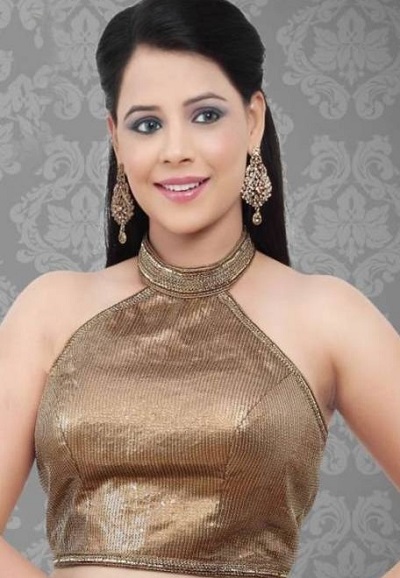 41. Sequin Work Velvet Embroidered Blouse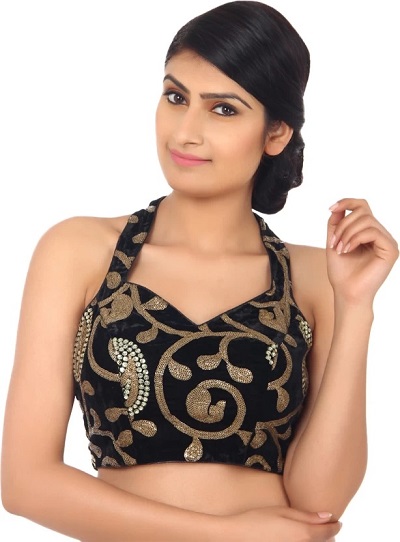 42. Halter Neckline Embroidered Party Wear Blouse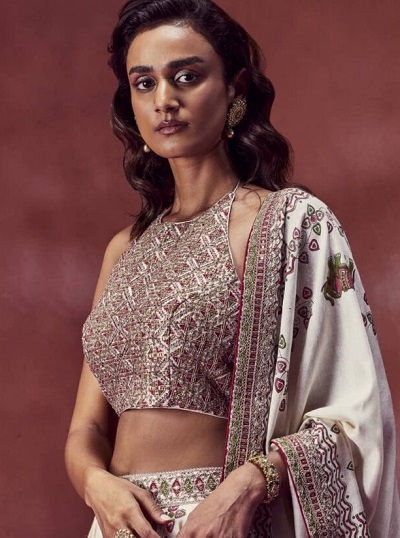 43. Festival Halter Blouse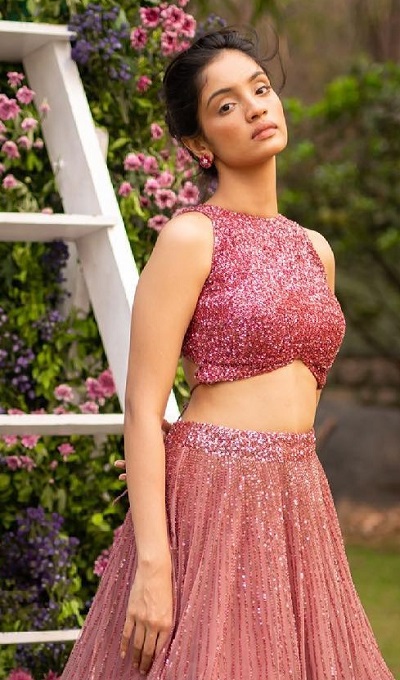 44. Satin Blouse Pattern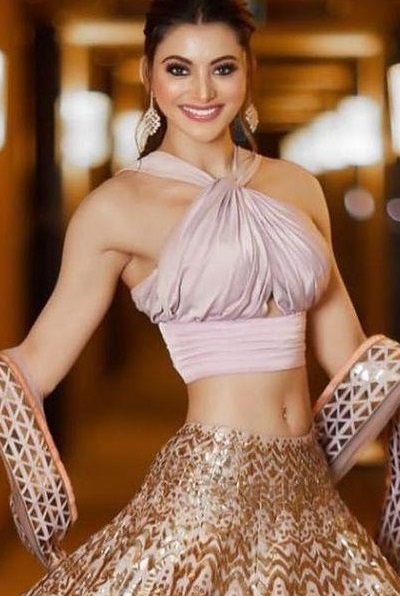 45. Halter Style Gold Shoulder Full Sleeves Blouse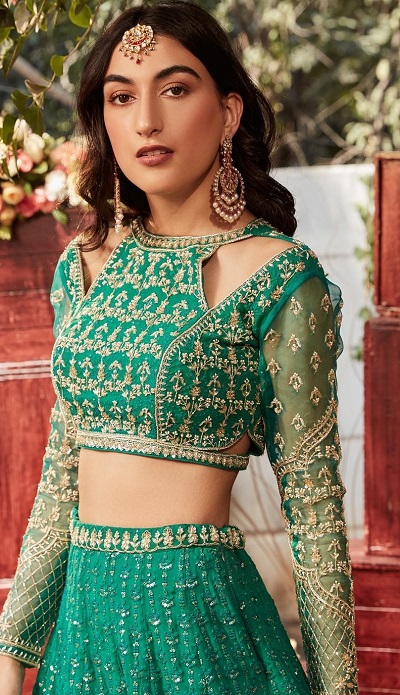 46. Peach Embroidered Red Work Blouse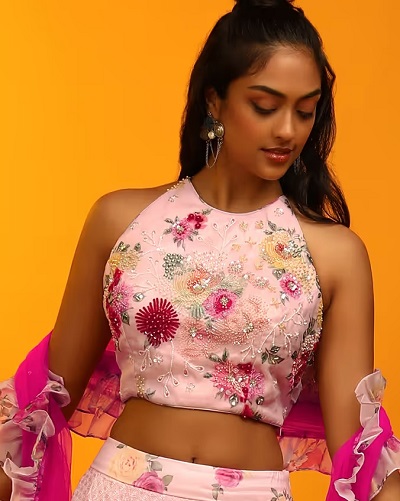 47. Halter Neck Designer Party Wear Blouse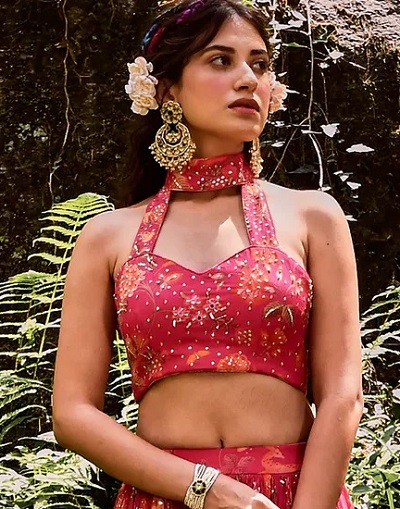 48. Simple Halter Pattern Blouse Design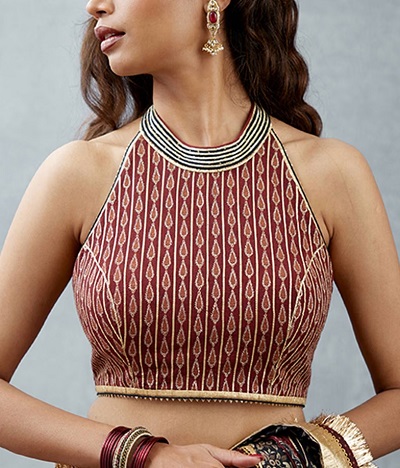 49. Velvet Saree Work Blouse Design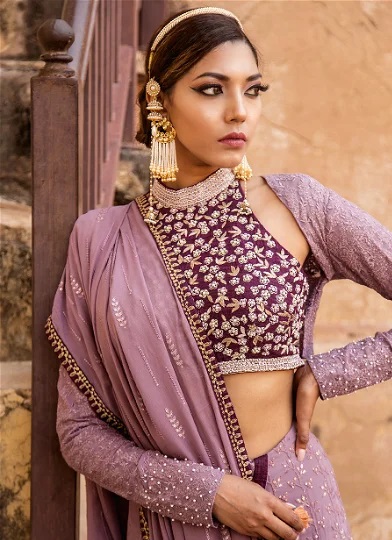 These are the halter style blouse designs for sarees and lehenga. You know that you have got enough of the inspiration and ideas to go for a similar style for yourself. The best thing is that they are easy to replicate and even your local boutique or tailor would be able to make it for you.