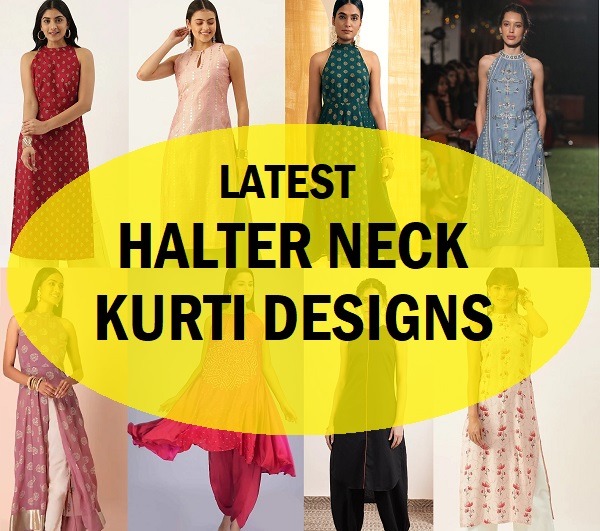 Halter style kurtis are in fashion and you must have seen a lot of celebrities and women sporting the halter neck style kurti designs. The best thing about Halter style kurti is that they are really cool and comfortable during summer season and they also look quite chic and trendy. One can do a lot with the neckline of the kurti and one such design that is ruling the fashion trends at present is halter style. The best thing about a Halter style kurti is the pattern and the neckline that gives it that a design. Even in the Halter neck kurti design there are so many different variations, which we have compiled for you to take a look at. Therefore, the next time you are going to get your kurtis stitched or designed, you can certainly use one of our designs to get a replica for yourself.
1. Layered Halter neck long kurti design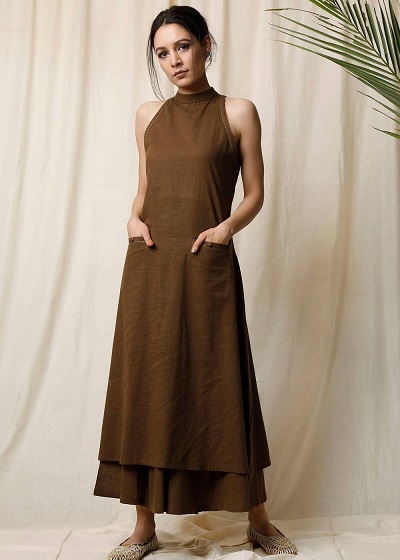 This kurti is a full length kurti which is layered and is basically made within an A line pattern. It is made with a solid brown cotton fabric and has got two pockets on the front side. The Halter neck kurti pattern and design is without any embellishments or print as such. It is suitable for the casual get together and even for the office.  Styling this kurti will not be difficult because it is simple and a lot of studying can be done when it comes to the accessories. With this kurti, a pair of statement earrings, a Bracelet and pump or stiletto shoes will work the best.
2. Central slit Halter style kurti design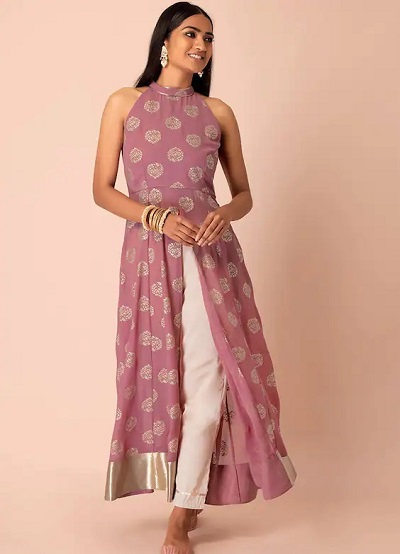 This kurti is made in a Georgette fabric that has beautiful print on it. Gold border is also attached at the bottom Hem line, therefore the kurti is appropriate for festivals and weddings. It is a good to wear to make it look quite fashionable and trendy. The best thing is the pattern and the fabric chosen. For summer season, it is an appropriate kurti design. The Halter neck design is pretty simple and a necklace can be added to make it festive appropriate.
3. Knee length black Halter style kurti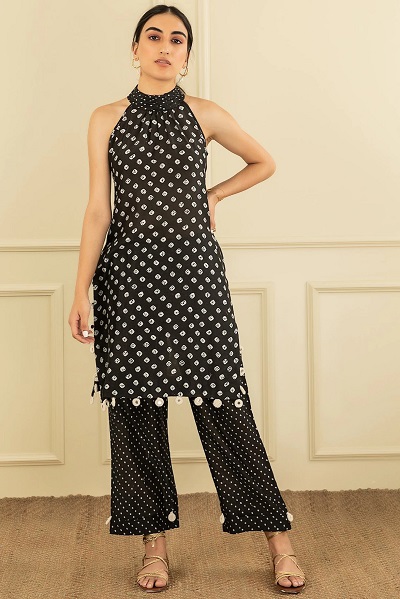 This is ideal for your festivals and for the occasions where you have to don a traditional outfit but nothing too over-the-top. This kurti here has embellishments on the collared neckline and at the hemline. This is an appropriate festive wear kurti which surely younger girls would prefer.
4. Blue printed kurti skirt set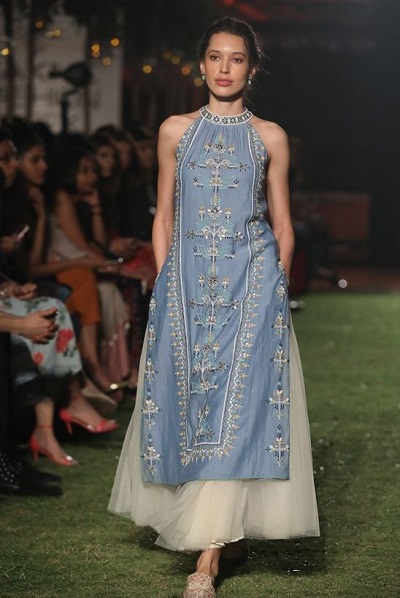 The printed halter style kurti has side pockets and it is a straight cut kurti. Such enchanting kurtis are ideal to pair with the bottoms like skirts trousers, palazzos and even with the trouser pants they look quite sophisticated and chic.  It is an appropriate work wear kurti which is comfortable during the summer season and does not require a lot to do when it comes to the styling.
5. Sweetheart Neckline Halter Style Kurti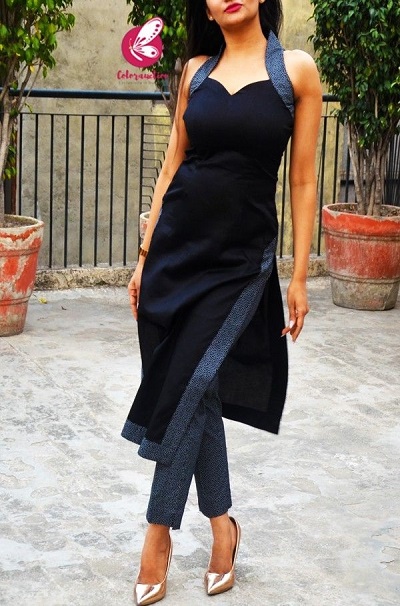 This kurti pattern is really popular amongst the girls and younger women. The neckline is quite unique and attractive and so does the side slit. Such lovely kurtis are ideal for palazzo pants and with the trouser cropped pants.
6. Festive Halter kurti with Palazzo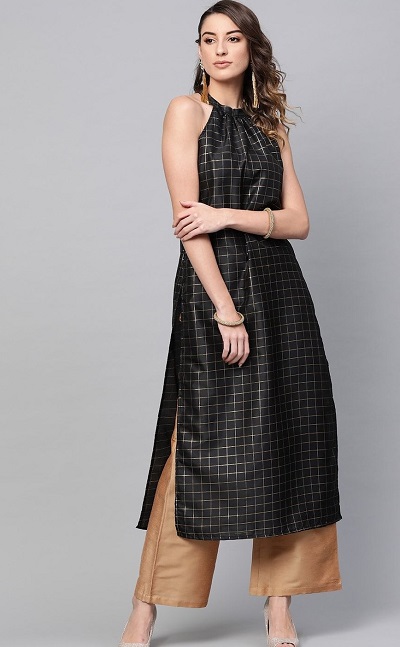 This Halter style kurti has a strap or a band around the neckline that goes like a the Halter pattern. It is a pleated Halter pattern at the neckline. The pattern of the kurti and the fabric chosen is quite festive wear kind. It has gold palazzo pants and it looks really beautiful.
7. Red Printed Cotton Halter Kurti For Women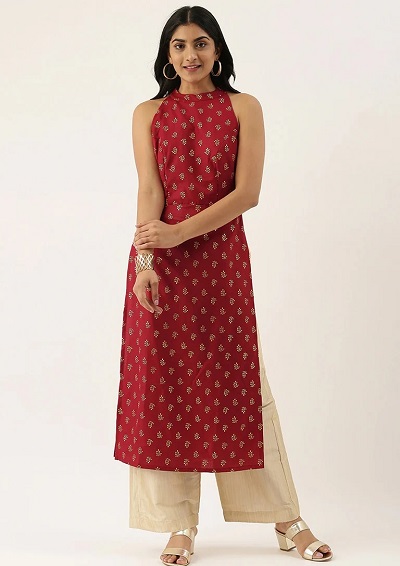 We would appropriately call this could be a professional or a work wear kurti for women. For summer season, a kurti like this can definitely keep you cool and you would really love that feeling. It is not only fashionable and trendy but also is quite comfortable. This kurti design has a long pattern which is suitable to go with the leggings, palazzo, pants, trousers and even with the jeans. However, we feel that the wide legged pants would fare better with the straight fit halter style kurti pattern.
8. Summer Floral Printed Halter Neck Kurti Design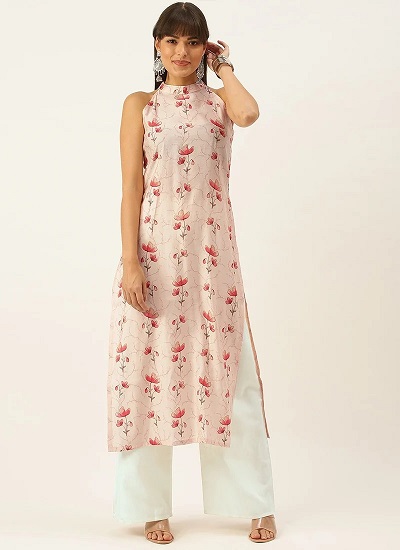 Summer is all about the comfortable fabric and prints that are pleasant and soothing to the eyes. This printed ladies kurti design is ideal keeping in mind the summer season. On top of that the white palazzo pants, is actually a cherry on the cake. So this entire outfit is appropriate for casual wear, Hangouts, work as well as for the college as well.
9. Festive Peach Chanderi Silk Kurta Style Kurti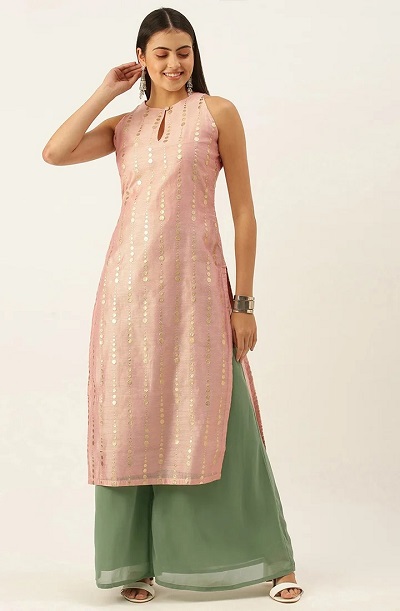 This entire dress is so beautiful that you would simply love to have it for a summer festival. Summers are all about keeping yourself comfortable and at ease. This kurti has a Georgette Palazzo in mint green colour whereas the pale peach kurti has Halter style pattern. It not only looks sophisticated and elegant but it is also quite attractive.
10. Cotton Silk stylish kurti design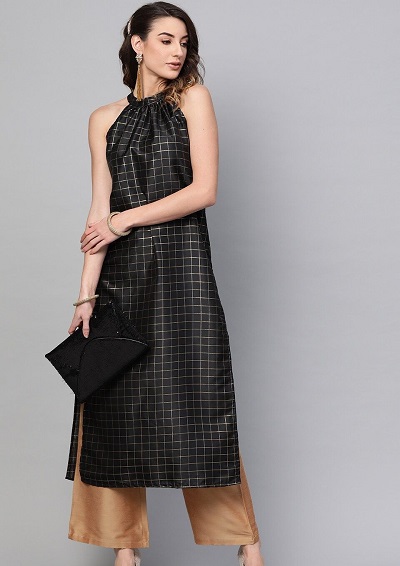 When it comes to cotton kurtis, this Chanderi Silk fabric with a Halter neckline is apt. Definitely it is a very pleasant and eye-catching Kurti pattern and we simply love it.
11. Yellow Full Length Halter Style Kurti Dress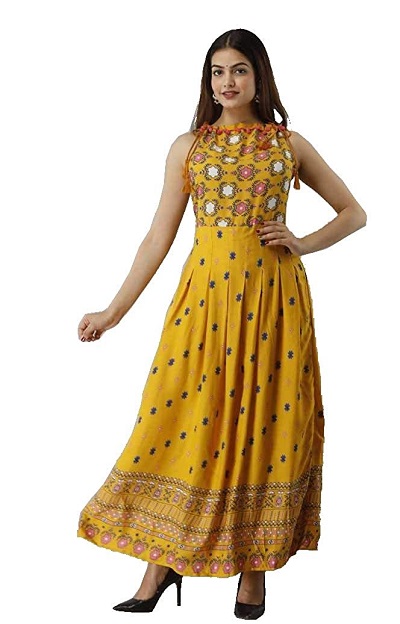 It is a sleeveless but more like a Halter style kurti where you get a full length dress with box pleated style on the waistline. Strings are also give one to make it a drawstring kind of neckline. It is an ideal kurti for summer season for your college as well.
12. Festive Wear Centre Slit Kurti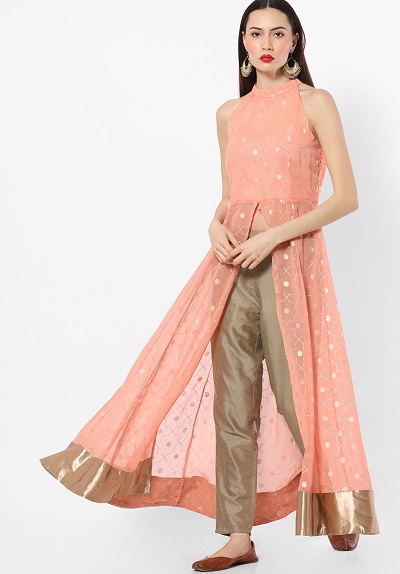 Halter neckline kurti with the centre slit on a Georgette chiffon fabric is like icing on the cake. It is made with a sheer Georgette fabric that has gold foil print. It looks beautiful amazing and pleasant to look at. The kurti has a gold band that gives it an appealing look. The best thing about this good day is the amount of comfort it will give you when you wear it. Here, it is being paired with a gold-toned palazzo pants.
13. Black embellished short kurti suit set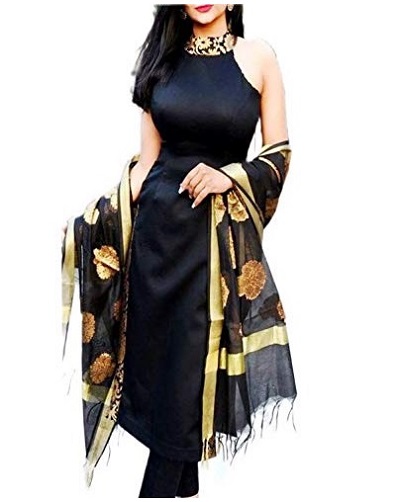 The Halter style short kurti is actually a complete kurti suit and Dupatta set. Cotton silk printed Dupatta is given with this solid black Halter neckline suit. It is for younger women and girls, who would love to flaunt it for festivals and even for work.
14. Black gold foil printed Halter neck kurta suit set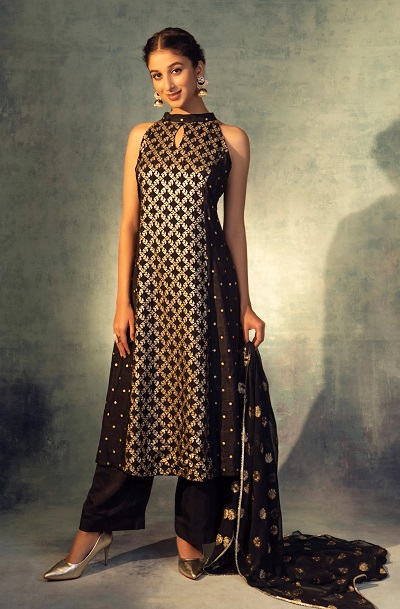 This suit is an A-line suit with Halter neckline and a keyhole pattern neck design. It comes with flare, and it's basically is an A line kurta. It comes with palazzo Pant in the same colour. For sure it is a beautiful and stunning elegant kurta for the festivals and parties.
15. Collared Halter Neckline Cotton Kurta Suit Set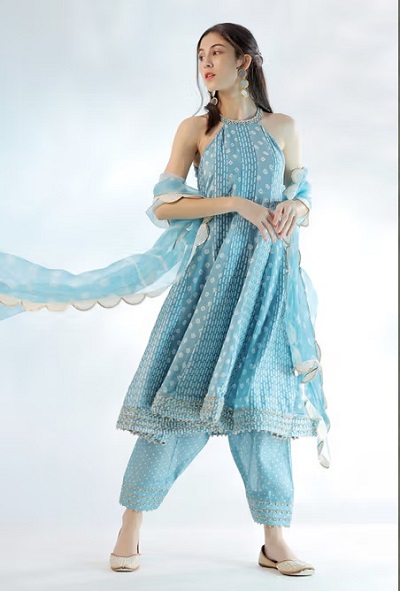 This is an entire package wherein you get a salwar, kurta and a Dupatta. The Dupatta has some embellishment with Gota work and so does the salwar and Dupatta itself. This beautiful suit set is ideal for summers because it is made with the cotton fabric.
16. Blue A-line Gold printed kurta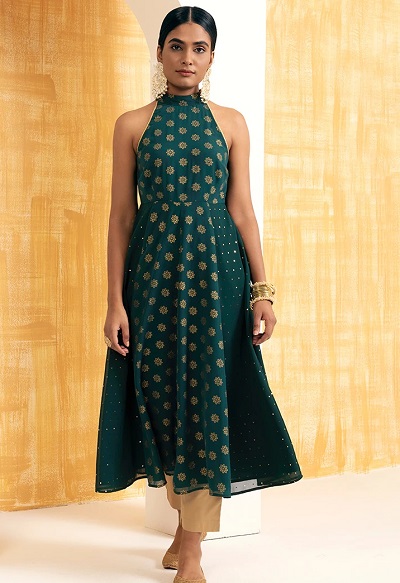 Women who do not shy away from showing some skin, this kurta is appropriate. It is an A-line kurta with lots of flare and halter neck pattern on the top part. It can also be worn as a dress without the bottom.
17. Cotton kurta trouser set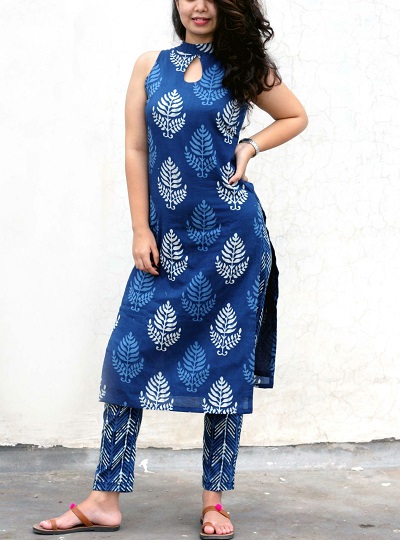 The Cotton kurta and trouser set is appropriate for times, when you need a casual wear but it should look stylish.
18. Long embellished Anarkali style gown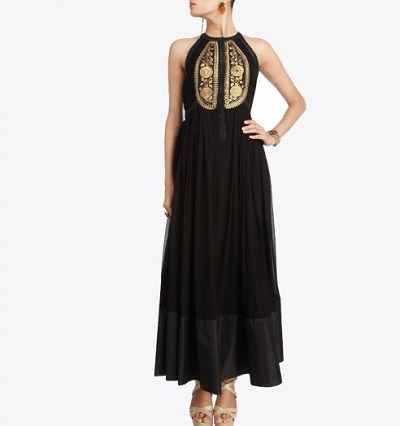 This is a really gown style kurta and embroidery is done on the upper part.  It is appropriate for festive season.
19. Halter neck style kurta with side slit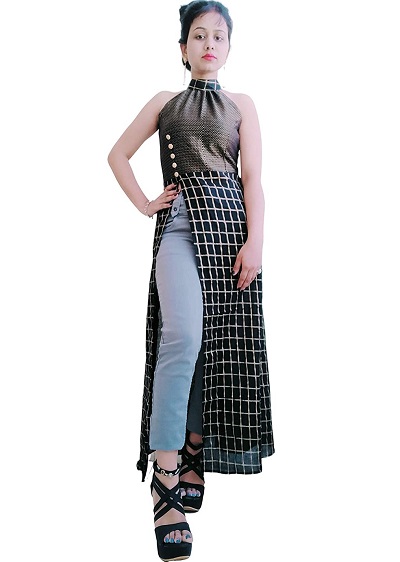 The beautiful Halter style beige kurta has a golden border at the bottom. This looks really festive and ethnic wear dress for women. Is it can also be worn without using any bottoms at all like a dress.
20. Uneven Hemline embellished pink Halter neck kurti design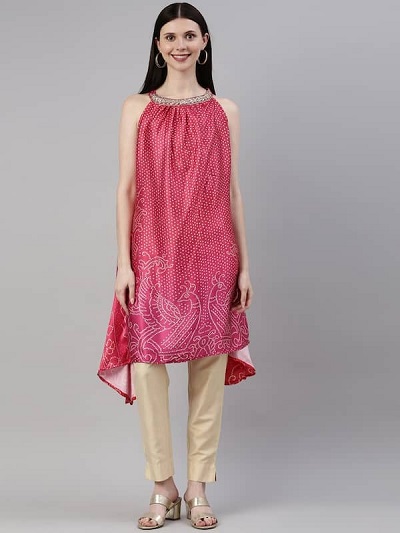 This kurti is a party perfect kurti design suitable for women who would like to experiment a bit different from the regular suits and kurtis.
21. Beige Georgette Festive Kurti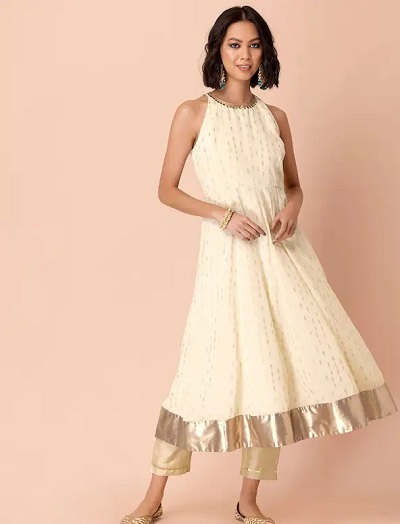 22. Halter Printed Kurti Design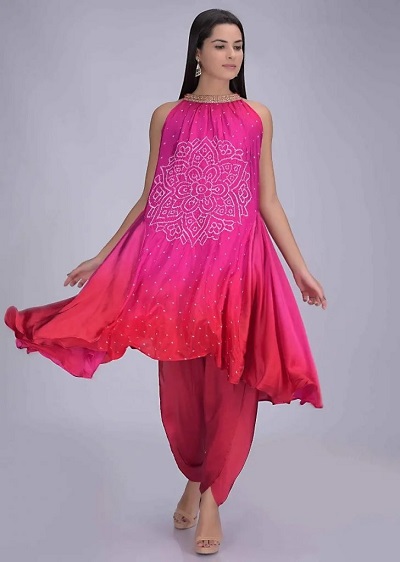 23. Black Printed Shirt Tunic Style Kurti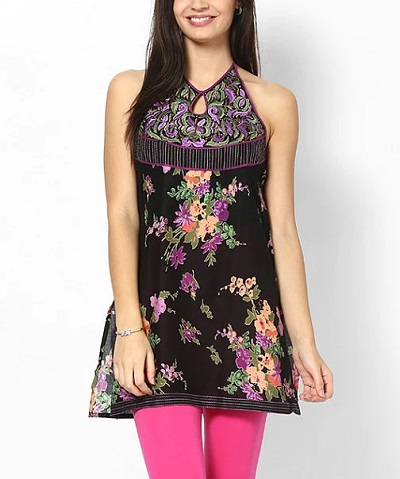 24. Black Key Hole Pattern Collared Kurti Design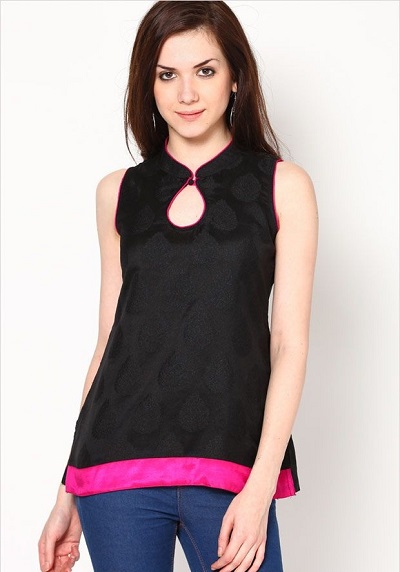 25. Kurti Dress with Halter Neck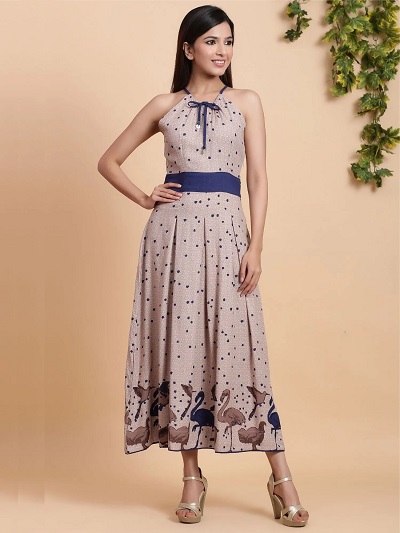 26. Halter Neckline Suit Pant And Dupatta Set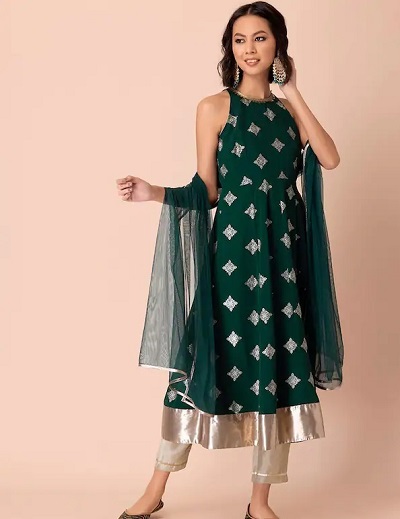 27. Round And Halter Neckline Combination Suit Design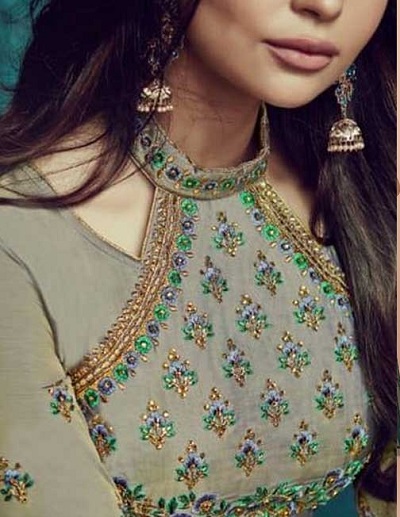 28. Kurta Palazzo With Silk Satin Fabric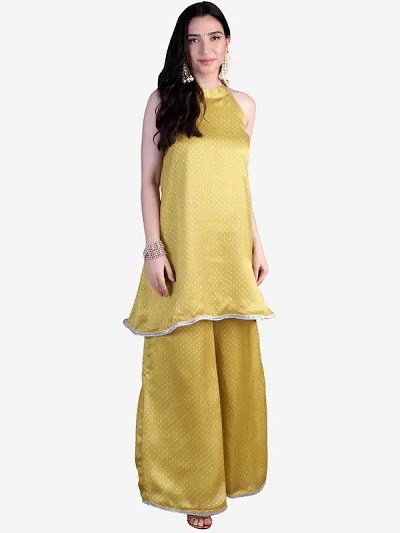 29. Sleeveless Halter Neck Rounded Hemline Kurta With Salwar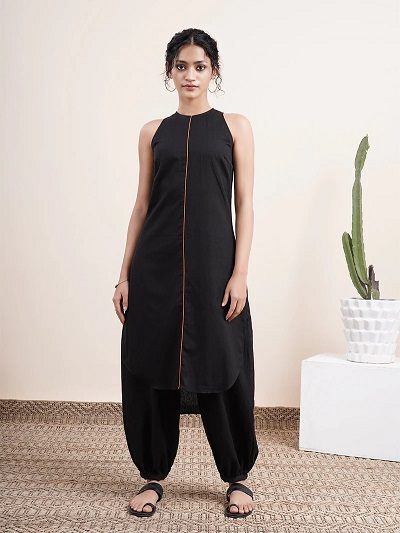 30. Short Party Wear Embellished Red Kurti Design