Images of Halter Top Designs For Women
Halter tops have been here since long and it's not that the halter pattern is seen for the tops but it is also seen in the dresses as well. What styles are grade for the season as they provide that comfortable feeling and keeps one cool in summers apart from the fact that they add that glimpse of glamour to the attire. It's not that halter tops are only made for casual wear or party wear but halter style is also seen in the formal wear attires as well the traditional wear dresses where the halter style have made its own place. Right from clubbing to a date night, a halter style top can certainly spice up your outfit. Even the jumpsuits are made in the halter top pattern.
When it comes to a halter style top there are different styles and varieties to choose from. That can be from the cowl style halter neck, which is quite low hanging or there can be halter style handkerchief pattern or simpler versions with the back tie closure as well. For the most relaxed fit, there can be the string style halter pattern that goes around the neck and it is suitable for the long tours and for the pool or beach side.
Latest Designs of Halter Top For Women
1. Halter style cropped vest top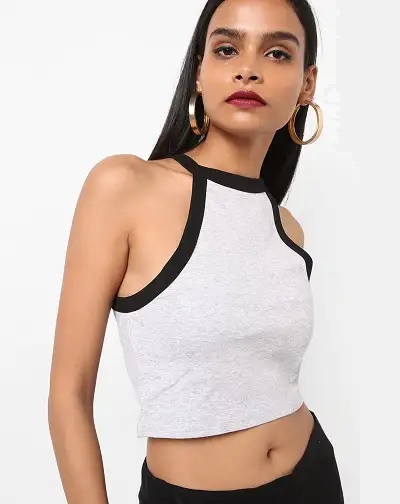 The top is more like a cropped top where in the contrasting border is layered. It is a crop top in halter style that can be used with skirts and pair of nice fitted trousers. It is suitable for all those casual and semi formal occasions. In fact this can also be used under a blazer.
2. Crochet pattern Halter style top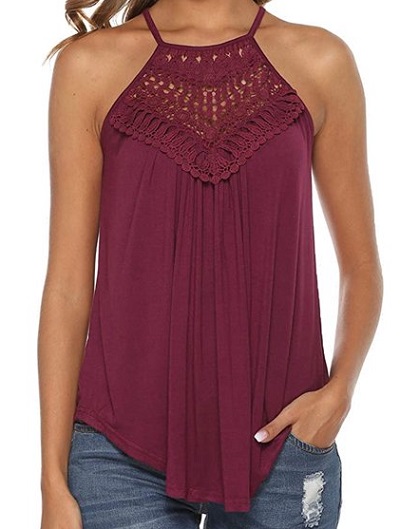 This halter style top is it really beautiful because of the upper crochet work and lots of flair on the hemline. It is an ideal casual wear top that can be used for top with trousers, jeans and skirts. Add a structured for casual bag to complete the look.
3. Halter style  Crop Top Design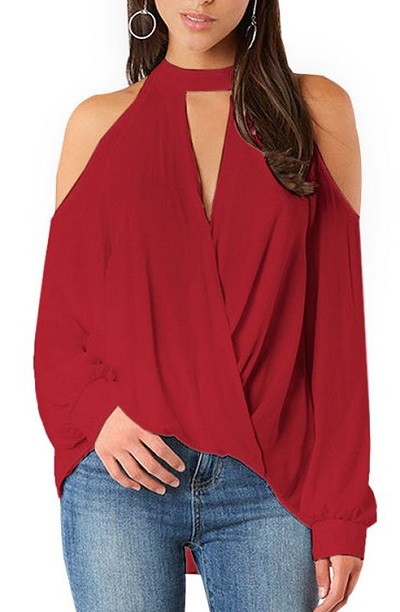 The wrap top with full sleeves is more for that laid back and casual look. With a n interesting design, the top looks beautiful because of its color and the pattern. You can style a gorgeous necklace and a pair of high heeled pumps to accentuate your style statement.
4. Cross Over Short Halter Style Top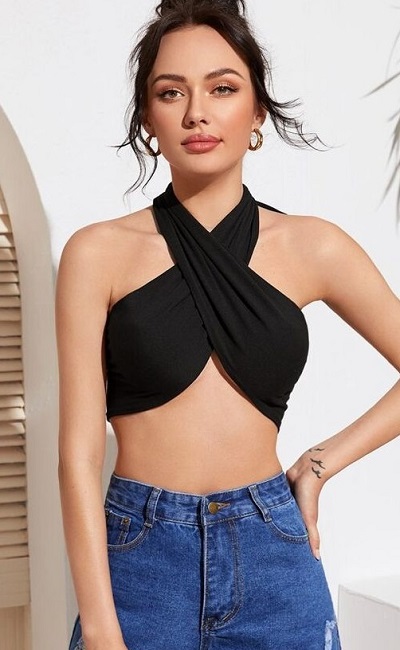 This top is ideal for the casual loungewear and for the beach. It can be worn under the blazer or a jacket but most of the time the top is ideal for the beaches.
5. Cotton Halter Style Designer Neck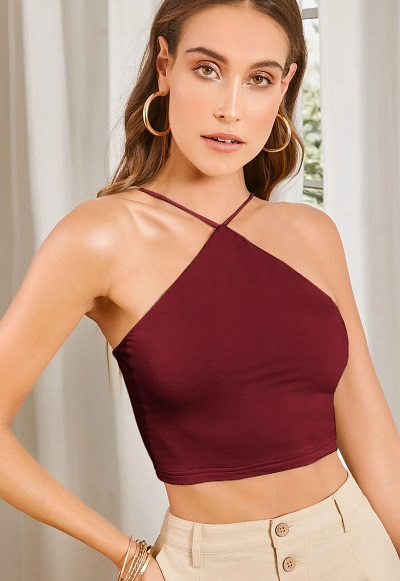 This cotton designer top is preferred by the women who like to experiment with the contemporary trends. The top is certainly quite and can your style statement. It is suitable for parties and by using the statement pieces of jewelry this can certainly make you look gorgeous.
6. Satin high neck halter style top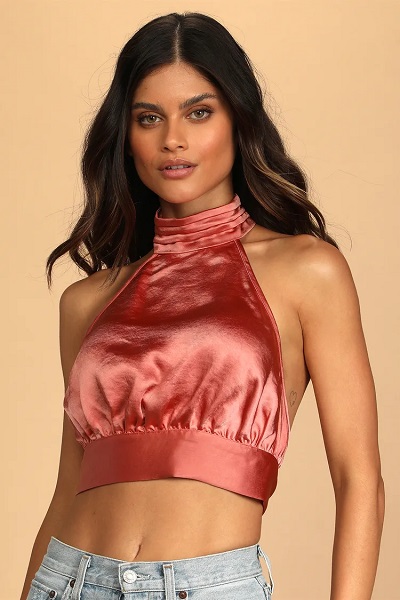 The inverted triangle style top has a collar and is made in the satin fabric. The satin fabric top looks amazingly pretty with its pattern and the design. It is also ideal for parties and events where you would like to have something quite modern. Satin tops and dresses need less accessories and hence keeping the look minimal would be better for classy look.
7. Tie back halter style top design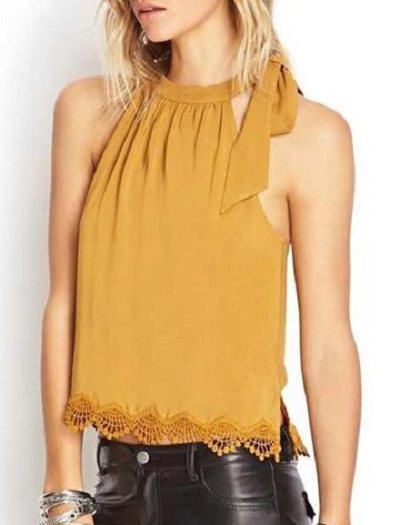 This halter style top has a tie strap that you have to tie at the back. Either you tie it at the back or side of the neck near one of the shoulders. It is also a party wear top and it can also be worn for the college.
8. Multilayered printed halter style top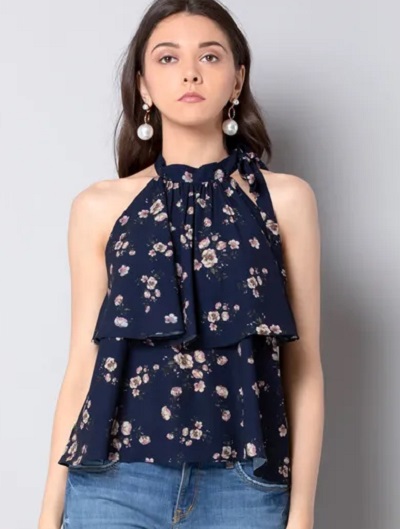 This halter top is ideal for summer season and it is certainly a go to kind of women's top. It is ideal for the summer season.
9. Denim halter style top pattern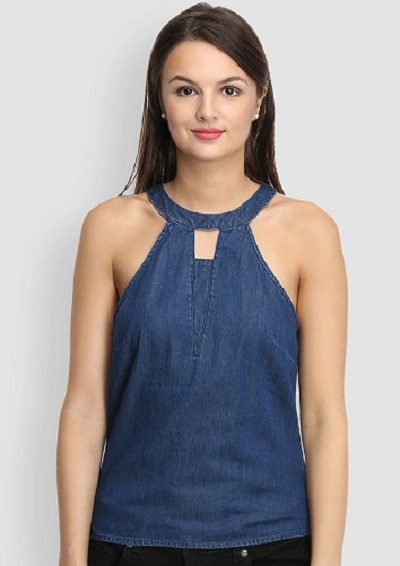 The denim tops and dresses are also in trend and they can be worn with leather skirt or with the floral skirts. It can also be paired up with the trousers, skirts but Denim on Denim should be avoided at least in this case especially during the summer season. It can give you that minimal styling look.
10. Ruffle halter style short top for women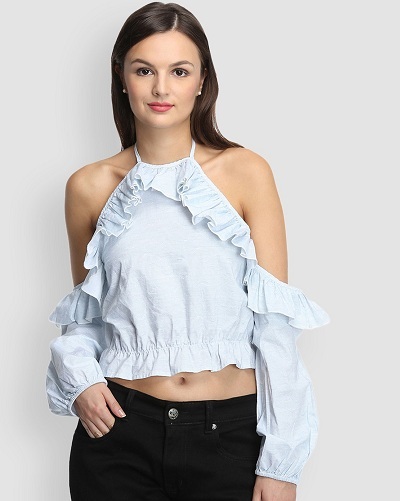 The halter top has a ruffled pattern and is more like a cold shoulder design. Generally, in the halter tops there are no sleeves. However, in this pattern the sleeves are added near the elbows therefore, it also gives it an appearance of halter and cold shoulder fusion look for this top.
11. Stylish Layered Halter Top For Women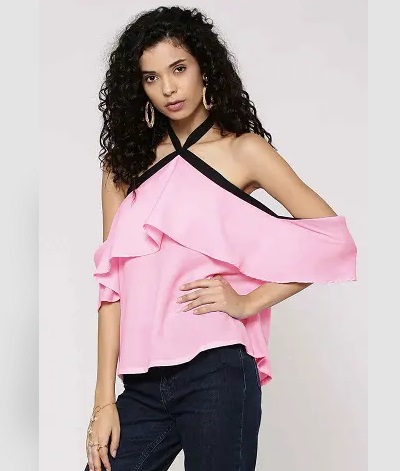 12. Sequin Studded Halter Party Wear Top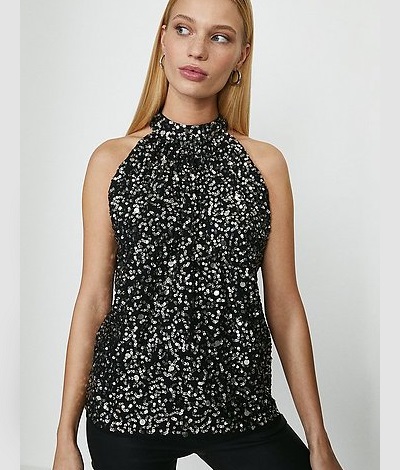 13. Black Sequin Studded High Neck Halter Top Design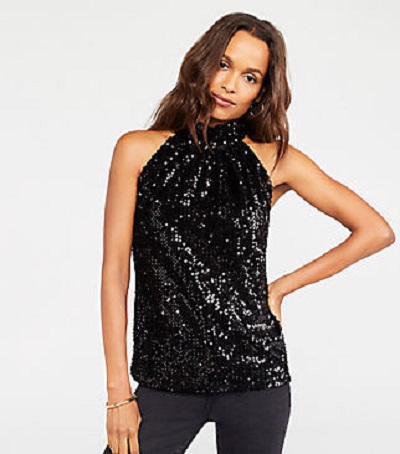 14. Short Sequin Studded Halter Top For Parties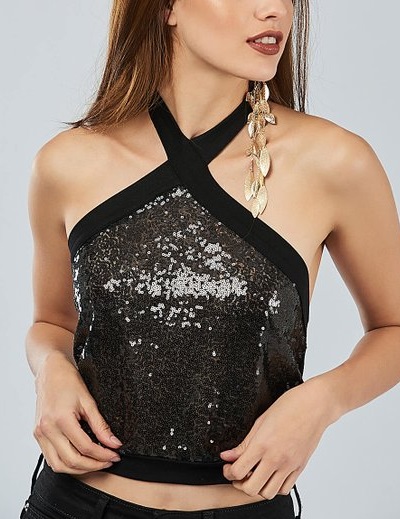 15. Cold Shoulder Cape Shoulder Halter Top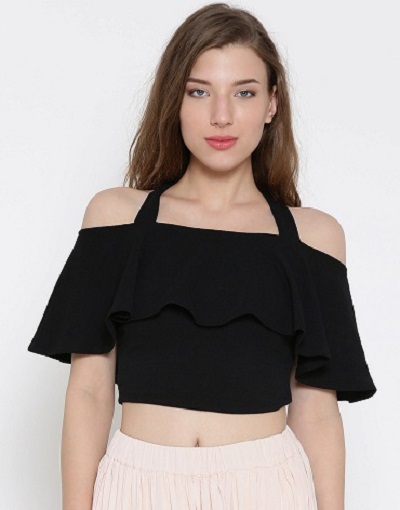 16. Halter Style High Neck Crop Top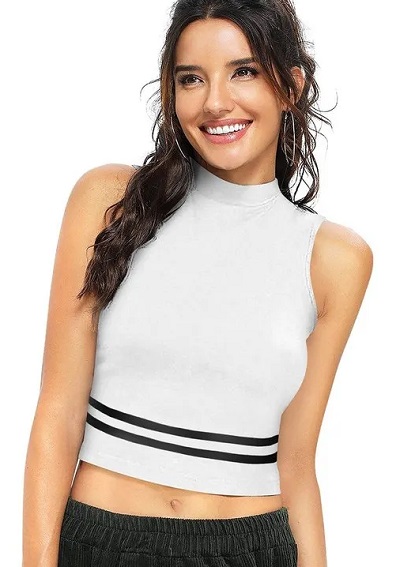 17. Georgette Layered Tie Back Halter Top Pattern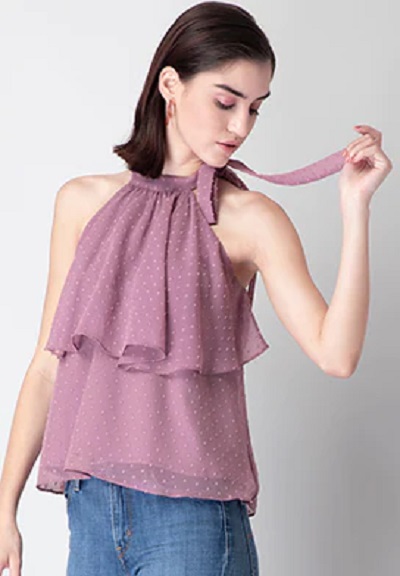 18. Racer Back Halter Layered Top Design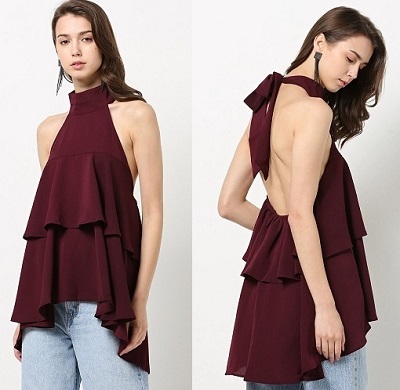 19. Halter Top With Tulip Pattern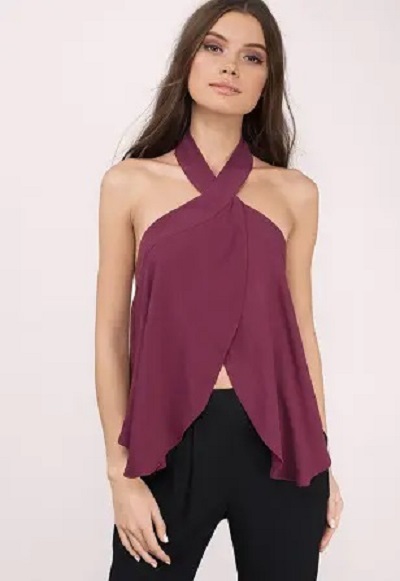 20. High Neck Halter Top Design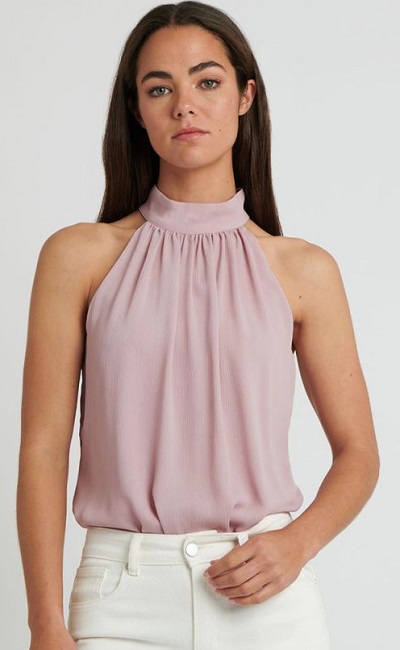 21. Halter Top Style Vest For Ladies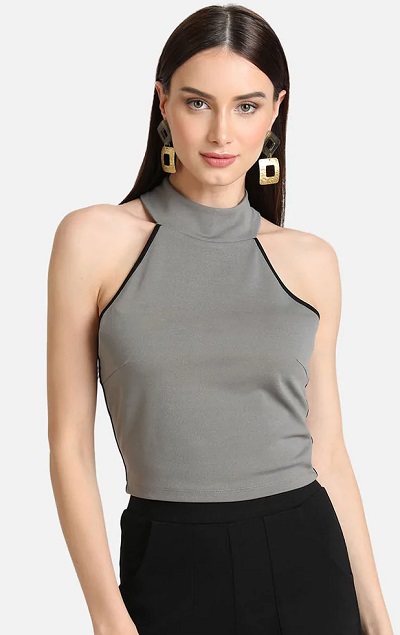 22. Cinched Waist Halter Top Design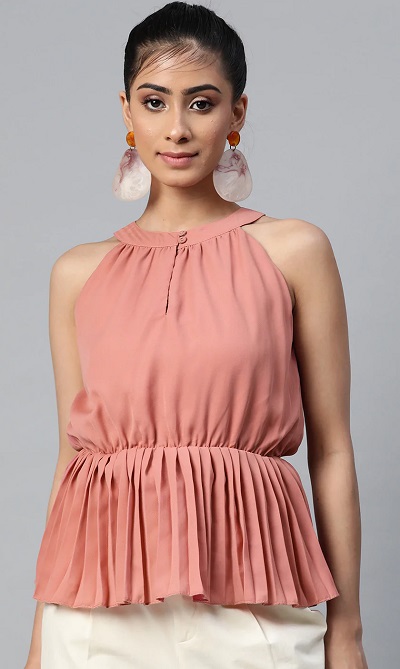 23. V-Neckline Halter Neck Vest For Ladies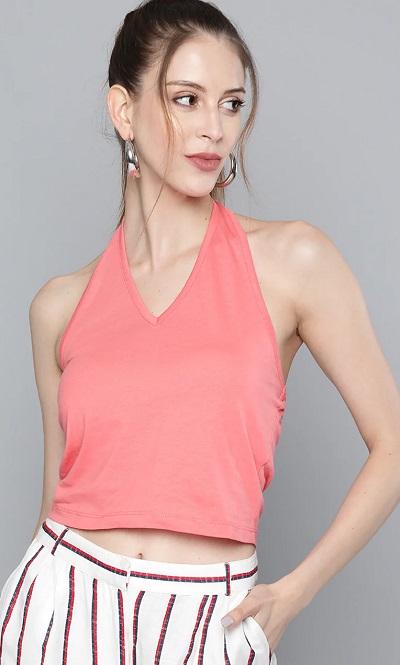 24. Red Floral Summer Halter Top In Georgette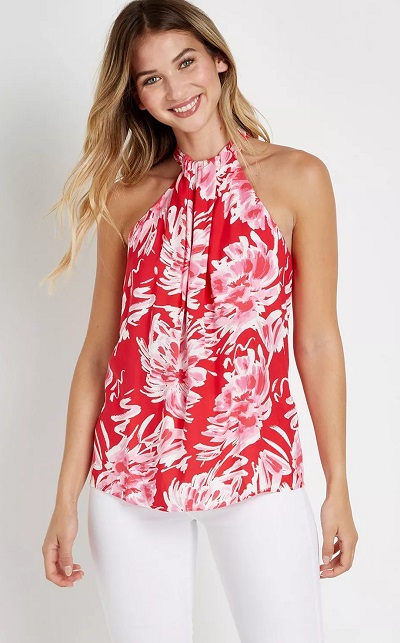 25. Designer Pattern Halter Designer Top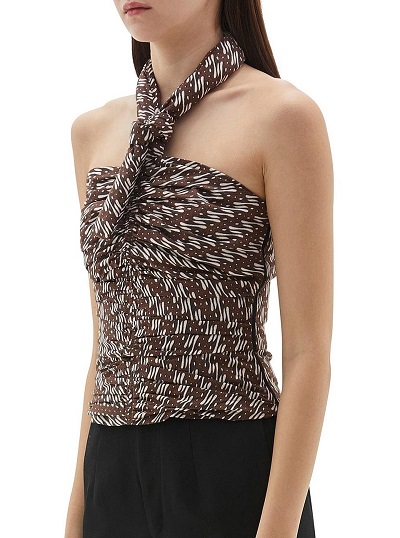 26. High Neck Tennis Halter Style Top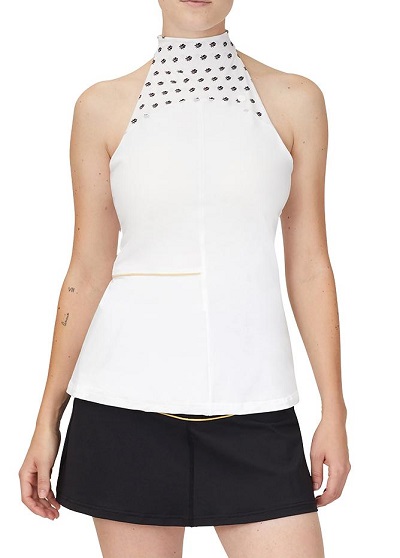 27. Shirt Collar Short Halter Crop Top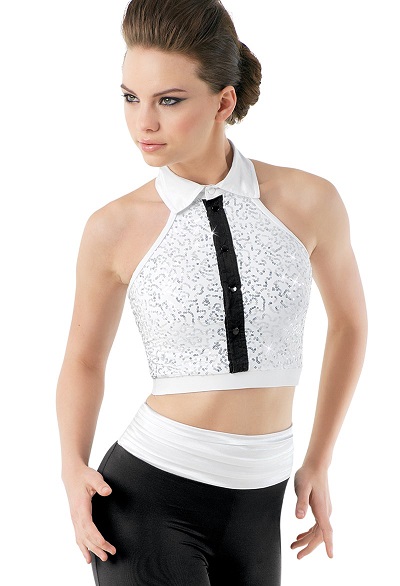 28. Halter Half Collar Short Racer Back Top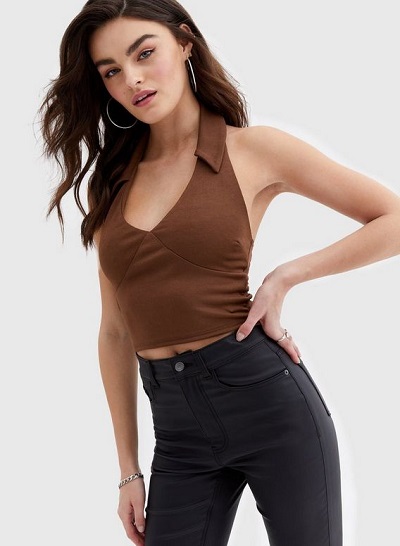 29. Polo Pattern Halter Style Top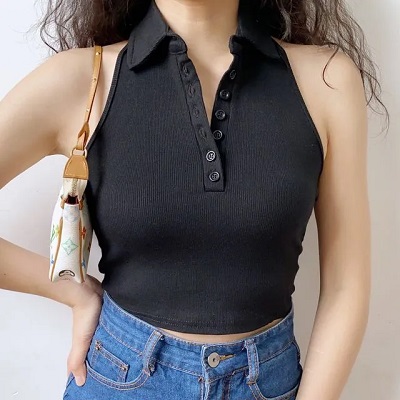 30. Halter Pattern White Polo T Shirt Crop Top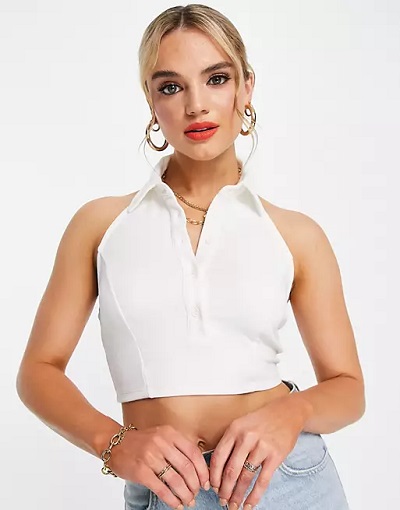 31. Halter Short Shirt Like Top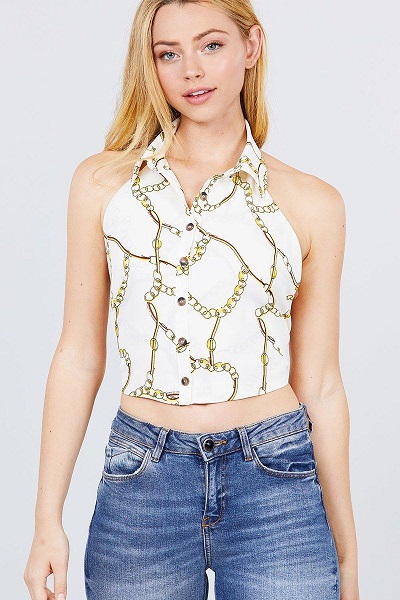 32. Shirt Collar Long Halter Top For Ladies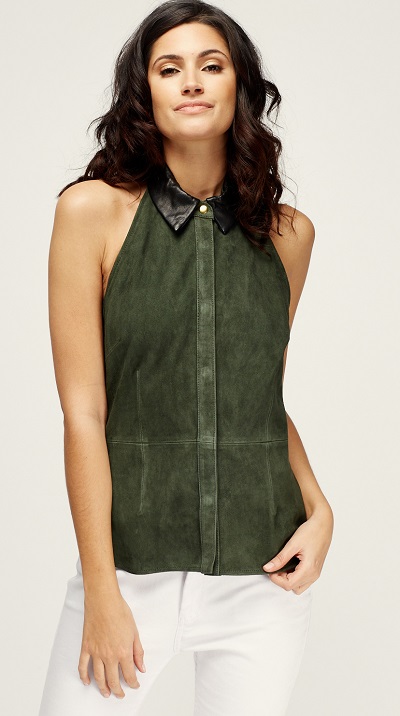 33. White Shirt Style Long Halter top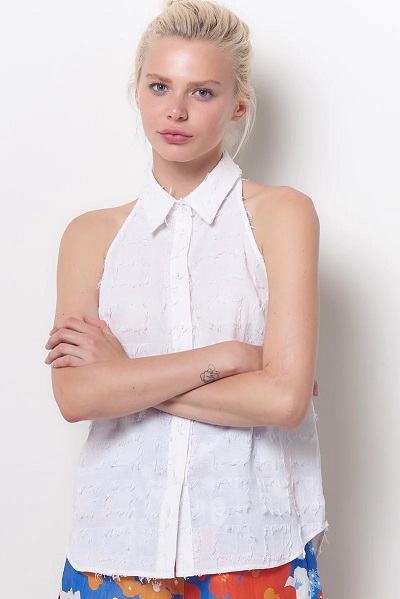 34. Lace Detailing Corset pattern Halter Top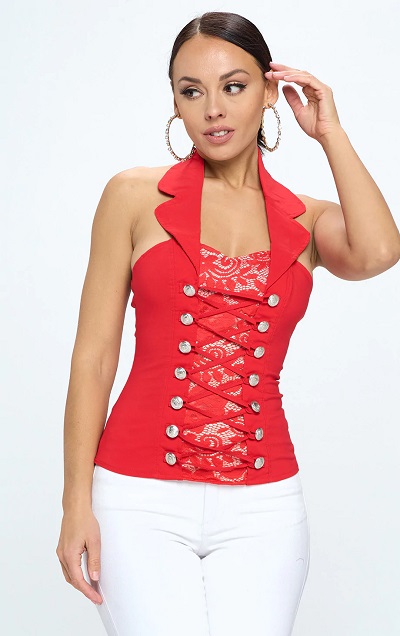 35. Multi Tiered Halter Style Top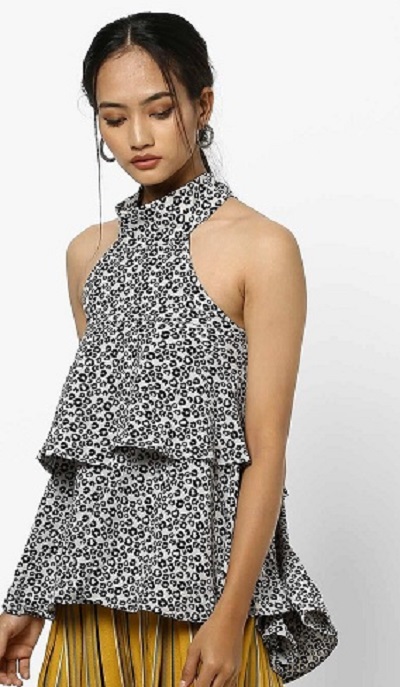 36. Tropical Printed Handkerchief Halter Top For Women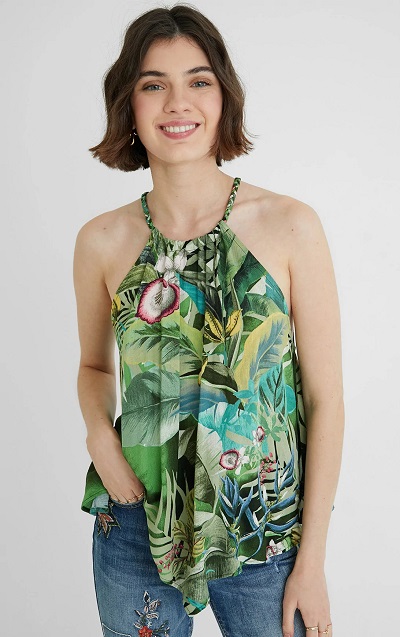 37. Leather Halter Wrapped Top For Ladies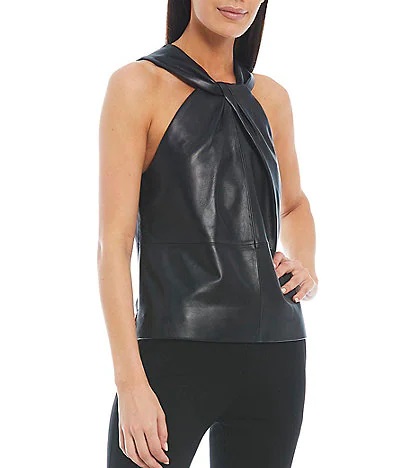 38. Halter Top With Zipper Collared Pattern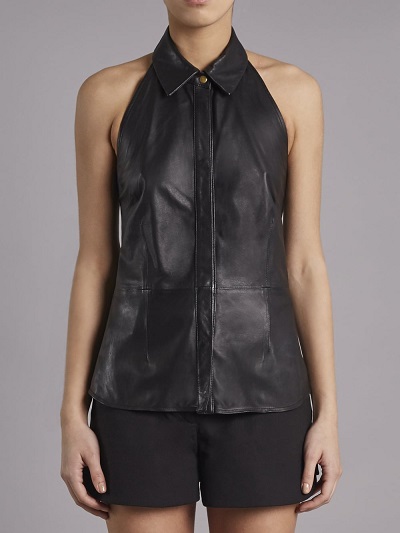 39. Satin Green Intertwined Halter Style Top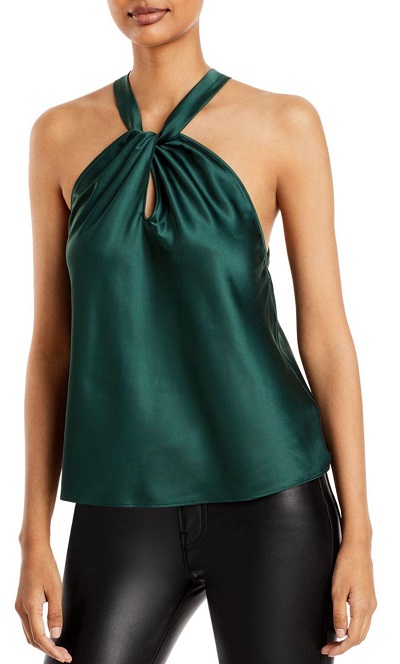 40. Halter Cowl Top Design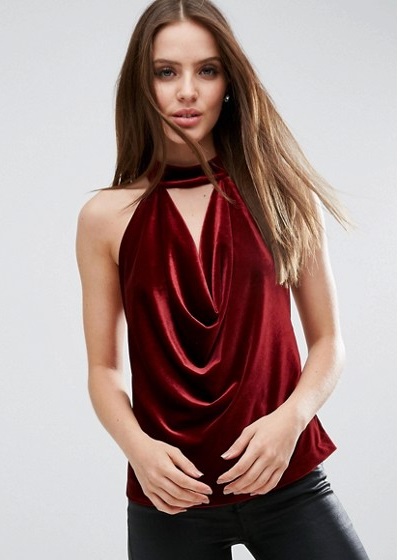 41. Short Velvet Crop Top For Parties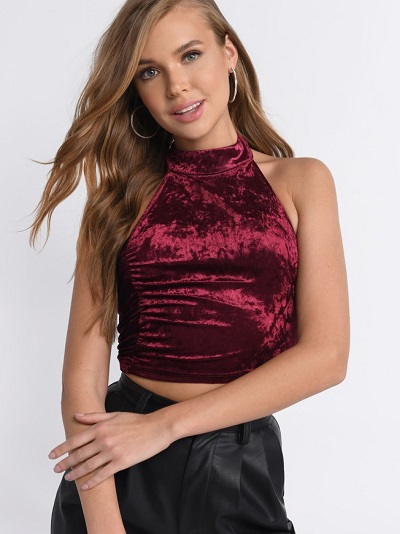 42. Halter Pleated Velvet Style Top
43. Peplum Halter Designer Top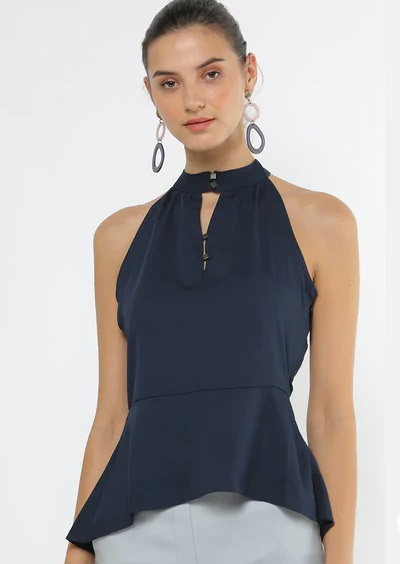 44. Vertical Print Halter Stylish Shirt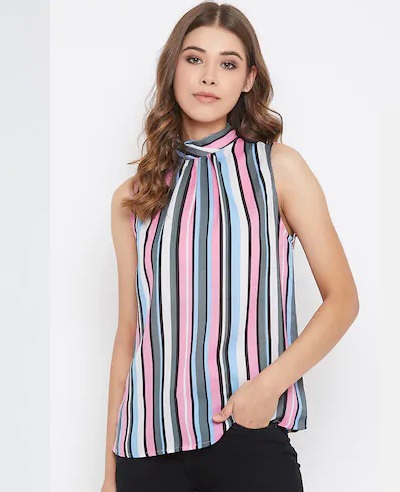 45. Beadwork Halter Style White Top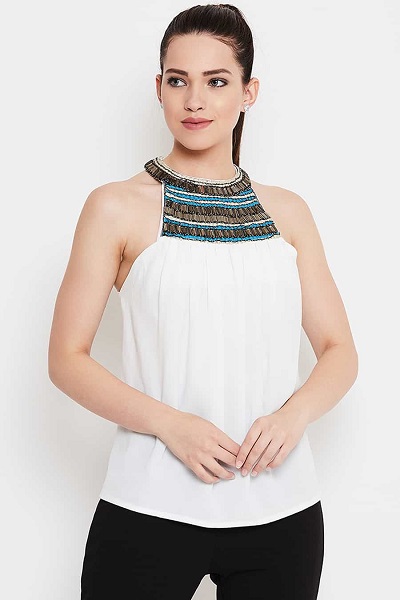 46. Short Printed Halter Style Crop Top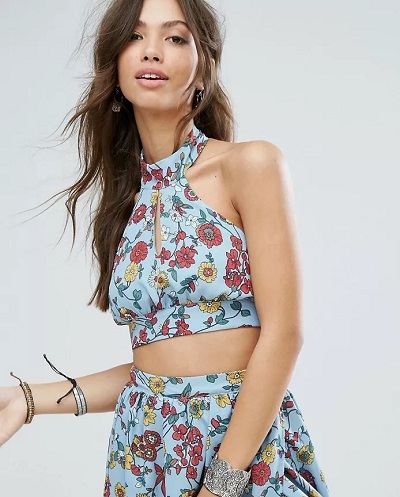 47. Lace Fabric and Ruffle Halter Top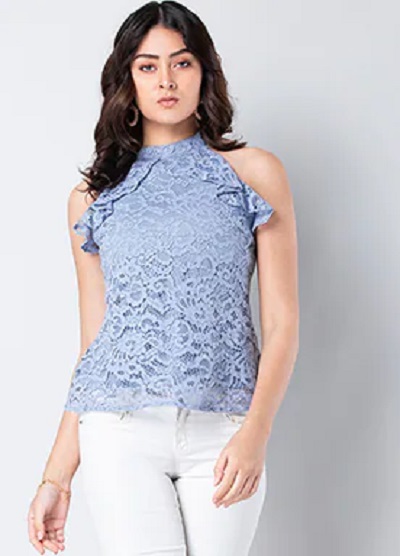 48. Crochet Butterfly Halter Top Design
49. Crocheted Halter Design Top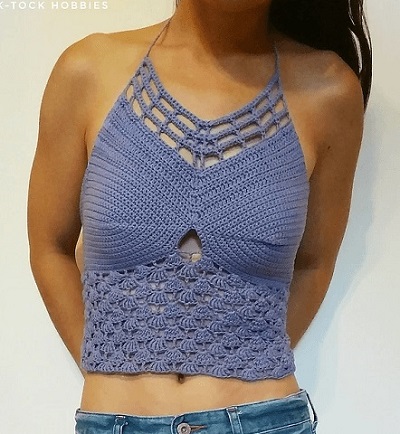 50. Velvet Halter Tie Pattern Top Design