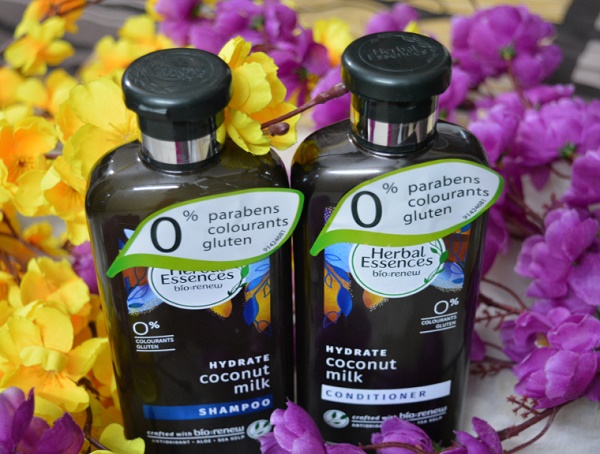 Hi everyone in this article I am going to talk about the newly launched Herbal Essences Shampoo & conditioner range. I've tried this brand earlier as well and the experience was good. The new shampoos have renewed packaging and that is very enticing. I am going to review this Herbal Essences bio: renew Coconut Milk Shampoo.
Price of Herbal Essences Hydrate Coconut Milk Shampoo: 600 rupees for 400ml
Price of Herbal Essence Hydrate Coconut Milk Conditioner: 650 Rupees for 400ml
Review of Herbal Essences Coconut Milk Shampoo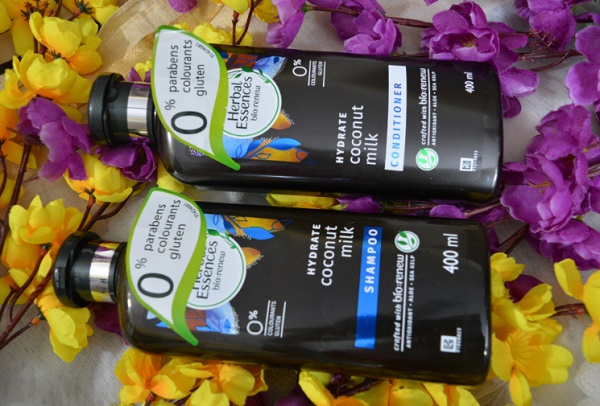 I noticed that the conditioner is costlier than the shampoo. Packaging wise, I really like the shampoo and conditioner duo. The different variants are coloured differently. This one has a brown bottle which is very sturdy and easy to be carried in your bag in case you are travelling. These shampoos are launched in multiple variants and each one of those targets a particular hair issue. Well, I have used samples from this particular brand earlier so, when I got these, I knew that they will be quite effective.
As I said, the shampoo is packaged in a very sturdy and attractive looking packaging which makes me like it instantly based on its outer appearance. The shampoo contains coconut milk and along with that it has aloe and sea kelp. It is rich in antioxidants and helps to purify and protect the hair against the everyday roughness, damage and brittleness.
It has a fresh smell of vibrant coconut and along with some Floral and Vanilla like scent is also noticed. It lathers well and gives you adequate foam that cleanses the scalp and hair thoroughly. After coloring my hair, they've got dry from the ends. So, after using the shampoo for over a week, I have seen positive changes in the way my hair.. And moreover, it is free of parabens which makes me like this product a lot. And that too at a very affordable price.
The goodness of coconut milk actually makes it the best option for damaged and dry hair. As it is based on the natural ingredients, it's also a suitable shampoo for frizzy hair. It was really hydrating for dry hair. Right from the first use, you see that the results are getting better with time.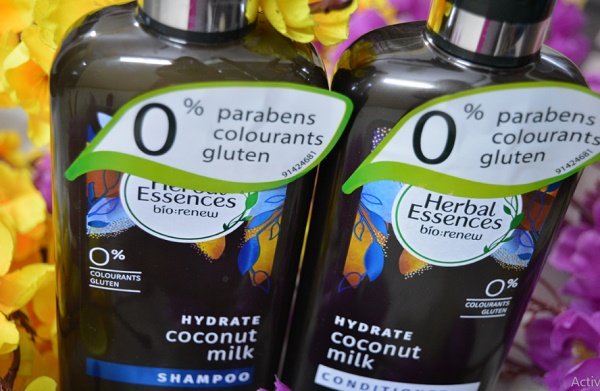 I do not have extremely frizzy hair, however during summers, there is little bit frizz. The shampoo and conditioner was able to combat that. For damaged hair as well, coconut milk is known as one of the best ingredients to use. You must have heard that applying coconut milk to your hair makes them smooth, softer and reverses the damage.
After using this shampoo, it left my hair feeling soft and smelling nice. I even noticed that I've got smooth and soft hair ends. I really like to use this product for its efficiency and its natural ingredients. In fact, Herbal Essences is the first hair care brand to be endorsed by world leading authority on plant science – Royal Botanic Gardens, Kew in London. So the ingredients are good! Now I'll talk about the coconut milk conditioner. The conditioner has the similar smell as that of the shampoo. It is very hydrating and makes the hair smooth and silky. For that, I do not use a conditioner too close to my hair roots, as it can make the hair scalp greasy, considering the moisturising properties of this conditioner.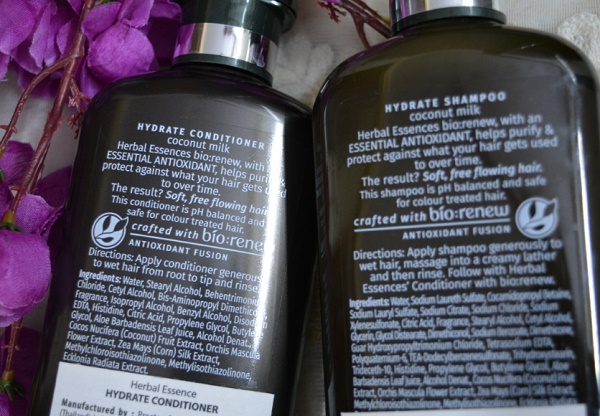 When, you're looking for a good shampoo and conditioner, that can protect the hair from getting damaged, while reversing the existing damage from the hair, it fits the bill perfectly. Therefore, using a conditioner and shampoo with ingredients like coconut milk, will definitely help you in combating the damages that you faced due to everyday styling.
So, I would highly recommend this shampoo and conditioner for people who have rough, dry and damaged hair. I am really sure that you would like it.