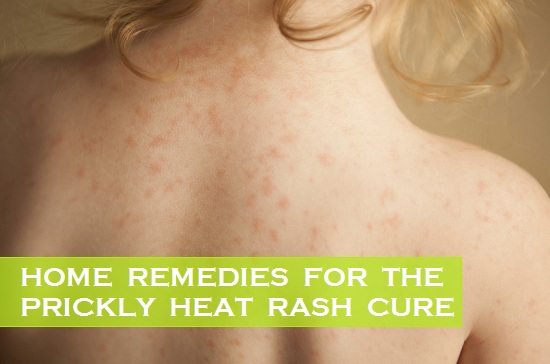 Prickly heat is characterized by small tiny fluid filled boils which are common where the temperatures are high like in places with hot humid climate. Prickly heat rash can be experienced by men, women, kids, elderly people everyone as it is caused when the sweat glands get blocked due to excessive sweating. Back, neck is the most common parts of body where the prickly heat rash is seen. In summers, kids when they play outside they are more likely to get prickly heat as they sweat and due to that the prickly heat can erupt. The itching and some pain is there with the prickly heat and at times blood is also seen. So, how can one cure prickly heat with herbal remedies at home, we will share the tips for prickly heat treatment for your kids, yourself and other members of the family.
Home Remedies to Treat Prickly Heat in Summers

1. Fuller's earth
Fuller's earth is clay which has oil absorbing properties and it also unblocks the clogged pores. Fuller's earth (Multani Mitti) is one of the cheapest and easiest remedy to cure prickly heat at home. Take some multani mitti powder and prepare a loose paste with some rose water. Apply on the areas affected with prickly heat and leave for couple of hours. Take a shower after that. You will see immediate relief in the prickly heat itching and burning.
2. Aloe Vera gel
Aloe vera gel is also said to be an effective home remedy to treat prickly heat immediately. Aloe vera gel has healing and soothing features due to which the skin gets relief from the constant itching, burning and redness. It will also heal the prickly heat and smoothens the skin. Rub fresh and pure aloe vera gel on the prickly heat affected skin areas and leave it. Apply this 2- 3 times in a day for best results.
3. Ice treatment
Ice is the coolest remedy and treatment for prickly heat at home. Rubbing ice cubes over the prickly heat affected skin will not only provide quick relief but will also reduce the itching and rashes on the skin. Just take ice cubes and rub on the skin. Try this 2-3 times in a day to get rid of the prickly heat from the body within couple of days.
4. Sandalwood powder
Sandalwood powder gives instant relief in the pain, itching and burning sensation in prickly heat. Make a paste of sandalwood with water and apply on the affected area keep it for one hour and then take bath. The cooling feature of sandalwood is highly effective in curing prickly heat at home.
5. Talcum powder
Talcum powders are very easy way to get relief in the prickly heat and to cure the prickly heat very fastly. Apply talcum powder on the prickly heat. You can also use talcum powder on kids who play outside to further prevent the eruption of prickly heat that can be really problematic for small kids.