High neck saree blouse designs and they are quite popular currently. Saree blouse designs and they are quite popular currently. High neck saree blouse designs can be worn with your net, chiffon and Georgette sarees or even with the lehenga dresses. There are so many different varieties and types of such blouse designs and patterns available. And the best thing that you can do is to sarees or even for the formal occasions. Sarees or even for the formal occasions.
Latest High Neck Saree Blouse Designs
1. Collar Saree blouse pattern for formal occasions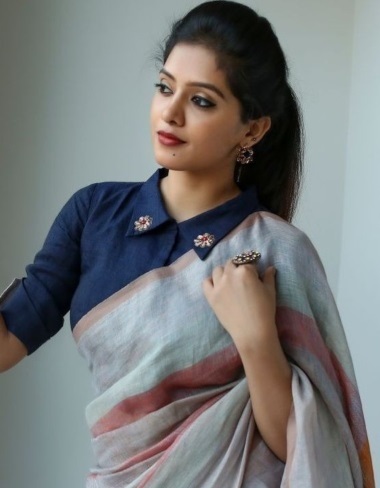 This designer saree blouse is not just a high neck blouse but has collar too. The collar has sequin and beadwork. It's a Cotton blouse which is paired with a cotton saree. Such designs and patterns are appropriate for the formal occasions.
2. Multicolor Saree Blouse Designs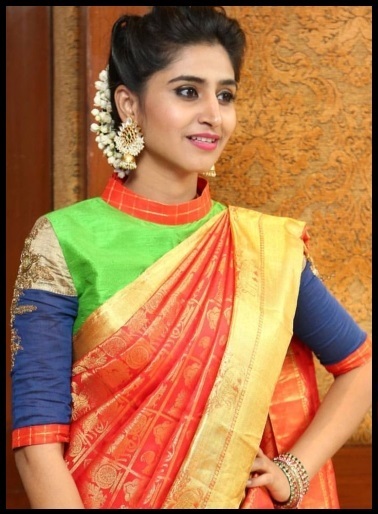 The Silk blouse has multi colors, where a bold green, blue and beige colors are used along with orange. It is paired with an orange cotton silk saree, however, one can try other beautiful colors too.
3. Festive Wear Party Saree Blouse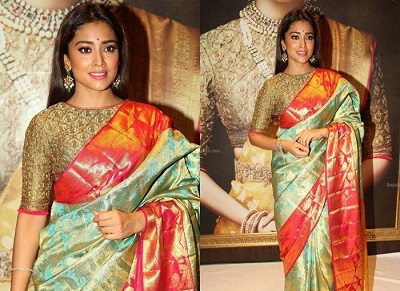 The beautiful elbow length sleeves blouse is given pink color contrasting band. Silk blouse is studded with stone and sequins work. The best thing is that it is so beautiful and gorgeous that it would work not just with cotton and silk sarees, but would also go really well with chiffon sarees.
4. Velvet blouse for parties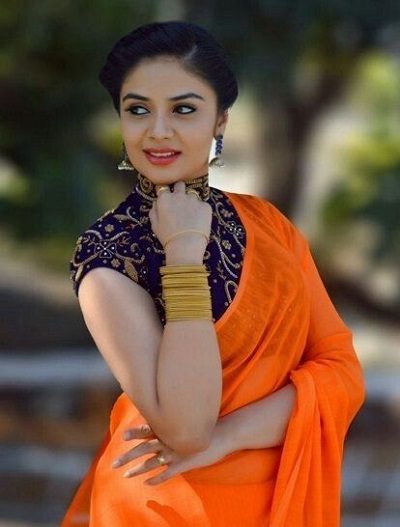 This Royal blue velvet blouse has high neck collar work sequin work. This would go extremely complimenting with the sarees in the shades of red, yellow, black and even blue. It is a very party perfect saree blouse design suitable for women of all age groups.
5. Petar Pan Collar Blouse Pattern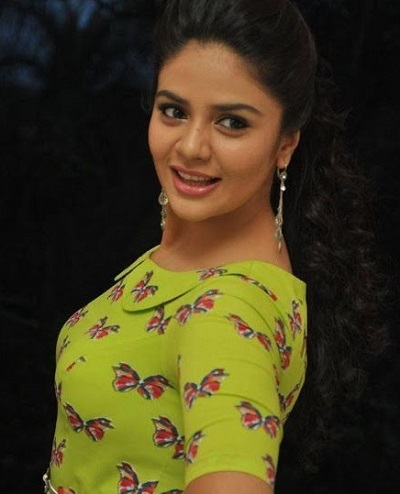 Design here is that not just blouse pattern but it also has Peter Pan collar. The collar is extremely beautifully done, especially when it comes to Sari blouse designs. You can wear it with the printed sarees, as the blouse is printed. It is perfect to go with the cotton sarees and even the printed Georgette sarees.
6. Yellow Sleeveless Blouse Design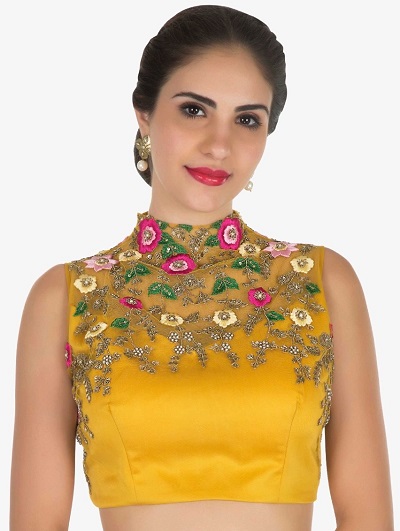 The beautiful canary yellow high neck blouse has bold embroidered floral design in the pink and green color. In spite, of this blouse loaded with multi color look, however, the yellow color still stands out. It has a sleeveless pattern with a transparent design on the top.
7. Golden Blouse For Parties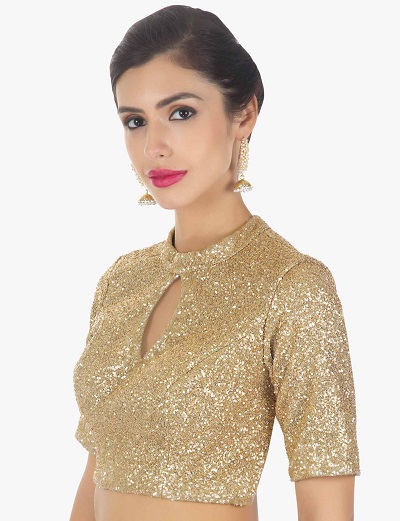 Golden glittery blouses with high neck patterns are trending because they are so versatile that one can pair them up with nearly every type of sarees and lehengas. This blouse is given medium length sleeves and it is a little longer than the normal blouse length.
8. Cotton Simple High Neck Blouse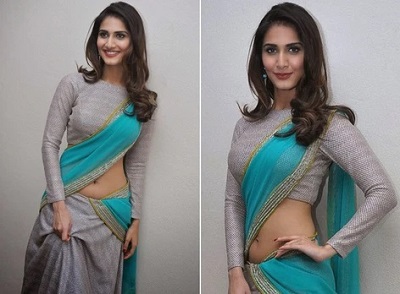 The cotton high neck blouse has full sleeves and is best to be paired with any type of saree. Such blouses are complimenting when one would wear cotton sarees.
9. Sleeveless High Neck Blouse Style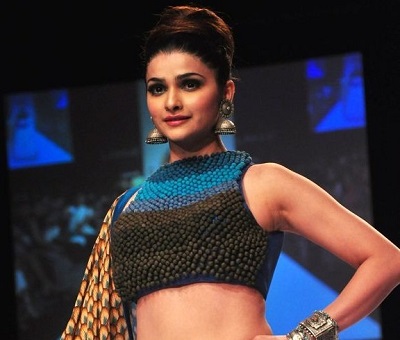 Made with the sleeveless pattern, this is a gorgeously made blouse. It's a very different looking design which is perfect for the party wear sarees.
10. Halter Style Saree Blouse Pattern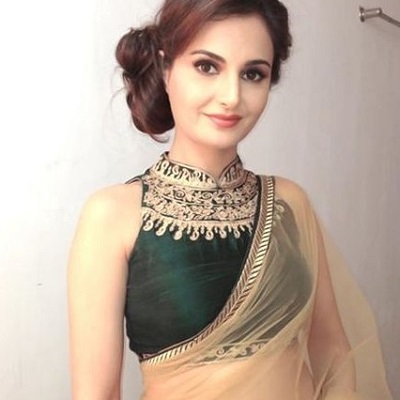 The Halter style blouse is rich with embroidery work. It has Chinese Mandarin neckline collar and is made in the embroidered blue Silk fabric. Such blouse patterns are perfect for women with different body types.
11. Sequin Studded Blouse Design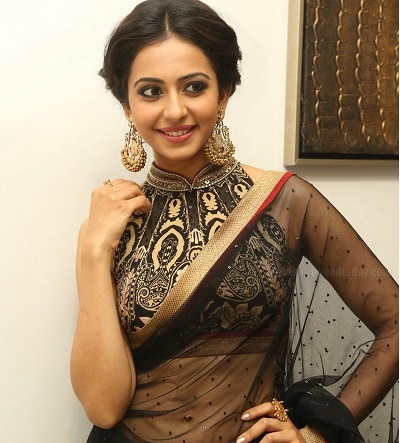 It is a similar looking blouse with Halter style and Chinese neckline. It has sequin and embroidery work on the collar while the rest of the blouse has printed pattern.
12. Front Zipper Saree Blouse Design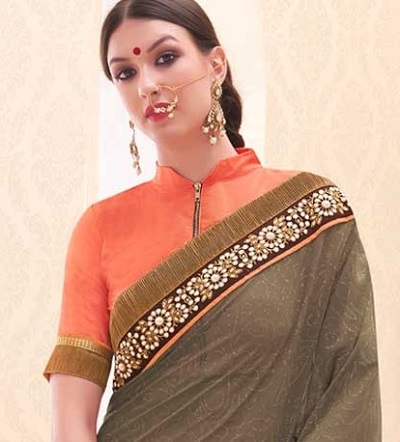 With front zip, the blouse is different from the regular pattern. The high neck blouse has medium length sleeves that bear a border of the same material that is used for the saree border.
13. Partywear Sleeveless High Neck Blouse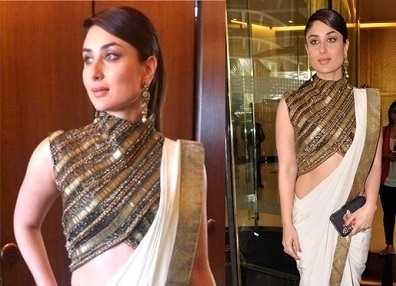 This saree blouse comes with a wrap around kind of pattern. It's given a sleeveless pattern and is studded with long beads and stone. The party wear blouse is suitable to pair up with light weight sarees.
14. Embroidered Saree Blouse Design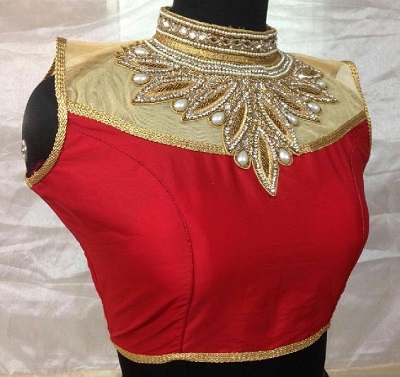 This beautiful embroidered red color blouse is made with a princess cut pattern with patch work on the collar that has a pearl and rhinestone with sequin work.
15. High Neck Collar Design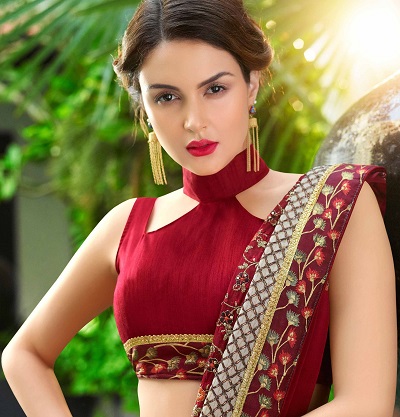 This is an extremely stunning looking blouse with high neck collar design. The cut work on the shoulder looks amazing for most of the sarees that one can pair with this beautifully made saree blouse. Sheer fabric sarees like net sarees, chiffon sarees are best with these blouses.
16. Long Sleeves Blouse Design With High Neck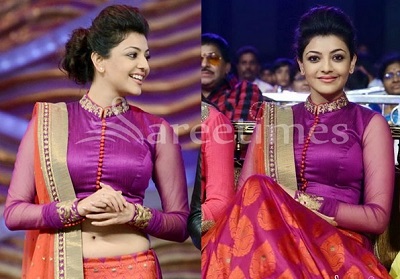 One can also experiment with different styles of long sleeves blouse designs like this one. Here the blouse sleeves are made with pure chiffon fabric with the band on the wrist. The front part of the blouse has design with embroidery and buttons in the front.
17. High Neck And Short Sleeves Blouse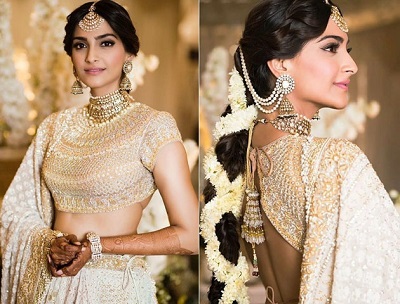 While going for a party, such high neck blouse with short sleeves are better. In fact, such patterns are perfect for the festival and partywear lehenga and sarees. The blouse is made with different cut and pattern wear in the backless design is given. The entire blouse is made with thread work and sequin design.
18. Black Cotton Saree Blouse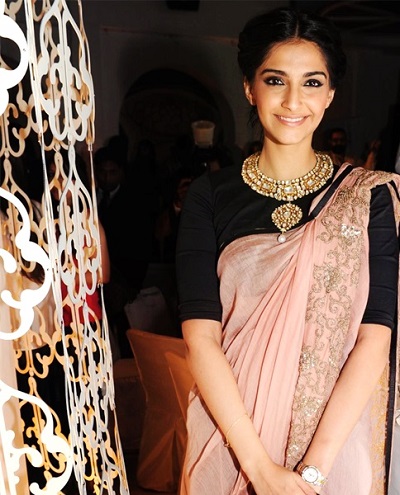 The high neck blouse with medium length sleeves has a shoulder cut. It's made in black cotton fabric. The best thing about this blouse is that because of the cut, it can be used for different dresses.
19. High Round Neck Saree Blouse Design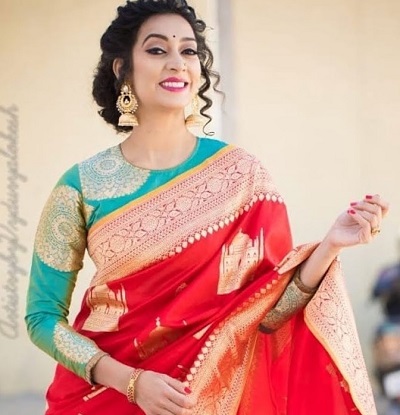 The high round neck blouse is given full sleeves. It's is made in a brocade Chanderi fabric. Such blouses are perfect, when you are going for a silk saree. In fact, brocade blouses are complimenting for most of your net sarees.
20. Ruffles Sleeves High Neck Blouse Design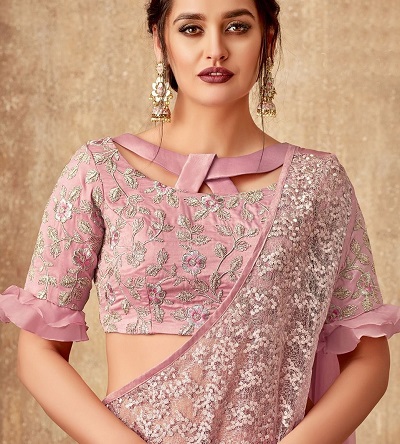 The designer blouse is made with a different pattern. The regular neckline is given band on the neck in the same fabric. For the sleeves, ruffle sleeves are used and the main fabric is silk fabric with rich zari embroidery.
21. Mirror work blouse for festivals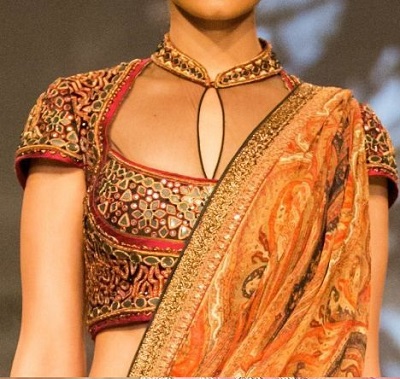 This blouse is made with loads of a mirrors and patch work. This extremely beautiful and the high neck. It has been given short sleeves while the neckline is a scoop neckline with Patchwork.
22. Armband Style Blouse Pattern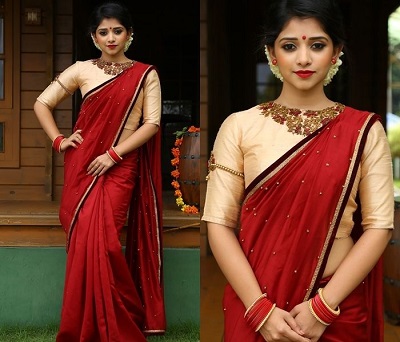 Embroidery like a necklace is given along the neckline over this blouse is extremely beautiful. It has an arm band which is literally stitched and made on the blouse itself. The otherwise plain looking Golden blouse is embellished with embroidery.
23. Simple Festive Blouse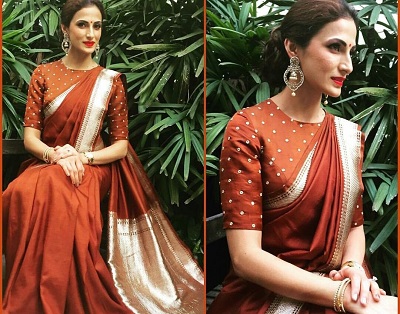 Here small mirrors are used all over the high neck blouse in reddish brown color. It's made with silk fabric however here it is paired with silk saree, but the same blouse pattern can be worn with net and chiffon sarees.
24. Cape Style Saree Blouse Design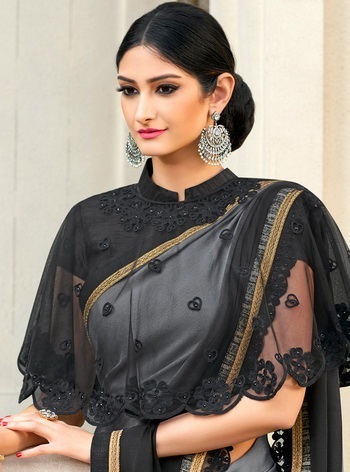 Saree blouses with Cape patterns can take your entire dress to another level because the Cape is popular and gives that Western feel to your ethnic dress.
25. Blouse in silk fabric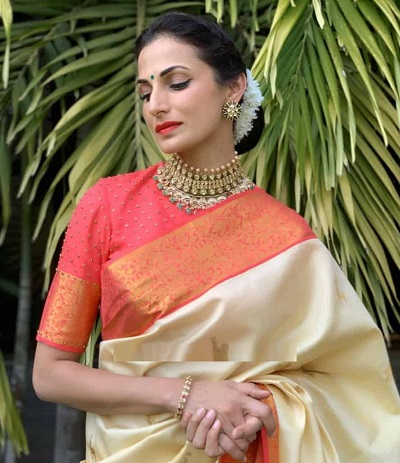 The silk saree blouse has a border on the sleeves. The entire blouse fabric is adorned with pearls. It is a party wear blouse design which is suitable to try with silk and chiffon sarees.
26. Designer Partywear Blouse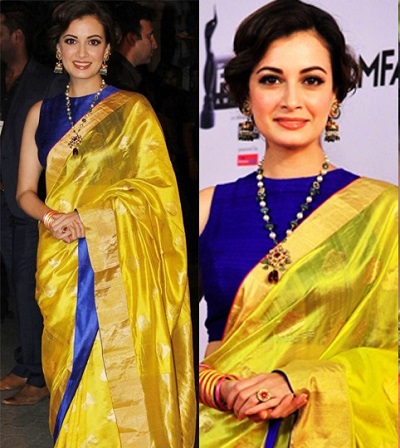 The Designer sleeveless blouse in royal blue Silk fabric looks good with a bright neon yellow saree. This versatile combination is so amazing that one can try with different types of sarees.
27. Thread work wedding special blouse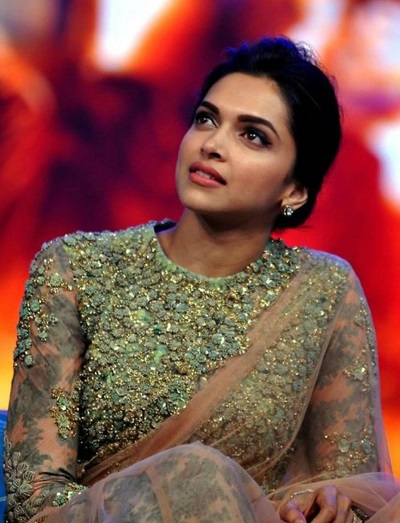 The thread and sequin work blouse is a perfect party and wedding wear blouse pattern. The full sleeve saree blouse design can be paired with net sarees and even with the silk saree such blouses is the best thing to go with the net sarees with such designs.
28. Front Opening Blouse Pattern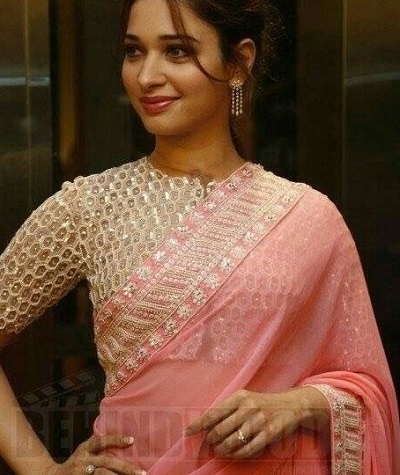 This sheer fabric blouse has a high neck with front opening. Made with sequins and beads, the party wear blouse pattern is perfect for women with all age groups, especially for the heavy sarees.
29. Rivet And Bead Studded Blouse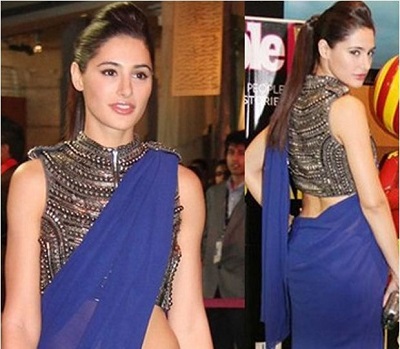 When you decide to keep the saree plain, then an exclusively rivet studded blouse will do the work. This blouse is like a short crop top with zipper in front and button tab off the shoulder.
30. Festive Blouse Pattern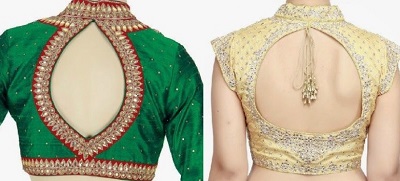 This is a designer blouse patterns which are perfect for festivals and parties.