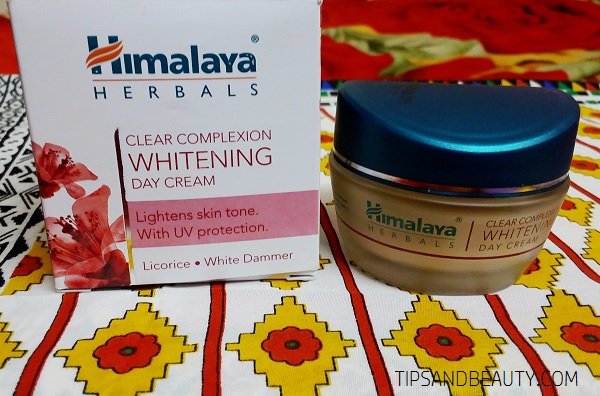 Himalaya Clear Complexion Whitening Day Cream Review. Hi everyone!! I will review this Himalaya Clear Complexion Whitening Day Cream. It is a whitening day cream or fairness cream which is used by the people who needs to get some fairness. I use fairness creams not for the fairness purpose but for the purpose of getting rid of the skin tan removal. I bought this Himalaya Clear Complexion Whitening Day Cream a while ago and have used it all. The tub of my cream is almost empty but I clicked the pictures already. Haha. A good whitening cream for oily skin is hard to find so, is it really a good cream to whiten the skin. Let's find out in my Himalaya Clear Complexion Whitening Day Cream review.
Price of Himalaya Clear Complexion Whitening Day Cream:
This cream is available in a pack of 50 g for rupees 250. This is the only pack and there is no small or bigger pack than this.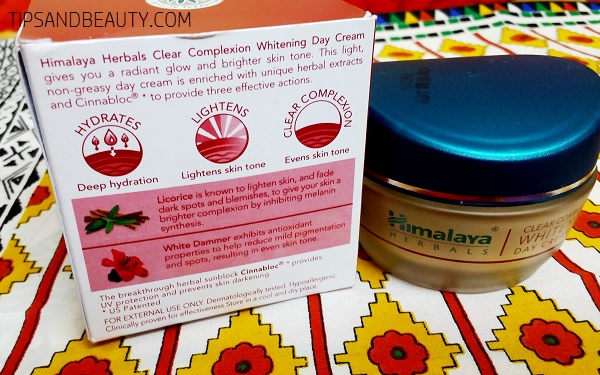 Ingredients: Check the pictures below.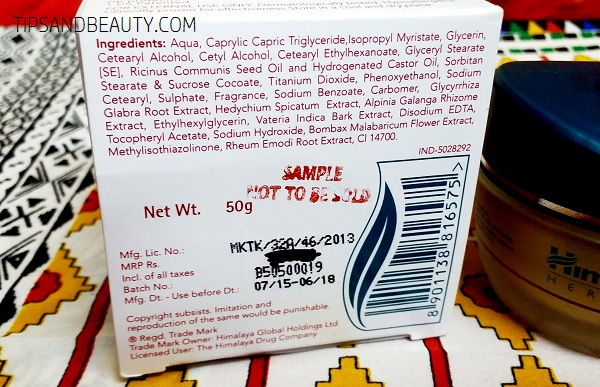 Experience with Himalaya Clear Complexion Whitening Day Cream
The cream is packed in a thin carton box in which you will see a glass container. All the new Himalaya skin creams like the Himalaya oil free gel cream, night cream etc are packaged in such carton boxes and the glass thick container. So, it is not the most travel friendliest of the packaging but still can be taken along since the glass containers is quite thick. Anyways, the cream inside is of light yellowish in color which also reminds me of the saffron color. Light yellowish tint is may be due to its ingredients. It contains two main ingredients like the Licorice and White Dammer. Licorice is known to fade and lighten the skin to be and also inhibits the production of the melanin synthesis in too much amount. White Dammer on the other hand, is an excellent anti-oxidant and also lightens the dark spots, scars of acne etc.
How to use Mulethi for fairness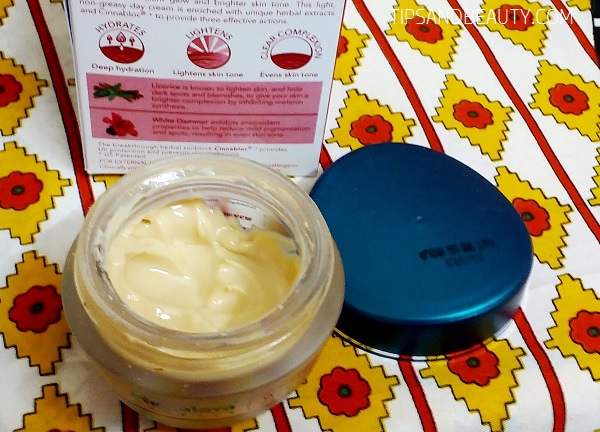 All the details are there on the pack hence, you can also read the ingredients etc. It has a herbal sun black called Cinnabloc which protects the skin from getting dark due to the over sun exposure when you roam around in the sun outdoors. So, this was the information about this Himalaya Clear Complexion Whitening Day Cream and what it contains now, let's see friends what it looks like and how its texture is.
The cream has a light texture and the pale yellow-ish color also looks nice. There is no bad smell or very artificial strong or aggressive smell coming from this. But it has a subtle gentle scent. The Light texture of this cream is praise worthy else I have seen that many fairness creams would have that thick powdery formula which when you apply on the face gives a visible fairness within minutes but can block the pores and does nothing to make the skin fairer. Yes, I am pointing towards the Fair & Lovely, they are the pioneer in such thick creams which can eventually block the pores on oily skin. So, even though your color will not change but yes, you will get acne after certain period of time, in summers when the skin seats like crazy. Hence, I liked that this cream is not made like those temporary effects kind of thing but it has ingredients which can aid in lightening of the skin, when you use it regularly. So, even if it does not impart miraculous fairness to your skin, you can still be satisfied that it keeps the darkness under check and with continuous usage, the skin complexion or tan gets lighter.
Best skin lightening creams in India
Results:
The first time, I used this cream I liked its non-oily, non-greasy texture. It is non oily in a way that if your skin is oily then it will not leave a sticky layer on the skin surface. But for the dry skin, this will give the hydration as well. The formula is kept or made in a way that this can be used by all the skin types. During winters too, this cream fares well for oily combination and acne prone skin. For the dry skin, if you feel that after using this Himalaya Clear Complexion Whitening Day Cream the skin still craves for extra nourishment then go ahead and apply a little moisturizer.
It makes the skin appear dewy and softer and after using this for so many weeks, I noticed that it has lightened the dark spots etc and the skin looks better but honestly, the results are not extreme.
Pros of Himalaya Clear Complexion Whitening Day Cream:
The packaging is okay but could have been better
Price is very inexpensive as the cream is for 250 rupees for 50 g and will last longer
Creams gets into the skin nicely and won't leave behind a thick or greasy layer
It does not give a heavy feeling while the cream is applied
Gets penetrated in the skin after some massaging
Texture is light and non oily therefore everyone can try it
Guys too can try it
Suitable for all skin types
Has licorice and white dammer
Rich in cinnabloc which is termed as a natural sunscreen which reflects the UV rays that harms and darkens the skin
Availability of Himalaya products is easier online and in the stores and supermarkets.
Cons of Himalaya Clear Complexion Whitening Day Cream
Tub packaging
No such change in color but yes skin looks even tone after some time
Darks pots and scars are lightened to certain extent
Rating: 4 out of 5
Himalaya Clear Complexion Whitening Day Cream is a decent day cream which can make the skin smoother and even toned but it does not give miraculous fairness. Which should be okay as it is still not of those heavy thick fairness creams which gives 5 minutes of fairness with their white powder like formula and then clogs your oily skin pores. It is at least loaded with white dammer, licorice which can help lighten the skin tone and texture in the long run. The whitening cream is non oily and non greasy in nature hence everyone including the boys too can try this cream.