Hi girls!! I will review Himalaya Clear Complexion Whitening face Scrub in this post. Do you know that to keep the skin's elasticity and youthfulness, we should regularly scrub off the topmost dead skin layer. I have shared so many homemade facial scrubs, foot scrubs etc. But at times when we do not have time we have to use the ready made scrubs. I am a beauty blogger so, companies send me product to review but I mostly love natural things. Some of the readymade scrubs are also good. This is why I use them and review them for you so that you can choose better and save your money. Anyways, let's begin this Himalaya Clear Complexion Whitening face Scrub review.
Price of Himalaya Clear Complexion Whitening face Scrub : This scrub is for 125 INR for 100ml tube and the small 50 ml costs 70 rupees, soothe bigger pack can make you save some bucks.
Himalaya Claims "This Himalaya Clear Complexion Whitening face Scrub enhances the face complexion with gentle exfoliants that reveals the natural glow and fairness of the skin. This is enriched with the natural ingredients like that of apricot, White Dammer and Licorice which brighten s, whitens and softens the skin. This product is suitable for all skin types"
For ingredients– Check the picture.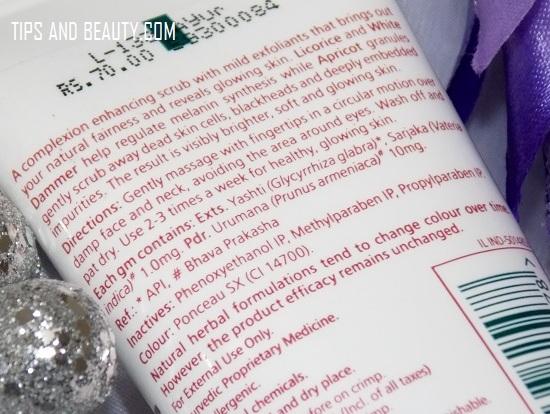 Experience with Himalaya Clear Complexion Whitening face Scrub
This scrub is packed in the regular squeeze tube. This is quite a creamy scrub. I mean to say, have you seen face scrubs where the cream base is there and in that there are few granules. This is the same. The particles of walnut are not very densely packed in this scrub but rather this has more cream and less particles.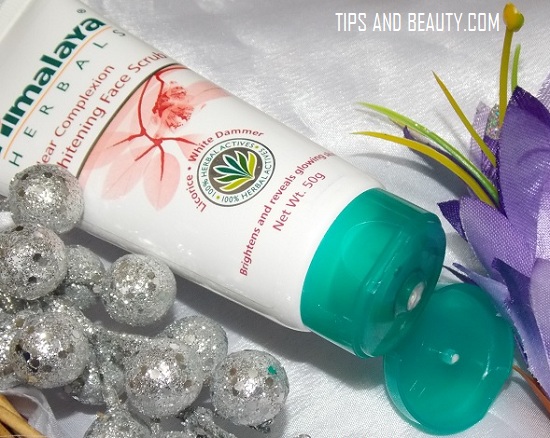 How I use this scrub: I will wet my face and then take around a full coin sized product in the palm and apply all over my face. Then using the fingers, I will then exfoliate my face. I will massage my face with fingers. This removes the dead skin cells and also take the dirt, oils and the hardened sebum from the face. Do you know, the hardened sebum is what makes most of the skin problems like whiteheads, blackheads and pimples. So, I will rub more on the T zone. T zone is the forehead, nose and chin area which are the oiliest part of my face. This entire process takes around 2 minutes. Then I will splash clear water on my face and pat dry the face with a towel.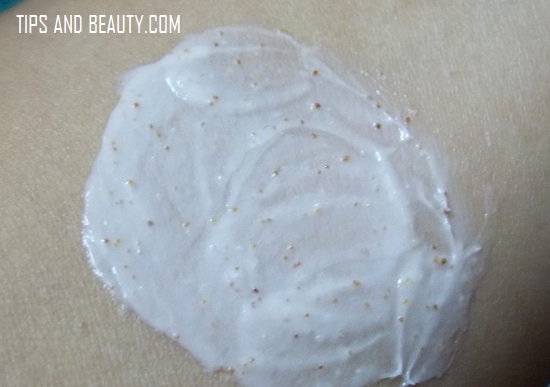 Results: After using this scrub my face feels smoother and softer. This is because the dead skin layer over the top is scrubbed off so the skin looks fairer also but I also feel some greasiness.

I wish that the scrub should have more particles and less cream as when I used this, I could not experience a thorough exfoliation. This is why I think this Himalaya Clear Complexion Whitening face Scrub is ideal for people or girls with sensitive skin or dry skin as it is very creamy. But for oily skin I still like my Lakme Clean up Clear pore scrub or the Everyuth walnut face scrub. They are just amazing for oily combination skin.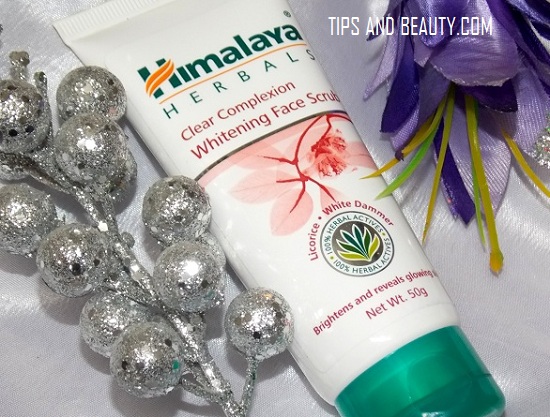 Good about Himalaya Clear Complexion Whitening face Scrub
Availability is not an issue
Packaging is good
Price is inexpensive
This is a gentle scrub with lots of cream base and less of the scrubbing particles
This is ideal for sensitive skin and dry skin
This is not too rough on the skin
Skin feels brighter and softer
It has a nice mild smell
This has not break me out but I want my face scrubs to have dense particles.
This has licorice extracts which help in making the skin fairer.
Not so good about Himalaya Clear Complexion Whitening face Scrub
They have not mentioned the full list of ingredients
I have not seen the whitening effects

Oily skin feels a little greasy after using this
I wanted denser scrub particles so that the face feels squeaky clean.

Rating for Himalaya Clear Complexion Whitening face Scrub:  3.5 out of 5
Take- Himalaya Clear Complexion Whitening face Scrub is a good face scrub for dry skin or sensitive skin because this gives hydration, moisturization and will not be very rough on their skin. But for the oily skin the particles should have been more as after using this my skin feels a little slimy which I do not liked much.