Himalaya Refreshing and Clarifying Toner Review, Price, How to use
Hi Everyone! I will share Himalaya Herbals Refreshing and Clarifying Toner review. Do you use skin toner after you wash the face? Well, you know, even if I know that we should use toners after the face cleansing but I will still ignore this step. But now, I have started using toner regularly after washing my face. This makes huge difference in the way my skin looks. Anyways, this Himalaya refreshing and clarifying toner claims to freshen up the face and clarifies the skin. So let's start with Himalaya refreshing and clarifying toner review then.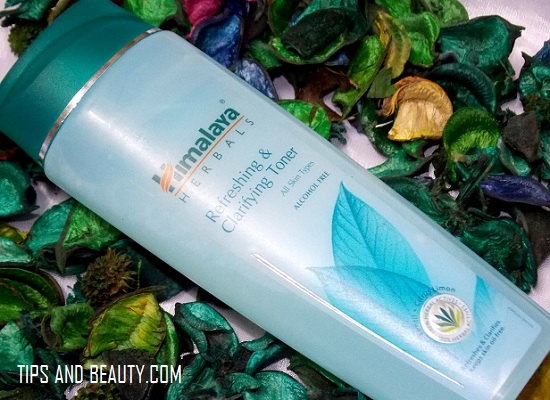 Price of Himalaya refreshing and clarifying toner: This face skin toner in India is for 145 rupees for 200 ml and the smaller 100 ml bottle is for 80 rupees. This makes the price very affordable.
Claims for this Himalaya refreshing and clarifying toner: This Himalaya's Refreshing & Clarifying Toner is enriched with the herbal natural ingredients like lentils, lemon, boerhavia roots extracts. All of these give tighter, toned looking skin. Lemon, a citrus fruit has vitamin C which naturally tones the skin and tightens the open pores.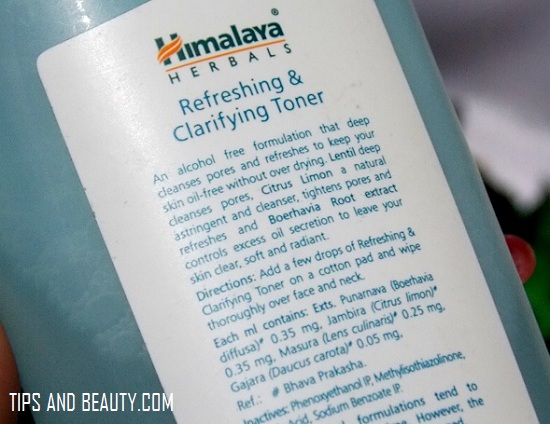 Experience with Himalaya refreshing and clarifying toner
This toner is packed in a light blue bottle with flip top cap, the cap is not very tight so, if you are taking this along with you then beware and keep it in a thin polythene else this can leak. The smell of thus Himalaya toner is very citrusy like lemons. It is an alcohol free toner which is good as I do not like toner which has got alcohol, which can dry the skin. All the ingredients in this toner are very mild and natural.
The toner is not like water. I say this because after using so many toners from different brands, I know most of them have water like consistency. This is like water but produces mild froth.
How to use this toner: I will take some of this Himalaya refreshing and clarifying toner on a cotton pad and then would swipe the cotton pad all over the face to further cleanse it. Toners also make sure that the impurities and oils which are left after cleansing the face, gets removed.
After I use this I can feel slight cooling sensation on my face. But soon after that my skin gets greasy and therefore, I feel chip chip. This is the reason I stopped using this face toner.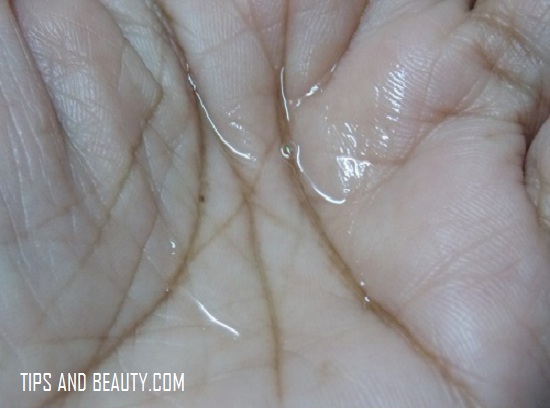 I liked Aroma Magic toner better than this. I am surprised as I am using Himalaya Cleansing milk and almost have used all the skin care Himalaya products, but this product did not suit me. I think it will be good for the dry skin but definitely not for the oily combination skin.
I also gave it a second chance and used it again after a month but then too, it was feeling greasy and gave me feeling that we get in the humid season. The second time, it gave me few breakouts also on my shin so, I have given it to my cousin who has got dry skin and she says that it worked well for her.
Good about Himalaya herbals refreshing and clarifying toner
The price is very affordable
This smells very good
This product is available easily online and in shops.
It takes the dirt and impurities off the face
It is good for the dry skin.
Not so Good About Himalaya herbals refreshing and clarifying toner
Soapy formula of this face toner
It makes the skin sweaty and greasy
It has given me breakouts
It is not for oily to combination skin
After using this, my face looks greasy
Rating : 2 out of 5
Take: Himalaya herbals refreshing and clarifying toner is an affordable product that takes off dirt from the face but at the same time, its soapy formula makes skin greasy and also skin starts sweating after sometime. I will not recommend this to normal to oily skin. If you have dry skin then you may try it and see but definitely not for oily, combination skin.