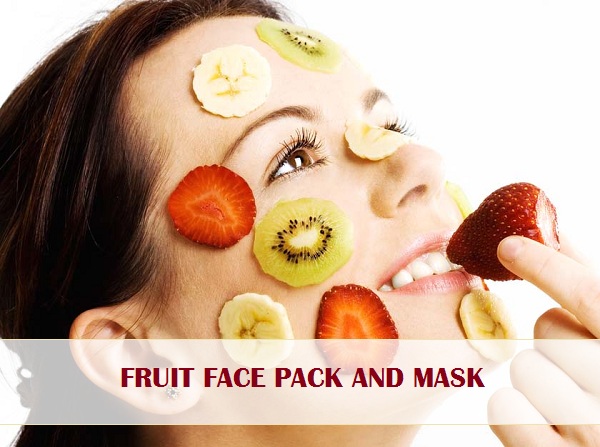 Home made fruit face pack and mask at home: Recipe and Benefits

Fruits are wonderful when you eat them or make a fruit face pack. Fruits are enriched with many vitamins, Alpha hydroxy acids (AHAs), minerals and other nutrients like Malic acid, tartaric acid, glycolic acid. Face packs make the skin flawless by getting rid of the marks and spots, nourishing the skin and is also beneficial in a glowing skin. A glowing skin looks lot healthier and radiant. Radiance is what makes you use less make up product and stay pretty without the use of a lot of cosmetics. Seasonal fruits can be used to prepare fruit face packs and masks along with some other ingredients which make these packs a lot more beneficial and effective.
Fruit face pack and fruit masks benefits

Fruits have Alpha hydroxy acids (AHAs) are crucial for the mature skin with lines and wrinkling which gives fruit face pack anti aging benefits as well.
These fruit packs targets a lot of skin problems like dark spots removal.
Fruits have enzymes and vital acids which act as natural skin bleach which makes skin fair naturally without any harm of the fairness creams.
Fruits nourished the skin deeply and enhance the glow and texture.
Some of these fruit pack also give good relief in marks and pimples.
Ingredients of the homemade fruit face pack:
Banana

Lemon

Apple

Papaya

Strawberry

Honey
Recipe for the fruit face pack:
Take small pieces of all the fruits that you wish to put in the fruit face pack. Blend the small pieces of fruits by putting them in a small bowl. Once you get a puree and paste like pulp. Take that out in a small bowl. Add some lemon juice in that and add one teaspoonful of honey. Mix all the ingredients thoroughly. Honey will bind the pure together and give thickness.
Application and usage: Take the pack and start to massage the face gently in circular upward motions. Massage with 2-3 minutes and then apply one more thick layer. Of this fruit face pack on the face and let it dry for 20 minutes. This time all the fruits and their enzymes, vitamins will soak into the skin. After 20 minutes wash the fruit pack with plain water and pat dry the skin. Apply a light moisturiser afterwards.
This pack and fruit masks can be tried by all skin types, men and women and is very good for dry to oily skin.