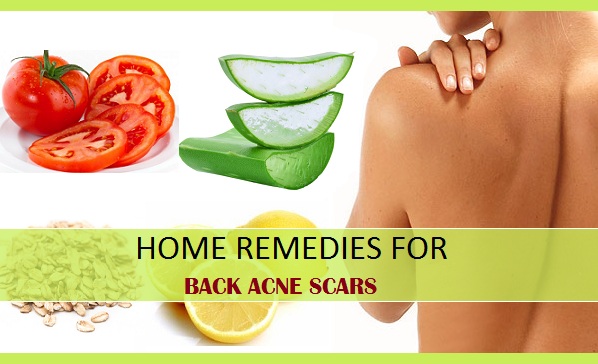 Home remedies for back acne scars
Back acne can be terrible when you wish to flaunt your beautiful back but even after the recovery of acne on the back, the marks or the scars can be worrisome. In the previous post, we have shared some home remedies and treatments to cure back acne and in this article we will focus more on natural ways to get rid of the back acne/pimple scars. These are all natural and herbal beauty tips to enhance the beauty to your back by lightening the marks and giving your back a radiant glow which also gives you the confidence to wear backless dress with ease.
Home remedies to get rid of back acne scars
1. Aloe Vera gel for back acne scars
Aloe vera gel has a soothing nature and not only that aloe vera gel also lightens the acne pimple marks hence it is a worth trying the remedy for back acne scars.
Aloe Vera remedy to lighten the scars on back:
Take one teaspoonful of fresh aloe Vera gel.

Mix half teaspoonful of lemon juice in it.

Mix these two and apply on the back acne scars in rubbing motions.

Leave for half an hour and wash.
Read: Pimple clearing face mask

2. Honey and lemon juice for back acne scars
Lemon juice has so many benefits when it comes to skin lightening. Due to this, lemon extracts have been widely used in the skin care products dedicated for skin lightening and whitening. Honey will moisturize the skin and prevents skin dryness. Honey actually neutralizes the acids in the lemon thus making this remedy good for sensitive skin as well.
Body pack for back acne scar removal:
Mix one teaspoonful of honey with one teaspoonful of lemon juice.

Apply on the back acne scars and leave for 20 minutes.

Rinse with plain water.
3. Oatmeal and tomato pulp remedy for back acne scars
Oatmeal is fortified with excellent nutrients and this whole grain is good for lightening the back acne scars. We have also included tomato in our article on natural skin bleaches. This oatmeal mask is great for treating back acne scars.
Oatmeal home treatment for back acne scars:
Take 2 teaspoonful of oatmeal and some tomato juice pulp into it.

Leave it for 5 minutes so that the oats gets soften up and can be easily mashed.

After 5 minutes, mix the two ingredients and apply on the back acne scars.

Rinse off after 30 minutes.

4. Orange peel powder and yoghurt as back acne scars cure
Yoghurt is enriched with nutrients and benefits of lactic acid which mildly exfoliates and makes way for the new skin cells. The orange peel powder too is an excellent skin exfoliator which keeps skin smoother. This mask cum scrub will lighten the back acne scars naturally with regular usage.
Orange peel cure for back acne scar/marks removal :
Take one teaspoonful of orange peel powder and one teaspoonful of yoghurt.

Mix and use that on the back acne scars as a pack.

Let it dry for 20minutes and rinse off with normal water.
Read: Remedies for pimple/acne scars and marks at home
5. Vitamin E oil to lighten back acne marks



Vitamin E oil is wonderful for skin. It possesses great properties to lighten the scars faster efficiently. You may have come across beauty products with vitamin E in them. Applying Vitamin E on the back acne scars daily at night will lighten them quickly. This can be done in addition with the other remedies that we have stated above. Those remedies can be done at the day time while this treatment can be done at night with gentle massaging. Almond oil is high in Vitamin E hence can be replaced with the vitamin E oil.
These natural treatments for getting rid of the back acne scars/marks will soon give you the smoother flawless back. They are safe enough to be tired daily. It is suggested that doing these treatment for the back acne scars before the shower is the best since it will be easier to rinse off the product you have applied and will create less mess.