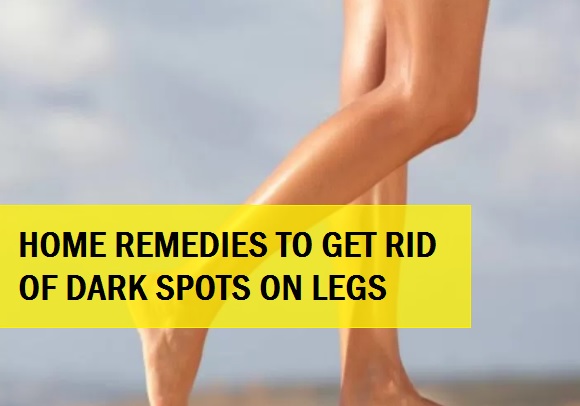 Home Remedies to get rid of dark spots, scars, marks on legs
Are you facing dark spots and marks on your legs? I can understand as when we are wearing short dresses those marks become prominent and of course you won't wish to show them to the world. Smooth legs with no spotting are most of the girls desire but at time those dark spots would creep up on the legs. They look unflattering and are definitely unwanted. So, which are the ways with which you can surely get rid of these dark spots. But firstly, know why these come up. 
What Causes Dark Spots?
Dark spots on the legs can be due to various reasons like shaving, pregnancy or they can be due to the vitamin deficiency as well. These spots can be black, brown or reddish brown in color. One of the other reasons for these spots can be mosquito bites. Yes, mosquito bites may leave those temporary swelling of skin which is inflamed and is reddish in color. But once it is scratched too much the skin area can become dark and they looks like scars. Hence, insect bites can also be a cause for this.
Hereditary conditions also have a role to play here. Even liver diseases or syndromes are responsible. You can see marks on legs, knees, between the knees due to that. Age spots and skin aging also cause them or even the increase in melanin unevenly can results in patchiness on the legs and other body parts. Over sun exposure is also a common cause that can make dark spots happen. The discoloration and irregular skin tone can be due to the melanin which enhances irregularly at certain places resulting in that patchiness.
So, whatever is the cause, we just wish to remove them from legs, hands, face or other body part. Here, we will be sharing these natural remedies that you can try to get rid of the spots from the legs, thighs etc.
Aloe Vera gel
Many people love aloe gel. It's not that this is a soothing product but a very potential one to help treat the spots on the legs, body parts etc. The skin healing and lightening properties of aloe vera gel are well known which will diminish the appearance of the spots on knees and legs.
Take 2 teaspoonful of aloe gel. Fresh gel is preferred so extract the gel from the leaf the moment you wish to use this.

Mix few drops of fresh lemon juice and apply that on the affected areas on the body or over your face. 

Leave this overnight for effective results.

This will be helpful in curing the spots due to sun, mosquito bites etc.

Daily application of aloe gel will result in supple skin too.
Aloe Vera for Pimples and Acne Scars
Apple Cider Vinegar
Apple Cider Vinegar is also an effective way to treat the darks pots and marks on your legs. This will also cause other skin problems like patchiness skin sagging, hyper-pigmentation etc. Vinegar in the concentrated form should never be used hence follow this method.
Take 1 teaspoonful of Apple cider Vinegar and mix that with 4 teaspoonful of filtered water.

Mix and using a small cotton pad or ball, apply this over the spots and keep for 30 minutes.

If tingling or burning sensation occurs, wash this immediately.

Apply this daily once in a day for faster effects in the spot removal.
Glycolic Acid
Glycolic acid is a substance that is very ample amount in the sugarcane juice. This juice is filled with this acid which is known to chemically peel the skin. As a results, of that the skin looks smoother and the dark spots will be gone.
Take some sugarcane juice and mix few drop of lemon juice in it.

Apply this juice over your spots on the legs and rub.

Rubbing or massaging helps the juice to seep in the skin nicely. Hence, the effects will be much faster.

You can wash the skin with mild water after 30 minutes or keep it even more of you can.

It will also show benefits in lightening the sun tanning.
Baking Soda
Baking soda can effectively help in removing the spots between the thighs, legs and knees. It will fade the dark spots by doing little exfoliation and increasing the cell renewal rate so that the skin looks flawless.
Make paste of baking soda and water in a small dish.

For that, you can take 1 teaspoonful of baking soda with some water.

Do not make this too runny else the application will be messy.

Apply this paste on the dark spots on the legs and other parts.

Leave it for 20 minutes then gently rub it off in circular movements to get rid of the dead skin as well.
Shea Butter
She butter is a high in moisture product which is known for its skin healing and dryness curing properties. It is also anti inflammatory in nature. This can also be used to get rid of the dark spots between the legs, inner things etc. In addition, she butter will promote the smooth skin and soft texture.
Take little bit of shea butter and then apply it over the spots and skin in general.

Application should be followed by massaging which boost the circulation of blood and also will cure the skin from dryness.

Dryness is also a cause of skin to look patchy other than the pigmentation, So, daily applying she butter at night with massaging will soon get rid of the spots on legs.
Cocoa Butter
Cocoa butter is another skin healing ingredient that is sued in skin acre product. It will help in getting rid of the black spots and dark spots on legs when applied regularly. Take cocoa butter and apply that directly over the skin which is affected with dark spots. Applying it during the night time and washing the next day is the best time. Overnight is considered good as that time the skin is healing and rejuvenating, therefore whatever you apply on the skin fetches enhanced results. You can also apply cocoa butter rich products like Palmer's has a cocoa butter stick for dry skin and dark spots. There are lot of such products which can aid in the removal of spots from the legs and facial skin.
Oils for Dark spot Cure on the legs
Oils are also used to minimize the dark spots appearance on legs and other parts of the body. Essential and carrier oils are healing in nature hence, they do get rid of them within no time. Moreover, it also helps the skin to glow and rejuvenate. 
Castor oil
This oil is wonderful and is considered good for marks removal and in removing the spots between legs, knees, thighs etc. It is also a good remedy to fade the stretch marks which we have shared in a post earlier which is: castor oil for stretch marks. Castor oil is a thick oil which is very hydrating and contains ricinoleic acid which actually works on the marks, scars and spots. So, if you have dark spots and black spots on the legs then this can surely be tried to get rid of them within few weeks. Application is pretty simple and mess free. Take few drops of pure castor oil. Cold pressed oils are suitable. Apply the oil on the legs and areas where the spots are visible. Massage the skin and leave this for the entire night. It will get removed the next day when you shower. Do this daily and results will be seen soon.
Coconut oil
Coconut oil is also known to get rid of the marks and spots on the skin. Take few drops of coconut oil and mix with ½ teaspoonful of lemon juice. You can also put tomato juice or orange juice which will help to increase the efficiency. Apply this on the skin and leave for overnight to work nicely. Next day wash the skin with lukewarm water.
Olive Oil
Olive oil is very moisturizing oil which can be tried for skin and hair. It can also deal with the ark spots issues on the face and body parts like legs. Hence, use this quick home remedy to utilize olive oil for dark spots.
Take 3 teaspoonful of olive oil and squeeze a lemon into it. The lemon juice should be fresh. Then add 1 teaspoonful of fine sugar in it. Mix everything with a spoon. Now apply this on the legs and gently scrub. You should scrub this till the sugar granules gets finer and finally melts. This can be done in the shower while you take bath so that this won't be messy. Do this 3 times a week for faster removal of the skin problems. Additionally, you will get smooth legs and soft heels.
Vitamin E Oil
Daily apply vitamin E oil on the dark spots will lighten them and will make the legs shinier and smoother. Vitamin E oil is available in the capsule form can be bought from the local shops as well. Take a capsule and rub the content over the spots. Soon this will show benefits in getting rid of those terrible spots on legs. Moreover, you can also make a homemade scrub of vitamin E oil by mixing with some olive oil and sugar. This scrub will exfoliate and hydrate the skin that has patches, pigmentation and spots. You can also mix little bit of potato juice as that also helps to heals the scars.
[Potato Face Packs for Dark Spots ]
Honey for Dark spots on Legs
Honey is believed to a skin healing and hydrating substance that has the benefits of giving relief in dryness. You can apply honey with various ingredients to cure the dark spots. The spots on the legs can be treated with this simple honey remedy.
Take 2-3 teaspoonful honey, add 2 teaspoonful of lemon juice and a pinch of turmeric powder in it.

Ensure that the turmeric powder is just the pure turmeric powder and no not have other spices in it.

Then apply this mixture over the spots and pigmented skin.

Rinse the skin with mild water after 40 -45 minutes.

This should be done daily for faster removal of the dark spots.
Tea Tree Oil for Dark spots
Tea tree oil is an essential oil with the potential properties to heal the scars, marks and spots. Therefore, it will be wonderful in getting rid of the dark spots on the legs, knees, thighs too. For oily face, tea tree oil is used to remove the acne and their scars. The stubborn scars can be at times, really difficult to get rid of. See Tea Tree oil for Pimple Marks and Spots
Take tea tree oil in a bowl around 7-8 drops will do.

Add 3-4 teaspoonfuls of water and mix.

Undiluted tea tree can be very strong, this is why we take the diluted version of it.

Apply this over the dark spots and leave for 20 minutes then wash off.

You can also keep it for long time period.
Turmeric for Spots and Marks
Turmeric is a skin lightening ingredient which is used in lots of fairness products. For marks and dark spots too, turmeric powder can be used. It helps improvise the skin tone and texture when used continuously.
Take 2 pinches of turmeric and mix this in 2 teaspoonful of milk.

Apply this on the affected parts of the body like legs, hands etc and leave for 1 hour.

This will show results within few days. Repeat this remedy daily.
Lemon Juice
Lemon juice is one of the most used in natural remedies that focuses on the scars, marks, fairness and dark spots removal. Take a lemon and cut that into half, squeeze the juice from this lemon and apply this fresh juice over the dark post on legs and thighs. Keep this overnight and wash the legs in the morning. Using this daily will result in soft, smoother and dark spot free legs.
Curd and Buttermilk for Dark spots
Curd, Yoghurt and butter milk all are milk products which gives good help in getting rid of the dark spots on legs. You can take either one of them and apply on the spots. Leave for 50 minutes and then rinse the skin gently. Milk and milk products like curd, buttermilk etc have the lactic acid which increases the cell turnover which increase cell renewal and due to this spots and marks are faded over the time. 
Creams for Dark Spots on Legs
Other than that you can also use creams and other skin care products like lotions, ointments etc.
There are over the counter drugs that can be applied once or twice in a day to remove the dark spots from the legs.
There are skin creams like Mederma which has onion extracts which can help you make the skin look smoother and lightens the marks, this may take time but it does show results.
Tretinion and hydroquinones are also considered effective when it comes to patchy skin and dark spots removal.
These were the home remedies to get rid of the dark spots on legs and marks from other body parts.