Get Flawless skin at home
Flawless skin is a healthy smoother, dewy skin which isn't too oily or dry. There is no peeling or blemishes left behind by the pimple marks and acne. Getting the flawless skin is not that difficult when you take care of your skin properly. So, here are some of the best beauty tips for flawless skin naturally. You don't have to do a lot in order to get beautiful and Spotless skin. However, maintaining the flawless skin is not an easy task. Which is why, you may not achieve the glow and the spotless skin overnight permanently, rather you have to keep working towards it by following a proper skin care routine to get healthy flawless skin at home naturally. Here are some effective tips and tricks to get flawless skin at home.
In this article, first of all we will be discussing the best result oriented beauty tips to get flawless skin and then the natural remedies like face packs, face mask and toners that you can make at home to achieve the spotless and blemish free skin. Let's talk about the best tips for getting flawless skin at home.
Beauty Tips For Flawless Skin At Home
1. Skin Cleansing
On day to day basis, the skin collects dirt impurities a through the day. Therefore, it is extremely how to properly cleanse the skin. Whenever you want to cleanse the skin, using the proper product for your skin face wash and skin cleanser is must. Never use a product that doesn't suit your skin or is simply not formulated for. Oily skinned one can use facial cleaners which are deep cleansing and contain ingredients like salicylic acid, benzoyl peroxide, tea tree oil as the key ingredients while when you have dry skin, use the products which are moisturizing in nature. This is one of the best flawless skin tip that you can certainly utilize.
2. Proper Skin Care Products
Using the correct products is one of the key tips to achieve flawless skin. Using the products which are unsuitable or not formulated for a particular skin type can cause skin problems like acne, blemishes and spots. Using the right skin care is important. You should choose products depending on your skin type. Selecting the right products for the skin is mainly dependent on. Therefore, if you have oily skin then use the ingredients that suits well to get the flawless skin.
3. Mask and Packs
The face mask and packs have been used since ages and they are known to give beautiful spotless skin. Impurities, dead skin cells, sebum and pollutants can cause skin issues and acne hence a good pack will keep all the skin issues in check.
Clay face masks are effective for oily skin in dislodging the impurities and dirt to keep the skin clean and clear.  However, dry skinned ones can brighten up the skin by the use moisturizing ingredients like Shea butter, Cocoa butter, jojoba oil, apricot oil and more. For acne prone skin, using charcoal skin care products regularly is the best beauty tip for flawless skin which can be incorporating in the skin care routine.
4. Stay Hydrated
Staying hydrated is one beauty tip to keep the skin beautiful and glowing. To achieve good skin, you must drink at least 7 to 8 glasses of water and additionally you can also increase the intake of fluids in your diet.  This is one of the easiest for flawless skin beauty tip that you can follow.
5. Sun Damage protection
You not even know, how much damage sun can cause for the skin. Ultra violet rays or over sun exposure can lead to signs of aging like wrinkles, fine lines, freckles, and in fact, it can be a strong reason for the development of skin cancer. Hence, it is always advised by the Dermatologist and skin care experts to apply enough for the sunscreen first, whenever you step out in the sun, no matter whether it is sunny or cloudy. Apply sunscreen with SPF 30 or more. Use SPF 50 and above when you spend time on the beach. It is also one of the best beauty tip for flawless skin that men and women both can try.
6. Diet For Healthy Skin
A healthy and nutritious diet definitely takes care of your skin naturally to make it spotless without many efforts.  Including a lot of fruits and vegetables in varied colors can show great results. Eating fruits and vegetables, green vegetables and colorful fruits will definitely keep your skin beautiful and hair healthy apart from keeping the body fit.
Fruits which are rich in vitamin C can help to combat the free radical damage. Free radical damage in the body can be seen as skin aging, fine lines and wrinkles. Premature fine lines and wrinkles can cause skin to become dull and tired. Hence, including the citrus fruits and vegetables can keep your skin bright and glowing. Therefore, eating a lot of Vitamin C rich fruits can be the best tip for achieving flawless skin.
A flawless skin is like a dream which we all wish to achieve but rarely we get it naturally. But that doesn't matter if your skin is not flawless you cannot make it smoother and glowing with the home remedies. Herbal beauty treatments that can be done at home are equally good to impart a smooth blemish free skin with no sun tan, acne marks, black spots, hyper pigmentation, dryness etc. So, here are some flawless skin home remedies that you can try to get clear skin.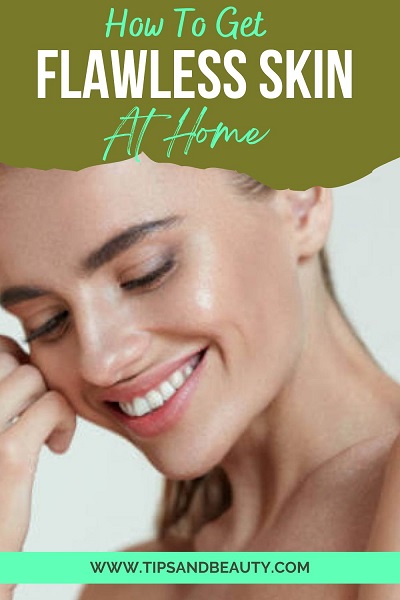 Home Remedies for Flawless Skin at home
1. Lemon and honey face pack for flawless skin
This facial pack is good to get flawless skin at home easily. Mix lemon juice and honey in equal amount and apply it on the face. Wash it off after 20 minutes. This pack will make the skin glowing, improves the skin tone and texture. This treatment will also remove any blemishes and marks on the face for a flawless skin.
2. Honey and sugar face scrub
Face scrub can make the skin smoother by getting rid of the dead skin layer on the surface. When the dead skin will be removed, skin appears flawless skin and clear. A clear spotless skin is important for a flawless facial skin. Mix sugar and honey. Use that to scrub the face.

3. Milk cream and banana for flawless skin
For dry skin, peeling and flakiness is a common problem. To get flawless skin and to help nourish the dryness this face mask will be the best treatment for making the skin flawless at home. Take a slice of banana and mash it well. Add some milk cream in that mashed banana pulp and apply on the face. Wait for half an hour and wash it off. [Malai face packs]
4. Potato juice and Fuller's earth for flawless skin
Potato juice is ideal for lightening the marks and blemishes on face. Fuller's earth tones and tightens skin to make it flawless and white. Take some potato juice and use that juice to make a paste of multani mitti, known as fuller's earth. Use this face pack and let it dry. Wash afterwards.
5. Sandalwood and rose water 
Sandalwood has been used in beauty rituals since ages as it lighten the skin, rejuvenates the dull skin. Sandalwood also makes the skin complexion lighter with regular use and to get a flawless skin. Rose water has the essence of roses which helps brighten the skin for a smooth flawless face. Apply sandalwood face pack with rosewater daily and see the blemish free and spotless skin naturally.
6. Skin massage with Vitamin E
Apart from the facial skin, body skin is too important that we want to be as flawless skin as our face. So to achieve a flawless skin for body massaging is the best remedy. Regular massaging with the almond oil will make the skin flawless fast.

7. Flawless skin with Apples
Apple is beneficial in making the skin flawless and fair. Apple is a great fruit to get rid of the blemishes, dullness and does a mild scrubbing to get radiant flawless skin instantly. Rub a slice of apple on the face and wash after 20 minutes. try every day for flawless skin..

Beneficial Beauty Tips for Flawless Skin
Other than the above mentioned tips to make skin flawless. You should also take care of the below mentioned beauty tips to keep the skin flawless longer and always.
Go for home fruit facial once in a month of boost circulation and to relieve the tired face.
Drink ample amount of water to keep the skin supple and hydrated. Hydrated skin looks flawless and radiant.
Sun damage can cause skin aging and dark spots. It also causes skin darkening so apply sunscreen when you go out in the sun.
When you have pimple and acne on the face, use appropriate acne and pimple care products but do not prick the pimples as it will lead to scarring and skin will not be flawless skin.
Use skin care products which are meant for your skin types else skin can break out and scarring may take place.
Apply suitable face packs once or twice in a day to deep clean and pamper the skin.
Cleansing should be done 2-3 times when the skin feels oily or dirty as it is important for a flawless skin.
Exfoliation too is also important in getting a flawless skin so scrub the face once or twice in a week.