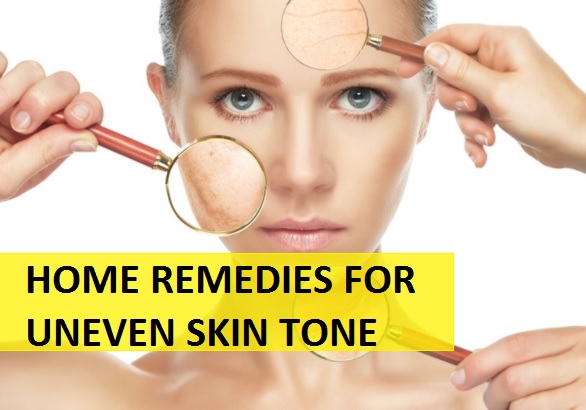 Home Remedies for Uneven Skin tone on Face and Body, How to even out the skin tone faster with natural remedies.
Are you struggling with uneven skin tone? An uneven skin tone is also known as the hyper-pigmentation which means the patchy and non uniform darkening of the skin. But what causes this problem. This can be due to many causes, out of which the overproduction of melanin is the primary cause. Other causes are simply the factors that cause this overproduction of skin pigment, melanin. Hence, when you have pigmentation and uneven skin tone, you should protect yourself from the UV rays. Moreover, this problem can also be cured using the natural remedies. Here, we will have some of the best home remedies for the uneven skin tone and patchy complexion.
Causes of Uneven skin tone on Face and body skin
Uneven skin tone is the result of pigmentation. Pigmentation is nothing but discoloration of the skin and especially areas like elbows, knees, hands, foot tips and area around the mouth.  It is also caused by excessive exposure to the sun and harmful UV rays.  Our skin needs utmost care and efforts to look good and stay healthy. Although with today's going lifestyle and high times, people give less emphasis on the correct diet and the right path of living which badly affects your skin and body. Issues like uneven skin tone is the consequence of such reasons mentioned above. So today I am going to share some really natural fixes for uneven and dark skin. To avoid this situation, I have a variety of homemade remedies for you all to increase skin color clarity and remove uneven skin tone.
Sunscreen
To remove pigmentation and dark color skin, it is essential to protect the skin cells from UV rays as it makes your skin tan and dark. Wear a high SPF sunscreen always in every season before stepping out. Brands like Lakme, lotus and VLCC have good SPF sun protection creams. Try them out! Sunscreen can be a good remedy for hyper pigmentation cure
Wear a scarf
Now before going out in the sun or travelling in the day. Do not forget to wear the scarf as it protects the skin from heat and pollution, which works against uneven skin tone. Wear a cotton based scarf that absorbs sweat easily and do not make you feel hot in this climate.
Skin care products
Skin care products are also to play a part in this problem. You should use products that are suitable and are formulated for your skin type. Moreover, there are some good anti pigmentation products that can help evening out the skin complexion. There are skin creams, toners, face packs that can help. Do check out our post here for the best anti-pigmentation products in India.
Use skin wipes
To induce skin glow and shine on your face, try using facial wipes from brands like Kara, Johnsons and Johnsons and VLCC. They have natural extracts of different natural plants and fruits that give brightness and whitening to your face while performing the cleaning function of uneven skin tone.
Best Kojic acid soaps in India
Home remedies for Uneven skin Tone Cure
Aloe Vera gel
Aloe Vera gel has properties that can help cure the skin pigmentation and uneven skin complexion. You can try this natural effective gel for variety of uses. Just take some fresh gel and massage the skin with that. While massaging make sure that your skin and hands are clean. Massage at night and leave the gel for the overnight so that you get the benefits faster.
Cucumber
Cucumber is 70% water but it's soothing and skin healing nature actually lightens the skin tone and even out the uneven skin tone. Take a small piece of cucumber and grind it. Extracts the juice. Applying this juice daily at night will results in the removal of the uneven skin areas. The skin gets lighter and the dark dull patches will get healed.
Papaya
Papaya has enzymes that will cure the uneven skin. It also whitens the skin. This is why papaya is used in fairness and whitening products. To use papaya on uneven skin, you just need to blend a slice of chunk of papaya and make pulp. In that, add 2-5 drops of lemon juice also. Mix and apply this all over the face. Rinse the face after 30 minutes. This too can be tried daily in the evening for getting good results. Even you can try this for the body parts like hands and legs as well.
Sugar Scrub
Scrubbing or exfoliation is also said to minimize the uneven skin tone effectively. When you scrub the skin, dead skin cells and dull skin is removed, so with regular exfoliation, your skin can get even toned faster. Try this sugar scrub to get the changes.
Take 2-3 teaspoonful of sugar and mix some honey in it. Add 1 teaspoonful of lemon juice. Scrub the face with this for 2-3 minutes. But be very gentle. Leave this for 20 minutes like a pack and then wash the after that. Try this not more than 2 times in a week.
Baking Soda for Uneven skin Tone
One can also try baking soda to cure the uneven skin tone. Take 1 teaspoonful of baking soda and mix with little bit water. Make a paste. Apply this paste on the face and affected areas with the uneven skin and then keep for 10 minutes. Wash the skin after that. Do this every other day.
Natural tips to treat Uneven skin tone on face
Natural tips are always handy and effective for most of the skin problems. So, for uneven skin too you must try home remedies and tips. Try these tips.
Natural skin toner
Rose water and lavender oil is very useful in improving skin color and reduce pigmentation from your face in an instant. Rose water has a cooling agent, and it is rich in soothing aroma. Lavender oil is rich in essential fats and anti-oxidants that fight against skin problems and stop the recurrence. It is super easy to make this natural skin toner.
How to make it?
Take a bowl and add 5 full spoons of rose water (you can change the quantity of ingredients according to your storing capacity)

Also add 3 spoons of cucumber juice in it (optional)

Now mix 2 spoons of lavender oil in the mixture and mix it with a whisker properly

In the end, pour it in a spray bottle or a normal bottle with the lid.

Store it in the refrigerator and use it by dabbing cotton ball

Apply it evenly on the face after the cleansing and scrubbing step.
Aloe Ice cubes
Aloe vera smoothens the skin texture and removes uneven skin tone. For the quick aloe vera remedy.
Follow these instructions:
Take some fresh and cold water

Mix 5 spoons of aloe vera gel in it

Now pour it in an ice cube box

Freeze it for a day or two

Now use these ice cubes whenever you want around your mouth area.
Best Kojic acid skin lightening creams in India
Homemade Face Packs and Masks for uneven skin tone
Homemade masks: To achieve a clean and clear face, use these face masks twice in a week to see a visible change in the skin tone.
Aloe Vera gel with lemon:
Aloe Vera is very beneficial to the skin. It is rich in omega-3 fatty acid and full with anti-oxidants and vitamins. It makes the face super soft and supple. Your skin feels hydrated and nourished. Especially dry skin beauties can really get good results after a single application.
How to use it?
Take 3 spoons of aloe vera gel

Mix 1 spoon of lemon juice in it

Now apply it onto the face using your fingers

Keep it for 20 minutes and rinse it off with cold water.
Cucumber and lemon juice
Lemon juice ensures good healthy skin, whereas cucumber juice hydrates the skin and makes it look fresh and clean all the day. It prevents acne and scars easily after a few uses. It reduces fine lines and removes uneven dry skin. Lemon juice contains citrus acid that improves the skin tone adds a natural glow in it.
How to use it?
Take 5 spoons of cool cucumber juice in a small glass bowl

Add 2 spoons of lemon juice in it

Now mix both the ingredients well

Keep in a refrigerator for 60 minutes to cool up.

Take a cotton ball and damp it in the mixture

Massage it with the cotton ball around the mouth.

Keep it for 20 minutes or more to let it dry

Wash it off with cold water
Gram flour and raw milk with sandalwood powder
This is one of the best remedies to remove discoloration around the mouth area. Sandalwood powder has an amazing aroma and it lightens the skin color. Gram flour exfoliates the skin and make it brighter and younger looking. It has iron and vitamins that cleanse the skin cells, deeply and removes excessive oil from it. This flour also increases blood circulation if massaged on the skin. Raw milk at the time works against dark skin and protects it from bacteria and infections. It has lactic acid that increases the skin elasticity and natural shine.
How to use it?
First of all, take a small bowl and add 3 spoons of gram flour powder in it

Now mix 2 spoons of raw milk in the gram flour

Add a half tablespoon of sandalwood powder in the pack

Add 1 spoon of rose water (or more to form a normal consistency of the face pack)

Now apply this face mask onto the affected areas of skin like mouth and chin

Massage it for 5 minutes and then let it dry for sometime

Wash it off with cold water
Papaya, honey and turmeric
Papaya is a good source of fiber and enzymes that maintain the skin elasticity, it also removes pigmentation from the face and resolve troubles like acne and zits. Turmeric contains anti-septic properties and anti-inflammatory content reduces the effect of uneven skin color and increase shine and glow. Honey smoothes your skin and increase natural fairness. It balances the deficiency of moisture to your face.
How to apply it
Firstly, clean your face with a mild cleanser

Now pat dry it and take a bowl

Peel the papaya and cut one slice from it

Now cut that slice into small pieces and mash it properly

After having a thick papaya paste, add a pinch of turmeric to the bowl

Now add a half tablespoon of honey in it

Mix all the ingredients well and massage it onto the face.

Be gentle and use soft hands in upward direction.

Leave it for 25 minutes

Wash it with cold water
Homemade Toners for uneven skin tone treatment
To treat the uneven skin tone and roughness, you can try different skin toners to treat patchiness. So, skin toners should be suitable for the skin type. So, if the skin is dry, oily or combination, you must try this toner.
Rose Water and Lemon Juice Toner
Take rose water and lemon juice in equal quantities like if you have taken ¼ cup of rosewater then use ¼ cup of lemon juice as well. Mix these two in a clean glass or clean plastic bottle. Keep in the refrigerator and every night use this with cotton pad. This will be ideal for reducing the unevenness of the skin. This toner is suitable for all the skin types. For oily face, this will not only give results in treating uneven skin tone but will also tighten the skin pores.
Cucumber and Witch Hazel
Take a small cucumber and take off the skin. Then put it in the grinder and make pulp. Squeeze this pulp to extract the juice. Consider that your hands are clean while you are doing all this. Mix ½ teaspoonful of witch hazel in it. Store this in a clean bottle in the fridge. Use every night. This is suitable for oily and combination skin.
Orange Juice and Mint Toner
Take two three slices of orange and 8-9 mint leaves. The mint leaves should be fresh. Put this in the grinder and extract the juice. Apply this on the face and wash after 30 minutes. This is wonderful in curing the uneven and patchy skin tone. This will also show reduction in the hyper pigmentation. It can be tried in summers for cooling effect and getting relief in sun burns as well.
More beauty tips to even out skin tone near mouth, hands and legs
Coconut Oil
Applying coconut oil mixed with few drops of lemon juice will cure this problem. You can apply this on body parts and not on the face as it may be comedogenic for the skin of the face.
Oatmeal
Oatmeal is a whole grain that is not just wonderful for the health but for the beauty as well. Soak some oatmeal in milk and when they get fluffy and soft. Mash them a little bit. Apply on the affected areas that has uneven skin tone. Wash after 30 minutes. Make sure that the oatmeal that you use do not have any flavor etc. Just plain oats will do.
Jojoba oil
Regular application of essential oils like jojoba oil also helps a lot in treating the uneven skin tone around mouth, legs etc. You just need to take few drops of jojoba oil and then apply this. This oil can be safely applied on the uneven skin on face as well. But if you feel that there is some tingling or burning sensation then do stop using this.
Vitamin E Oil
Applying vitamin E oil also makes the uneven skin tone problem minimize. You can apply pure vitamin E oil on the uneven skin tone to reduce the darkness. This quick remedy will help to keep the skin look smoother and softer. When you have dry skin and uneven skin tone, then vitamin E will work the best.
So, these were the home remedies to cure your uneven skin tone. Have you tried any of these to even out your skin tone? Do check our other posts too to cure your uneven skin tone.
Natural Remedies for Uneven Skin Complexion
How to treat the Patchy skin tone
Face Packs to treat Patchy Skin