How to Rejuvenation Skin at home naturally
Skin rejuvenation is the need of the time, when due to excessive sun damage, pollution, stress etc our skin appears dull and tired. Along with that there is skin darkening and lines that can be seen. A rejuvenated skin looks smoother, fresh, brighter and flawless skin. This is the time when we need some effective and easy natural tips to rejuvenate the skin at home.
However, there are skin care tips that we have shared to get you rejuvenated skin at home for long term.
Skin Care Tips To Rejuvenate the Skin
Now that you know about the different home remedies and homemade treatment to get you flawless skin, there are some more method to get your glowing and rejuvenated skin naturally. There are so many different methods and treatments that you can do. Hence, you can take a look at these treatments as well to know about how to rejuvenate the skin.
Stress and Junk
To revive or rejuvenate your skin, first of all you need to cut down the stress and junk food. Undoubtedly, stress causes a lot of harm and makes your skin and body age faster.  Obviously, no one can live a stress free life, therefore, time to time stress is still justifiable but being in stress all the time is not good for your overall health and skin. Similarly, you must also refrain from having a lot of junk food. Junk food can have a negative effect on your skin.
Facial Skin Serums
The best way to reach to revive your skin is to invest in a good serum. This can also be a simple way to to rejuvenate skin overnight. As far as, the healthy skin goes there are different serums, which are loaded with Vitamin C, vitamin E and other ingredients that are certainly recommended by the dermatologists. The antioxidant rich facial serums will support the collagen and also aid in increasing the production of collagen naturally.
These facial skin serums rich in antioxidants will promote the collagen production and will stabilize the collagen already there in your skin. This means that your skin will be able to rebuild the in cells and tissue, hence, will keep them tighter and firm. This is one of the best things that you can do other than using the home remedies that we have shared above. Vitamin E serum is especially beneficial for the people who have very dry and sensitive skin. Vitamin E is a strong antioxidant that goes down to the cellular level and helps to make the skin firm and flawless. Additionally, you can also use Vitamin C serum, which is a powerful antioxidant to neutralize the free radicals in your skin to rejuvenate skin at home.
Retinoids
Topical retinoid helps by increasing the cell reproduction rate. Which is why, your skin becomes younger healthy and a lot brighter. Other than diminishing the blemishes, age spots and increases the cell renewal turnover. The retinol serum and product will definitely revive your dull, tired and aging skin. If your skin is quite sensitive to photo-damage you can use retinol under proper sun care. This means that if you are using retinol product, use them at night followed by a good sun protection during the daytime. They are also great to increase the collagen production and to bind your skin cells together. Hence, retinol application is recommended by a lot of dermatologist to make your skin flawless, rejuvenated and firm. The cellular regeneration and collagen production has to be enhanced naturally to get rejuvenated skin. Small lines and wrinkles can definitely make you conscious and stressed. You can analyze your skin and depending on that you can take the treatments.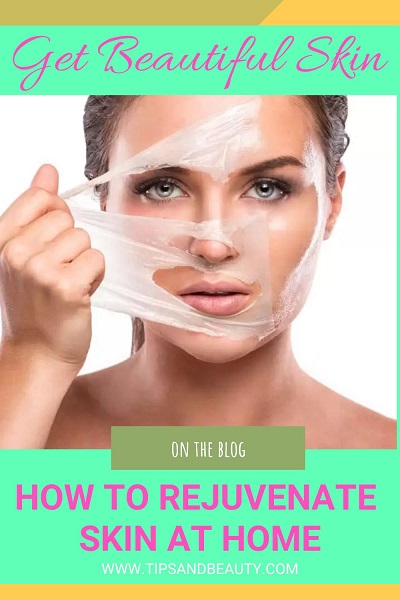 Home Remedies to Rejuvenate the Skin Naturally Overnight
1. Homemade facial spray 
A facial spray can instantly rejuvenate and cleanse the skin whenever you want like when you are out in sun and sweating. To prepare this homemade facial spray. Take 50 ml of cucumber juice and 100 ml of distilled water. Add 50 ml of rose water. Fill that in a spray bottle and use on the face when skin looks dull and tired to rejuvenate the skin instantly.
2. Sugar and lemon juice scrub 
A face scrub can also be a great way to rejuvenate the skin. Take one teaspoonful of sugar and add one lemon's juice in it. Mix them and use this sugar scrub to gently exfoliate the face. Scrub for 10 minutes and see the changes in rejuvenating the skin.
3. Banana pack for dry skin 
To rejuvenate the skin the dry skin, a banana mask is ideal. Banana is rich in phosphorus and has the properties to nourish, heal and pamper the dry skin. Take a piece of banana and mash it well. Apply that on the face and wait for 20 minutes. Wash off for an instant rejuvenated skin which looks fresh and revitalized. Banana also adds glow on the dry face.
4. Fruit pack for rejuvenation
Fruit packs are loaded with skin rejuvenating enzymes which revitalizes and freshen ups the skin. Take at least two fruits like papaya, lemon juice, banana, avocado, mango etc. Take the juices of those fruit and apply on the face to massage for 2-3 minutes.
5. Green tea toner for oily skin
Make a green tea toner to rejuvenate the skin. Take some distilled water, around 100 ml and warm it up. Add a tea bag in that water and when it gets brewed then fill that green tea water in a small facial spray bottle. This green tea toner can be used to freshen up the dull, tired, greasy oily skin.
6. Skin rejuvenating mask
A skin rejuvenating face mask can be prepared with strawberries and some honey. Take a strawberry and mash it well. Add some honey to get paste. Apply it on the face and wait for 20 minutes wash it off. This mask will brighten up the face, takes off sun tan and dullness. This will also do skin lightening and relaxes the face.
7. Face cleansing with gram flour
When you return from work or after a tiring long day, skin appears, tired sagging and dull. Therefore to rejuvenate the skin, try this deep face cleansing gram flour treatment. Wet the face with water and take some gram flour. Use that to rub on the face and keep it for 2 minutes and then rinse off. This also helps with sagging skin.

This is how you can naturally rejuvenate your skin. Home remedies that we suggested above will definitely rejuvenate your skin overnight and to prevent the skin from looking dull and tired. Additionally, these will regenerate the skin.
Diet To Follow To Rejuvenate your skin
To rejuvenate your skin and to enhance the collagen production, it also plays a major role. Above we have shared so many different ways to make your skin appear bright, radiant and smooth. However, you must also take care of your diet. What you eat shows directly on your skin. Therefore, if you want glowing and rejuvenated skin then your diet is also important. So let's take a look at some of the things must do to increase the skin rejuvenation, cell turnover rate and collagen synthesis.
Fruits and Vegetables
Fruits and vegetables contain powerful antioxidants that help to combat the cellular damage caused by the free radicals. Free radicals can be aggravated by pollution and the direct action of sunlight. Lifestyle habits like smoking, drinking and environment can also cause free radicals to increase. You can eat fruits and vegetables rich in beta carotene like carrots, pumpkins, spinach, papaya and more. This will give you rejuvenated bright skin in long run.
Vitamin C
Vitamin C can be the best vitamin to support your immune system and to promote healthy skin. This vitamin is a water soluble, which also helps to the appearance of blemishes and pigmentation. Vitamin C is also a key factor in producing the collagen in the skin. Therefore, take ample amount of Vitamin C. You can have Vitamin C smoothies or even have the fruits which are rich in vitamin C. The best sources of Vitamin C are fruits like blueberries, strawberries and oranges.
Vitamin E
You must have used a lot of different products rich in vitamin E to improve the condition of your skin. But, how about taking the vitamin E orally? Ingesting Vitamin E is more important and beneficial to get you good and healthy looking skin. It certainly plays a key role in rejuvenating the skin naturally by preventing the oxidative cell damage by the free radicals and to keep a check on skin's photo aging, dullness and tiredness.
You can include Vitamin E in your diet by having the food in vitamin A. The food items which are high in Vitamin E will definitely give you soft, beautiful and rejuvenated skin naturally. Include food items like avocados, sunflower seed, pumpkin seed, hazelnuts and more to get your daily dose of vitamin E.
Omega 3 Fatty Acids
Omega 3 fatty acids are just to get naturally moisturized skin. They improve the skin elasticity and smoothness. You can include walnuts, seeds, almonds and even can take Omega 3 supplements to improve Omega 3 fatty acid dose in the body. These fatty acids are anti-inflammatory and they can help treat skin conditions, dullness as well as also lubricates the joints.
Following these tips will certainly help you with brighter and rejuvenated skin at home naturally.
Additional tips to rejuvenate the skin
Drink at least 7-8 glasses of water in a day to keep the skin hydrated and rejuvenated. 
Try a skin rejuvenating facial once in a month. 
Exercises also helps to not only keep the body fit but your skin healthy.