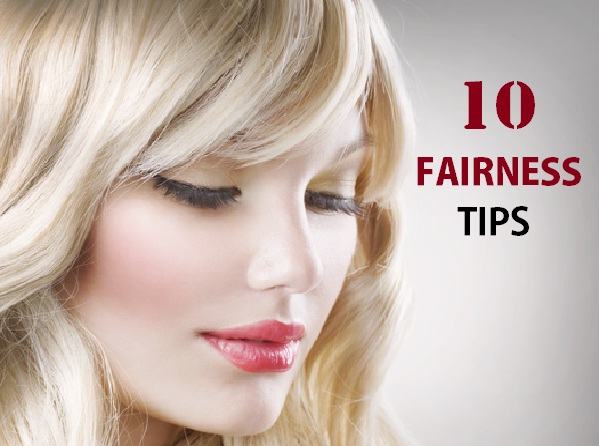 Fairness tips to get fair skin within days naturally

Fairness, fair clear skin is everyone's dream unless you are already white or not bothered by the skin color which is great but other than that fairness is desired a lot which can be estimated by the number of fairness products floating in the market. What can be more brilliant then getting fairness tips and fair skin with using natural and herbal products? Most of these creams and lotions may lighten the skin but can have adverse effects in the long run so, don't you think that home remedies or natural fairness tips are far better. Yes, they are in indeed. In this post on Tips and Beauty, we will share some excellent and simple treatment and fairness tips to get fair skin which provides best results without being harmful for the skin.
Fairness tips for getting fair skin fast:
1. Anti bacterial turmeric is an amazing skin lightner. It removes the sun tan and makes the skin fair efficiently. Apply turmeric with some rose water on the face. Keep it overnight. Do this beauty treatment every night and within 2 weeks skin looks brighter.
2. After turmeric, lemon is known to lighten the skin tone wonderfully. Apply lemon juice at night and wash off the face in the morning. When you have sensitive skin, mix some rose water in lemon juice which makes it suitable for sensitive skin. This one of the best fairness tips.
3. Drinking amla juice also shows benefits in revealing a fairer skin tone naturally. Take amla juice mixed with some water every day to keep the skin blemish free and healthy body and hair. It is an excellent remedy for the entire body's health. [Also Read: Benefits of amla juice for skin and hair]
4. Amla can also be applied on the face. Take some amla juice and apply on the face in gentle massaging motions. Keep this for 30 minutes and then wash the face. It removes dark spots and good for anti aging benefits and fair skin tone.
5. Apply potato juice on the face like a toner. Wash the face after 20 minutes. It will itch a bit but works like a charm to make skin fair. Potato home remedies can be great fairness tips which also lighten the dark circles, lip darkness and skin pigmentation.
6. Rub papaya slice on the face and rinse the face with normal water after 20 minutes. It is very beneficial for brighter glowing fair skin.
7. Mix a teaspoonful of honey with 1 teaspoonful of lemon juice. Apply this on clean ace and wash the face after 20 minutes. Doing this daily will make the skin fairer easily.
8. Use curd with 2 pinches of turmeric. Rinse after 20 minutes. Curd has lactic acid which induces fairness. It is good for fairness tips for all skin types.
9. Use sandalwood and rose water paste on the skin. Wash off when it gets dried. This easy fairness tip is brilliant for oily acne prone sensitive skin. [Also read: Sandalwood face packs for fair skin for all]
10. The last remedy is quite simple and is already known but still it is ignore. We are talking about sunscreens. Apply sunscreen on the face whenever you step out in the sun. Sun damage not only brings premature aging, lines and wrinkles on the face but it also robs off the fairness hence the most important and crucial out of all fairness tips, would be to use sunscreens whenever you face the sun.
Try doing a couple of these fairness tips regularly to see a good change in your skin color and texture.