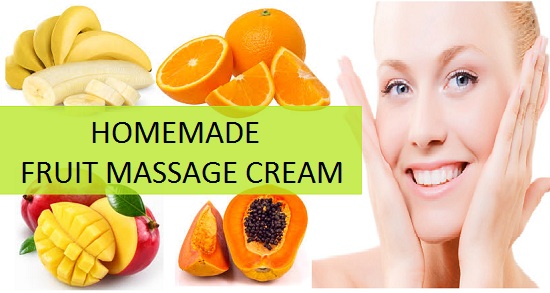 Fruits creams  for massaging purpose are great for the skin, we all know that. Fruits have the amazing enzymes and Alpha Hydroxy Acids which beautify the skin. Fruit massage creams will help to stimulate the blood circulation in the face and we get glowing skin by using it. It also enhances the skin's fairness and makes skin softer by gently peeling the external dead skin layer. So after knowing all these benefits of fruit creams, don't you want to try this yourself to give yourself a salon /parlor like clean up facial within minutes. We will tell you how to make that yourself.

How to Prepare Fruit Massage Cream at home
To make this homemade fruit cream for massaging, you will need a couple of things which are very easy to find at home or at the shop. The greatest advantage of this massage cream is that it is all natural and you are not slathering any chemical on your face. In this, we will share 2 recipes of this fruit massage cream, one is for dry skin while other is for oily to combination with marks. Only the ingredients are different else the procedure is the same.
Ingredients needed for fruit massage cream for dry skin
Milk cream

Banana

Mango

Vitamin E oil
Procedure: Take one teaspoonful of milk cream and add a small piece of banana. Add one slice of mango. Take out the peel from it. Add 4-5 drops of vitamin E oil. Now put all these things in a blender and blend everything so that we get a smooth pulpy paste. You fruit massage cream is ready.
Fruit cream recipe for oily to combination skin
Ingredients needed:
Aloe vera gel

Papaya

Orange

Strawberry/ grapes
Procedure: Take 3-4 grapes or one strawberry, Add 1 teaspoonful of fresh aloe vera gel and one small slice of papaya fruit. Add 1 slice of orange as well. Now, like we mentioned earlier. Put all these ingredients in the blender and blend until you achieve a fine pulp just like a cream. Make sure to remove the seeds from the orange before putting it in. This is the fruit cream for the oily to combination skin.
Face Packs for Combination Skin
Now let's see how to use this for glow and radiance on face.
How to use this homemade Fruit massage cream for doing facial
Clean with face with cleansing milk. Take some of this fruit massage cream on the fingers and apply on the entire face. Take around 1 teaspoonful of this massage cream and using the circular upward motions massage the entire face. Keep massaging until you see all the cream getting absorbed in the skin.
For the left over cream you can keep that in the refrigerator and use for the next 5 days not more than that and everyday use 1 teaspoonful at night and apply that on your face. How to do fruit facial at home
Benefits of Massaging with Fruit Cream
As you can see that the cream has loads of fruit enzymes from the fruits like banana, papaya, orange, grapes etc. Banana is good for dry skin hydration enhancement while papaya exfoliates the oily skin and removes the marks. This Fruit massage cream will help to make the skin tighter and remove any dullness. With the continuous usage you will notice a healthy glow and improved skin texture. Aloe Vera gel is good for oily skin while cream will take away the dryness. All these will help to reduce the dark spots and skin blemishes.