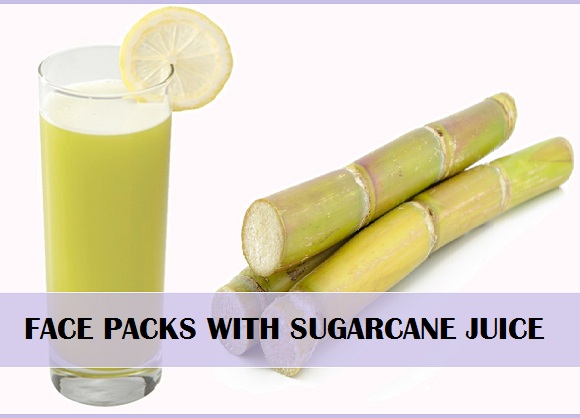 Home made Sugarcane Juice Face Packs: Sugarcane juice is good for health but it does have several beauty benefits like in the form of sugarcane face packs. Sugarcane juice has Alpha Hydroxy Acids which is wonderful for a smoother skin. Alpha Hydroxy acids mildly exfoliated the skin and enhance the skin's natural elasticity by increasing the cell renewal rate. Face pack with Sugarcane juice mixed with other herbal ingredients shows some good benefits for the skin like skin lightening, fairness, acne marks removal, making skin spotless, smoother and fades lines and wrinkling on skin etc.
Sugarcane juice face packs at home recipes:
1. Sugarcane juice face pack with honey
Mix equal quantities of Sugarcane juice and honey. Massage on the skin like a face lotion. Apply some on the neck as well and leave it for 20 minutes. Wash off. This treatment can be done 2 times in a week. This is good face pack for dry skin to make it supple.

2. Sugarcane juice and mutani mitti face pack
For the oily acne prone skin. multani mitti and Sugarcane juice face pack works wonders as the fuller's earth will absorb the excess oils and dirt from the facial skin while the Sugarcane juice will make the skin tone lighter and will also lighten the pimple marks from the face in a gentle way. Take some Multani mitti powder and mix sugarcane juice. Make the medium consistency paste and apply on the face. Wash after 20 minutes. Read: Skin whitening face packs

3. Papaya and Sugarcane juice face pack for skin lightening
For those who wants a lighter skin and would like to make the skin fair naturally then this Sugarcane juice face pack can be tried. It has the benefits of both Sugarcane juice and papaya. Papaya is one of the most beneficial fruit to whiten the skin and to fade the acne pimple marks. Take a slice of papaya and using a spoon or a fork mash it. Mix some Sugarcane juice in it and massage the face with this mixture. Lave it for some time like 20 minutes and the wash the face with water. This should be tried 3 times in a week for fair flawless skin at home.