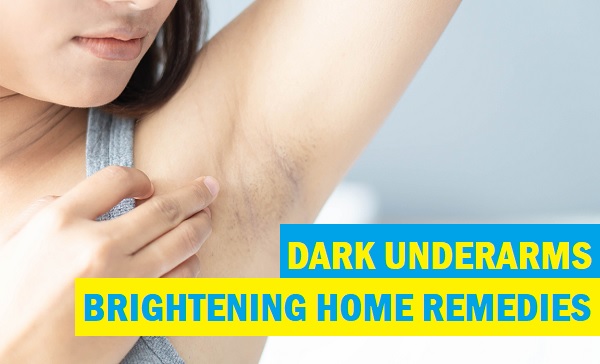 Homemade Underarm Whitening Home Remedies: Unlock the Secrets to Brighter Underarms!
Are you struggling with dark underarms and looking for natural solutions to brighten them up? Then, you've come to the right place! In this comprehensive guide at tipsandbeauty.com, we'll explore various effective homemade underarm whitening home remedies that are not only effective but also safe for your skin. Hence, you may say goodbye to expensive commercial products and embrace the power of natural ingredients to achieve the radiant underarms you deserve. We bet you will certainly see the results. Most importantly, home remedies do not have possible side effects unlike the chemical laden products.
Home Remedies For Underarm Whitening Without Any Side Effects
It's time to say goodbye to those stubborn dark patches and embrace these homemade remedies for radiant underarms. Let's see these natural and effective treatments that will boost your confidence and have you flaunting your beautiful underarms in no time!
1. Lemon Juice and Honey Scrub
Combine the brightening properties of lemon juice with the moisturizing effects of honey to create a powerful scrub. Mix two tablespoons of lemon juice with one tablespoon of honey. Gently massage this mixture onto your underarms for 3-5 minutes and then rinse off. Lemon's natural bleaching agents will lighten the skin, while honey will keep it soft and supple.
2. Potato Slices For Dark Underarms
Potatoes contain natural enzymes that act as excellent skin bleachers. Cut thin slices of potato and rub them on your underarms for a few minutes daily. The enzymes will work their magic, gradually lightening the skin tone in that area. This works like magic in lightening the darkness over the underarms.
3. Turmeric and Yogurt Mask
Turmeric has been used for centuries in skincare due to its brightening properties. Mix a tablespoon of turmeric powder with two tablespoons of yogurt to form a thick paste. Apply the mask to your underarms and leave it on for 15 minutes before washing off. The antimicrobial properties of turmeric will also keep your underarms odor-free. To get rid of the pigmentation on the underarms, this is a great simple way.
4. Baking Soda Exfoliant
Baking soda works wonders as a natural exfoliant, sloughing off dead skin cells and revealing brighter skin underneath. Create a paste using baking soda and water and gently scrub your underarms for a minute or two. Wash off using clear water and pat dry the face. Baking soda remedy is ideal for exfoliate the dark underarms and hence, with regular use, the underarms get lighter.
5. Cucumber and Lemon Juice For darkness Removal
Cucumber is renowned for its soothing properties, and when combined with lemon juice, it becomes an effective underarm whitening remedy. Blend cucumber slices with lemon juice and apply the mixture to your dark underarms. Leave it on for 20-30 minutes before rinsing. Lemon juice will certainly lighten the underarms pigmentation.
6. Orange Peel Powder Magic For Dark underarm
Do you throw away the orange peel? Don't throw away those orange peels! Dry the orange peel and then grind them into a fine powder. It can be stored in an airtight container. Mix this powder with rose water and apply it to your underarms. The vitamin C in the orange peel will lighten the skin, leaving you with brighter underarms. This is a good remedy to not only get darkness free underarms but also smoothens them over the time.
7. Milk and Saffron Pack For darkness
Saffron is known for its skin-lightening properties, and when mixed with milk, it becomes a potent elixir for brighter underarms. Soak a few saffron strands in milk overnight and apply the mixture the next morning. Leave it on the face for 20 minutes, then rinse with tap normal water. Milk has lactic caid which is known to lighten the dull and dark patches over the underarms.
8. Sandalwood and Rosewater Paste
Sandalwood has been used in traditional remedies for ages due to its skin-brightening effects. Make a paste using sandalwood powder and rosewater and apply it to your underarms. Allow it to dry before rinsing off with water.
9. Gram Flour and Lemon Pack
Gram flour, also known as besan, is an excellent exfoliant that can help lighten the underarm skin. Mix gram flour with lemon juice to create a paste. Apply it to your underarms and gently scrub in circular motions. Rinse off after a few minutes. Besan or gram flour has excellent skin cleansing properties.
10. Coconut Oil Massage
Coconut oil is packed with moisturizing properties that can help soothe and brighten your underarms. To get rd of the darkness of underarms, warm up some coconut oil and gently massage it into your skin before bedtime. Let it work on the skin overnight and wash it using plain water in the morning.
11. Aloe Vera Gel Wonder
Aloe vera gel is a powerhouse of nutrients and antioxidants that promote skin rejuvenation. To remove the underarms darkness, apply fresh aloe vera gel to your underarms and leave it on for 20 minutes. Rinse off with water and experience the natural glow.
12. Licorice Root Extract
Licorice root contains glabridin, a compound that inhibits melanin production, making it an excellent ingredient for underarm whitening. To reduce the darkness of underarms, apply licorice root extract to your underarms and leave it on for 30 minutes before washing off.
13. Apple Cider Vinegar Toner
Apple cider vinegar acts as a natural toner that can help balance the pH level of your underarms. Mix equal parts of apple cider vinegar and water and use it as a toner after showering.
14. Almond and Milk Blend
Soak almonds overnight and blend them with milk to create a paste. Apply this paste to your underarms and leave it on for 15-20 minutes. Almonds will nourish the skin while milk will lighten it.
15. Papaya Pulp Magic
Papaya contains enzymes that exfoliate dead skin cells and reveal brighter skin. Mash some ripe papaya and apply it to your pigmented underarms. Leave it on the facial skin for 30 minutes before rinsing off with cold water.
16. Oatmeal and Tomato Pack
Oatmeal is a gentle exfoliant that can help brighten your underarms. Mix oatmeal with tomato pulp and apply the pack to your underarms. Allow this to get dry for 15-20 minutes, then wash with regular water.
17. Egg White Mask
Egg whites are rich in proteins that can tighten and brighten the skin. Whisk an egg white and apply it to your underarms. Once it dries, rinse off with water. Vegans can skip it and try other remedies for sure!
18. Vitamin E Oil Massage
Vitamin E oil is known for its skin-lightening and moisturizing properties. Massage vitamin E oil into your underarms daily for visible results.
19. Fuller's Earth (Multani Mitti) Paste
Fuller's Earth is a natural absorbent that can draw out impurities from the skin. Mix this Fuller's earth with plain water or even rose water to form a paste and apply it to your underarms. Wash off after 15 minutes. This is helpful in lightening the darkness.
20. Mint Leaves and Lemon Juice
Mint leaves have cooling properties and can help lighten the skin when mixed with lemon juice. Blend mint leaves with lemon juice and apply the mixture to your dull dark underarms. Rinse off after 20 minutes.
21. Shea Butter and Lemon Balm Balm
Shea butter is an excellent moisturizer, and when combined with lemon balm, it can enhance the skin's radiance. Mix shea butter with lemon balm oil and massage it into the pigmented and rough underarms.
22. Onion Juice Remedy
Onion juice may not sound pleasant, but its sulphur content can help lighten the skin. Apply onion juice to your underarms and let it sit for 10 minutes before rinsing off.
23. Yogurt and Honey Mask
Yogurt and honey together form a potent combination for brightening the skin. Mix equal parts of yogurt and honey and apply the mask to your underarms. Rinse off after 15 minutes.
24. Neem Leaf Paste
Neem leaves have antibacterial properties that can help combat underarm odor while also lightening the skin. Grind neem leaves to form a paste and apply it to your underarms. Leave it on for 15-20 minutes before washing with water.
25. Sunflower Seed Oil
Sunflower seed oil is rich in antioxidants and can help rejuvenate the skin. Massage sunflower seed oil into your underarms before bedtime for best results.
Frequently Asked Questions (FAQs)
Q: Are homemade underarm whitening remedies safe for all skin types?
A: Yes, most homemade remedies use natural ingredients that are generally safe for all skin types. However, it's essential to perform a patch test before using any new remedy to check for allergies or irritations.
Q: How long does it take to see results from these remedies?
A: The time it takes to see results can actually may vary from person to person. Consistent use of these remedies for a few weeks should show noticeable improvement in the underarm skin tone.
Q: Can I use these remedies on other darkened skin areas?
A: Yes, many of these remedies can be applied to other darkened skin areas like elbows, knees, or neck to lighten the skin.
Q: Can I use these remedies daily?
A: While most of these remedies are gentle, it's advisable not to overuse them. Using them 2-3 times a week should be sufficient for effective results.
Q: Can men use these remedies too?
A: Absolutely! These remedies are not gender-specific and can be used by anyone looking to brighten their underarms.
Q: How do I maintain the results after using these remedies?
A: To maintain the results, avoid using harsh deodorants or antiperspirants that may irritate the skin. Stick to natural products and continue to moisturize the underarms regularly.
Achieving brighter underarms naturally is no longer a distant dream. With these homemade underarm whitening home remedies, you can unlock the secrets to radiant and confident underarms. Embrace the power of nature and bid farewell to dark underarms forever. Remember to be consistent and patient with these remedies, and you'll soon enjoy the beautiful results. Flaunt your flawless underarms proudly and embrace the natural beauty that lies within you!