How to Apply kajal Perfectly on the Eyes: Some tips
Kajal or kohl whatever you call it. But it is undoubtedly one of the most loved beauty product all across the world. Whether you are a teenager, working women, or someone in their middle age, This little black thing can do wonders in accentuating the beauty of your eyes. Even if you are a non makeup person, that too a kajal alone can give you sultry and glamorous eyes. But applying the kajal perfectly or in the right way is also important to get the most out of it.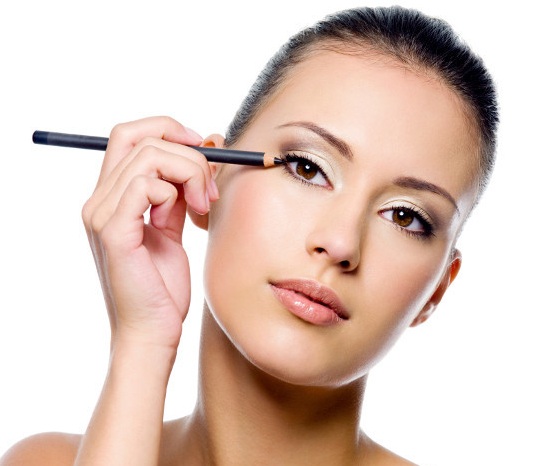 Image source Pinterest
Patchy or uneven kajal can make the eyes not so appealing but rather will make them look messy which is the last thing anyone of us would want, so how to apply kajal perfectly? Here in this post at Tips and Beauty, we will share some tips and tricks on kajal or kohl application with some other useful tips on how you can utilize kajal for smokey look.
Types of Kajals available in the Market
Now a days, we have so many different varieties and types of kajals. Gone are the days when there were small tubs of kajal that our grandmothers used to apply with their fingers. Those kajals were mostly homemade but the way they were applied was a bit unhygienic if your fingers weren't clean. Currently, we have the stick kajals as we see with Himalaya herbal kajal, VLCC, Elle 18 etc, then we have the pencil kajals that we have to sharp while we use them.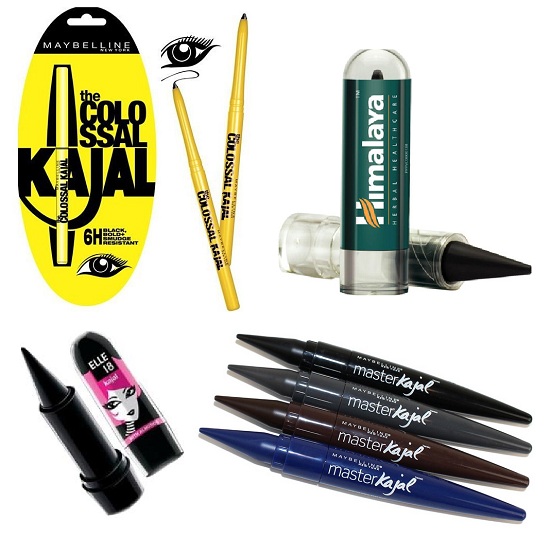 Lastly we have the retractable tube stick kajals which are very easy to use like we see in Maybelline colossal kohl, Lakme Eyeconic etc. There is an additional variety of kajal too which is an age old formula called surma but that gives burning sensation so, that is not for everyone.
Choosing the kajal for your requirement
You should choose a kajal based on the need. If you like a smudge free kajal look then the new age kajals like Maybelline Colossal kajal, Lakme Eyeconic, L'Oreal Paris kajal Magique etc are good options, Else like me if you want a kajal that smudges a bit under the waterline for a smokey look then you should try the kajals like Himalaya, VLCC etc. Pencil like eyeliner are easier to use like we have mentioned.

Recommended: Kajal and khols available in India
How to apply kajal perfectly and smoothly
We will share two methods to apply kajal. One is the regular smudge free look and the other is a smokey look.
Smudge free kajal Application
When you have chosen the kajal as per the liking it's time to apply it nicely or correctly.

Keep you ring finger below the waterline and gently pull it done. This will expose the waterline and application will be easier.

Now apply the kajal from the outer end to the inner corner of the eyes. Swipe once wait for 5 seconds then swipe again. If you have small eyes then take the kajal a little outside the outer corner of the eyes, this will make the eye looks bigger

This will give a highly pigmented and smudge proof line but for that you should choose a kajal that is smudge proof too. In the picture below, I have applied the kajal on my upper lash line too like an eyeliner and then applied mascara.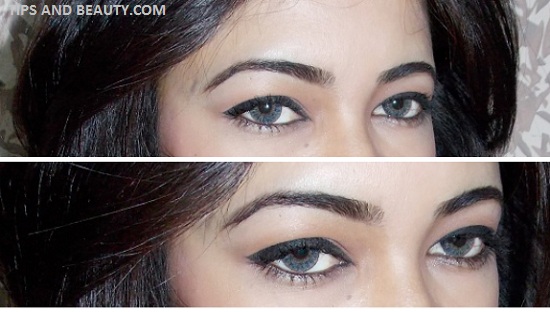 How to apply kajal for smokey look ( For Small Eyes)

The second type of kajal application is getting a soft smokey look. This technique can make the eyes look bigger and more sensuous especially when you have brown eyes. You will need a kajal and a small smudger brush like shown in the picture below.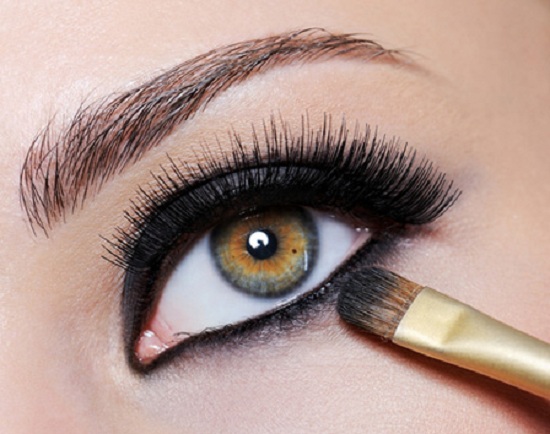 Method to apply
Apply the kajal on the waterline like we have mentioned in the first method.

Then rub the kajal tip on the bristles of the smudger brush gently.

Use that brush to gently swipe and rub under the waterline. Be easy and swipe.

Keep swiping until you get a smokey look like shown in the picture, where I have done this smokey eye makeup look.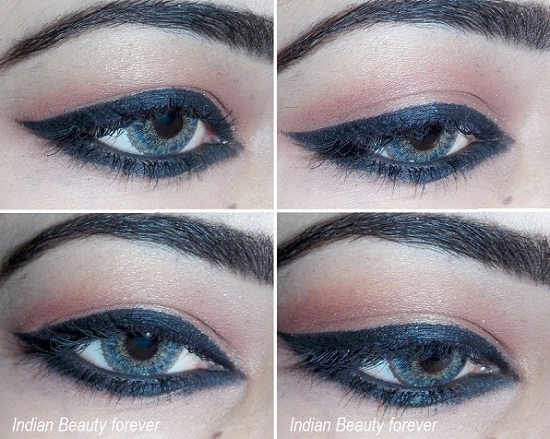 So, that is how you too can apply the kajal perfectly and get beautiful sultry eyes. If you're confused about the lipcolor to pair with smokey eyes or kohl rimmed eyes then either choose a neutral lip color or a bold lip color for the night time or party makeup look. You can also read about the basic makeup products that beginner in makeup should keep.