Types of Lehenga to Suit Your Body Type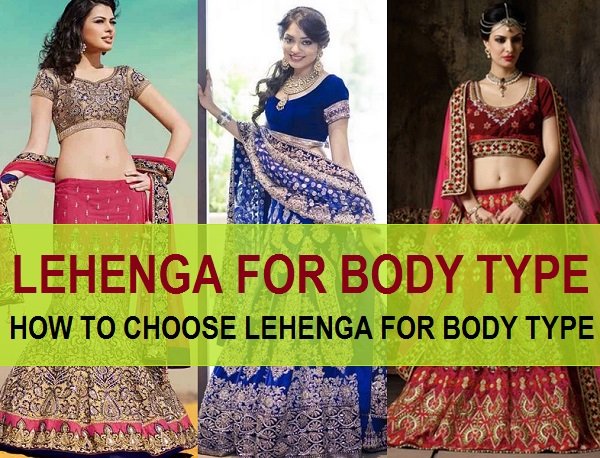 Everyone has a unique personality and body type. This is why this becomes crucial to dress accordingly which will enhance your personality even more. Moreover, the comfort level will also be there. One should not blindly follow the fashion and trends. This is because what looks good on one body type may not look as appealing on the other body type. This goes for bridal lehenga as well. Or even for any lehenga. So, if you are the bride or bride's sister, sister in law or someone from the family, should know to pick up a lehenga to suit your body type. Many people know which color and fabric might suit them but get confused when it comes to body type. We are here to help you as to how to customize or choose your dress according to your body type.
How to choose the best Bridal lehenga as per the body type
Know your body type first
It's not very tricky. It's just the matter of knowing and practicing it. One should know the good and not very good portions of their figure. This is when we can hide the flawed areas and accentuate the areas that are the best. Some important body parts are
Shoulders

Bust line

Waist

Hips
These 4 portions make the major structure of a figure. Also read: how to choose bridal lehenga color as per the complexion.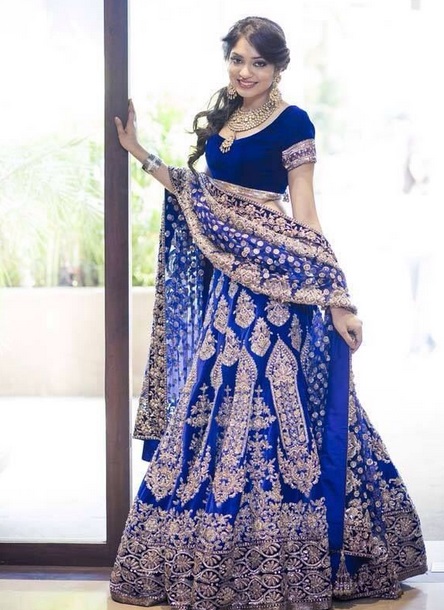 Top heavy body Type (Apple Shaped Body)
If you have broad shoulders and heavy bust you have a heavy top or an apple shaped body. Now in this case you should choose a lehanga top where you can show off your shoulders but double cover or restrict the bust area.
For example you can wear tops which have layers. These layered tops help locate the problem of heavy or disfigured bust. You can wear a deep neck choli or blouse with a flared lehenga.
If you love to show off and do not want shoulder show off you can chose a bare back or a hide and seek back styling.This will also take away attention from the heavy bust and wide shoulders.
The lehanga can be worn like of flared or straight cut but not the tight fitting lehengas or fish cut lehengas. Since your comparative slimmer hips will look disproportionate with the top part.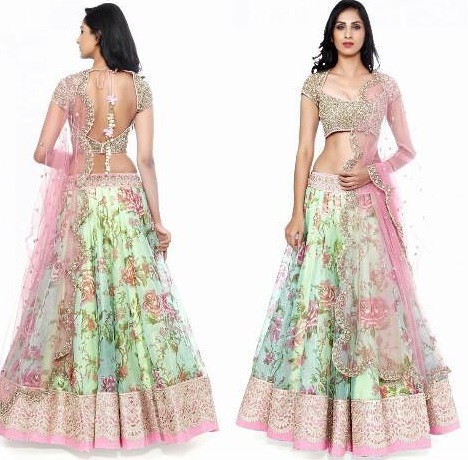 Heavy bottom figure (Pear Shaped Body Type)
Pear shaped body type ahs a bulkier bottom or hips as compared with the upper part like bust or shoulders. For such body type you can try a lehenga which is flared and a little up on the waist. Since that will give the illusion of a taller and slender bottom part. In that heavy flared lehenga than bulky hips can be hidden well. For that body type fish cut is not a good option. 
For the choli or blouse, you can wear any and show it off because you have great upper body. You can put on a short choli to highlight your figure because the bottom is all covered. This would show your waist much and give you high defined waist lined look. This will make you look glamorous and a stunning bride.
You can also experiment with the blouse designs like colored neck, deep neckline, mandarin color, or choli cut blouses etc. This is because your top part is not that bulky hence you will look great with those sexy blouses.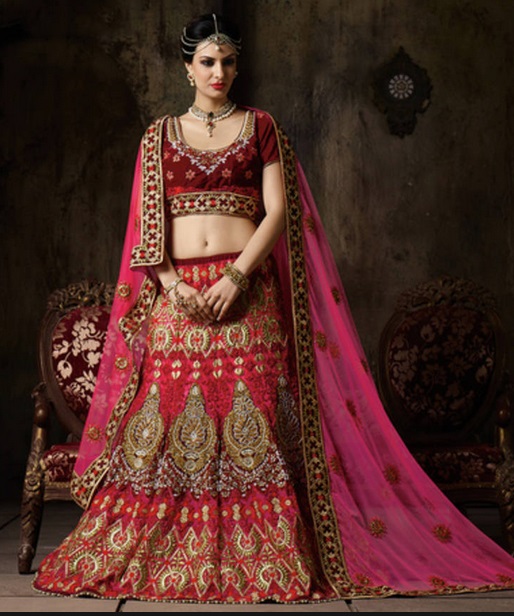 A straight and flat body
If you have a straight body, and you wish to accentuate the curves, there are some pointers to look at while picking up a lehenga.  So, if you are confused which lehenga style, you should try then hopefully the styling and lehenga buying tips will help.
In such cases this becomes extremely important that you try a lehenga which makes you look attractive. Try fish cut lehengas which can accentuate your body curves.
Try choli cut blouses or even the deep neck blouses so that the attention can be on those places and you look great. For straight body you can also try a low waisted flared lehenga. This will draw the attention to the waistline and the flat bottom can also be accentuated. This one of the best trick to look best with a straight body in lehenga.
You can use structured top (Choli with cups). You can define the size you want to as to how curvy you want to be. In the same way you can wear a tight or loose lehenga.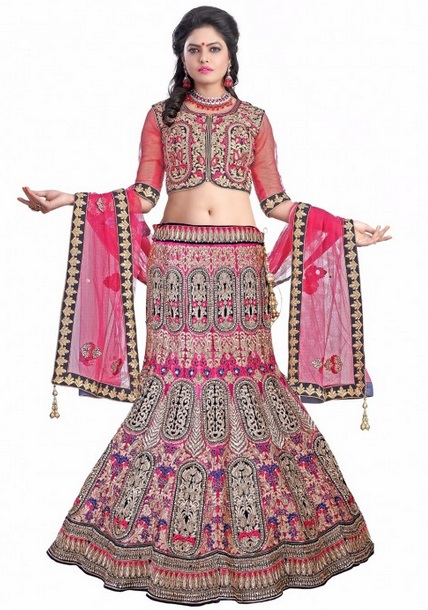 Heavy bottom with heavy top with a well defined waist
This is considered the best figure where in most of the clothing styles look good. These figures have all the curves required. You can wear any top with it but prefer a short choli. You can wear backless or shoulder less to add the extra oomph to it.
Went it comes to lehenga you can wear either tight or loose. I personally suggest wearing a low waist lehenga as this would high light your waist.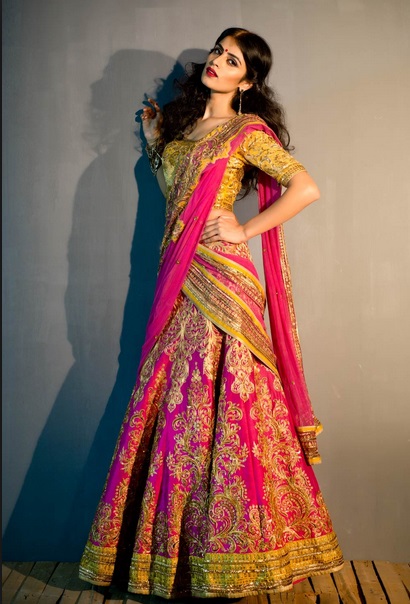 Oval shaped body
This is another type of straight body. But the person is plumpy and has no ratio in the figure. It's the entire oval shaped. Beauty lies everywhere only thing is you should know how to highlight.
In this case as you are heavy you can choose a long top. A mean to say a long cape typed top with a cut which can show little of your waist. You can also choose a deep design and cut on the back and front with short sleeves. You may opt a low waist lehenga as your top is already too long.  
You can show of your shoulders too if you are bold enough by wearing sleeveless blouse.
So, these were the tips to choose a lehenga as per the body type. Hope, you get the tips and will choose the best bridal lehenga for you. However, you should also consider the lehenga design color, pattern etc while choosing the best lehenga for you.

Written By Khyati Mahajan